The classic shortbread cookie drenched in caramel & covered in chocolate is what makes Twix a fan-favorite candy for decades. Now you can make Twix Cookie Cups with all the same chewy, & chocolatey goodness at home.
Like all decadent desserts, the combination of sweet, salty, crunchy, & gooey is hard to resist. These crisp sugar cookie cups filled with buttery caramel & topped with rich milk chocolate are the trifecta of deliciousness. They are inspired by a classic Twix Candy Bar.
These bite-sized treats are great for dessert and snacks when a sweet craving hits. Make a batch for parties, holidays, Christmas, Halloween, & gatherings like a book club or potluck. So grab your mini muffin pan, 3 ingredients, & let the baking begin.
Jump to:
Ingredients for Twix Cookie Cups
All you need for this simple recipe is 3 ingredients. These store-bought items are ready-made which helps make this Twix Cookie Cup recipe so easy.
You will also need a mini muffin pan & a shot glass or tart press. Parchment paper cut into strips is also a top recommendation to ensure you have success.
Sugar Cookie Dough - the premade store-bought cookie dough found in the refrigerator section works best.
Kraft Caramels - the individually wrapped squares of caramel candies are perfect for baking.
Semi-Sweet Chocolate Chips - for the top layer the mini semi-sweet chocolate chips are closest to a Twix in flavor.
Flaky Sea Salt - optional for a sweet & salty touch
See the recipe card for quantities.
Prep Mini Muffin Tin for Cookie Cups
The best way to ensure your cookie cups "pop" out of the muffin tin is to prep it. Even nonstick mini muffin sheets make it hard to get cookie cups out of the pan without falling apart. Here is how to make sure nothing will stick to the muffin tin.
Using nonstick spray on pans doesn't seem to do the trick. Plus if your pan is nonstick, adding cooking spray can ruin that finish. Though most muffins come right out, cookie cups can crumble easily so using parchment paper strips is my #1 Top Tip!
Here is how to use parchment to keep anything from sticking in a mini muffin pan. Begin by cutting thin strips of parchment paper that will fit into the muffin holes and spill over with extra on each side.
How to Bake Twix Sugar Cookie Cups
Making Twix cookie cups from scratch is very easy thanks to the ready-made ingredients. It is as simple as layering each component. These are the recipe steps for cooking Twix cookie cups:
Bake the sugar cookie dough part-way
Press to form cups, add caramel, & finish baking
Melt the chocolate & top the cooled caramel-filled cookies
Step-by-Step Instructions
Roll balls of cookie dough, about 1 tablespoon in size. Place each one on the parchment strips in each muffin tin opening.
Repeat until the entire muffin tray is full. Once the oven is preheated, bake them on the middle rack of your oven.
While the cookies are baking, begin unwrapping the caramels. Set aside to use later.
Bake the cookies only part of the way through. This allows the soft center to press down easily to create the cup shape you want. Pressing them down while hot & gooey is key.
Hint: If the dough sticks when you press it, spray the shot glass or tart press with nonstick cooking spray.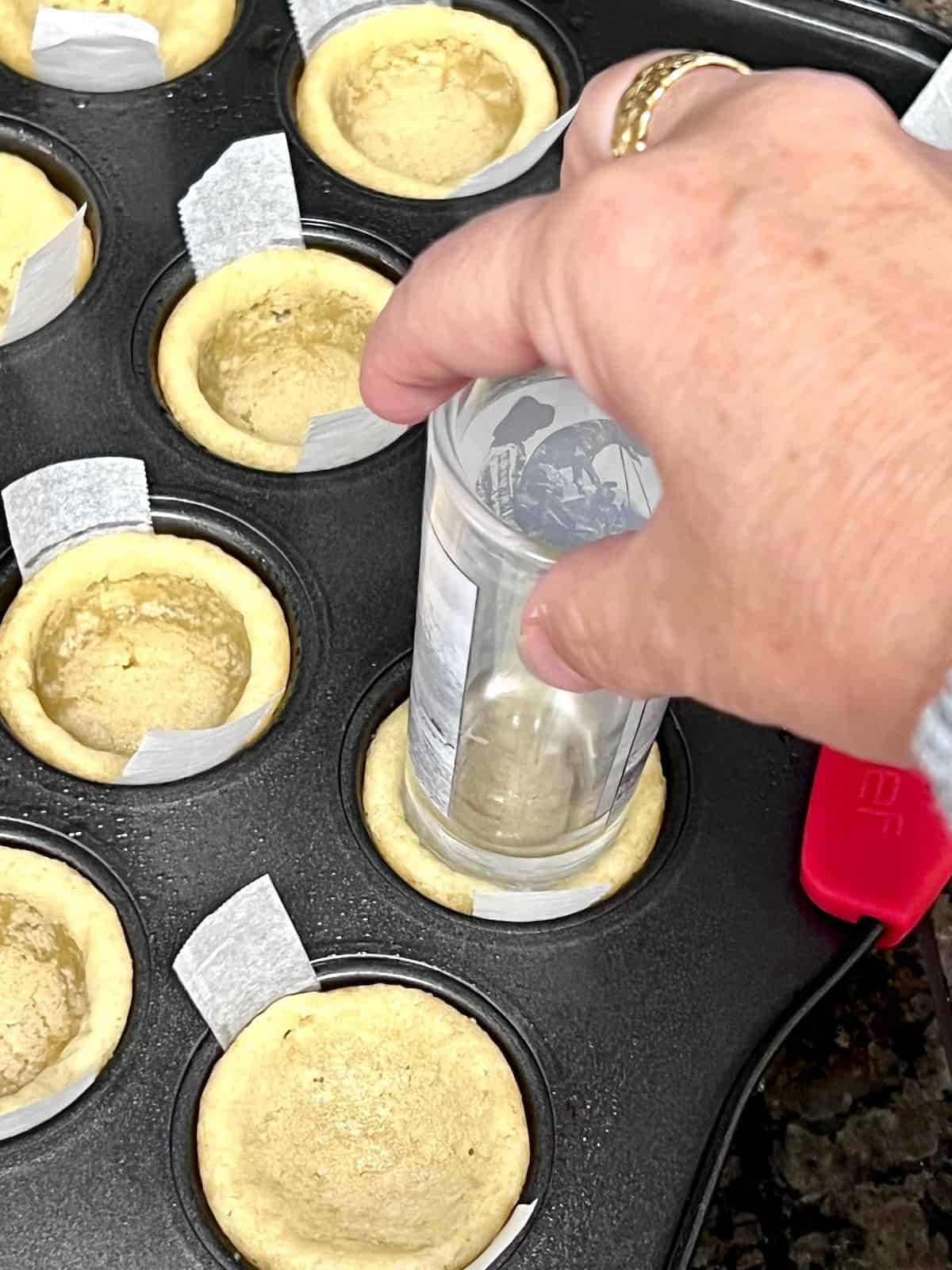 Remove the cookies from the oven. While hot press them down using a shot glass or tart press.
Add a Kraft caramel to the center of each cookie cup. Repeat for each cookie until the tray is done.
Add the cookie cups back to the oven to finish baking. This also allows the caramel to soften.
Once they are done baking, using the back of a spoon, press and smooth the soft caramel in each cookie cup. This will fill each one up almost all the way to the top. Let them cool for 5 minutes inside the muffin pan.
Next, transfer the cookie & caramel cups to a baking rack to cool. Lift them out by grabbing the parchment strip edges. They should pop right out without compromising the shape.
Let the cookies cool for 20-30 minutes. You want the caramel to be set and firm before adding the final chocolate layer.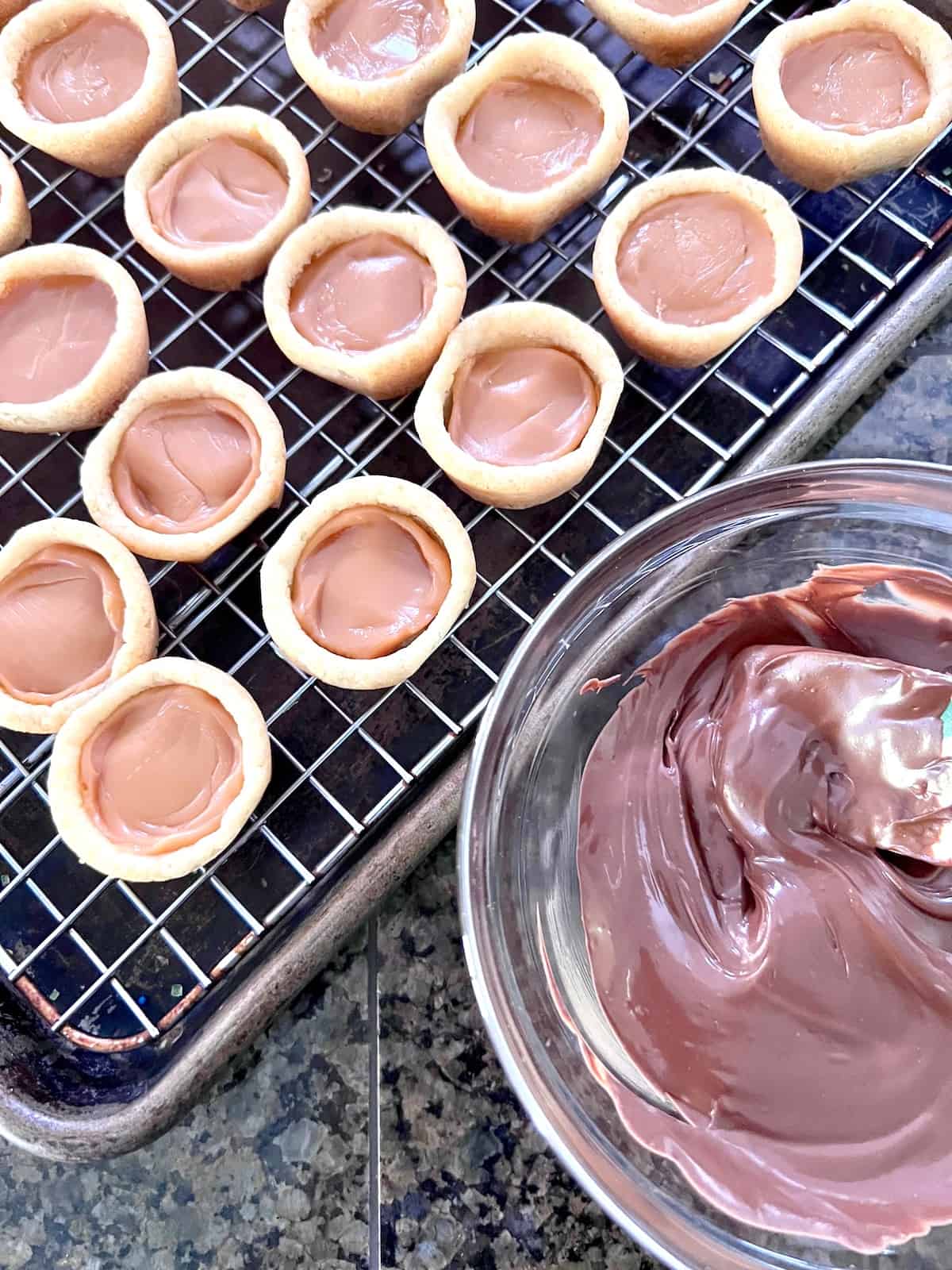 Once the cookies have cooled off, add the chocolate chips to a microwave-safe bowl. Melt the chocolate in 20-second intervals, stirring in between each round. Once the chocolate is smooth and melted, it is ready to use.
Spoon melted chocolate onto each caramel-filled sugar cookie cup. Spread & swirl it as you go for a fun design on top.
If desired, sprinkle on some flaky sea salt before the chocolate cools & hardens. Repeat with chocolate and/or salt for the remaining cookies.
Let the Twix Cookie Cups cool on the rack for another 30-45 minutes. They should be firm so they are easy to pick up and the chocolate will be set creating a chocolate bar layer.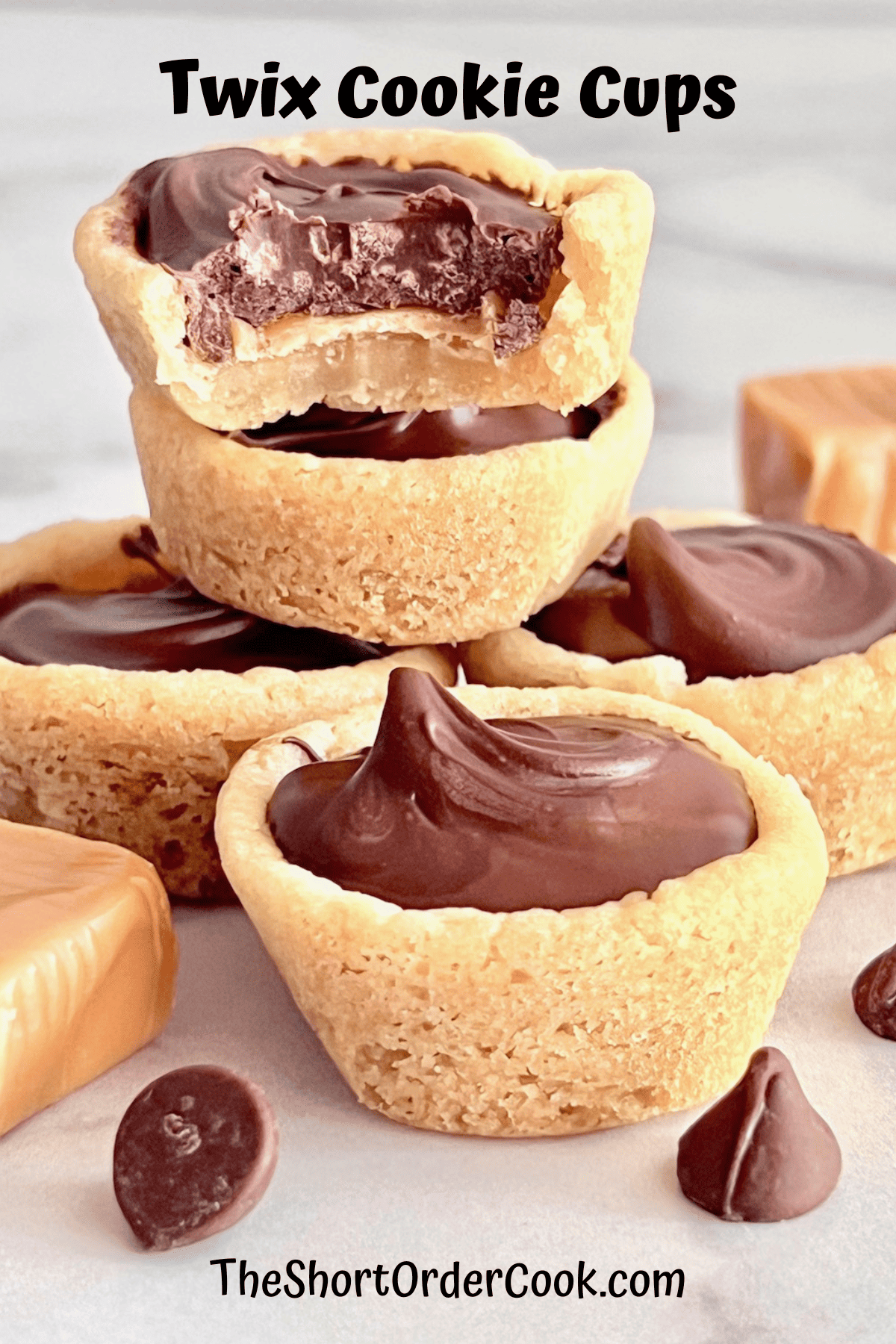 Variations
When baking, following the directions exactly is what ensures success. I do not have any substations or changes that can be made for this recipe. But once you have the 3 basic layered steps down, you can add a bit to it for some of these fun variations.
SALTED - add flaky sea salt to the top just after adding the chocolate so it will stick as it cools.
DOUBLE CHOCOLATE - uses chocolate chip cookie dough instead of sugar cookies.
HOMEMADE - make homemade sugar cookie dough instead of store-bought - baking times for different recipes will vary.
If you love these, try my recipe for Banana Cream Pie Pudding Cookie Cups.
Equipment
Having the right ingredients and equipment when baking a recipe is important. Here are the items that will help you have success with this Twix Cookie Cups recipe.
The Short Order Cook participates in the Amazon Services LLC Associates Program. As an Amazon Associate, I earn from qualifying purchases. If you click on a link and make a purchase, I may earn a small commission on the sale at no additional cost to you. This helps with the costs of running the blog. Thank you!
Storage
These cookies store well. Place them in an air-tight container and store them in a cool dry place for up to 5 days.
I do not recommend refrigerating or freezing these cookies. The cookie & caramels will be hard.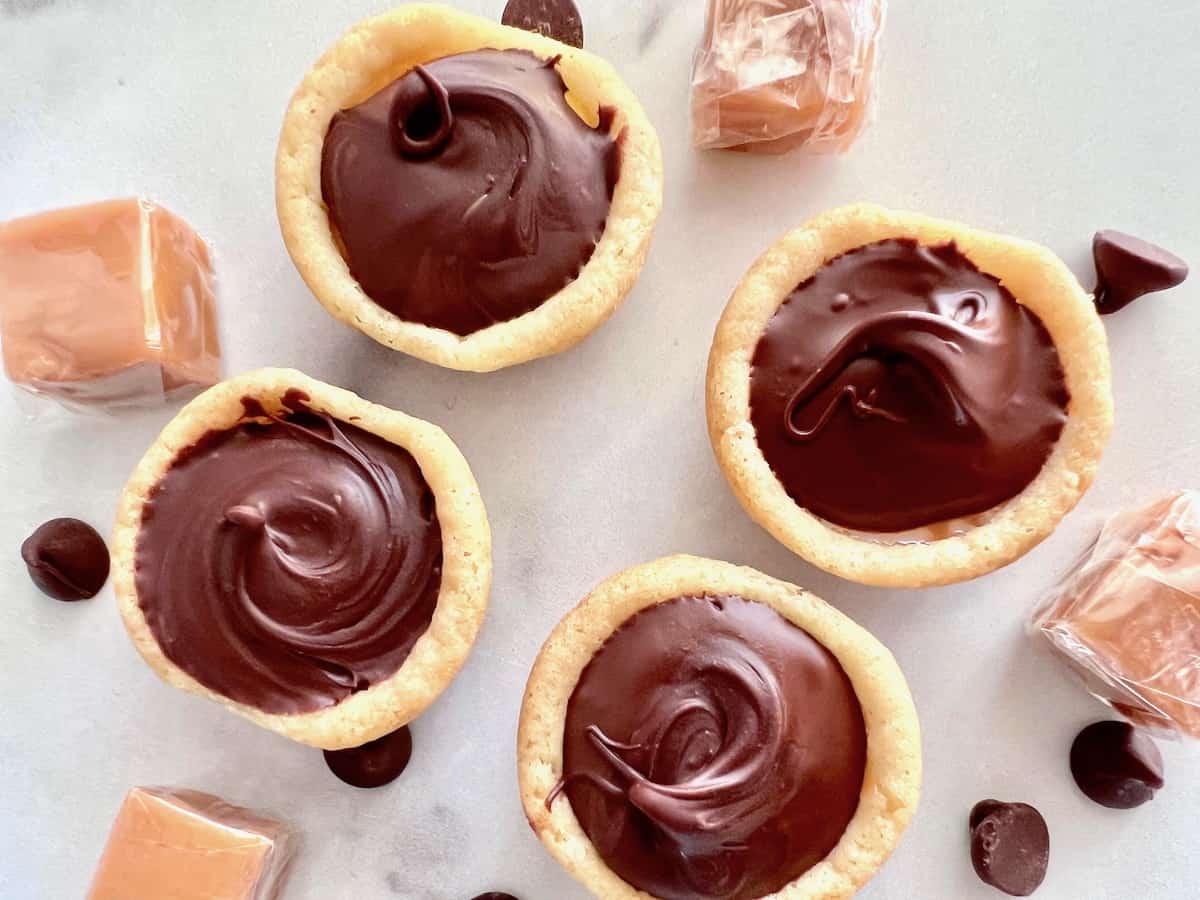 Top Tips
All of these great tips are shared in the post. But these are so good and important they are worth mentioning again so you don't miss them.
Use parchment strips to ensure the cookies release easily.
The cookies will be partially done when you press them down to create the cup shape before adding the caramel.
Make sure the caramel & cookie is cool & firm before adding the melted chocolate.
Let cookies set up firm before serving.
FAQ
Can I use caramel bits instead?
I tried using the caramel bits before I used the square individually-wrapped Kraft caramels. It did NOT work out.The bits did not melt enough to spread smoothly & come together. It is worth the few minutes to unwrap the caramels to get a smooth creamy chewy golden caramel center.
More Cookie Recipes
Looking for other recipes like this? Try these: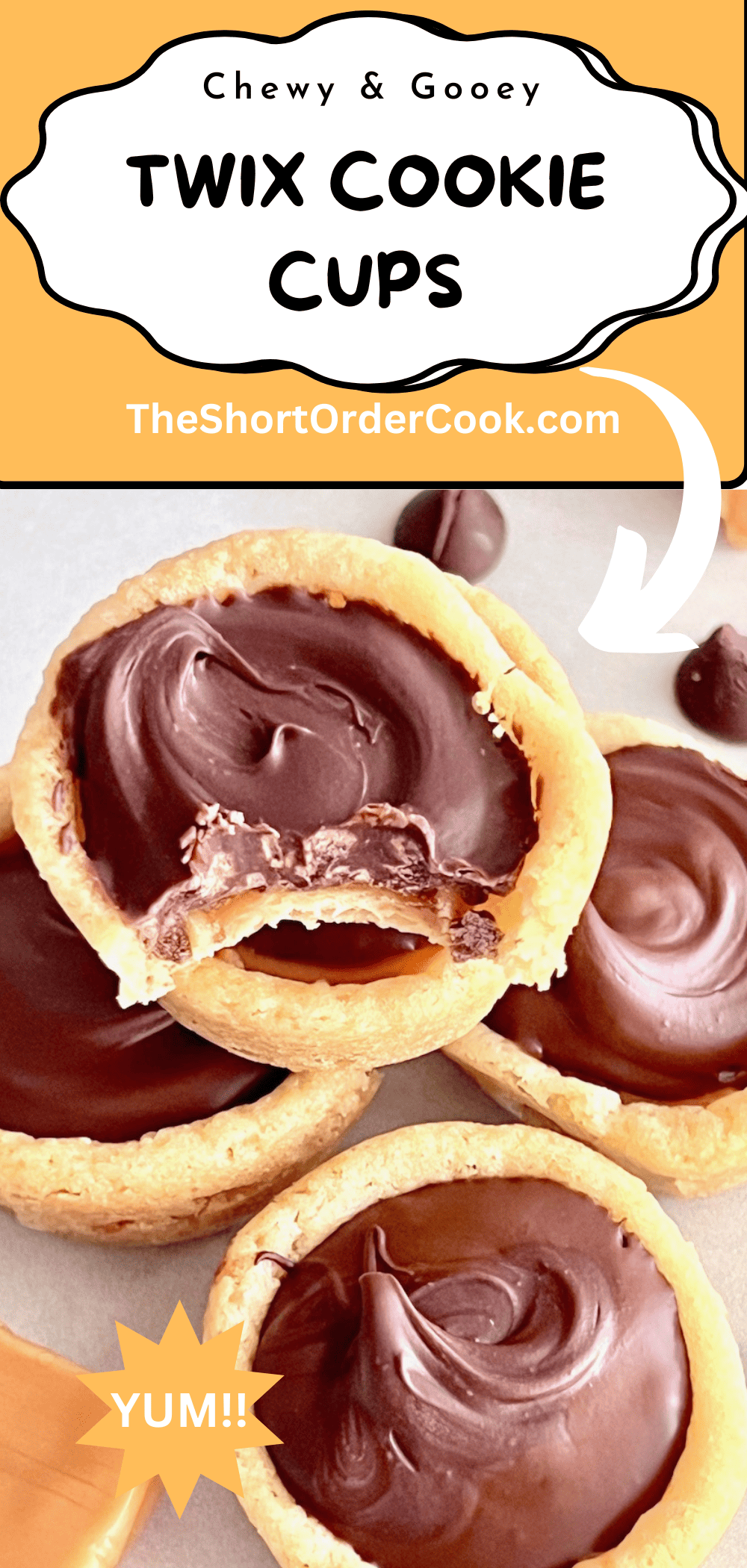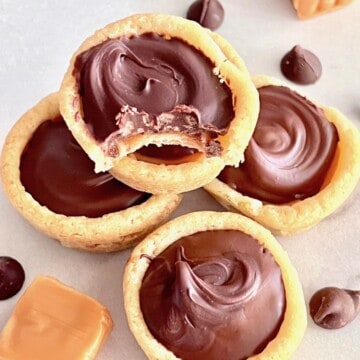 Twix Cookie Cups
The classic candy is now a delicious & easy to make cookie cup. These sugar cookies are filled with gooey chewy caramel & drenches in rich chocolate. All you need is 3 ingredients & a muffin tin to make these bite-sized desserts.
Ingredients
1

tube

ready-made sugar cookie dough

8

ounces

mini semi-sweet chocolate chips

24

Kraft caramels

flaky sea salt

optional
Instructions
Cut thin strips of parchment paper & lay one down in each hole of your mini muffin tin.

Remove the wrapping from the caramels, set them aside. 

Scoop & roll a cookie dough ball (large 1 tablespoon in size) and place it over the parchment paper. Each should be about 1tablespoons worth of dough. Repeat until all 24 cookies are moved into the mini muffin baking pan. (you will have extra dough) 

Bake the cookies for 8-9 minutes. They will be underdone and that is perfect.

Remove them from the oven and press the warm cookie dough down using a shot glass or tart press so that a cup forms. If there is sticking, spray the tool with cooking spray. 

To each cookie cup, add an unwrapped caramel.

Put the cookies with the caramels back in the oven and bake for an additional 5 minutes.

Remove them from the oven. Using the back of a spoon, gently press and smooth out the soft caramel so it covers the cookie cup bottoms & is evenly distributed. Repeat on all cookies & let cool for 5 minutes in the muffin pan.

Grab the parchment edges & lift each cookie cup out of the muffin pan. Place each one on a cooling rack. Let the cookies cool for 20-30 minutes on the counter.

Add the chocolate chips to a microwave-safe bowl.  Place in the microwave and heat on high for 30 seconds.  Stir to melt - cook at additional 15-second intervals if needed so all the chocolate is melted.

Spoon melted chocolate on top of the caramel layer. Sprinkle on sea salt flakes if desired.  Repeat with all the cookies. 

Let cool until set - about 30 minutes in a cool location until the chocolate is set.

Enjoy when cool to the touch & the chocolate is firm.

Store leftovers in an air-tight container in a cool dry place for up to 3 days.