Top-quality delicious Wagyu burgers are not just for fancy restaurants. Enjoy a juicy rich Wagyu hamburger at home with this easy recipe. For all the melt-in-your-mouth flavor you get from ground Wagyu beef without the high price, grill these juicy patties & elevate any cookout into a special occasion.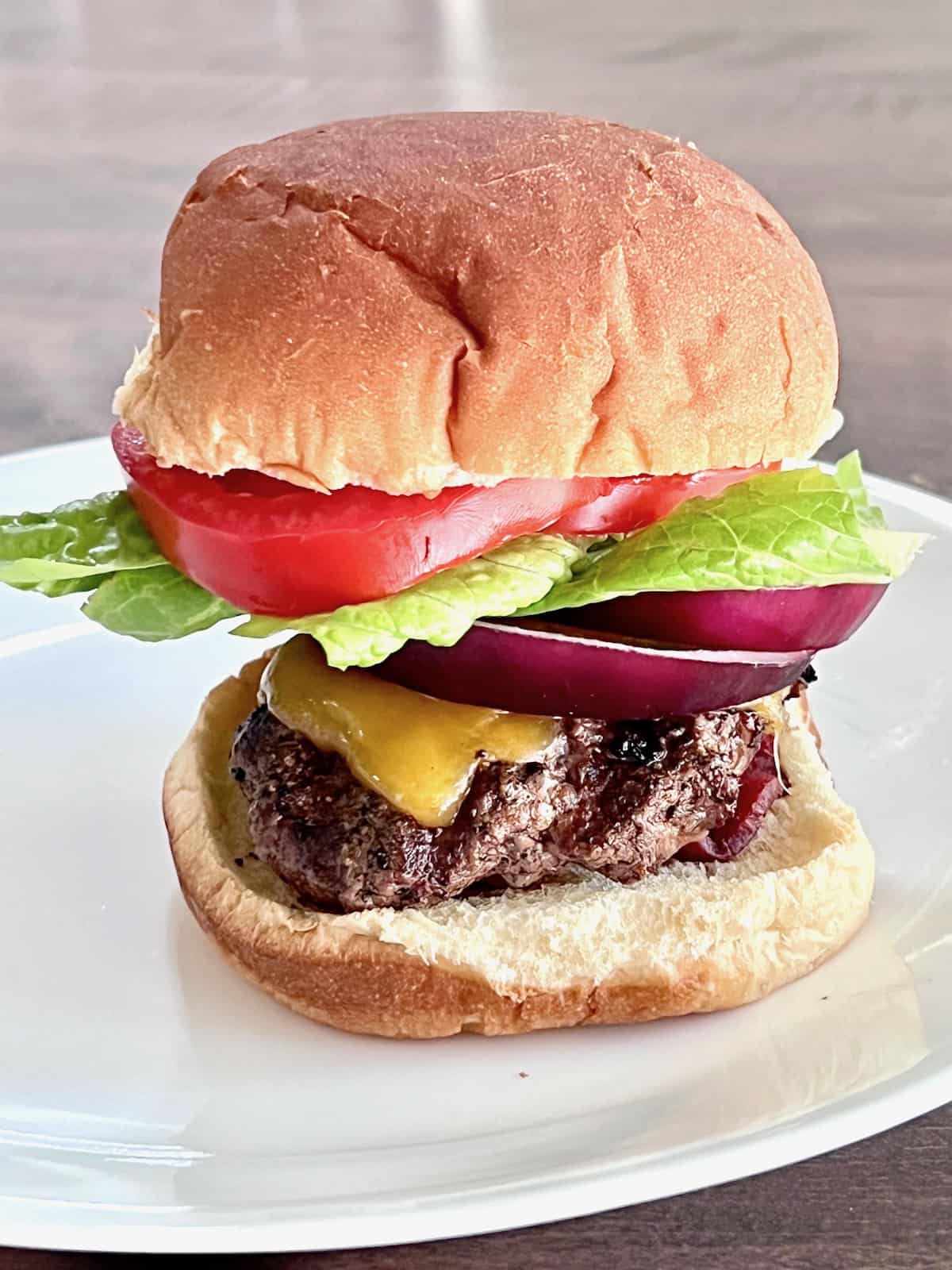 Grilling these burgers with ground Wagyu beef is a yummy way to enjoy every summer cookout. But you can make these any time of year with my tips on how to make crispy smash burgers or skillet-cooked burgers even while camping. No more excuses, it's burger time!
For a gourmet BBQ, grill up these & serve them with some homemade sweet potato fries & sip on a few fresh watermelon martinis. Perfect for the 4th of July, Memorial Day, Labor Day, tailgating on game day, or treating dad for Father's Day.
Jump to:
What is Wagyu?
Wagyu is considered a superior quality cut of beef with extensive fat marbling, rich flavor, and amazing tenderness. Wagyu ('wagyou') is a specialty breed of cattle native to Japan. Wagyu literally means Japanese beef – 'wa' means Japanese & 'gyu' means beef.
There are different levels of quality ratings for the beef raised to meet the Wagyu standards. In Japan, it is graded by giving a letter from A-C and a number between 1 - 5. A is the best letter and 5 is the best number. For example, A5 is the highest quality rating & C1 is the lowest awarded in Japan by the government. All Japanese Wagyu are purebred and not crossbred with other cattle, such as the ones in Australia or America.
Four types of cow produce Wagyu beef: Japanese Black, Japanese Brown, Japanese Polled, and Japanese Shorthorn. These breeds store fat differently, resulting in the fantastic marbling that Wagyu beef is known for worldwide.
All Wagyu, even beef from other countries, are genetically related & can be traced back to these 4 kinds of cows. For beef to be designated Wagyu, it must come from one of these breeds and be raised & fed by standards recognized by government food designations.
What Does Wagyu Taste Like?
The taste of Wagyu beef is a delicacy enjoyed around the world and for good reason, it is unmatched in quality, texture, & flavor. It is buttery, rich, & will likely be the most tender beef you have ever tried. The perfect ratio of meat to fat in the marbling of Wagyu beef allows every bit to literally melt in your mouth.
Where to Buy Wagyu & Why is it Expensive?
Some Costco & Sam's Club locations now offer a 3-pk of American Wagyu Ground Beef. Each 1-pound sealed pack is perfect for making 4-6 patties or even 2 half-pounders for the burger lovers in some of us. I have also seen it at Wal-Mart under the name Marketside.
Your local butcher shop, market, grocery store, or meat supplier may be able to supply or sell you ground Wagyu. There are many online stores to purchase real Wagyu beef & here are a few choices:
The Wagyu Shop - including A5 Japanese, Australian, & American steaks & other cuts.
Snake River Farms - restaurant-quality American ground beef sold in 1-pound packs at a great price.
Ingredients for Wagyu Beef Burgers
Use a clear shot of the ingredients for this recipe, prepped, and labeled if necessary. Add a paragraph of content describing why these ingredients were chosen. Insert the ingredients into the list below, omitting quantities.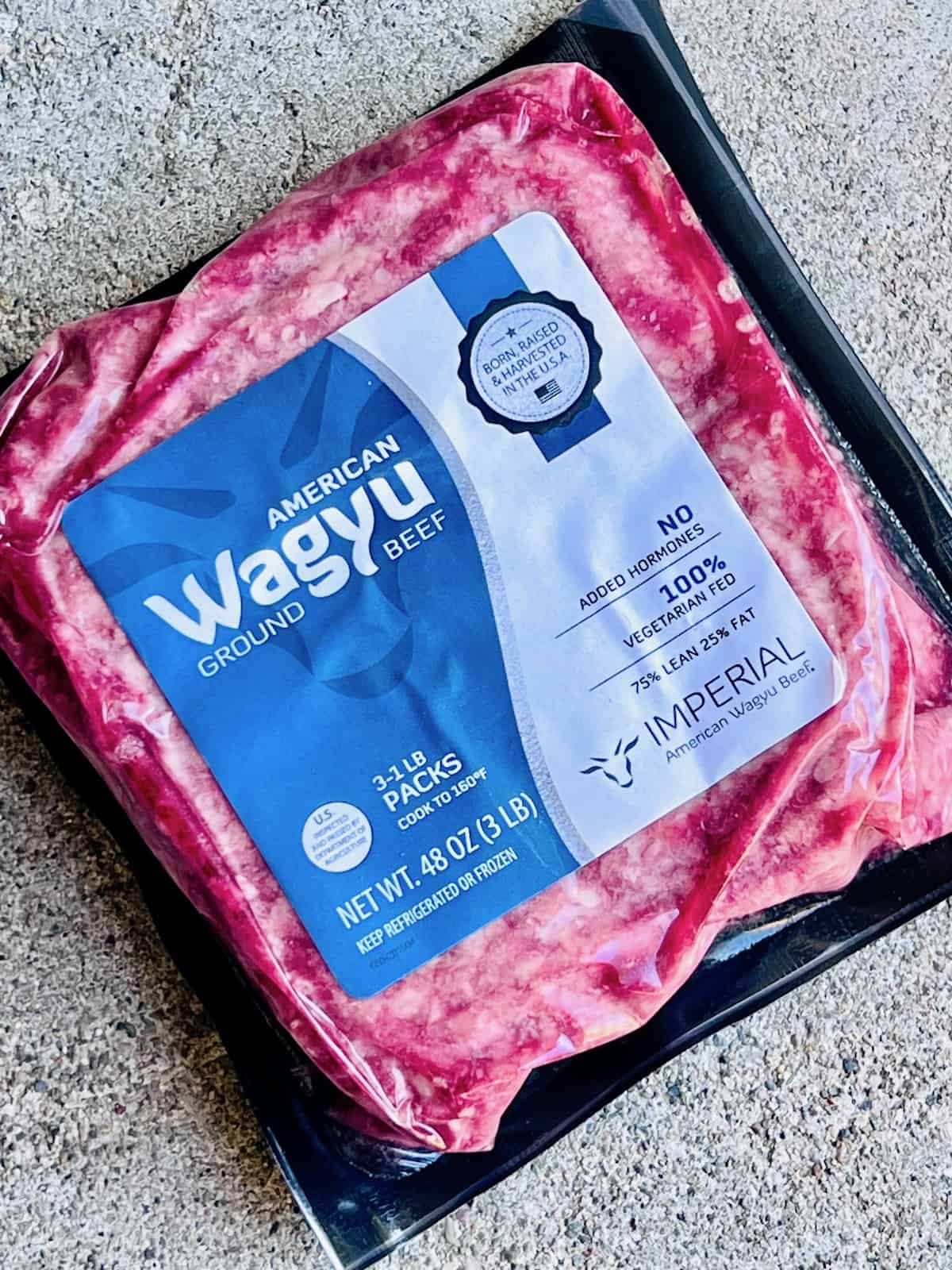 Wagyu Ground Beef - for this recipe I am using American Wagyu Beef that I purchased at Costco - try Japanese or Australian also.
Seasoning Blend - Kinder's Butchers Blend or Buttery Steakhouse are both great overall spice blends for grilling burgers.
All the fixings - buns, condiments, lettuce, tomato, onion, pickles, etc
See the recipe card for quantities.
How to Form Burger Patties
I like to use my hands to roll & press the ground beef into rustic-looking patties. I try to not overwork the meat and just get it to call come together into a round flat patty. Pressing the center down so it is lower than the edges, allows the burger to rise as it heats in the center without it become a meatball.
For uniform Wagyu beef patties, use a burger press. These patty makers are inexpensive, easy to use, & small for easy storage in your kitchen or RV.
How to Grill Wagyu Burgers
There are several ways to cook ground beef patties from Wagyu. In summer, grilling is our favorite way. If you don't have a grill see the next below for how to make a Wagyu Smash Burger or Pan-Fried Burgers in a skillet.
Whenever forming, prepping, & cooking burgers at home, one of the top things to remember is to make sure the beef is at room temperature. This allows the meat to cook evenly when it is not at a different temperature on the surface versus the center which may be colder. I also find that meat seizes up and tightens in the reaction going from cold to hot. That makes the meat tough - no thank you!
Form the patties and place them on a plate. Season them on both sides with plenty of the spice blend you are using.
While the meat is coming to room temperature, preheat your grill so it is at the right temperature before you throw those patties over the flame. Also, prepare the other ingredients such as slicing tomatoes & onions or washing & preparing lettuce.
Best Temperature for Cooking Wagyu Burgers
When grilling Wagyu hamburger patties, the ideal temperature for the charcoal, gas, or propane grill will be between 325-350°. This allows for a crust to sear on the burgers to hold in the juices without it being too high to overcook & dry out the top-grade beef. Start your coals early or turn up the heat on your propane or gas grill.
For 4-ounce Wagyu burgers, grill them for 3-5 minutes on each side. Add a slice of cheese in the final minute if you want to make Wagyu Cheeseburger!
Cooking time will depend on how thick they are. For example: if you want medium-rare, remove them when they reach 130°, while they rest for 1-2 minutes they will reach 135°.
I recommend removing the patty when it reaches the low end of the guide so it will not overcook once it comes off the heat and rests while you assemble your burger.
Here are the temperature guidelines for cooking a Wagyu burger to perfection.
Rare: 120 to 125
Medium Rare: 130 to 135
Medium: 140 to 145
Medium Well: 150 to 155
Well Done: 160 to 165
Make it your way. But I will be honest if you are going to cook it too well done - Wagyu may not be what you want to spend your money on. It is the best-enjoyed medium at a safe but juicy temperature of 140°.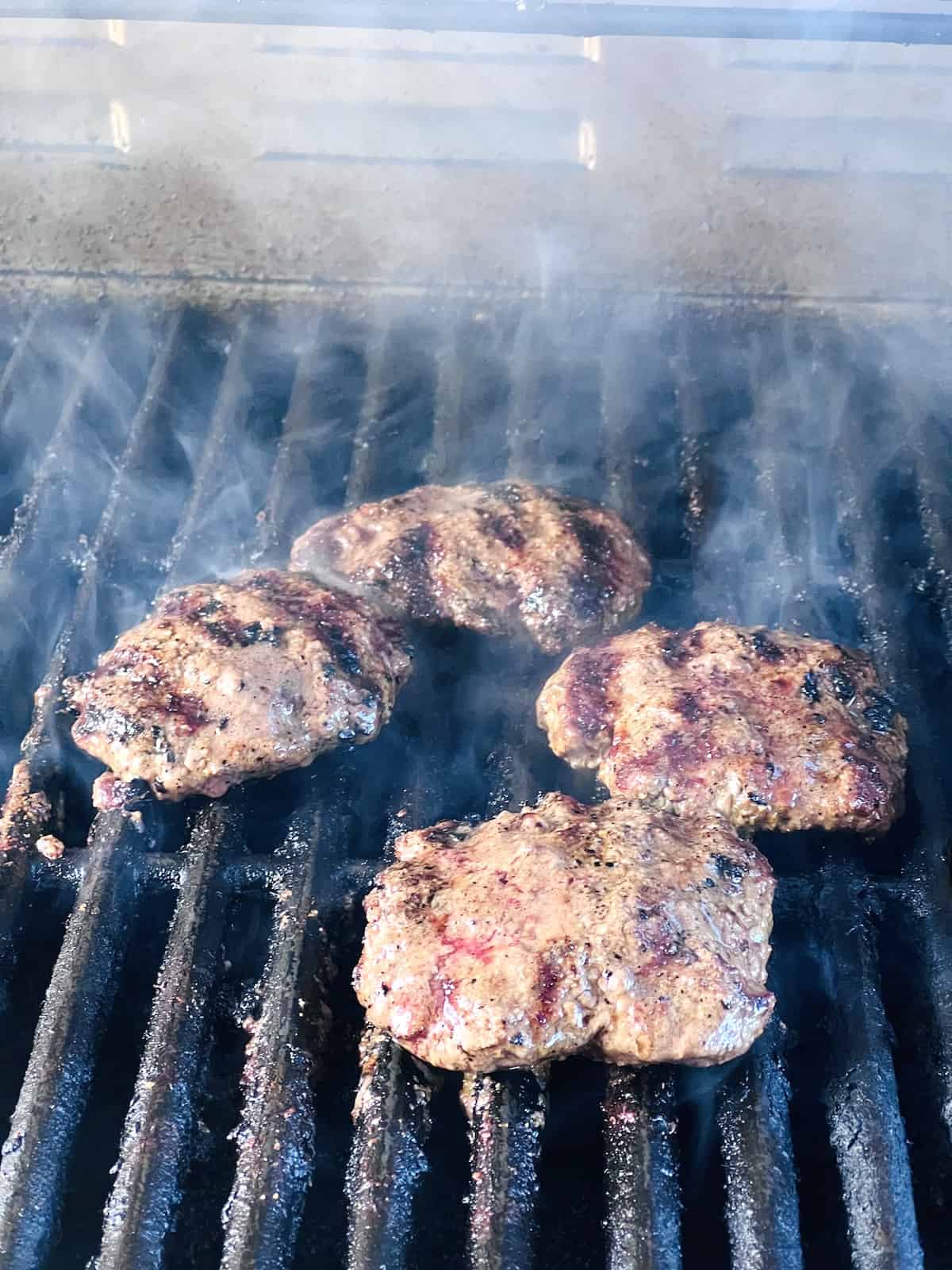 Other Ways to Cook Wagyu Burgers
Here are two more great ways to cook these beef patties made with fresh ground Wagyu. Besides barbecuing over a gas or charcoal grill, you can use these alternate cooking methods.
SMASH BURGER - instead of making patties, roll meat into 4 balls. Preheat a griddle or flat surface like a blackstone grill to 350°. Place each ball of beef on the hot surface, using parchment paper over the meat, and firmly smash it straight down (use the bottom of a glass, the back of a spatula, or a smash burger press) into a thin patty. Cook for 2-3 minutes on each side.
PAN-FRIED IN SKILLET - form patties & preheat a cast iron skillet to 350° (this works while camping over a fire too). Place the patties in the hot skillet & cook until desired internal temperature has been reached - about 3-5 minutes per side.
Toppings
Everyone likes to build a burger to their liking. Top your freshly cooked hamburgers and cheeseburgers with these great toppings. Besides the classics like iceberg lettuce, juicy tomatoes, dill pickles, & red onion, here are some more fun things to add to your hamburger sandwich.
HINT: I personally don't like to overdo it with a ton of things or bold flavors. I like o really enjoy and taste the Wagyu flavor!
Spicy - add grilled jalapenos or pepper jack cheese.
California - add Monterey Jack cheese, homemade ranch, & sliced avocado.
Kid-friendly - just ketchup & pickles.
Deluxe - add sauteed mushrooms or caramelized onions.
Asian-Inspired - use Kewpie spicy mayo & some spears of yamagobo on the side.
This burger recipe is already gluten-free, keto-friendly, low-carb, & diabetic-approved. Enjoy a Wagyu burger on a Fat Heat Keto Roll or as a lettuce wrap.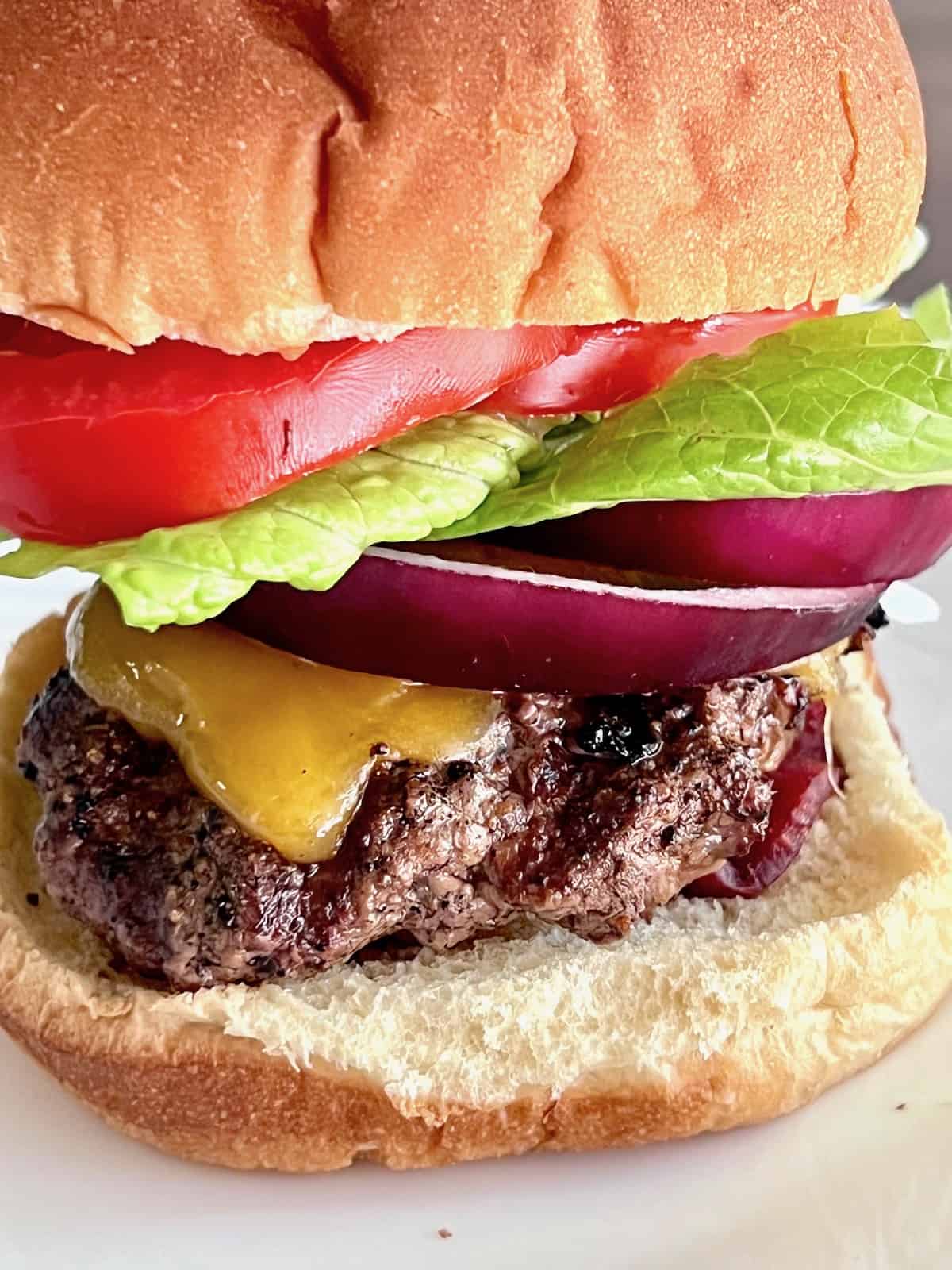 Equipment
The Short Order Cook participates in the Amazon Services LLC Associates Program. As an Amazon Associate, I earn from qualifying purchases. If you click on a link and make a purchase, I may earn a small commission on the sale at no additional cost to you. This helps with the costs of running the blog. Thank you!
Storing & Reheating
Leftover grilled burgers store well in the refrigerator. Place the cooked & cooled Wagyu burger patties in a container with a tight-fitting lid & refrigerator for up to 3 days. The best way to reheat them is in the air fryer at 380° for 5 minutes or place them back on the grill for a few minutes on each side.
Though raw Wagyu beef can be frozen for up to 6 months, I do not recommend freezing cooked burgers. It is safe to freeze leftovers but they will be tough & not taste their best. When you spend the money on Wagyu, enjoy it fresh!
Top Tips
All of these great tips are shared in the post. But these are so good and important they are worth mentioning again so you don't miss them.
Enjoy Wagyu beef when fresh versus frozen.
Do NOT overwork or overcook the meat to keep it as juicy & tender as possible.
Season the beef patties on both sides.
Preheat the grill & cook the meat at room temperature.
Use an instant-read thermometer to cook the beef to the desired temperature
Load up the burgers with your favorite condiments & toppings
FAQ
Is all Wagyu beef also Kobe?
Wagyu beef comes from many different countries. Kobe beef is a variety of Wagyu beef from a region of Japan that has the capital city, Kobe. While both Kobe and Wagyu both originated in Japan, Kobe is only produced in Japan.
What countries produce Wagyu beef?
The most popular countries for producing cattle for Wagyu beef include the following: Japan, Australia, & the United States.
Other Grilling Recipes
Looking for other meal ideas like this? Try these recipes made on the grill & perfect for summer:
What to Serve with Wagyu Hamburgers
These are my favorite dishes to serve with grilled wagyu burgers, or check out even more burgers sides on this list: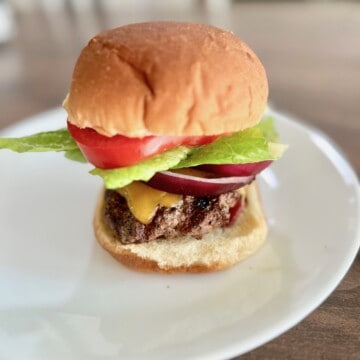 Wagyu Burgers
Top-quality delicious Wagyu burgers are not just for fancy restaurants, enjoy them at home with this easy recipe. For all the melt-in-your-mouth flavor you get from ground Wagyu without the high price, grill these juicy patties at home & elevate any cookout into a special occasion. Gluten-free, keto, low-carb, & perfect for summer on the grill or skillet for a smash burger.
Ingredients
1

pound

Wagyu ground beef

American, Australian, or Japenese

Kinder's All Purpose Blend, Buttery Steakhouse, or another spice blend with garlic, salt, & pepper

4

slices

cheese

optional

Buns & Toppings!
Instructions
Preheat the grill so it will be 350° when it is time to cook the patties.

Prepare & form the ground beef patties immediately. Form them into 4 4-ounce each Wagyu burger. Sprinkle with the seasoning on both sides. Let them sit at room temperature before cooking.

Place the burgers on the preheated gas or charcoal grill. Cook over direct heat/flame. Cook for 3-5 minutes on each side. Add a slice of cheese in the final minute if desired.

Cook until the internal temperature you desire has been reached on the low end (meat will continue to cook/raise in temperature even when removed and plated to rest)

Here are the temperature guidelines for cooking a Wagyu burger to perfection. Medium is recommended for the juiciest hamburger ever!

Rare: 120 to 125

Medium Rare: 130 to 135

Medium: 140 to 145

Medium Well: 150 to 155

Well Done: 160 to 165

Let the burgers rest & place on a bun with your favorite condiments & toppings.
Food safety
When working with raw meat, here are some safety tips & healthy cooking guidelines to follow:
Cook to a minimum temperature of 145 °F (medium) for the safest cooking for ground beef
Do not use the same utensils on cooked food, that previously touched raw meat
Wash hands & kitchen surfaces/equipment after coming into contact with raw meat
Don't leave food sitting out at room temperature for extended periods
Never leave food cooking on a grill unattended