For anyone that has never tried an avocado or guacamole before, you may be wondering what does it taste like. To better understand how an avocado may taste, it is good to find out more about them. Avocado is also मक्खनफल (makkhanaphal) in Hindi which literally translates to butterfruit and Naashapaatee( नाशपाती) is a pear. This may give you some hints on how an avocado may taste and what it looks like. They are also called alligator pears in America, probably due to it's similar in shape to a pear and with the outer skin of an avocado resembling the bumpy rough texture like an alligator.
There are different types of avocados, including the most popular Haas variety. But there are more than 50 kinds, such as the bacon avocado which we grow in our own backyard. Other avocado varieties include names such as Choquette, Ettinger, Fuerte, Gem, Gwen, Lamb Hass, Pinkerton, Reed, and Zutano. They all relatively taste the same but may come into season at different times of the year, grow in a variety of warmer climates, and have various sizes, flesh, and skin types.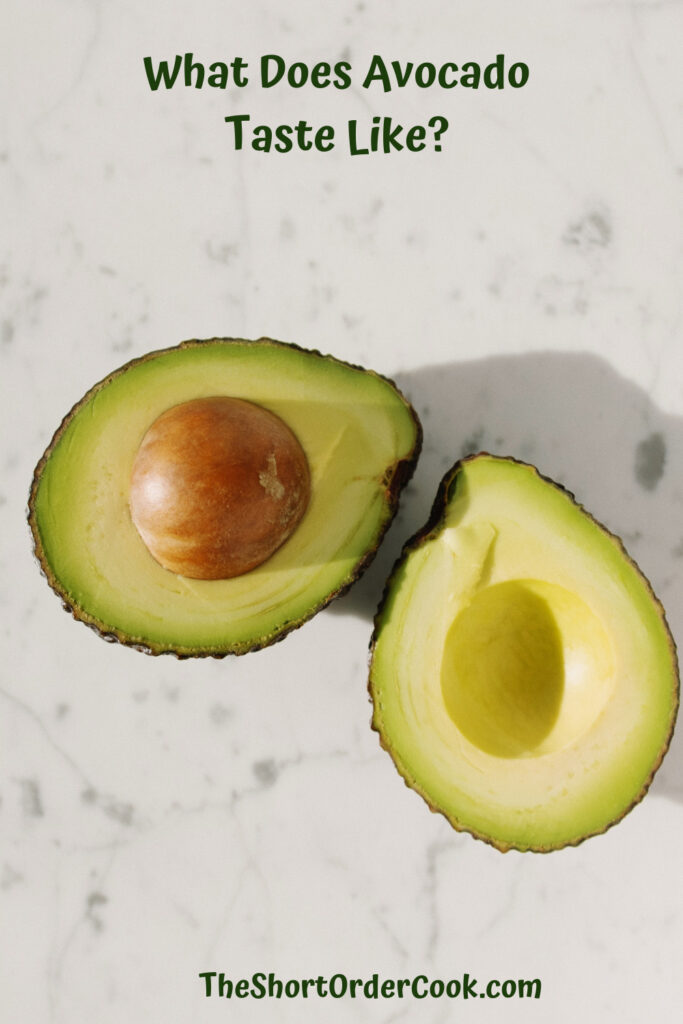 How to Choose or Ripen Avocados
Avocados are a tropical fruit primarily with a medium-sized pit, soft light-green flesh, and smooth or bumpy outer skin. How does an avocado's taste is affected by its ripeness? Be sure your avocado is ripe so it is flavorful otherwise they will be rubbery in texture and be super bland.
When choosing an avocado at the store or farmer's market, pick them based on when you want to eat them. If you need some for dinner tonight or tomorrow you want ripe ones. If you want to enjoy them in a few days, pick firm ones and take them home to ripen.
Avocados do not ripen on the tree. This is wonderful news actually which means the full harvest does not all ripen at the same time thus ensuring the fruits can be enjoyed longer and there is no overabundance all at once. Avocados are often picked at the optimal size for their variety and then will ripen at room temperature over a couple of days. Avocados are ripe when they give just slightly when pressed. It needs to yield a little bit otherwise if it is still hard it is an unripe avocado so wait another day or two.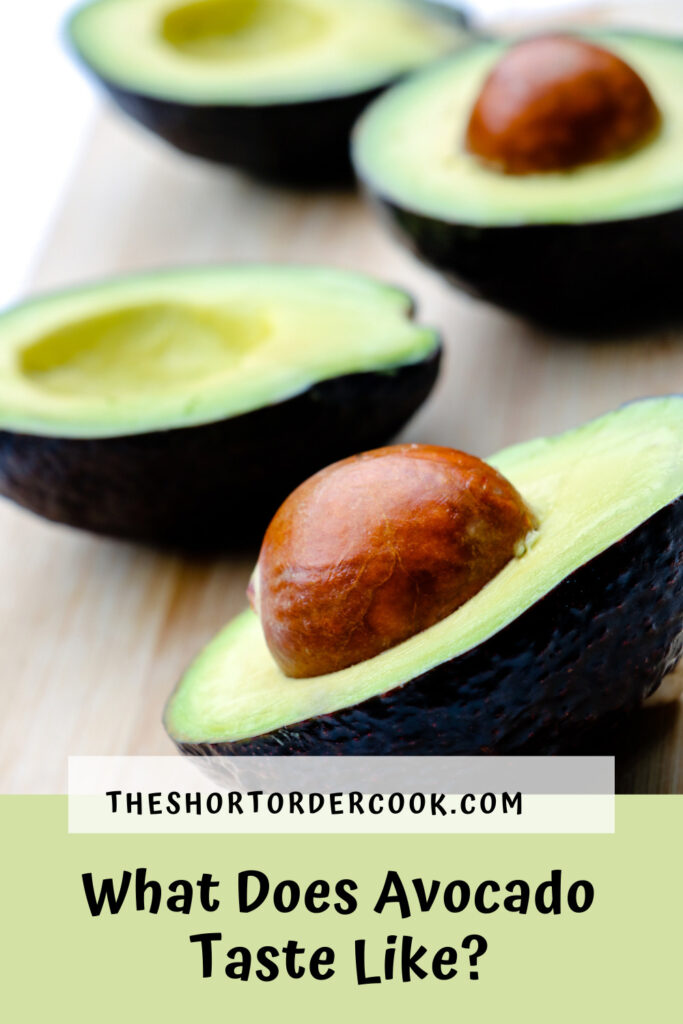 What Does Avocado Taste Like?
A ripe fresh avocado can be described as rich, buttery, slightly bitter, and nutty all in one. Because of the way an avocado smells, I also find avocados to have an earthy, even grassy, taste to them as well. They are a mild-tasting fruit that is not sweet. Because they are subtle in flavor, avocados work well with stronger flavors like onions, jalapenos, and such in guacamole for example.
For most people, I think the thing that stands out the most when eating an avocado is the texture versus the actual taste. It is hard to talk about the taste and eating an avocado without addressing the smooth, creamy, and velvety consistency of the flesh. They are also fantastic to use in dessert recipes because of the luscious creamy nature of the flesh.
Health Benefits & Nutrition Information for Avocados
They're packed full of good fats and over 20 vitamins and minerals. They are especially high in Vitamin K and folate. Avocados should be enjoyed regularly as part of a healthy diet. They are cholesterol-free and sodium-free food. To find out more, read about 12 Health Benefits of Avocados.
Avocados are packed with fiber as well which makes them a great low-carb superfood. In fact, they are a staple and commonly eaten in vegan, vegetarian, keto, low-carb, paleo, and diabetic diets. Enjoy healthy and delicious avocados with no guilt on a regular basis.

Recipes using Avocados & How to Eat Them
There are so many great ways to enjoy avocados. I grew up eating smashed avocado on toast instead of butter and this was WAY before it was a tread (trying not to age myself here). Avocados can be enjoyed as an appetizer, side dish, main entree, or even in desserts.
It is a very versatile fruit that works in both savory and sweet recipes. For savory ideas to use avocados try them with more than just guacamole, such as on sandwiches, in salads, cold soups, blended in a dressing, smashed with pasta, and more. For sweet recipe ideas, avocados can be used to make puddings, brownies, and help moisten cakes too.
Asian Avocado Peanut Coleslaw
If you want an easy peanutty coleslaw recipe, this Asian avocado peanut coleslaw is the best. This chopped slaw recipe is bursting with fresh vegetables that are dressed in a homemade Asian-inspired dressing that is salty, sweet, and spicy. This slaw is vegan and gluten-free and sure to be one that everyone loves.
Check out this recipe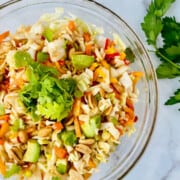 Grilled Peach, Avocado, and Goat Cheese Arugula Salad
Sweet grilled peaches, creamy avocado, tangy goat cheese, and spicy arugula are a summer salad sensation.
Check out this recipe
How to Store & Can You Freeze Avocado
Store avocados on your kitchen counter, do not put them in your refrigerator especially if they are not ripe yet. I do something chill my avocados just a bit when making guacamole to have it cool vs warm but that is just for a short period of time. To store partially used avocados, I recommend storage holders like the ones I share below to ensure the avocados do not oxidize or go brown.
You can freeze avocados. To freeze them, the best two methods are either by mashing them and sealing them in an air-tight ziplock container. Make sure to squeeze all the air out to ensure there is no freezer burn which will ruin the frozen avocado. You can also flash freeze chunks or slices by laying them in a single layer in the freezer on a parchment paper-lined tray for about 30 minutes. Once solid, remove them and place them in an air-tight ziplock or container.
Defrost frozen avocados in the refrigerator for 1-2 days. You will want to use them immediately and make sure that no air is getting to the flesh as it defrosts or it will brown and discolor. Thawed avocado is great to use in smoothies, baked goods, and more.
If your avocado is stringy or has what you think or threads or roots in it, do NOT throw it out. Here is all you need to know about saving it and still enjoying it - WHY IS MY AVOCADO STRINGY.
PIN FOR SAFEKEEPING & SHARING!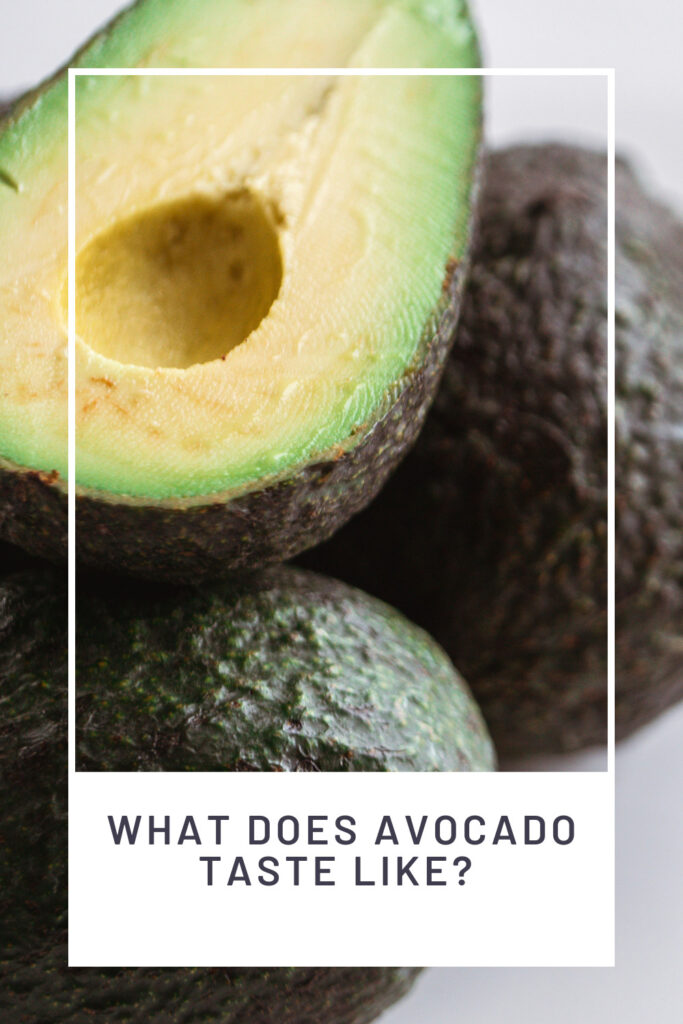 Product Recommendations for this Recipe - #ad:
The Short Order Cook is a participant in the Amazon Services LLC Associates Program. As an Amazon Associate, I earn from qualifying purchases. If you click on a link and make a purchase, I may earn a small commission on the sale at no additional cost to you. This helps with the costs of running the blog. Thank you!