For the best way to make air fryer frozen hash brown patties, try this quick and easy recipe. In just a few minutes you will have light brown hash browns that are to die for. The circulating hot air makes them so crispy on the outside. Plus the inside results in hot tender shredded potatoes. Enjoy perfect air-fried hash browns every morning when they are this easy.
These air fryer hash brown potatoes are great for breakfast, brunch, and snacks, and go perfectly with air fryer waffles. They come out golden and crunchy in no time. Enjoy them with other healthy breakfast favorites like oven-cooked turkey bacon & soft scrambled eggs.
Cooking them in an air fryer is so much healthier since no added oil or butter is needed. That also means less mess. Everyone loves that. Hands down, the best way to fry up some hash browns is not in a skillet or on a griddle, but in the air fryer.
Jump to:
Ingredients
This recipe calls for one ingredient, your favorite hash brown patties. I love these for breakfast since they are gluten-free, grain-free, and dairy-free food. Hash browns are not low-carb but paired with other proteins like eggs, sausage, or bacon they can be part of a lower-carb breakfast. (better than pancakes and syrup, right!)
Buy any store-brand frozen hash brown patties that you like. The time and temperature setting will work with any brand. I have tried air frying all these brands of hash browns with great success: Trader Joe's, Lynden Farms, Ore-Ida, & Market Pantry.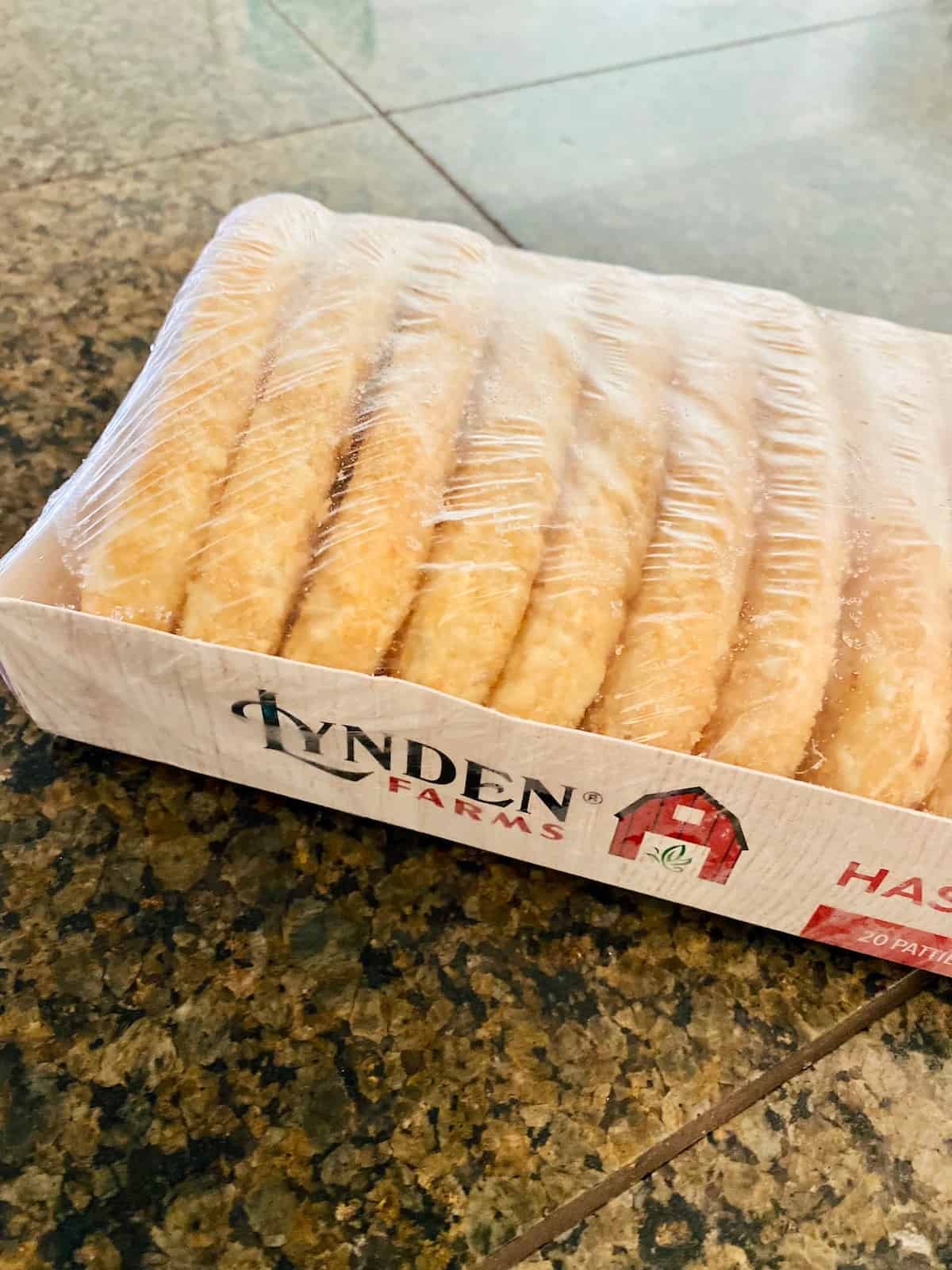 How to Make Hash Browns In the Air Fryer
It is quick and simple to get a hot, golden, and crispy hash brown patty from the air fryer. It only takes about 15 minutes for them to be ready, including preheating the air fryer. Do not defrost frozen hash browns before cooking them.
There is no need to spray them with any cooking oil. Prepackaged frozen hash browns typically already have oil in their ingredients. This helps them to get crunchy and golden brown on the outside.
Can You Stack Them in the Air Fryer?
If you want to stack the hash browns in your air fryer to cook them, I suggest you do not. Not only will they not cook evenly but they will likely stick together. Like with most recipes in the air fryer, it is always best to have the food in a single layer.
Hash browns should cook on all sides and get a golden color to be crispy and delish. Therefore, place them in your air fryer tray or basket in a single layer and with space between them. This is how I placed the frozen hash brown patties in my Breville air fryer to cook.
How Long to Cook Hash Brown Patties in the Air Fryer?
Set the air fryer at 420° for tray style or 400° for basket style and the time for 10 minutes for crispy. For soft, set it to 380° for 10 minutes. There is no need to preheat. Just set it and let them cook through the preheat and the allotted time. It took my machine about 5 minutes to preheat.
It is a total of about 15 minutes for them to be done. They make a great quick breakfast item, even doable for busy school or workday mornings. Fry up a few eggs and cut up some fruit during those 15 minutes and have a great completely balanced breakfast in just a few minutes.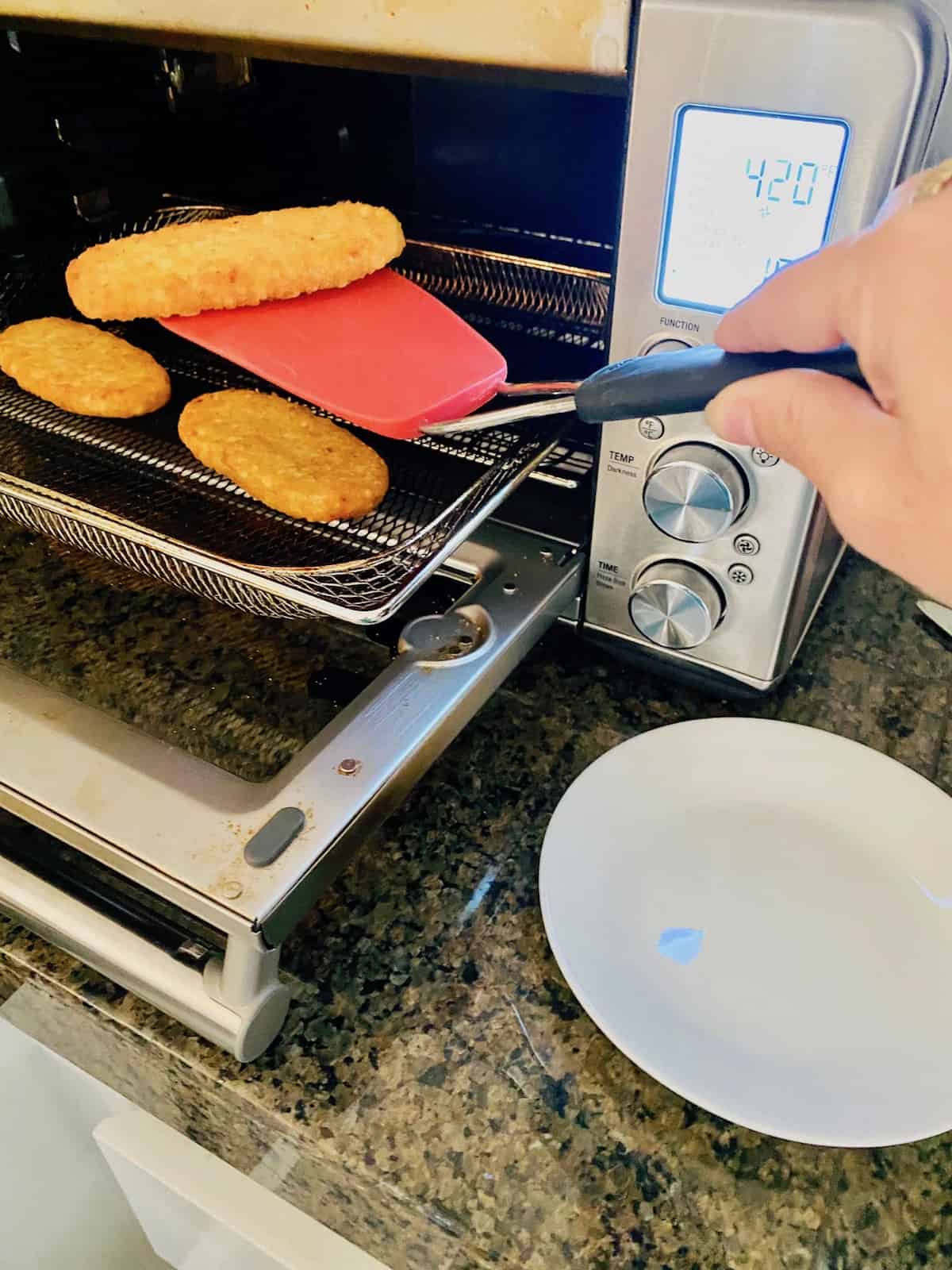 Do You Need to Flip Them?
If you have an air fryer with a basket, it is best to flip these halfway through the cooking time. Use a spatula to do this carefully. If you have a tray in your air fryer, like the toaster oven combination I use, there is no need to flip the hashbrowns. They will cook evenly on all sides.
Hint: Make sure you have your spatula or pancake turner ready. Once they are done cooking, remove the air-fried hash browns carefully with a spatula and pancake turner. Do not use tongs, as the patties can break and fall apart.
Can you Air Fry Shredded Hash Browns?
I admit I have not tried this. I have a tray that has openings in it and I think layering finely shredded potatoes on them would not be ideal. But I may try it someday.
I did look at other recipes online and did find a few recipes to try in a basket-style air fryer. If you have frozen shredded hash browns, here is how to COOK IN AN AIR FRYER.
What to Serve with Hashbrowns?
Here are some great breakfast recipes that are great to make and eat with this recipe. So the next time you make some, also make one of these recipes that go well with tasty air-fried hash brown patties.
Besides those recipes shared below, one of my favorites is chewy on the inside & crispy on the outside MOCHI WAFFLES!
Equipment
This recipe works in any brand or type of air fryer. Whether you have a basket style or an oven style with an air fryer tray, making hash browns is easy. I have a toaster oven and air fryer combo appliance. It works on so many great recipes. If you love air-fried potatoes, try my easy recipe for AIR FRYER FROZEN CRINKLE CUT FRIES. They are addicting so be warned.
Here are a few air fryers & accessories I recommend. Product Recommendations for this Recipe - #ad:
The Short Order Cook is a participant in the Amazon Services LLC Associates Program. As an Amazon Associate, I earn from qualifying purchases. If you click on a link and make a purchase, I may earn a small commission on the sale at no additional cost to you. This helps with the costs of running the blog. Thank you!
How to Store Leftover Hash Brown Patties
Once you have cooked your frozen breakfast potato patties in the air fryer, you can store any leftovers to enjoy later. It is best to place them in an air-tight container. Then store in the refrigerator for up to 3 days.
Since these hash browns are a frozen product you have now cooked, they do not do well with freezing again. Once they are cooked, I do not recommend freezing them again. Refreezing food is never a good idea.
Reheat Hash Browns in Air Fryer
The best way to reheat hash brown patties is in the air fryer. To reheat them, simply place them in the air fryer in a single layer. Set the air fryer to 380° for 5 minutes, no preheating is needed. Let them reheat during the preheat and cooking time. The hash browns will be perfectly reheated.
If you want to pre-cook frozen hash browns, the air fryer is the best way to do it. You can cook them from frozen quickly. Then you can store it in the fridge to reheat later which is faster than frozen.
Top tip
Salt or season them immediately when they are done. Using tongs, plate the hash brown patties and sprinkle them with salt, pepper, or whatever you enjoy. While they are hot, the seasonings will stick better.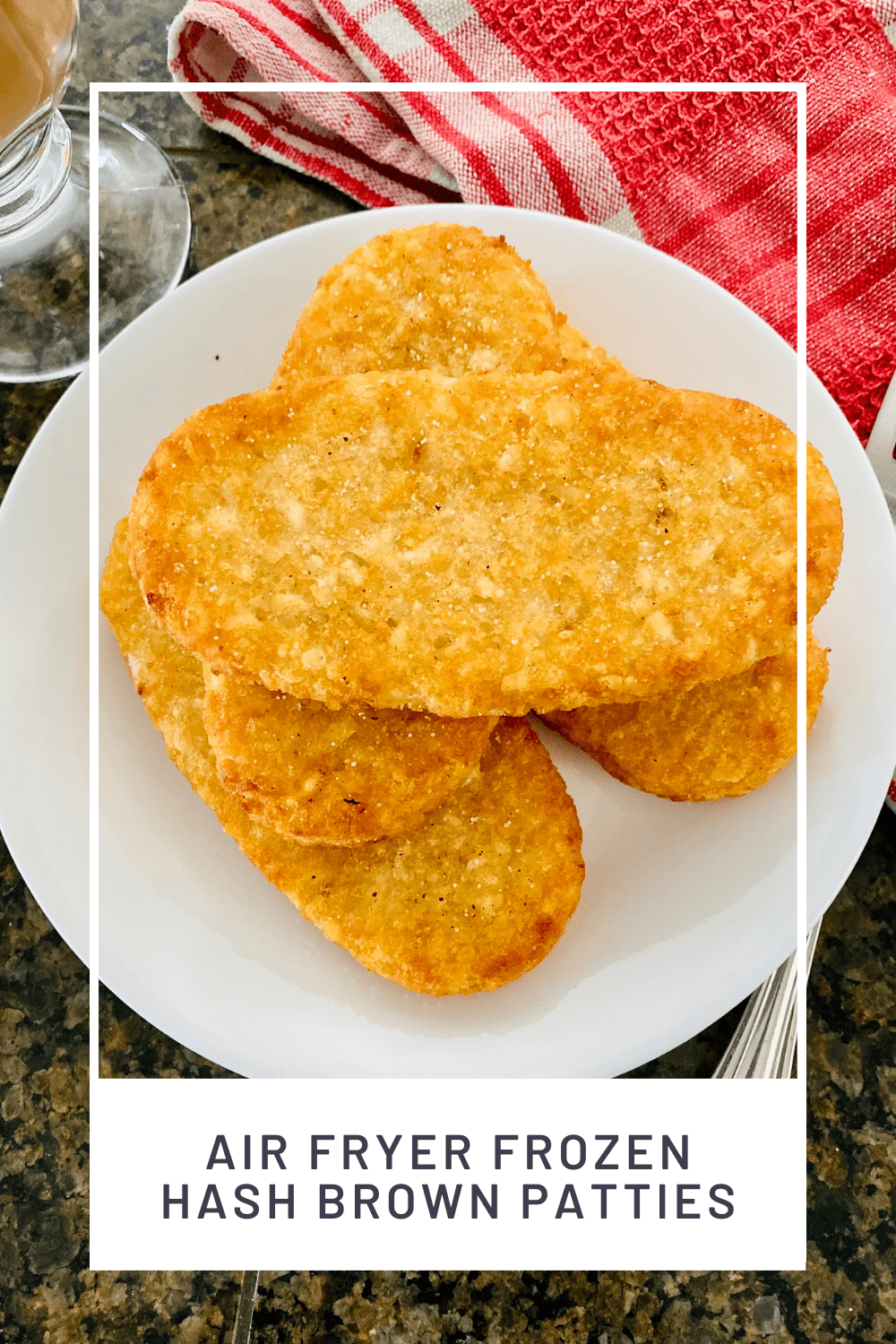 Air Fryer Frozen Hash Brown Patties
Cooking frozen hash brown patties in the air fryer is quick and easy. This healthy no oil method results in perfectly crispy on the outside & tender on the inside potatoes every time.
Instructions
Arrange 4 hash brown patties in a single layer in your air fryer basket or tray.

Set the air fryer to 420°. Set the timer for 10 minutes. Basket style machines may only go as high as 400° which is ok.

Press Start. No need to preheat.

Let the hash browns cook through the preheat and cooking stages. They will be golden brown when the 10 minutes is up.

Using a set of tongs, remove them carefully from the air fryer.

Season and serve immediately. Enjoy!
Notes
The calorie and nutrition information for this recipe will be based on the size and brand of store-bought frozen hash browns you are using.