Cooking turkey bacon in the oven is a simple and splatter-proof way to make it. It is by far the best way to cook turkey bacon. I have been baking both pork and turkey bacon in the oven for years. It is the only way I like to do it, to be honest.
Turkey bacon is a healthy option that turns out perfectly crispy every time when cooked in the oven and the clean-up is so easy. This turkey bacon recipe is simple and you do not need a baking rack or broiler pan like other methods. You too will agree that cooking turkey bacon in the oven instead of on the stove is your new favorite recipe.
Pan-frying bacon on the stove causes a big mess with the splatter and often takes a long time as you cook small batches over and over. When you cook turkey bacon in the oven, it is all done at once on sheet pans so everyone gets warm fresh bacon at the same time. Perfect for holiday and weekend brunch served with favorites like chewy mochi waffles, cinnamon roll pie, or air-fried hashbrowns.
Jump to:
What you Need to Oven Cook Turkey Bacon
To cook turkey bacon in the oven, you only need a few pieces of kitchen equipment. You will need sheet pans and cooking spray. I suggest using cooking spray even if you have nonstick pans.
I also prefer cooking spray versus using parchment paper. I find the parchment paper tends to dry out the turkey bacon a bit. Let's be honest, turkey bacon is already less fatty and moist than regular pork bacon so let's not dry it even more. In a pinch, you can use aluminum foil to cook your bacon in the oven.
Is Turkey Bacon Healthy?
Turkey bacon is a lower-fat option than regular bacon. It is oftentimes more low-carb and keto-friendly as well. Regular pork bacon tends to have added sugars; therefore, turkey bacon can be a better option for lower carbohydrate diets. It is a great alternative to pork bacon in my Brussels Sprouts with Bacon recipe.
Turkey bacon is also a lower-sodium often. To find out more about if turkey bacon is healthy and what is turkey bacon made from, check out this article from HealthLine - Is Turkey Bacon Healthy; Nutrition, Calories, & More.
TURKEY BACON VS PORK BACON ( 2 slices brands may vary)
70 CALORIES vs 90 CALORIES
5g FAT vs 7g FAT
0g CARBS vs 0g CARBS
The above is based on Oscar Meyer Turkey Bacon vs Oscar Meyer Hardwood Smoked Pork Bacon
If you like to splurge & enjoy regular pork belly at a time, there is no better way to cook a few slices than with my recipe for toaster oven bacon.
Can You Eat Raw Turkey Bacon?
Well yes and no, it depends on the brand you are using. Most turkey bacon is already cooked, and often smoked when processed; therefore, it is similar to deli meats you may buy for sandwiches. However, some brands are not processed that way and are actually raw turkey meat.
Turkey bacon can be cured or uncured. Please read your packaging carefully and as a rule of thumb, always cook your turkey bacon before eating it - especially for pregnant women, kids, and seniors.
How to Bake Turkey Bacon
Turn the oven to 425° to preheat. Next, you will spray your baking sheets with cooking spray. Finally, evenly space out the turkey bacon on the sheet pans.
I can typically get 8-10 on a pan depending on the size of the bacon and the pans I am using. Do not overcrowd or overlap, turkey bacon tends to stick together easier than regular bacon.
Like when I cook bratwurst in the oven, oven-baking meats is so easy. I do not have to tend to or watch it like I would if I was cooking it in a skillet on the stovetop. I can bake it and forget it and prep something else for the meal.
Time & Temperature For Baking Turkey Bacon
Wondering how long to cook turkey bacon and at what temperature in the oven? To make turkey bacon crispy, baking it in the oven is the way to go. Based on if you want your bacon lightly cooked or extra crispy, will determine how long to cook turkey bacon in the oven.
The following times are suggested cook times based on cooking turkey bacon at 425° in a single layer on a sheet pan.
Chewy Bacon/Slightly Cooked Turkey Bacon - bake for 8 minutes
Slightly Crispy Edges Turkey Bacon & Soft in the center - bake for 10-12 minutes
Extra Crispy Bacon (as seen below) - bake for 13-15 minutes
How to Tell When Turkey Bacon is Done
Everyone has a different idea of how they like bacon cooked. Some people like it still a bit soft or pliable and others like it very well done and crispy. So based on how you like it, see the cooking times above.
You can tell when turkey bacon is done because it will no longer be soft in the center or edges and should not be sticking to the pan still. Once it is cooked and a bit crisp, it should lift on the pan easily when using cooking tongs so you can transfer it to a plate lined with paper towels.
This recipe for turkey bacon works also in a smaller toaster oven just as well as in your regular oven. For toaster oven times, I would watch it and cook it a few minutes less. Still place the bacon strips on the toaster oven pan that comes with most models.
Also learn HOW TO COOK TURKEY BACON IN THE MICROWAVE OVEN, for the fastest way to get your breakfast done.
What to Serve with Turkey Bacon
Besides serving bacon with eggs, pancakes, or as a BLT, here are some great recipes to enjoy with your oven-baked turkey bacon. You can enjoy it with these recipes or use the cooked turkey bacon in these recipes to replace the regular bacon.
There are breakfast, dinner, keto, gluten-free, and a ton of other recipe ideas here to make with bacon. All of these recipe ideas go well with and are great to serve with turkey bacon.
Perfectly Crispy & Chewy Mochi Waffles
Mochi waffles have a lovely chewy texture on the inside. This mochi recipe also has a crispy outside for a perfect balance of all things wonderful about homemade waffles. 
Check out this recipe
Keto Belgian Waffles (Chaffles)
Keto and low-carb waffles are made with just two ingredients in only 6 minutes. These savory chaffles are only 3 net carbs and have a ton of flavor and versatility to enjoy in so many ways. Great for breakfast, lunch, or dinner. Turn them into keto pizza, a sandwich, or top with so many
Check out this recipe
Old-Fashioned Mini Blueberry Muffins
Homemade mini blueberry muffins are sweet little treats that adults and kids just love.  This old-fashioned homemade recipe is great for a small batch and they keep well.
Check out this recipe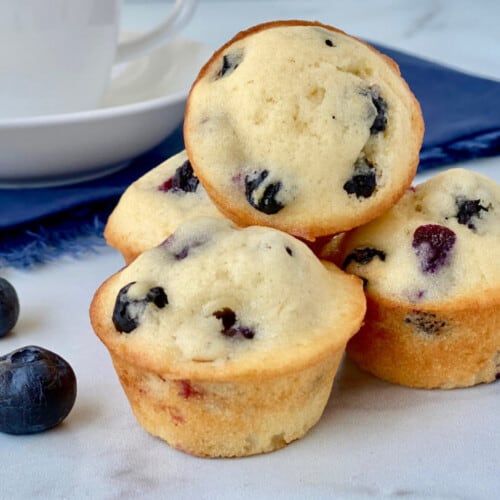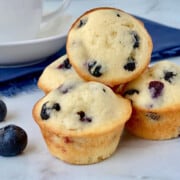 Slow Cooker No-Bean Chili (keto)
Velvety slow-cooked beef is simmered in spices and finished with crispy bacon for the ultimate keto comfort food. This recipe without beans is so easy and cooks in the CrockPot.
Check out this recipe
Old-Fashioned Baked Macaroni & Cheese with Bacon
Creamy macaroni & cheese with caramelized onions & bacon is a classic old-fashioned recipe. The best homemade baked mac and cheese begins with a traditional roux, 3 kinds of cheese & al dente elbow pasta. This family-favorite casserole recipe is creamy, comforting, & simple to make.
Check out this recipe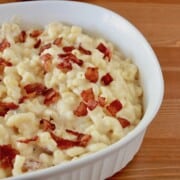 Shishito Peppers with Cream Cheese & Bacon
Shishito Peppers are a mild pepper blistered in a pan and then tossed with cream cheese and bacon.
Check out this recipe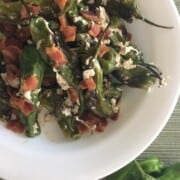 Storing & Reheating Leftovers
Leftover cooked turkey bacon can be stored in the refrigerator. I like to wrap it up in the paper towels I placed it on after cooking. Then I place that into an air-tight container that is long enough to store the bacon strips whole. Cooked turkey bacon will last in the refrigerator for up to 3 days.
To reheat leftover bacon, place it in the microwave on a paper towel-lined plate and heat for 15-20 seconds for a slice or 30 seconds for up to 3 slices. Leftover crumbled turkey bacon is great to top salads, baked potatoes, soups, vegetables, and pasta.
PIN FOR SAFEKEEPING & SHARING!
Product Recommendations for this Recipe:
The Short Order Cook is a participant in the Amazon Services LLC Associates Program. As an Amazon Associate, I earn from qualifying purchases. If you click on a link and make a purchase, I may earn a small commission on the sale at no additional cost to you. This helps with the costs of running the blog. Thank you!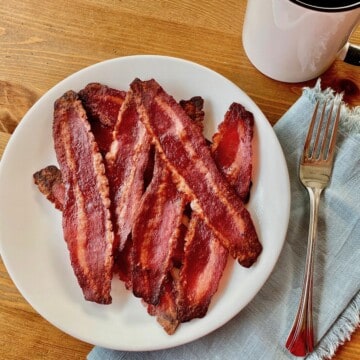 How to Cook Turkey Bacon in the Oven
Turkey bacon is a healthy option that turns out perfectly crispy every time when cooked in the oven and the clean-up is so easy. It is by far the best way to cook turkey bacon. 
Ingredients
1

package

turkey bacon

Pam cooking spray
Instructions
Next, you will spray your baking sheets with cooking spray.  Finally, evenly space out the turkey bacon on the sheet pans.

Bake in the oven until you reach the desired crispy bacon texture you prefer. See the chart listed above for more information.

For softer bacon, cook for about 8 minutes. For extra crispy cook for about 13-15 minutes.

Once done to your liking, remove from the oven carefully using oven mitts. Next, use a set of kitchen tongs to remove the bacon from the sheet pans. Place cooked bacon strips on a plate that has been lined with paper towels.

Cooked turkey bacon can be stored for up to 3 days in the refrigerator if it is in a sealed air-tight container.
Notes
BASED ON 1 SLICE OF OSCAR MEYER TURKEY BACON
Serving Size 15 GR

AMOUNT PER SERVING

Calories

35 KCAL

Calories From Fat

2.5 G

Total Fat

2.5 G

Saturated Fat

1 G

Cholesterol

5.00

Sodium

140 MG

Total Carbohydrates

0.00

Dietary Fiber

0 G

Sugars

0 G

Protein

2 G
* Nutrition information is estimated based on the ingredients and cooking instructions as described in each recipe and is intended to be used for informational purposes only. Please note that nutrition details may vary based on methods of preparation, origin, and freshness of ingredients used.
Did you make this The Short Order Cook Recipe?
Tag @theshortordercookblog (Instagram & Facebook) or @shortorder_cook (Twitter).
I would love to see your latest creations and kitchen adventures.