For the best way to make air fryer frozen waffles, try this quick and easy recipe. In just a few minutes you will have light brown waffles that are to die for. The circulating hot air makes them so crispy on the outside. Plus the inside is soft and hot. The perfect breakfast air-fried waffles.
These air fryer frozen waffles are great for breakfast, brunch, snacks, and more. Fantastic even for dessert. Have you ever had a hot waffle topped with ice cream? Well, you need to immediately try this, trust me! These air fryer frozen waffles come out golden and crunchy in no time. Hands down, the best way to cook up your favorite store-bought waffles is in the air fryer.
I have a Breville toaster oven air fryer combination. Though this appliance has a toast option, the kids really like the waffles extra crispy. With some taste testing, we find that they come out crispier using the air fry function versus the toast setting.
Jump to:
Ingredients
This recipe calls for one ingredient, your favorite waffles. Whether you like plain, blueberry, or chocolate chip ones, they all come out great cooked in the air fryer. Waffles paired with other breakfast foods like eggs, sausage, or bacon, can be part of a complete breakfast.
Can You Air Fryer Any Brand of Frozen Waffle
You can air fry any store-bought frozen waffle. This recipe works with popular brands such as Eggo, Trader Joe's, Kodiak, Kashi, and Kirkland. You can also air fry specialty brands of frozen waffles such as Van's Gluten-Free and Birch Benders protein waffles. If you want to try something new check out the Power Ranks of Frozen Waffles.
How to Air Fry Waffles
It is quick and simple to get a hot, golden, and tasty frozen waffle from the air fryer. Do not defrost frozen waffles before cooking them. They will become soggy and the cooking time will be off.
There is no need to spray them with any cooking oil. Prepackaged frozen waffles already have oil in their list of ingredients. This helps them to get crunchy and golden brown on the outside.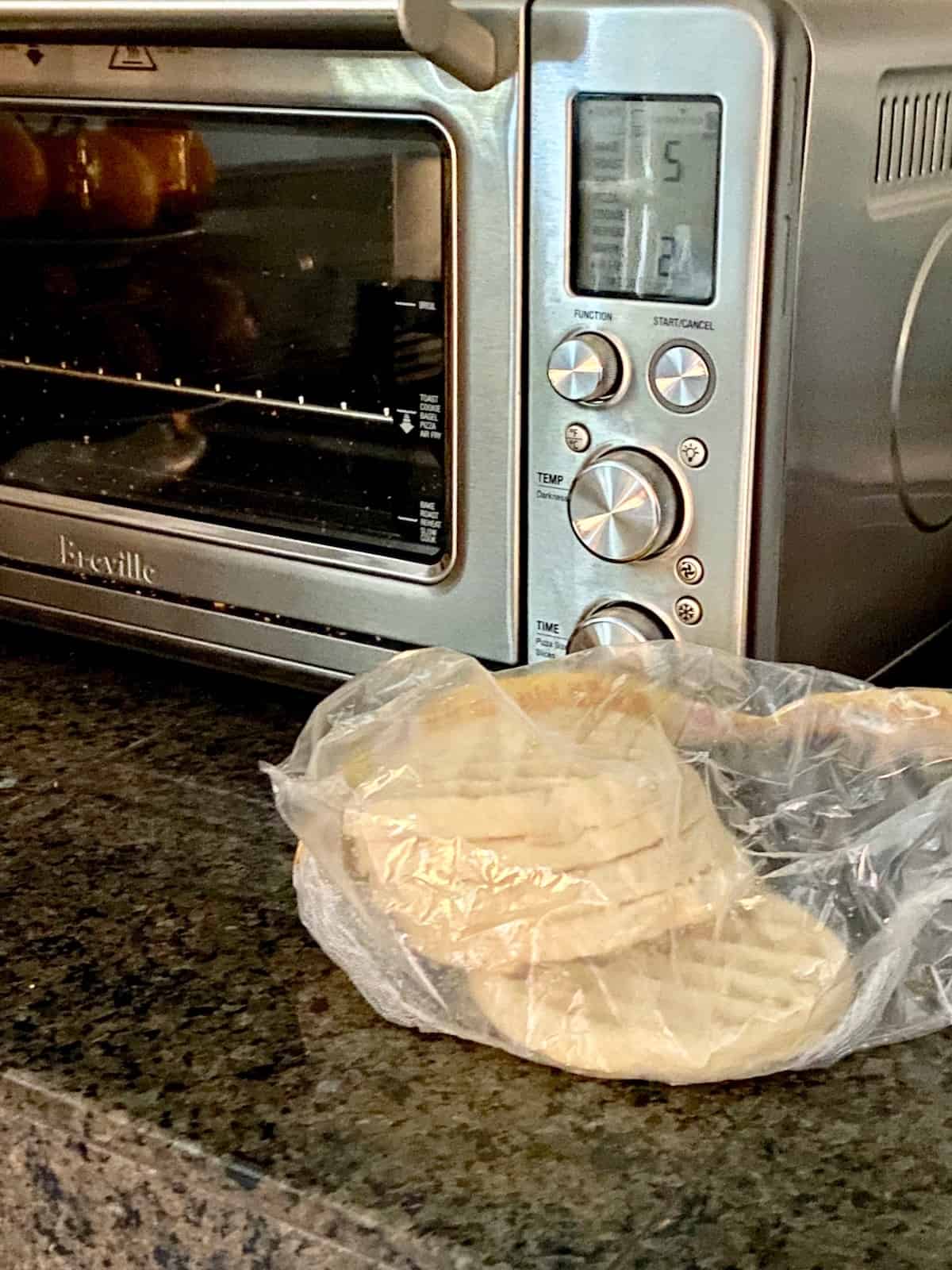 Can You Stack Waffles in the Air Fryer?
If you want to stack them in your air fryer to cook them, I suggest you do not. Not only will the waffles not cook evenly but they will likely stick together. Like with most recipes in the air fryer, it is always best to have the food in a single layer.
Waffles should cook on all sides and get a golden color to be crispy and delish. Therefore, place them in your air fryer tray or basket in a single layer and with space between them. This is how I placed the frozen hash brown patties in my Breville air fryer to cook.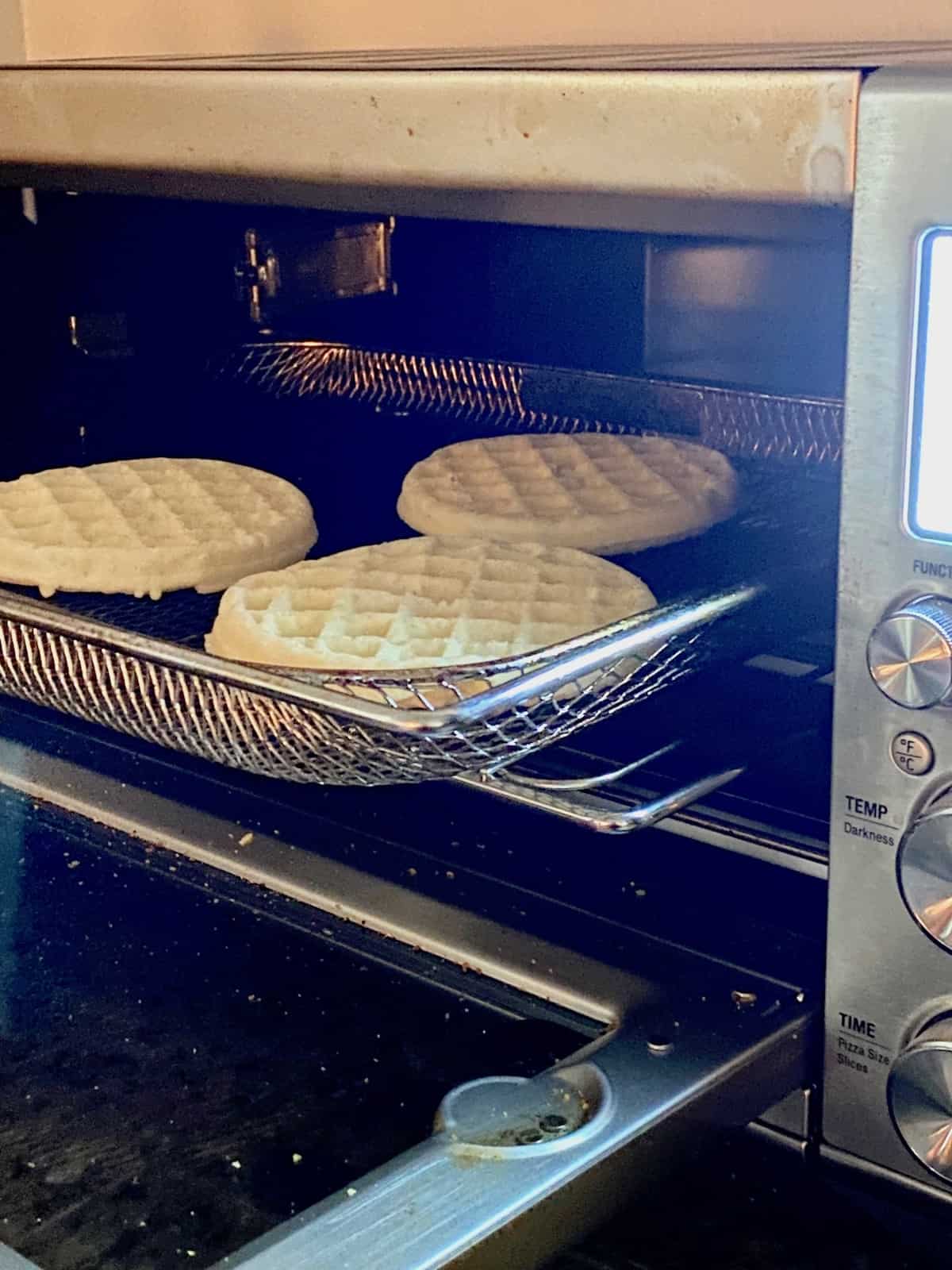 How Long to Cook Waffles in the Air Fryer?
Set air fryer to 380° for 5 minutes for crispy. For soft, set it for 360° for 5 minutes. There is no need to preheat. Just set it and let them cook through the preheat and the allotted time.
If you have a basket-style air fryer, you may want to flip them halfway through cooking. You may know your machine best and decide - many brands do a great job of circulating air that many things do not need flipping. When cooking in an air fryer tray, the waffles do not need to be flipped.
It takes a total of fewer than 10 minutes to preheat and cook frozen waffles in the air fryer. These are easy enough to make on busy school or weekdays. But also tasty enough for a lazy weekend breakfast favorite.
How to Tell When Air Fryer Waffles are Done?
The waffles should be done cooking when they are golden and crispy on the outside. Carefully remove them from using a pair of tongs. If they are cooked all the way through, they should not sag or flop when you pick them up. They should be firm and move easily to a plate.
Enjoy immediately with your favorite toppings like butter, syrup, powdered sugar, fruit, or whipped cream.
Can You Air Fry Frozen Homemade Waffles
You may be wondering if you can freeze your own homemade waffles & reheat them later in the air fryer. The good news is yes you can. Homemade waffles freeze well. If you have leftovers in your freezer, no need to defrost them to cook.
To air-fry leftover homemade frozen waffles, place them in a single layer in your air fryer basket or tray. Do not spray with oil. If your waffles are similar in thickness to store-bought frozen waffles, the time and temperature are the same. Set the air fryer to 380° and cook for 5 minutes.
If your homemade waffles are larger, Belgian style, you can still air fry frozen leftovers. For frozen Belgian waffles, set the air fryer temperature for 380° and the timer for 8 minutes. This works great on my Keto Belgian Chaffles. And if they are smaller like my Keto Cornbread Chaffles, set it for 360° and for 4 minutes. Yes, I like waffles, can you tell?
What to Serve with Waffles?
Here are some great breakfast recipes that are great to make and eat with this recipe. So the next time you make some, also make one of these recipes that go well with tasty air-fried frozen waffles.
Equipment
This recipe works in any brand or type of air fryer. Whether you have a basket style or an oven style with an air fryer tray, making waffles is easy. I have a toaster oven and air fryer combo appliance. It works on so many great recipes.
Here are a few air fryers & accessories I recommend. Product Recommendations for this Recipe - #ad:
The Short Order Cook is a participant in the Amazon Services LLC Associates Program.  As an Amazon Associate, I earn from qualifying purchases.  If you click on a link and make a purchase, I may earn a small commission on the sale at no additional cost to you. This helps with the costs of running the blog. Thank you!  
How to Store Leftover Cooked Frozen Waffles?
Once you have cooked your frozen waffles in the air fryer, it is best to enjoy them right away. They are not an ideal food to cook and eat later. However, if you must, you can store any leftovers to enjoy later. It is best to place them in an air-tight container. Then store in the refrigerator for up to 2 days.
Since these are frozen products you have now cooked, they do not do well with freezing again. Once waffles are cooked, I do not recommend freezing them again. Refreezing food is never a good idea.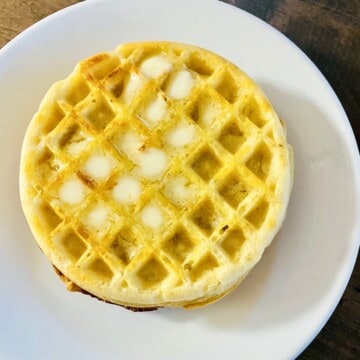 Air Fryer Frozen Waffles
Cooking frozen waffles in the air fryer is quick and easy. This recipe makes perfectly crispy on the outside & hot on the inside waffles every time. Great for a busy school day but tasty enough for a big weekend breakfast served with bacon or eggs.
Instructions
Arrange 4 waffles in a single layer in your air fryer basket or tray.

(you can make more at once if you have a tray or basket where more can fit in a single layer)

Set the air fryer to 380°. Set the timer for 5 minutes. Press Start.

No need to preheat.

Let the frozen waffles cook through the preheat and cooking stages. They will be golden brown when the 5 minutes are up.

Using a set of tongs, remove them carefully from the air fryer.

Serve immediately with butter and your favorite toppings. Enjoy!
Notes
The calorie and nutrition information for this recipe will be based on the size and brand of store-bought frozen hash browns you are using.