Indulge in a delicious new way to enjoy Brussels sprouts with an Asian-inspired twist. The combination of sweet, spicy, savory, and salty flavors in the homemade teriyaki sauce adds an extra layer of scrumptiousness to this classic vegetable.
This all comes together as the Brussels sprouts roast in the oven, their edges turn crispy & caramelize beautifully. Give this easy recipe a try and elevate your taste buds with this fantastic recipe!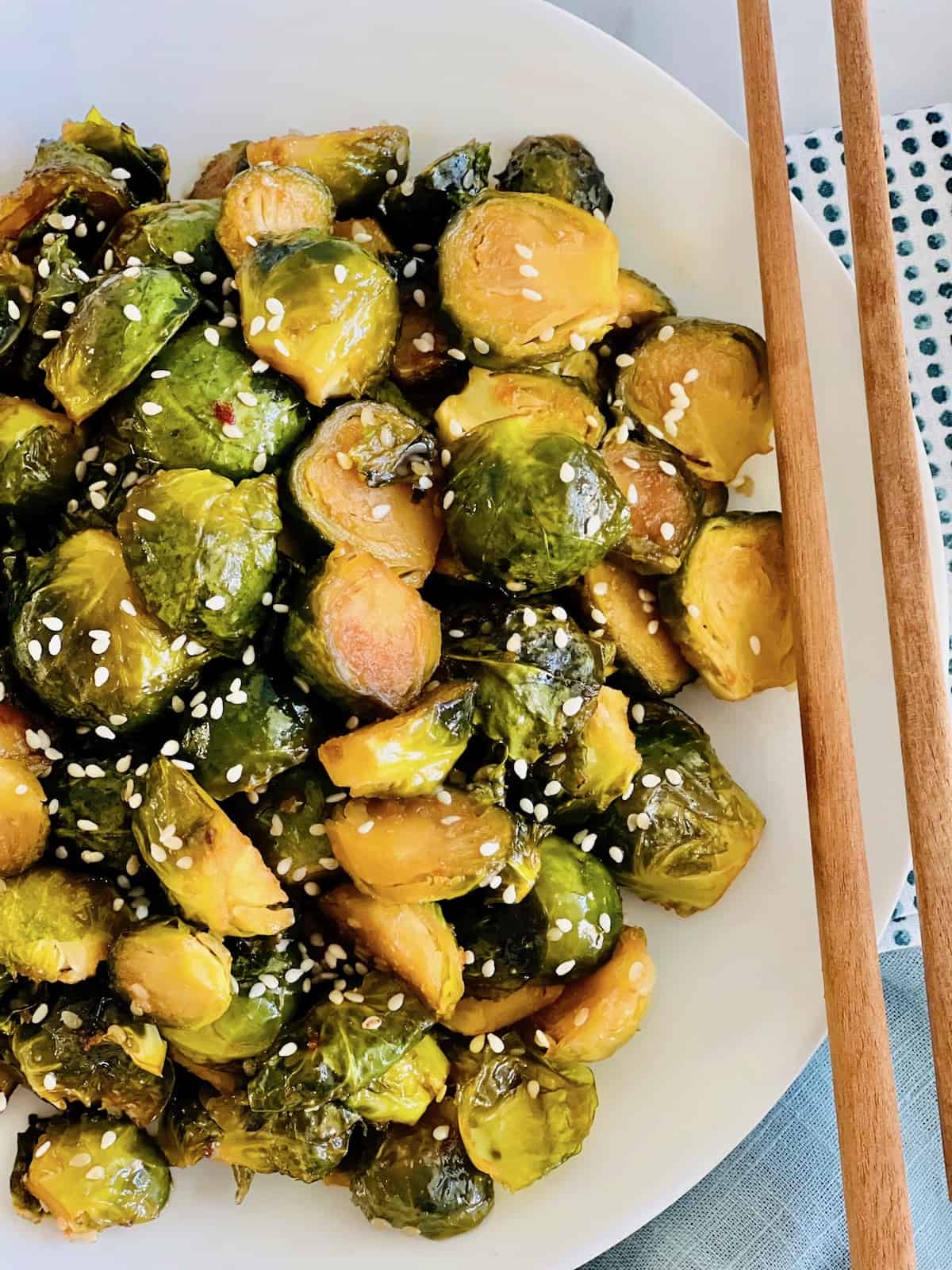 This was inspired by my recipe for green beans with everything bagel seasoning on this site and pairs well with Teriyaki Chicken Skewers. The nutty flavor of sesame seeds pairs perfectly with the sweet & spicy teriyaki sauce. This irresistible recipe is so quick & easy that you will want to serve it with everything.
Jump to:
Ingredients for Teriyaki Brussels Sprouts
This easy teriyaki recipe draws on a handful of authentic ingredients that you can easily find at your local grocery store. These common staples are a go-to for many Asian dishes and pack a flavorful punch.
Your pantry is likely already stocked with brown sugar & garlic powder. So you will need a few other ingredients to make this wonderful recipe. Sesame oil & sesame seeds offer a nutty flavor, Thai red garlic chili paste adds heat, and teriyaki sauce for a salty savoriness.
And finally the star of the recipe: fresh Brussels sprouts. Try and purchase Brussels sprouts that are similar in size. The uniformity helps them cook evenly when roasting them in the oven.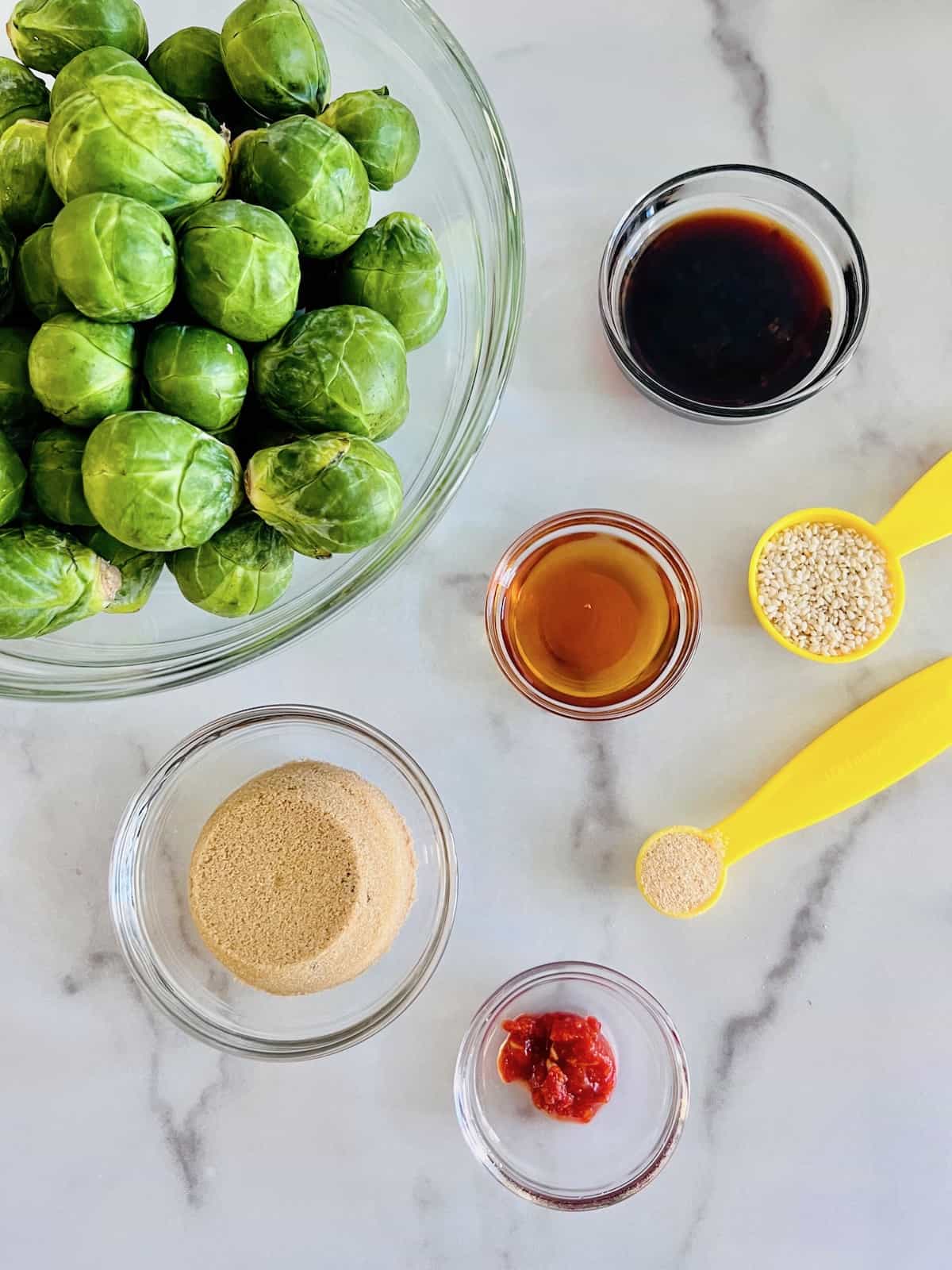 Brussels Sprouts
Brown Sugar
Garlic Powder
See the recipe card for quantities.
Step-by-Step Instructions
Before prepping the Brussels sprouts, set the oven to 400° to preheat. Also line a baking sheet with foil, parchment paper, or spray with cooking spray.
Next, begin this recipe by washing, trimming, & cutting the Brussels sprouts. Once they are clean, use a sharp chef's knife to remove the stems.
Cut each sprout in half as shown here. Do not discard the leaves that may fall off. The turn into crispy sprout chips that are amazing.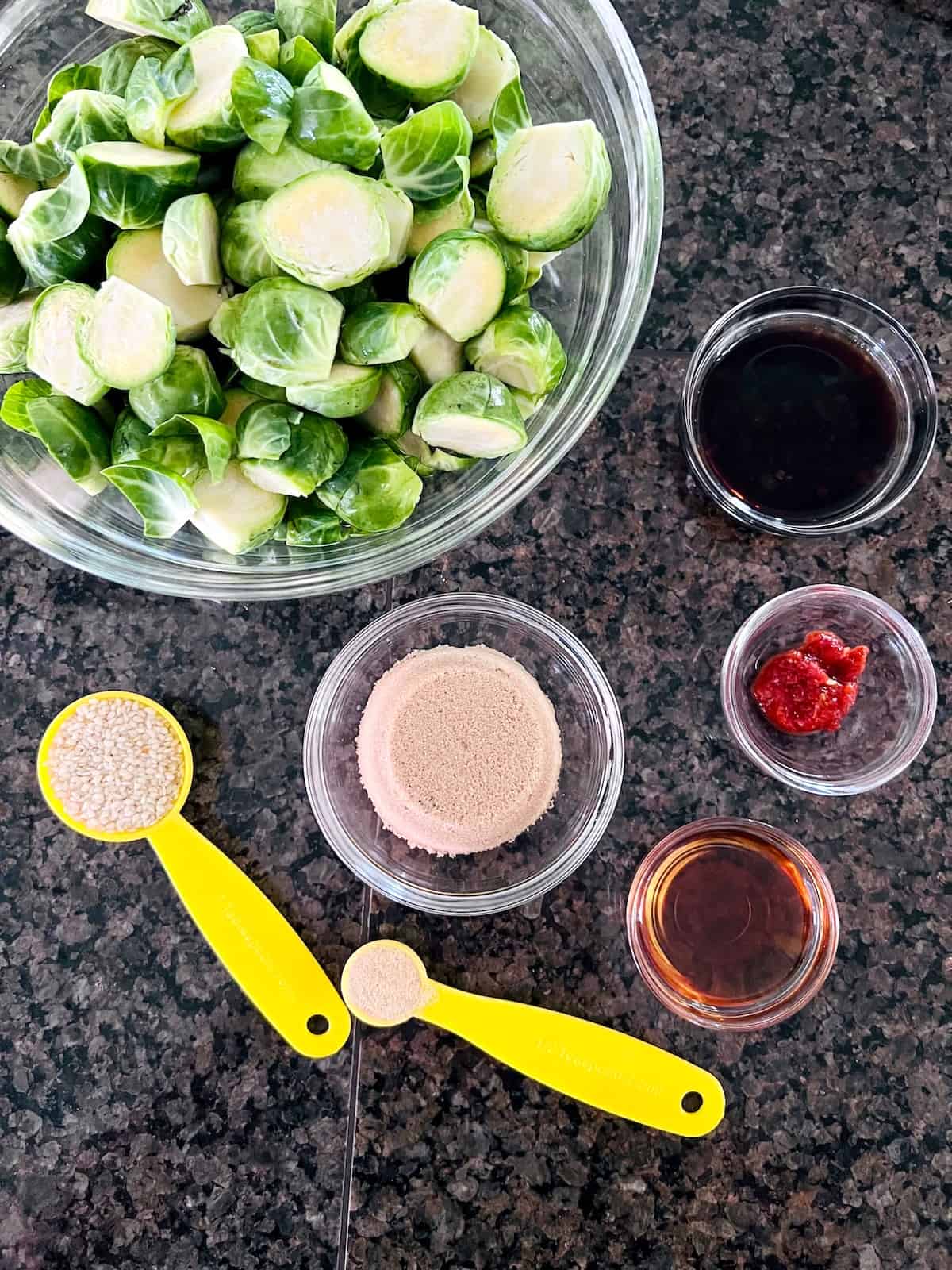 Place the sprouts in a bowl once cut. Begin by drizzling the sesame oil & teriyaki sauce over the sprouts & toss to coat.
Add ½ of the sesame seeds plus the remaining ingredients to the bowl and stir to combine.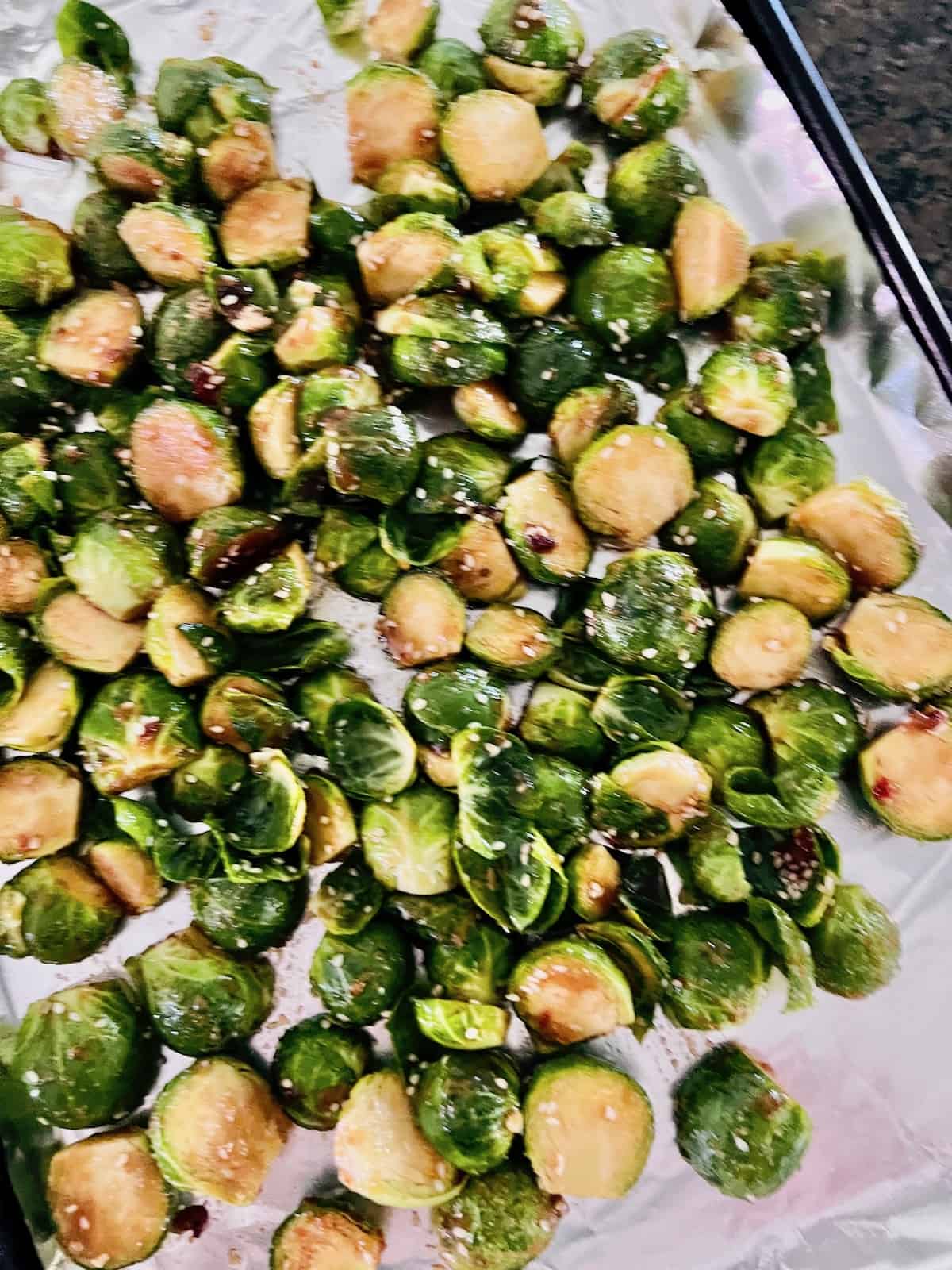 Pour the Brussels sprout mixture into the prepared baking sheet. Spread out so they are in a single layer with space between them if possible.
How Long to Oven Roast Brussels Sprouts
Place the Brussels sprouts into the preheated oven that has reached 400°. Bake for 25-35 minutes in the preheated oven. At about the 15-minute mark, stir so that the other sides of the sprouts can brown.
When they are done roasting, the Brussels sprouts should be fork-tender in the middle and crispy brown on the edges. The brown sugar will caramelize & coat the sprouts beautifully.
Hint: do not cook the Brussels sprouts too long. The sugar can burn quickly so watch carefully & stir occasionally if needed.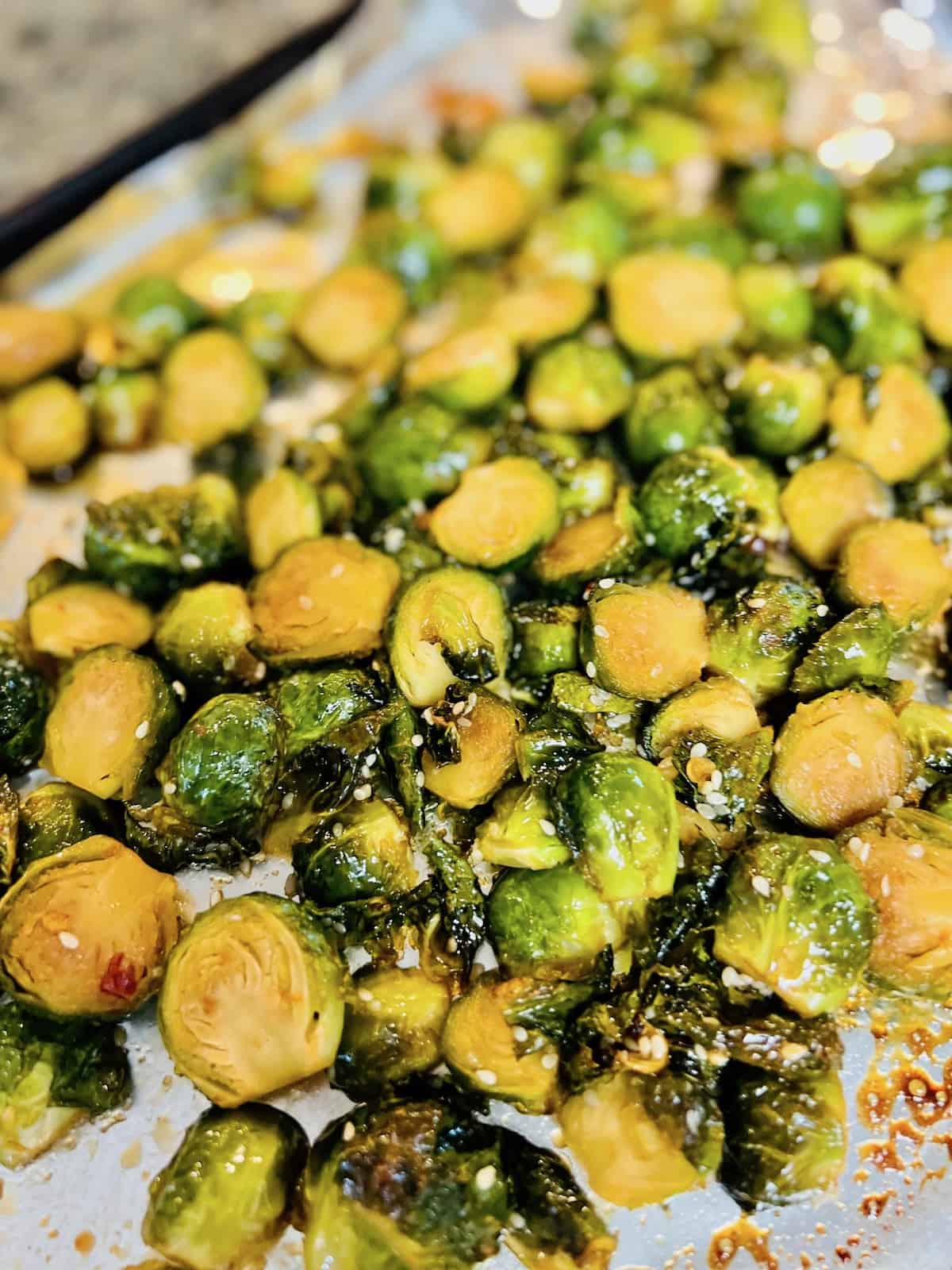 Carefully remove the baking sheet from the oven. Spoon the Brussels sprouts onto a serving platter. Sprinkle on the remaining sesame seeds. Transfer to a serving platter or plate to enjoy.
Top Tips
All of these great tips are shared in the recipe. But these are so good and important they are worth mentioning again so you don't miss them.
Purchase Brussels sprouts that are uniform in shape so they all cook evenly.
Do not discard the leaves that fall off while cutting or stirring. Those little leaves will be crunchy like chips & 100% amazaing.
Stir & check on them while roasting, the brown sugar can burn quickly.
Reserve ½ of the sesame seeds to sprinkle on at the end.
Substitutions & Variations
To make this recipe with alternate ingredients or to better suit you, try these substitutions and variations. If you have a cultural, dietary, or personal preference for ingredients, these suggestions may be what you are looking for.
Teriyaki Sauce- use tamari for a gluten-free soy option.
Brown Sugar- use any of these substitutes for brown sugar if you find your pantry empty.
Spicy - add double the Thai chili garlic paste for extra heat.
The use of tamari in this recipe as a substitution ensures that the teriyaki Brussels sprouts are grain-free & gluten-free. This recipe is already dairy-free, vegan, & vegetarian.
This recipe doesn't have any meat. But if you want a recipe that does, try my flavor-packed recipe for Brussels Sprouts with Bacon & Blue Cheese.
What to Serve with Brussels Sprouts
These teriyaki Brussels sprouts have Asian-inspired flavors that go great with many main dishes. Any Chinese, Japanese, Vietnamese, or Korean vegetarian, chicken, beef, pork, or tofu recipes go well with teriyaki Brussels sprouts.
Try serving it with air fryer egg rolls or air fryer pot stickers for a light lunch. Or for a healthy gluten-free meal serve these with my fiery spicy & better than Chinese takeout recipe for Keto Kung Pao Chicken.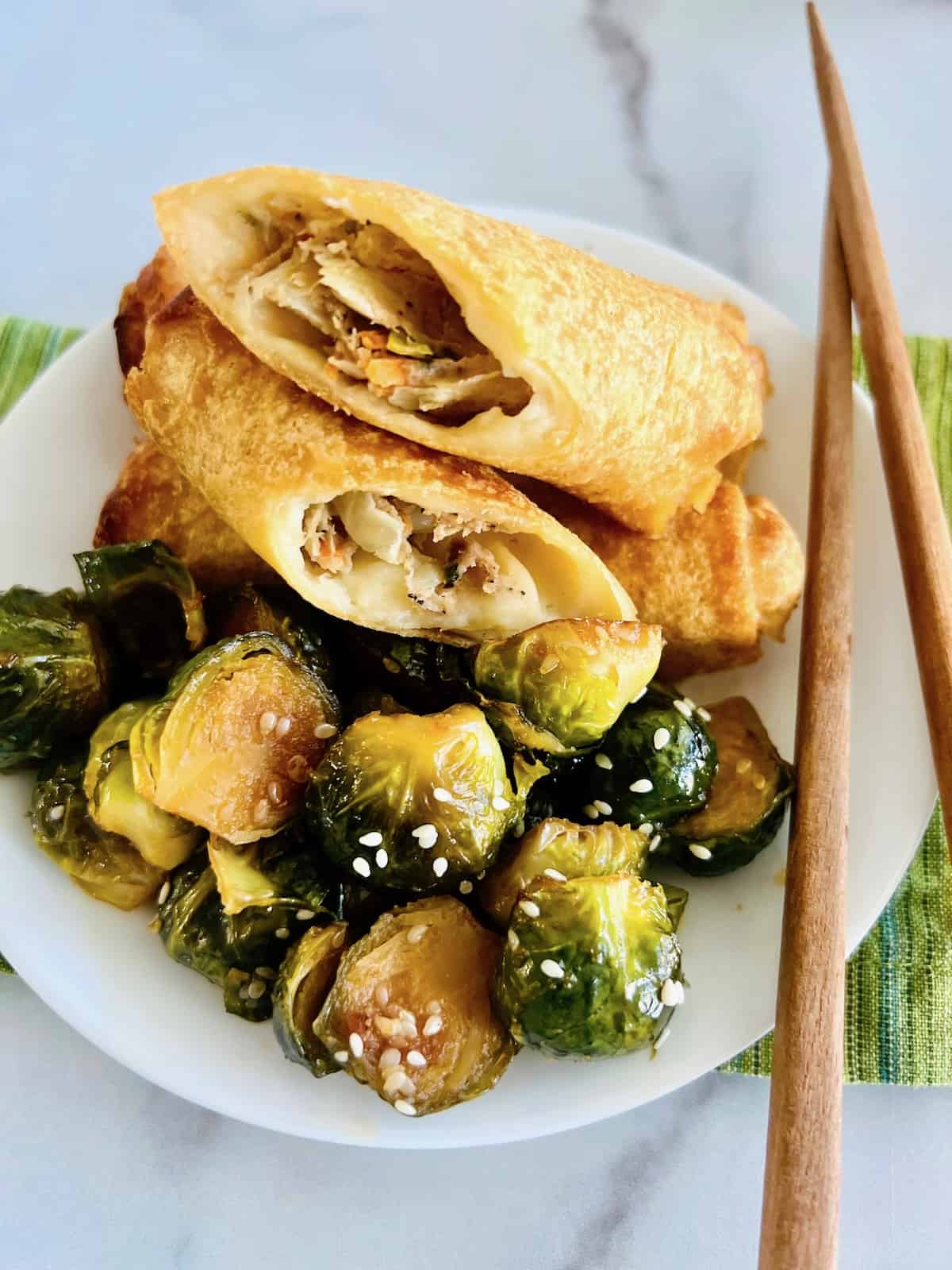 Equipment
Equipment can have a big impact on how a recipe turns out. Make sure you have the right tools & ingredients to make this recipe. Here is what I recommend so that these Brussels sprouts come out perfect every time.
The Short Order Cook is a participant in the Amazon Services LLC Associates Program. As an Amazon Associate, I earn from qualifying purchases. If you click on a link and make a purchase, I may earn a small commission on the sale at no additional cost to you. This helps with the costs of running the blog. Thank you!
Storage
Brussels sprouts store really well in the refrigerator. If you have leftovers, place them in an air-tight container & store them for up to 3 days in the refrigerator. To reheat, microwave or warm them up in a 350° oven.
I do not recommend freezing these after they have been cooked. Brussels sprouts will become very mushy after cooking, freezing, and then defrosting. These are best enjoyed within a few days of making from scratch.
FAQ
Why won't my Brussels sprouts get crispy?
Brussels sprouts need a high heat to roast & get crispy on the edges. This recipe cooks them at 400° to ensure they get crispy on the edges but also is not too hot that the brown sugar burns. Make sure your pan is not overcrowded. Having space between the Brussels sprouts ensure the edges get direct heat to crisp up and get crunchy.
Do you have to cut them in half before roasting?
It is best to cut Brussels sprouts in half before roasting in the oven. This allows more surface area to brown, caramelize, & get crispy. Also, the sauce has more nooks & crannies to get into when you expose the interior by cutting them open.
Do I need to cook Brussels sprouts cut side down?
The cut side will caramelize and brown more evenly than the other sides. I recommend in this recipe stirring a few times so that all sides cook evenly, especially the cut sides.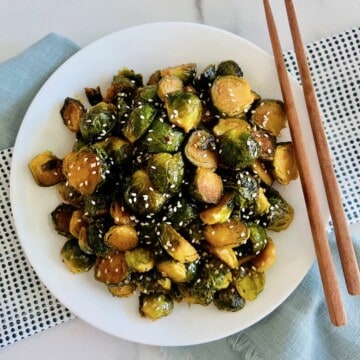 Asian-Inspired Teriyaki Brussels Sprouts
This easy recipe for Brussels sprouts is an Asian-inspired twist on the classic vegetable. It has sweet, spicy, savory, & salty flavors you won't want to miss. The homemade teriyaki sauce is gluten-free plus has brown sugar that caramelizes the Brussels sprouts as they roast in the oven. The crispy edges & delicious sauce makes this quick & simple recipe irresistible.
Ingredients
1

pound

Brussels sprouts

halved

2

tablespoons

sesame oil

3

tablespoons

teriyaki sauce

¼

cup

brown sugar

½

teaspoon

Thai chili garlic sauce

½

teaspoon

garlic powder

1

Tablespoon

sesame seeds - divided
Instructions
Clean and cut off the stem of each Brussels sprout. Then cut each one in half from the bottom to the top.

In a large mixing bowl add the cut Brussels sprouts.

Drizzle on the oil and teriyaki sauce. Toss to coat.

Sprinkle on the garlic powder & ½ of the sesame seeds. Add the brown sugar and Thai chili garlic sauce.

Spread out the seasoned Brussels sprouts in an even single layer on your baking sheet.

Bake for 25-35 minutes in the preheated oven. At about the 15-minute mark, stir so that other sides of the sprouts can brown. They should be fork-tender in the middle and crispy brown on the edges.

Carefully remove the baking sheet from the oven. Spoon the Brussels sprouts onto a serving platter.

Sprinkle on the remaining sesame seeds. Serve & enjoy.
Notes
Nutrition Facts
Servings: 4
Amount per serving
 
Calories
170
% Daily Value*
Total Fat 8.3g
11%
Saturated Fat 1.3g
6%
Cholesterol 0mg
0%
Sodium 549mg
24%
Total Carbohydrate 22.1g
8%
Dietary Fiber 4.6g
16%
Total Sugars 13.2g
 
Protein 5.1g
 
Vitamin D 0mcg
0%
Calcium 72mg
6%
Iron 2mg
11%
Potassium 498mg
11%
*The % Daily Value (DV) tells you how much a nutrient in a food serving contributes to a daily diet. 2,000 calorie a day is used for general nutrition advice.