If you are trying to figure out what to serve with beef stew for dinner, this list is of sides is exactly what you are looking for. Beef stew is a comforting warm bowl and is a meal in itself. However, this hearty soup deserves a great side dish that goes well with them. Therefore, you will want to pick the best side dish recipe that goes with your favorite beef stew or any soup recipe.
I love making soups and stews in the crockpot so they can take all day to cook and there is not much work. At the end of the day, the slow cooker beef stew is ready and all I need is a quick side dish. When I don't want to just crackers or toast and I want dinner a bit more filling or fancy, these are my go-to recipes. Whether you want something healthy, light, homebaked, or unique, I have you covered with so many choices on what to eat with beef stew. All of these sides pair well with the rich broth, tender meat, and vegetables that make it so amazing.   Which will you try first?
WHAT TO SERVE WITH BEEF STEW
This is a tasty list of what to offer with beef stew.  Based on your mood, preference, or diet, there is something for everyone.  To help you decide what to serve with it, I have broken down the list into some subcategories that I shared below. There are wonderful salads,  fresh-baked loaves of bread, vegetables, and more.  There are also gluten-free, keto, low-carb, and healthy side dish recipes. This list of what to goes well with beef stew includes:
Salad Side Dishes 
Baked Goods Side Dishes 
Vegetable Side Dishes
Other Side Dishes 
Salad Side Dishes 
Butternut Squash, Apple, and Kale Salad with Honey Dijon Vinaigrette
Butternut squash and kale make the perfect Fall salad. The crunchy pecans, crisp apples, sweet raisins, and roasted butternut squash make the most amazing Autumn harvest salad recipe.
Check out this recipe
Broccoli Apple Salad with Greek Yogurt Dressing (no mayo)
This healthy broccoli salad with carrots, raisins, apples, and cheese is amazing. The creamy greek yogurt dressing is low-fat and made without mayo. It is tangy, crisp, fresh, and sweet in every bite. It holds up great for potlucks and barbecues. It is even great as a leftover, unlike other salads.
Check out this recipe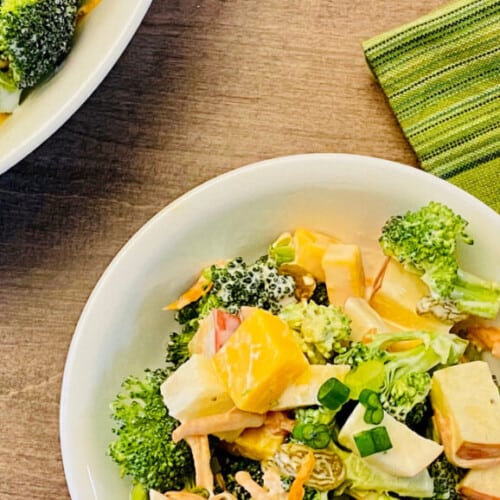 Grilled Peach, Avocado, and Goat Cheese Arugula Salad
Sweet grilled peaches, creamy avocado, tangy goat cheese, and spicy arugula are a summer salad sensation.
Check out this recipe
Baked Goods Side Dishes 
Easy Homemade Soft Dinner Rolls
The best soft homemade dinner rolls baked using yeast are easy to make. These rolls are delicious and enjoyed best when warm straight out of the oven.
Check out this recipe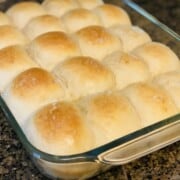 Keto Fat Head Rolls
Homemade soft keto rolls using almond flour are not just low carb (4 net carbs each!) but will please any appetite. They are sturdy enough for use as bread for sandwiches, buns for hamburgers, and great plain.
Check out this recipe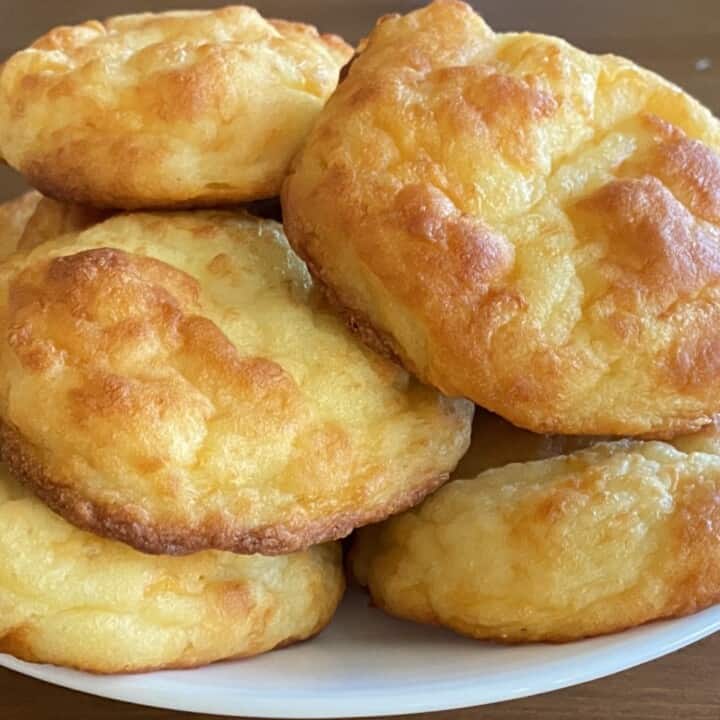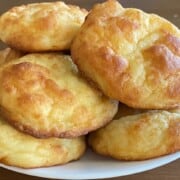 Ciabatta Bread
Homemade rustic Italian bread has a crispy crust and a tender chewy inside.
Check out this recipe
Green Chile Sweet Corn Casserole
This silky smooth corn pudding casserole satisfies the summer craving for sweet corn on the cob.  This cheesy green chili casserole is an easy savory recipe that is a new version of the southern classic corn pudding that my grandma used to make. 
Check out this recipe
Vegetable Side Dishes 
Instant Pot Steamed Broccoli
Instant pot steamed broccoli is a healthy and easy recipe that comes out perfect every time. In just a few minutes fresh broccoli is cooked and ready to enjoy.  This method works in any electric pressure cooker with or without a steamer basket and results in fresh steamed broccoli that is not mushy. 
Check out this recipe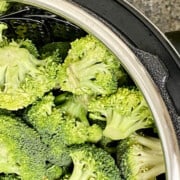 Amazing Roasted Green Beans with Everything But the Bagel Sesame Seasoning
These delicious but easy green beans will be a family favorite. The nutty sesame seasoning that includes garlic and onion adds so much flavor.
Check out this recipe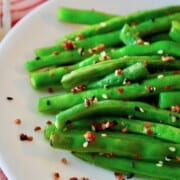 Crispy Baked Marinated Artichoke Hearts
Crispy oven-baked marinated artichoke hearts is the easiest recipe ever. It is so simple to cook marinated, canned, or frozen artichoke hearts in the oven on high heat to get a crispy outside and a tender inside. They're best as an appetizer, healthy snack, salad pizza topping, or side dish. Artichoke hearts are a wonderful cracker or chip replacement that makes a good gluten-free, grain-free, low-carb, and keto dipper.
Check out this recipe
Other Side Dishes 
Easy Tomato Basil Bruschetta
This traditional bruschetta combines the perfect flavors of fresh Roma tomatoes, sweet basil, salty capers, and pungent garlic.
Check out this recipe
Grilled Cheese with Figs and Hot Honey
Grilled cheese with sharp cheddar, fresh sweet figs, and spicy hot honey is an easy gourmet recipe. A perfect combo of sweet and spicy between toasted sourdough. 
Check out this recipe
Keto Belgian Chaffles
Keto and low carb waffles made from shredded cheese and eggs = chaffles. Each one has only 3 net carbs and a ton of flavor and versatility to enjoy so many ways. Great for breakfast, made into pizza, as sandwich bread, and strips for snacking.
Check out this recipe
Keto Monte Cristo Sandwich
This keto Monte Cristo sandwich is an easy and tasty low-carb recipe. Full of ham, turkey, and swiss cheese for a warm griddled lunch or dinner. If you enjoy ordering this at Disneyland's Blue Bayou or Cafe Orleans, this is the recipe for you.
Check out this recipe
PIN FOR SAFEKEEPING & SHARING!
PRODUCT RECOMMENDATIONS FOR THIS ARTICLE:
The Short Order Cook is a participant in the Amazon Services LLC Associates Program.  As an Amazon Associate, I earn from qualifying purchases.  If you click on a link and make a purchase, I may earn a small commission on the sale at no additional cost to you. This helps with the costs of running the blog. Thank you! 
What To Serve With Beef Stew
If you are trying to figure out what goes well with beef stew for dinner, this list is exactly what you are looking for. If you want a salad,  sandwich, vegetable, or bread, I have you covered with so many choices on what to serve and eat with beef stew.
Ingredients
PICK ANDY SIDE DISH FROM THE LIST
Homemade Dinner Rolls

Broccoli Apple Salad

Roasted Green Beans

Ciabatta Bread

Sandwiches
Instructions
Make your favorite Beef Stew recipe.

Choose one or more wonderful sides from the lists above.