The best cream cheese appetizers are here no matter what your taste or diet is.  There is something for everyone to love with these homemade hor d'oeuvres.  These recipes offer a variety that includes those with meat, for vegetarians, great dips, hearty cheese balls, and all are killer recipes.   Both cold or hot, spicy or savory, recipes with cream cheese are shared here by some of the best food bloggers.
If you need a recipe for the next potluck, Super Bowl party, holiday (check out the reindeer Christmas cheeseball below) these are the from-scratch cream cheese appetizer recipes you have been looking for.  I have included several that are perfect for make-ahead, healthy, or simple appetizers so you can enjoy every cream cheese bite and not have to cook or miss the fun during your next get-together.  I hope you find something new to make with cream cheese.   If you buy in bulk and wonder CAN YOU FREEZE CREAM CHEESE, I have all you need to know on the blog too.
Search the categories below to find exactly what you are looking for:
APPETIZERS BY THE SHORT ORDER COOK
APPETIZERS THAT ARE FUN AND UNIQUE
APPETIZERS WITH MEAT
APPETIZERS FOR VEGETARIANS
APPETIZER CHEESE BALLS OR DIPS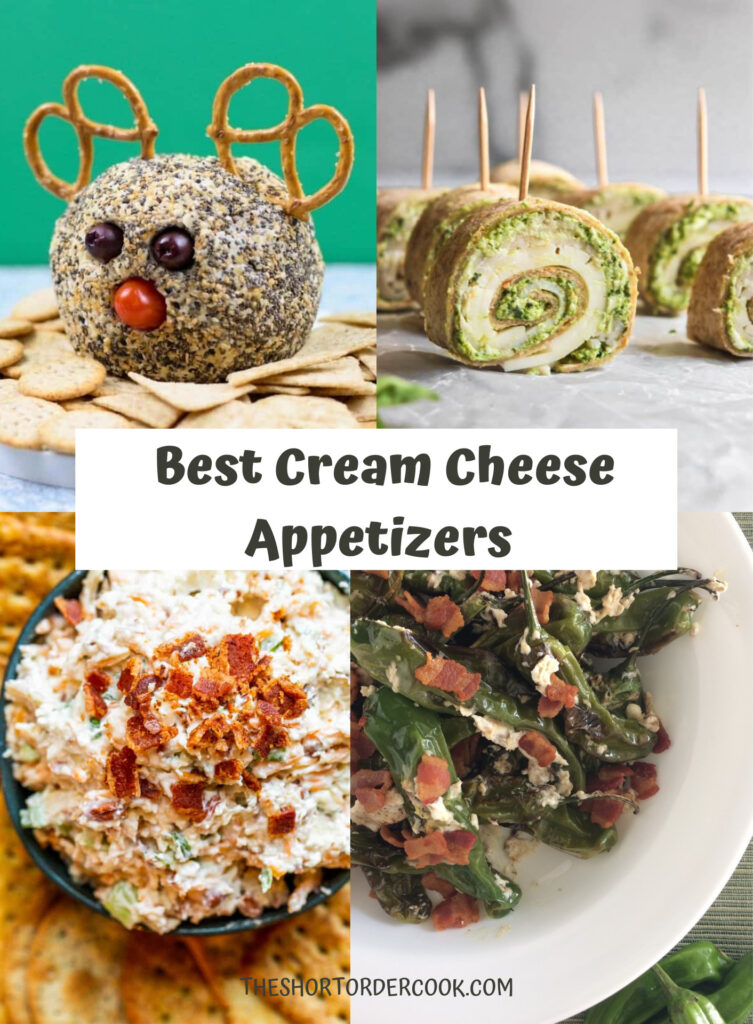 APPETIZERS BY THE SHORT ORDER COOK
The following appetizers are some of my favorites from the blog.  Cream cheese is an ingredient we eat often since it is tasty, versatile, and it goes a long way for a budget price. I cook with full-fat Philadelphia cream cheese in dips, with meat rolled up, and more, since most of the time since I try and eat a low-carb diet.
I hope you try all these cream cheese appetizers & first courses. This list will grow as I add more to the blog so come back often to see what is new.
APPETIZERS BY THE BEST FOOD BLOGGERS
APPETIZERS THAT ARE FUN AND UNIQUE
So many of the best cream cheese appetizers are just what you need for the next holiday, party, or fancy dinner at home.   These include wonderful recipes for crescent rolls, party pinwheels, and more.
APPETIZERS WITH MEAT
These cream cheese appetizers offer a variety of meats including bacon, chicken, salami, sausage, and seafood like shrimp and tuna. They are all easy, tasty, and packed with protein.  Many of these appetizers with cream cheese are also low-carb, gluten-free, or keto-friendly.
APPETIZERS FOR VEGETARIANS
These appetizers offer a variety of the best recipes for vegetarians.  Whether you want a cream cheese appetizer with cauliflower, mushrooms, or other ingredients, there is something to love here.  Several are quick and great for a starter, snack, or even a side dish.
APPETIZERS CHEESE BALLS OR DIPS
These cheese ball and cheese dip recipes all include some cream cheese and so many amazing different ingredients. You are bound to find a few new cream cheese appetizers from this list that you will want to make today.   Get your favorite crackers, some crudite, and get ready to enjoy the best cheese ball or cheese dip recipes you can find.
Product Recommendations for this Article:
The Short Order Cook is a participant in the Amazon Services LLC Associates Program.  As an Amazon Associate, I earn from qualifying purchases.  If you click on a link and make a purchase, I may earn a small commission on the sale at no additional cost to you. This helps with the costs of running the blog. Thank you! 
PIN FOR SAFEKEEPING & SHARING!
Nutritional information for these recipes may be found on each individual listing. For more information on the health benefits and nutrition facts, check out Is Cream Cheese Healthy? 
Did you make this The Short Order Cook Recipe?
Tag @theshortordercookblog (Instagram & Facebook) or @shortorder_cook (Twitter). 
I would love to see your latest creations and kitchen adventures.