When you buy cream cheese on sale or in bulk, you may want to know if can you freeze cream cheese.  Simply put, yes, cream cheese can be frozen. Fortunately, freezing cream cheese is really easy and it freezes well. It is an ingredient that works great in sweet and savory dishes; therefore, having it on hand as a staple in your house may be important. 
Since I use it a lot, I have often purchased the big brick of cream cheese at Costco and frozen some to use later.  Philadephia cream cheese can be frozen in large bricks, individual boxes, and any partially used leftovers. I like to buy it ahead of time for my holiday baking in goodies like my M&M Christmas Bar Cookies.
Jump to:
Will Frozen Cream Cheese be Crumbly?
You can safely freeze cream cheese but the texture will change and result in a quality that is less creamy. Once thawed or defrosted, frozen cream cheese will lose some of its water and become less creamy. It will become crumbly or grainy which is not appealing to use as a spread on your bagel for example.
The reason for this is that cream cheese is about half water, which makes it sensitive to the creation and melting of ice crystals that occur when freezing and thawing it. During freezing the water separates from the cheese curds so when cream cheese is thawed it becomes grainy like ricotta or cottage cheese.
How to Freeze Cream Cheese
Fresh cream cheese will last in the refrigerator for about a week once opened.  After that, the shelf life is limited and may not be safe or fresh. A closed package that is close to the expiration date or a large opened cream cheese that has some remaining should be frozen if not used timely.
Both unopened or opened cream cheese packages can be frozen easily. If done correctly, cream cheese can last for months in the freezer and remain safe to eat. Here are the easiest ways to preserve your extra or leftover cream cheese.
Freezing Unopened Cream Cheese
If you want to freeze an unopened block of cream cheese, it couldn't be easier. Simply put the blocks as is in your freezer. There is no need to unwrap it or transfer it into another container or Ziplock. The foil wrapping and cardboard box that cream cheese comes in is the ideal protection against freezer burn.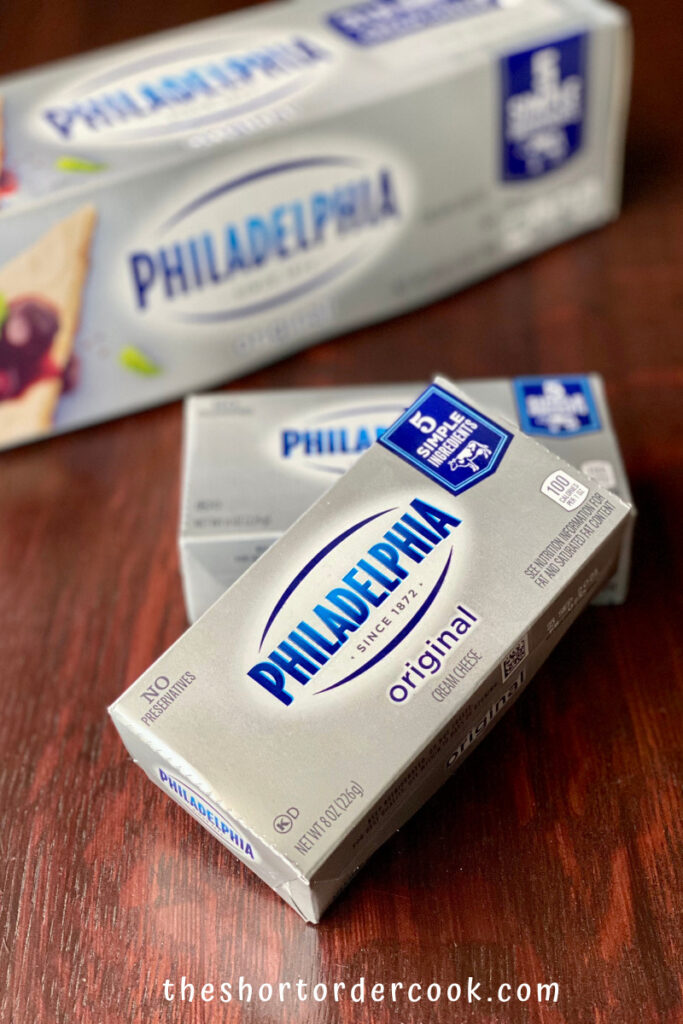 Freezing Opened Cream Cheese
If you have partially used a block of cream cheese, that opened amount that is remaining can still be frozen. To freeze leftover cream cheese,  you will want to get it into an airtight container.   I recommend spooning it into an airtight container or tightly wrapping the block if it is still in a square or rectangular shape.  Below is my favorite step-by-step guide on how to freeze opened but unused leftover cream cheese.
Freezing Soft, Whipped, or Dips with Cream Cheese
Soft creamy or whipped cream cheese freezes well and it is quite easy to do.  These methods work for both soft or whipped cream cheese that you buy in plastic tubs. For dips made from cream cheese, they can freeze well too. All three can be frozen.
If you have an unopened tub, simply place it in the freezer.  It can last in the freezer for up to 3 months. To defrost whipped cream cheese, place the frozen tub in the refrigerator. It should be thawed and ready to use in 48 hours.
If you have an opened tub of whipped cream cheese that you want to freeze, you can do that too. There are two easy ways to do this. You can tightly wrap plastic wrap directly over the layer of cream cheese (do not leave air between it or that will cause freezer burn). Then place the lid back on the tub and place it in the freezer.  You can also remove it from the tub and put it in an air-tight freezer Ziploc bag. Be sure to squeeze out all the excess air.
How Long Will Cream Cheese Last in the Freezer
Frozen cream cheese can last for up to 2 months in the freezer.  As long as it is stored properly in an airtight container or in its original wrapping for unopened packages, cream cheese will be safe to use for about 8 weeks and kept in the freezer.
Keep in mind, anything that has "freezer burn" should not be consumed and thrown out. Freezer burn not only affects taste but also the safety of the product so you do not want this to happen. If it does, please throw out the frozen cream cheese.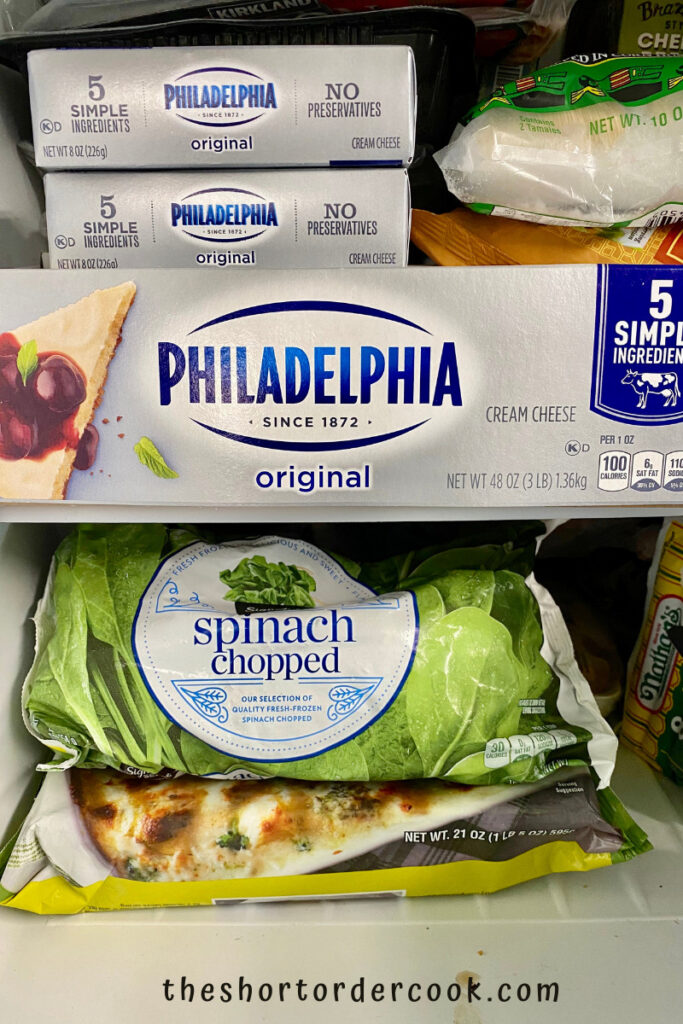 How to Defrost Cream Cheese
To defrost cream cheese, simply place the block or container in the refrigerator. Plan this ahead of time when you want to use it. Depending on the size of the block of cream cheese, it can take a few hours or overnight to defrost safely in the refrigerator. I do not recommend any other method of defrosting cream cheese such as in the microwave or with a warm water plunge.
How Long will Thawed Cream Cheese Last in the Refrigerator
Since cream cheese that has been in the freezer changes in its water content once frozen and thawed, it should be used right away. Keep that in mind when you defrost your frozen cream cheese so you plan to only get it in the refrigerator when you will be using it. Frozen cream cheese that has been thawed will last only 3 days in the refrigerator.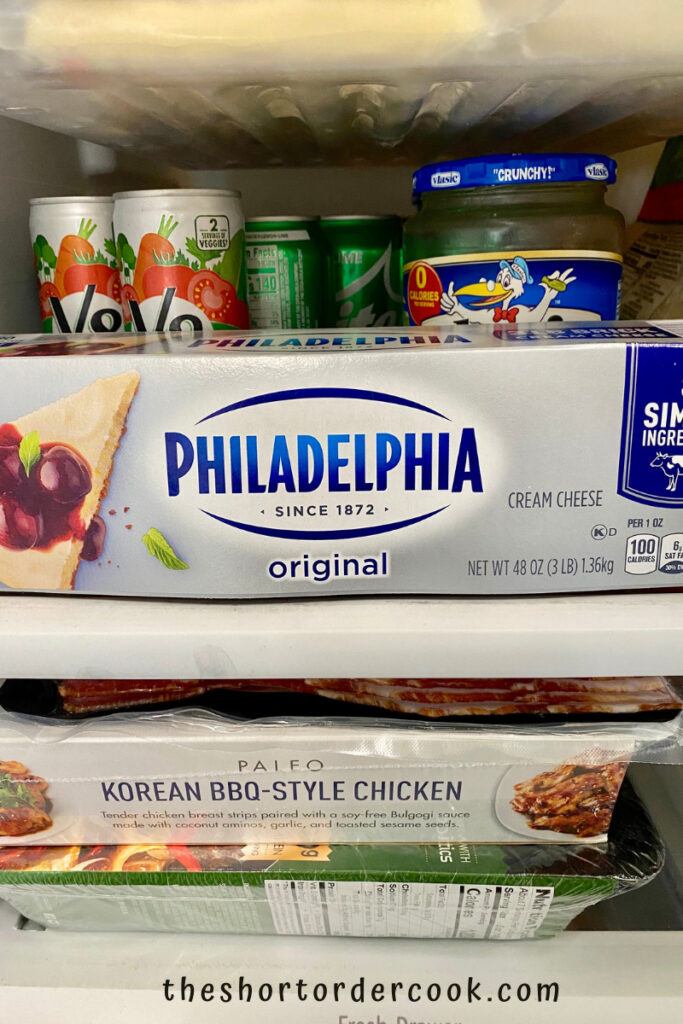 Uses for Frozen Cream Cheese
As mentioned earlier, cream cheese will become crumbly or grainy once frozen and defrosted. Therefore, it is best to use frozen cream cheese in recipes where it will be cooked, baked, or used as crumbled topping anyway. It can be used in spreads or dips but only when it is not the main component and is a small ingredient along with other cheeses or creamy ingredients like mayo or buttermilk.
Since frozen and thawed cream cheese will not retain its creamy texture, here are the uses and types of recipes I recommend using it in. It works in many keto recipes, baked goods, and creamed soups. Here are the best recipes and ideas for how to use previously frozen cream cheese once you defrost it.
CREAM CHEESE APPETIZERS where the cheese gets warmed, cooked, or baked
Use in baking - cheesecakes, bundt cakes, pound cakes, cookies, or muffins
Sauces, creamed soups, and creamed vegetables
One caveat - using it in cheesecake may not be ideal if you want a rich velvety and creamy texture to your cheesecake. If you are making a cheesecake that is dense and has texture or you are using some frozen and some fresh cream cheese, it may be fluffy and creamy enough to your liking.
Everyone may have a different preference. I do not like using all frozen cream cheese in a cheesecake. But ½ frozen and ½ fresh I have tried and it was ok but fresh is best in a cheesecake recipe in my opinion.
Recipes for Using Frozen Cream Cheese
Once you thaw your previously frozen cream cheese, use it in one of these tasty recipes.  No better way to enjoy this stored ingredient than something everyone will love.
Slow Cooker Chicken and Corn Soup
For a hearty soup, this easy slow cooker chicken and corn soup is just the thing you need. It is creamy & filling packed with sweet corn, tender chicken, and vegetables. It is a complete comforting meal in a bowl perfect for lunch or dinner.
Check out this recipe
Instant Pot Creamy Chicken Spaghetti
Chicken spaghetti in the Instant Pot is a quick and easy recipe. This one-pot chicken and pasta recipe is comforting and delicious.  
Check out this recipe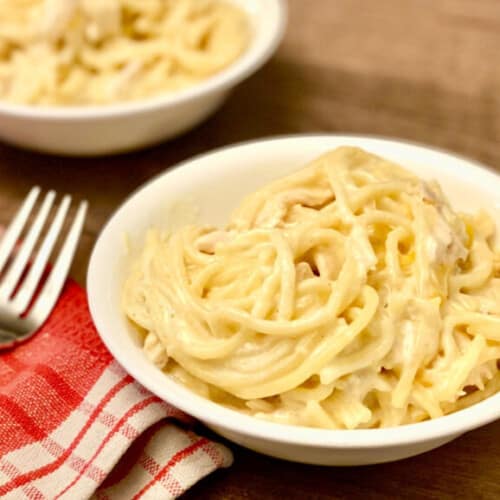 Low-Carb Keto Creamed Spinach Casserole
Creamed spinach is a tasty low-carb steakhouse restaurant favorite. This easy keto recipe is the best spinach casserole side dish.
Check out this recipe
Keto No-Bake Cheesecake
This easy no-bake keto cheesecake is creamy, sweet, and yummy. It is gluten-free, low-carb, and diabetic-friendly with only a few ingredients.
Check out this recipe
Cheesecake Without a Springform Pan(no crust)
The perfect gluten-free cheesecake that is easy to bake and does not require a springform pan. The scoopable cheesecake is crustless but no one will miss it. The decadent dessert is even better when you add your favorite toppings.
Check out this recipe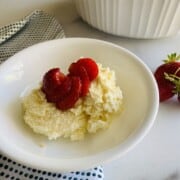 Keto Cream of Mushroom Soup
This restaurant-quality low-carb keto cream of mushroom soup is easy to make and simply delicious. The creamy texture with sherry creates a rich velvety mushroom soup that is so much better than any Campbell's condensed version you can buy. 
Check out this recipe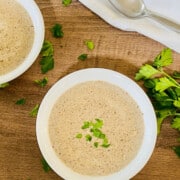 No-Bake Lemon Cheesecake Fat Bombs
Tart and creamy lemon cheesecake fat bombs are the perfect way to satisfy your sweet tooth and get more fat into your keto diet. These are easy to make and only a few ingredients for the best low-carb or diabetic dessert or snack.
Check out this recipe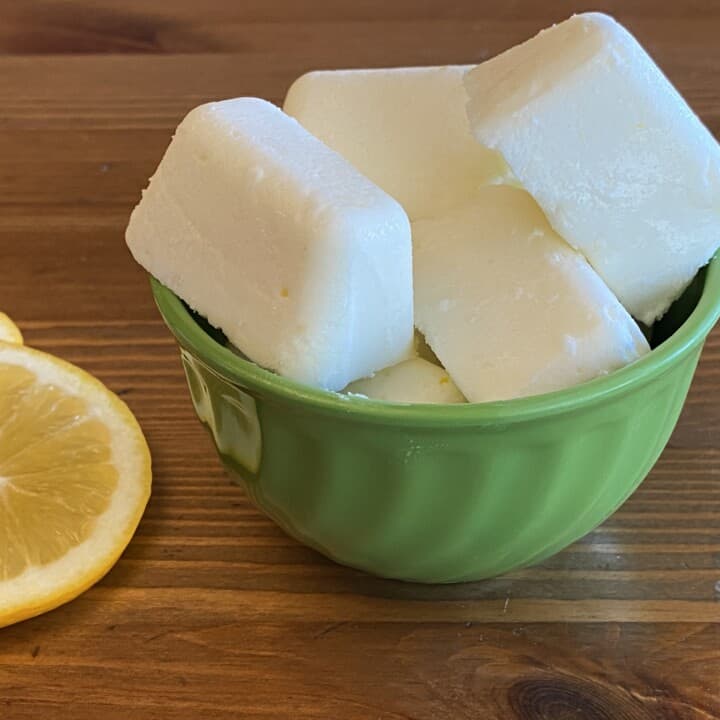 Shishito Peppers with Cream Cheese & Bacon
Shishito Peppers are a mild pepper blistered in a pan and then tossed with cream cheese and bacon.
Check out this recipe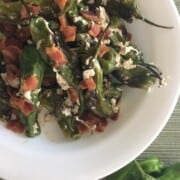 How to Make Frozen Cream Cheese Creamy Again
Sometimes if the cream cheese is frozen in its original package and hasn't been frozen for long, you can defrost it and get it creamy again. To do so, thaw as directed above in the refrigerator. Slowly warm the cream cheese in a microwave-safe bowl in 10-second increments until melted and then it can be also whipped with a hand mixer to fluff it up.
As a last-ditch effort, you can add drops of cream to it and whip it up to get the frozen cream cheese creamy. I have not tried this but a few people have mentioned they tried it and it worked well enough to then use the previously frozen cream cheese in dip recipes.
Can You Freeze Cream Cheese Frosting too?
Well since cream cheese frosting is a bit different than just cream cheese, that is a different answer. With the added sugar and whipping that goes into making the sweet frosting, it does freeze but it needs special care. Learn how best to Freeze Cream Cheese Frosting and get it in your freezer to enjoy later on a cake or some cupcakes.
PIN FOR SAFEKEEPING & SHARING!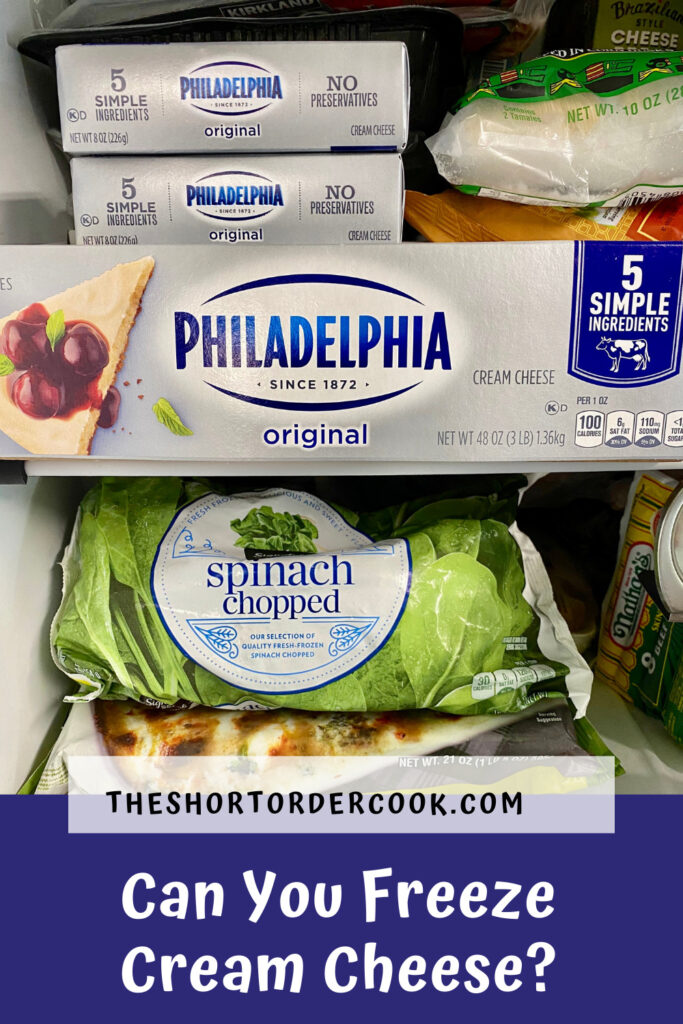 Product Recommendations for this post:
The Short Order Cook is a participant in the Amazon Services LLC Associates Program. As an Amazon Associate, I earn from qualifying purchases. If you click on a link and make a purchase, I may earn a small commission on the sale at no additional cost to you. This helps with the costs of running the blog. Thank you!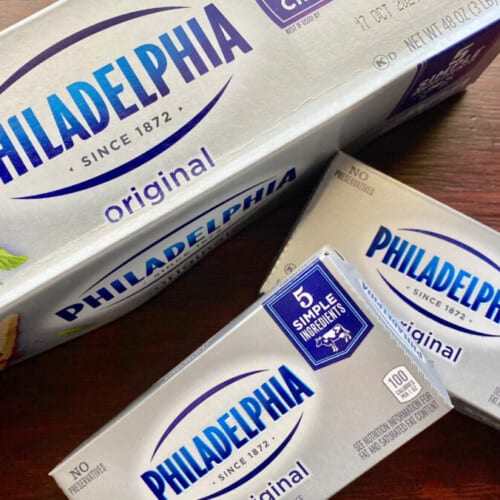 How to Freeze Cream Cheese?
With this simple how-to recipe, you can freeze cream cheese easily. Both unopened and opened cream cheese can be frozen. It freezes and thaws well to be used later in recipes.
Ingredients
Unopened Cream Cheese
Unopened Cream Cheese

Opened Cream Cheese
Instructions
For an unopened or not yet used block of cream cheese, simply put it in the freezer. The box and foil wrap is enough to ensure the cream cheese will freeze safely.
Opened Cream Cheese
To freeze leftover cream cheese,  you will want to get it into an airtight container or use the block it has come in if there is most of it left. 

For spooning it into a container, I recommend spooning it into an airtight container and making the top as flat & smooth as possible. Then atop the cream cheese add a layer of plastic wrap. Press down that plastic wrap with your hand so it is touching the cream cheese and there is no air between it. This will retain the flavor and ensure there is no freezer burn. Then place on the lid for the container and place in the freezer.

You can also spoon the cream cheese onto a sheet of plastic wrap. Then twist it around the cream cheese tightly in a ball or sausage shape making sure there is no air between the cream cheese and the plastic wrap. Place this next into a ziplock bag, squeezing to remove any air, and then sealing. Place it in the freezer.

For using the cardboard box and foil wrapping that the block came in, tighten the foil around the remaining cream cheese as best you can. Next, wrap the foil in plastic wrap tightly either twisting or folding to seal all the edges so no air can get in. Place the wrapped foil back into the cream cheese box if intact and tape it shut around the edges to seal - or place in a ziplock bag, squeezing to remove any air, and then sealing. Place it in the freezer.
To Thaw Frozen Cream Cheese
To defrost cream cheese, simply place the block or container in the refrigerator.  Plan this ahead of time when you want to use it.  Depending on the size of the block of cream cheese, it can take a few hours or overnight to thaw safely in the refrigerator.

Unopened Cream Cheese,

Opened Cream Cheese

Frozen cream cheese that has been thawed will last only 3 days in the refrigerator.  

Unopened Cream Cheese,

Opened Cream Cheese