The best melting chocolates for all your baking and candy-making needs are shared here today. This will help ensure the chocolate you melt comes out smooth, creamy, and decadent. These melting chocolates are the best confections for all your coating, dipping, drizzling, & dunking needs.
These chocolate brands and types are easy to work with, melt well, and are perfect for all sorts of desserts. My easy peanut butter balls are sinful thanks to the chocolate coating. So whether you are melting chocolate for molds, decorating cookies, or dipping fruits and cake pops, try one of these kinds and have delicious success.
There are many kinds of chocolate out there. They are made all over the world and have different ingredients. Besides the differences between dark, semi-sweet, milk, and white chocolate, the amount of cocoa to other ingredients can vary by brand. I like either milk or semi-sweet as the final layer on my 3-Ingredient Twix Cookie Cups.
Below are some of my favorite melting chocolates. I highly recommend these. All are high-quality and have great reviews from thousands of customers. Find the best chocolate, current prices, & reviews for your recipe, and enjoy.
Jump to:
What Makes These the Best Chocolates
Since opinions can vary from person to person, I wanted to share how I picked these chocolates for all your melting and molding needs. My favorites were determined by the following 5 categories:
How smooth & creamy the chocolate is once melted.
How easy it is to work with (dip, drizzle, etc)
How smooth & pretty it hardens once cool.
How easy it is to find/purchase & affordability.
How it tastes! (I mean really this should be the #1 reason!)
No one wants clumpy, chalky, or burned chocolate. It can be hard to melt it properly. It takes patience and time to melt chocolate the right way. But at least with these types, you know you are starting off with the right products.
Best Dark Chocolates for Melting
Dark chocolate contains a high cocoa content. It can be between 50% to almost 100% cocoa. It contains no milk and has less sugar compared to semi-sweet, milk, and white chocolate. This results in a taste having bitter notes and is less sweet than other chocolates. It is rich and decadent.
This dark chocolate is premium and is used by many chefs. A friend used this when in culinary school and it is still her favorite to use. Callebaut is one of Belgium's best chocolatiers and is made from whole roasted beans.
This chocolate is glossy, delicious, easy to weigh, and melts easily. It is perfect for molds and baking. With 54.5 percent cocoa content, these chocolate chips have a well-balanced bitter flavor, with subtle sweetness and medium intensity. It borders on semi-sweet but for American palates, it has a dark and more intense flavor.
I live near San Francisco so I admit Ghirardelli is a local icon and a personal favorite. But the hype is warranted. Ghirardelli chocolate, whether dark, milk, or white is a great melting chocolate. High quality with premium ingredients.
You can buy this brand in chips or these melting wafers. Both melt easily and are easy to work with for dipping and coating. The Ghirardelli melting wafers are perfect for all sorts of recipes - cake pops, candy molds, or my favorite dipping shortbread!
These melts are not the most rich-tasting chocolate but they melt beautifully. These were the easiest to melt and seemed to stay smooth and melted for longer than the other two dark chocolate choices. If you are coating a lot of fruit, cookies, or cake pops this brand is great.
If you want unsweetened chocolate, 100% dark cacao, this baking bar by Ghirardelli is the best. This is amazing for fudgy brownies, dark chocolate ganache or cakes, and when making fondues.
Best Semi-Sweet Chocolates for Melting
Semi-sweet chocolate is dark chocolate that more sugar added to it. It typically consists of cocoa solids, sugar, and some vanilla. Like dark chocolate, it does not have any dairy added to it. It is less bitter and sweeter than dark chocolate. It is my preferred chocolate for candy-making and what I use on my homemade classic almond toffee.
A household name for a reason. It melts well, tastes great, and has been a best-selling product for decades. Priced right for all budgets and can be found in just about every grocery store. This is a top choice for any recipe that calls for melting semi-sweet chocolate.
I use the mini chocolate chips on my toffee. I just sprinkle them on and the heat from the toffee melts them so all I do is spread it. So EASY!
Guittard is a premium chocolate that makes some outstanding chocolate chips. They melt quickly and evenly. I find that when this chocolate sets it is smooth and a bit glossy, not chalky. Makes for a delicious and pretty dessert. They are made in a peanut-free and gluten-free factory for those who find that important.
Whether you want a baking bar or chocolate chips, Ghirardelli makes a great one. For a semi-sweet touch to your recipe, this product is wonderful. Like the dark chocolate reviews, it melts well and tastes great.
Best Milk Chocolates for Melting
Milk chocolate contains cocoa solids, milk powder, and sugar. Compared to dark chocolate, milk chocolate is typically sweeter, lighter in color, and creamier. These kinds of milk chocolate all melt easily and beautifully.
It is developed specifically for candy making. This milk chocolate is the best for melting and using in candy molds. It does not have a deep rich chocolate flavor but if you want a thin coating on nuts or other candies this is your go-to product. Melts easily and sets beautifully.
These are amazing for melting and having a decadent dessert with rich milk chocolate. It melts and tempers beautifully. Once your dessert is set and coated in this milk chocolate it will be so pretty. A nice glossy finish and no powdery white chalky look. Lovely tasting notes of vanilla.
Again with the Ghirardelli you say. Well yes because no matter which type of chocolate you want, all are perfect for melting. These chips melt easily and hold up in baked goods too. They can be found on many grocery chains throughout the United States. So if you want a creamy mild chocolate for candy, dipping, or decorating, these chips are great.
Best White Chocolates for Melting
White chocolate actually does not have any chocolate or cocoa solids in it. It contains cocoa butter, milk powder, and sugar. It usually has a high sugar content. Many people think it tastes like a buttery vanilla or sweetened cream. It has a nice creamy mouthfeel and is one of my favorites for melting.
Besides their dark chocolate, the white chocolate melting chips made by Callebaut are equally as exceptional. This chocolate is as Belgian as it can get. It is mainly made with milk from cows grazing on Belgian pastures and locally grown sugar. For a rich, creamy, & indulgent white chocolate go with Callebaut every time.
Once again Ghirardelli cannot go wrong. These baking chips have high-quality ingredients. The sugar and milk ratio is spot on for a smooth melt and a luscious mouth-feel. As with all white chocolates they can melt quickly so be careful and warm it slowly so it comes out smooth and creamy. Easy to dip and sets up beautifully.
Baker's brand is easy to find and budget-friendly. The white chocolate baking bars are easy to measure and use. Just break off as many pieces as you need and melt. As with all the others, this white chocolate is great for molds, dipping cake pops, decorating cookies, and coating fruit.
Chocolate Substitutes
If chocolate is not your thing for taste, dietary, or allergy reasons, do not worry. Candy melts are the perfect substitute for chocolate. These thin wafers are typically vanilla-flavored, melt easily, and are chocolate-free.
They make the best alternative when you want to melt chocolate for a recipe. I use them in so many recipes including the cutest snowman and reindeer Christmas cookies. These are the brands I recommend for melting and candy-coating your favorite recipes.
These Wilton candy melts are not chocolate. Once is cocoa-flavored but contains no chocolate. However, they melt easily and are ideal for coating just about anything from strawberries to pretzels to Christmas cookies. They make a great substitute for melted chocolate with just about any recipe.
This 3-pack has one of each melting wafer flavor from Ghiradelli. This like the Wilton's are chocolate-flavored but are vanilla melting wafers. There is cocoa in some of the flavors so check it out in case you have an allergy or dislike that ingredient.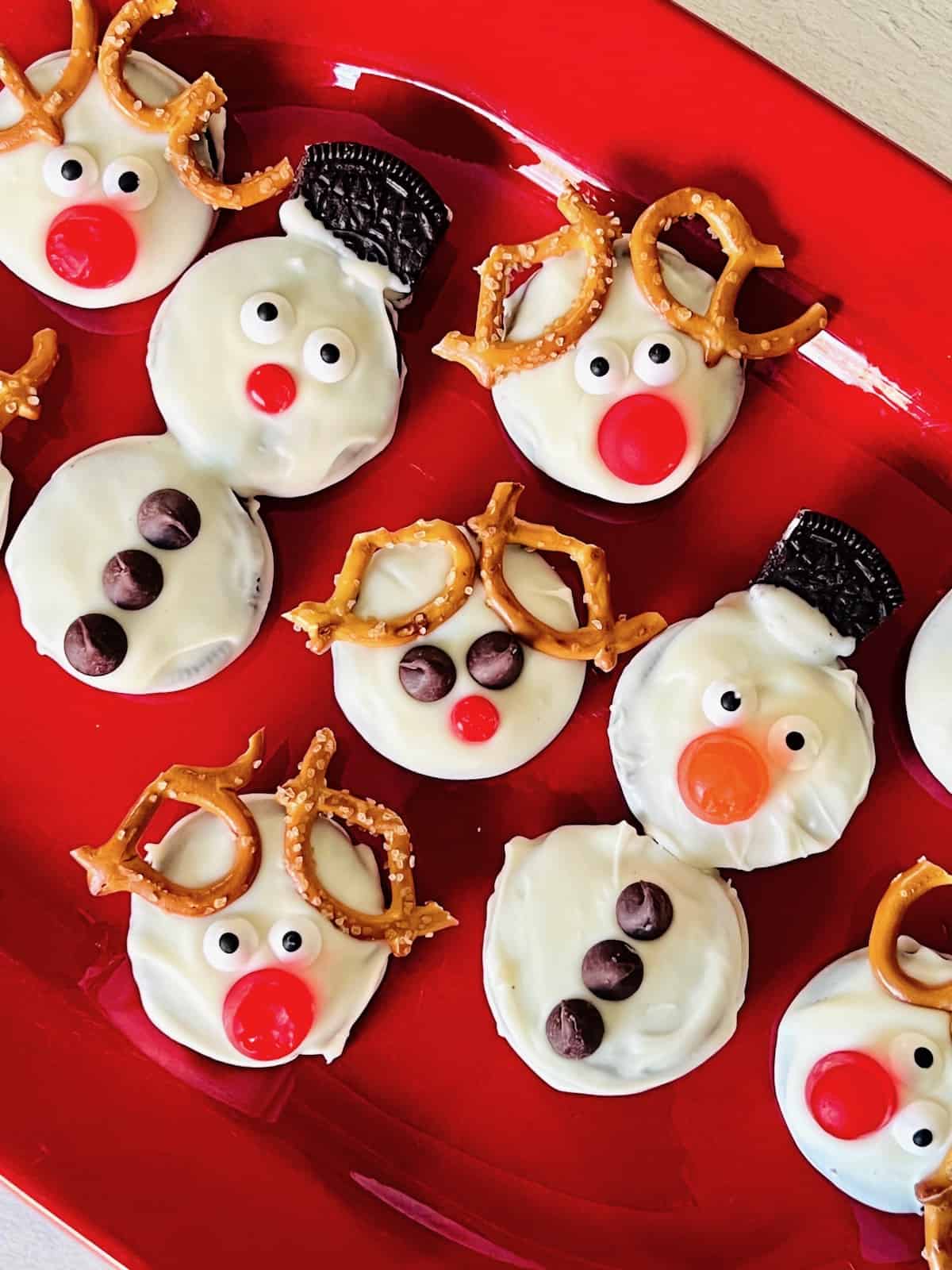 Special Diet Chocolates
For those on a sugar-free, paleo, keto, dairy-free, or vegan diet, chocolate is also an enjoyable part of the best desserts. If you want chocolate that melts for your dietary needs, here are some great options.
These rich dark chocolate chips are ideal for anyone on a keto, low-carb, or diabetic diet. They are sugar-free and naturally sweetened with Stevia. The ingredients are as follows: Unsweetened Chocolate, Erythritol, Inulin, Stevia Extract, Organic Soy Lecthin, Vanilla. I have used these numerous times and they melt easily and are great for dipping my almond flour peanut butter cookies in. More stores are carrying these but they are super easy to find online too.
These chocolate chips are ideal for so many special diets. They are nut-free, dairy-free, made without soy, and have no GMOs. They are also certified vegan, gluten-free, and kosher. They only have two ingredients - unsweetened chocolate & cane sugar.
This brand of chocolate for melting and baking is paleo-approved. Made with coconut sugar for a sweet taste without a substitute or refined sugar. Use in your favorite paleo dessert recipes.
FAQ
Working with chocolate is not easy, especially when you want to melt and temper it. To ensure it is smooth, easy to use, and looks pretty, here are some of the most common tips and tricks answered.
What is the melting point of chocolate?
Chocolate melts at a lower temperature than you may think. For instance, it is pretty messy and melts in your hand. It doesn't need a lot of heat or cooking.

Chocolate should melt at temperatures between 86–90 F. Different brands and types will vary. For example, it is often considered that white chocolate melts faster and at a lower temperature than other chocolates.

Why did my white chocolate not melt but get hard again?
The high cocoa fat content in white chocolate makes it a persnickety one to melt. Make sure to melt it slowly over low heat and stir/watch it the whole time. When the last few pieces are not quite smooth, remove from the heat and stir to melt the last bit (otherwise it will overheat & seize up).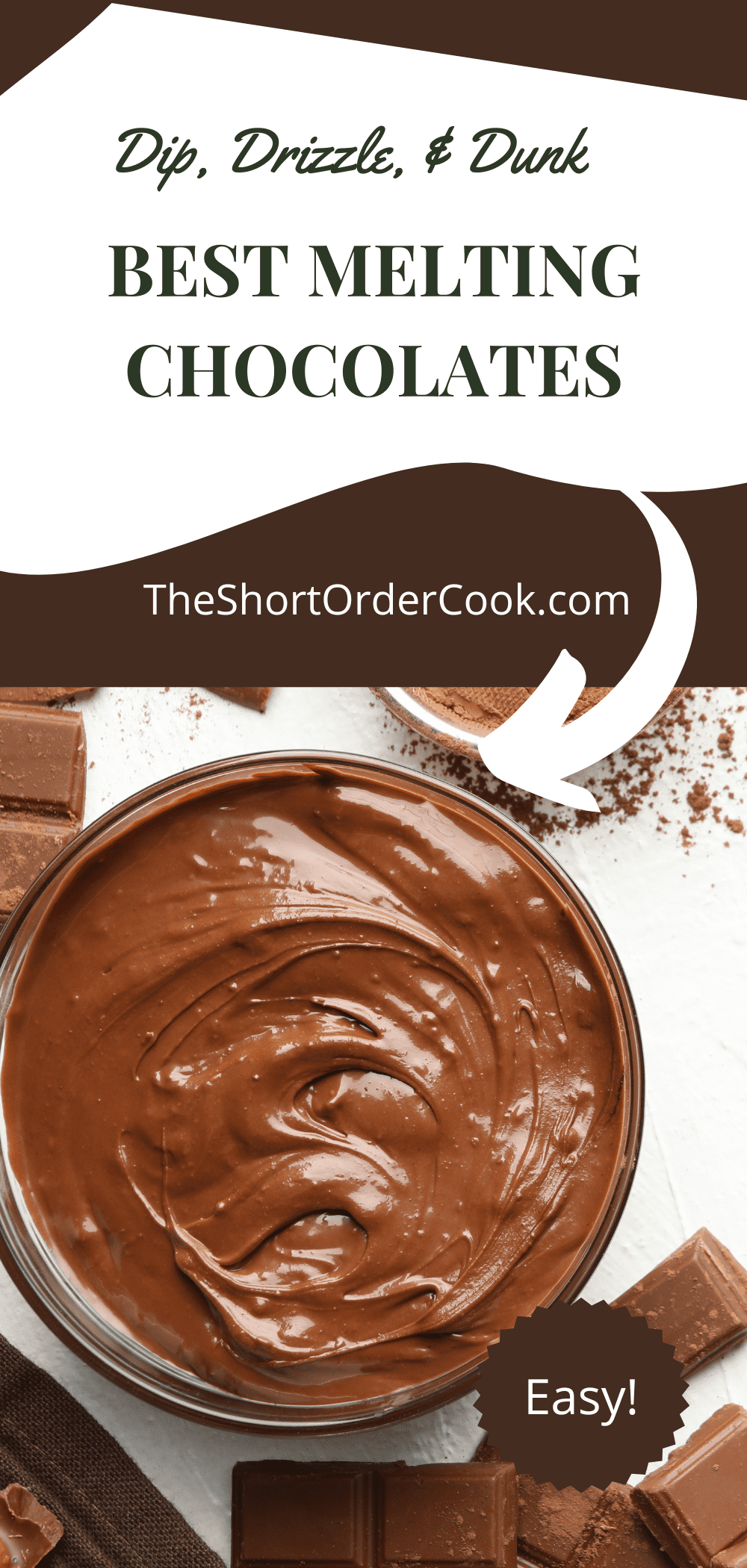 Latest Prices
The Short Order Cook is a participant in the Amazon Services LLC Associates Program.  As an Amazon Associate, I earn from qualifying purchases.  If you click on a link and make a purchase, I may earn a small commission on the sale at no additional cost to you. This helps with the costs of running the blog. Thank you!