The two classic flavors of peanut butter and chocolate create the most loved holiday treat - perfect old-fashioned peanut butter balls. Creamy sweet peanut butter centers drenched in semi-sweet chocolate are my favorite way to enjoy these two flavors. This is the ultimate chocolate and peanut butter dessert.
This recipe is simply the classic version that has been around even longer than I have been making it. There is no reason to alter this simple yet perfect recipe in any way. These old-fashioned peanut butter balls are easy to make with powdered sugar, a little butter, and of course the chocolate and peanut butter. Make it modern? Add Rice Krispies or corn flakes, no. These peanut butter balls are creamy and do not have any crispy rice cereal. Please, just make it as is and enjoy everything wholesome and old-fashioned about it.
No-Bake Peanut Butter Balls are a Holiday Classic
This easy n0-bake peanut butter ball recipe is a holiday classic. They are so delicious and a family favorite. The Christmas season is not allowed to start in my house until the peanut butter balls are made. They are perfect for potlucks, parties, office gatherings, and they make great gifts.
For over 3 decades I have made these every year and they are still the #1 requested and craved item by my family and friends every December. Just a few ingredients bring so much joy to so many people each year. This is on the goodie plates that I deliver to our neighbors every year. My neighbors are some lucky people if I say so myself.
Peanut Butter Balls vs Buckeyes
Many people make buckeye balls which is similar. The only difference is they are not dipped and coated on all sides. Buckeyes are traditionally dipped in the chocolate leaving a top section of peanut butter exposed, thus looking like a buckeye. (nuts from the buckeye tree common in Ohio). I like more of chocolate to peanut butter ratio, so fully drenched is how I roll. We cannot have Christmas in our house without chocolate-covered peanut butter balls.
Ingredients for Peanut Butter Balls
This is a 4-ingredient old-fashioned peanut butter balls recipe. Just a few simple staples you likely have in your home already are all you need. These are not made with crispy rice cereal (Rice Krispies), corn flakes, oatmeal, or graham crackers. They are plain in the center like a peanut butter truffle. This easy peanut butter balls recipe is no-bake & gluten-free.
Use your favorite brand such as Skippy, Jif, Trader Joe's, or others to make these peanut butter balls. Natural peanut butter may work too but I have never tried it. All you need are:
peanut butter
powdered sugar (also known as confectioners sugar)
salted butter
semi-sweet chocolate chips
Why salted butter? Why not! The salt content in the butter is low enough to not make it taste "salt". Rather the salt just balances out all that sugar. You can also use salted vegan butter and vegan chocolate to make these delicious peanut butter balls.
Peanut butter balls also need plenty of powdered sugar. Not to be confused with regular white sugar. This not only makes them sweet but also acts as a binder for the creamy peanut butter and butter. As they combine, the mixture holds up well to roll and eventually coat in the melted chocolate.
How to Make Old-fashioned Peanut Butter Balls
Making homemade peanut butter balls is simple but it does take time to complete the full recipe. It is a great one to make with the family and get all the hands rolling up that sweetened peanut butter filling or help to dip them into melted chocolate.
How to Make the Peanut Butter Filling
Start by making sure your salted butter has had time to come to room temperature. Once it is ready, combine the softened butter with the peanut butter and half of the powdered sugar.
Stir to combine. Add the remaining sugar and combine thoroughly. It may be hard to stir so use some real muscle and get in there. Make sure there are no clumps of powdered sugar or butter that are not mixed in evenly.
Chill the Peanut Butter Ball Mixture
Once the peanut butter mixture is ready, place the bowl in the refrigerator for 30 minutes. While it is chilling you can prepare a few baking sheets with parchment paper or aluminum foil.
Rolling the Peanut Butter Balls
On a lined baking sheet, roll the peanut butter mixture into 1-inch balls. There will be about 30 balls on the baking sheet once complete. Place the baking sheet of peanut butter balls into the refrigerator for another 30 minutes to set the balls. This will ensure they hold up once they start to dip into the warm melted chocolate later.
Dipping Peanut Butter Balls in Melted Chocolate
In a double boiler melt the chocolate until smooth. Be sure to do this over a low simmer to ensure the chocolate does not seize up. I do not have your own one and you do not you can easily make one at home if you have the right items. I use a glass bowl over a saucepan, as seen below.
Once the chocolate is melted, remove the peanut butter balls from the refrigerator.
Begin coating each ball one at a time in the melted chocolate. I use two spoons to roll and move the ball back and forth to coat all sides.
By twisting the spoons over and under the peanut butter ball, the spoon not only coats the balls but also helps keep the round shape. Work quickly or get some help. You want to do this with warm chocolate and before the peanut butter balls start to come to room temperature.
Rest the Candies
Let the peanut butter balls cool as the chocolate hardens at room temperature. Or you can put the baking sheet back into the refrigerator if your house is relatively warm. They are ready to eat, store, or package as a gift once the chocolate outer shell is hard around the peanut butter ball center.
Best Christmas Homemade Food Gifts
These peanut butter balls, similar to buckeyes, make a thoughtful gift to give at Christmas. They also go great with other holiday sweets and treats that can be made ahead of time and wrapped up give as homemade presents later. Try these Christmas cookie and candy gift-giving recipes -
Chocolate Gingerbread Cookies
These are the best chocolate gingerbread cookies and are perfect for icing with Christmas frosting and decorating. This homemade recipe is chewy, crisp, spiced, and mellow.  With hints of cocoa, cinnamon, clove, and molasses all the flavors of the holidays are so tasty.
Check out this recipe
Christmas Cream Cheese Chocolate Cookie Bars
A beautiful holiday favorite with bright Christmas colors and tender dough. An easy cookie recipe when cut into bar wedges resembles a wreath studded with red and green M&Ms and packed with chocolate chips.
Check out this recipe
Easy Cookie Icing
This quick and easy cookie icing is perfect for sugar, gingerbread, oatmeal, shortbread, and your favorite cutout cookies. This shiny homemade recipe will get hard as it dries and has a beautiful glossy appearance.
Check out this recipe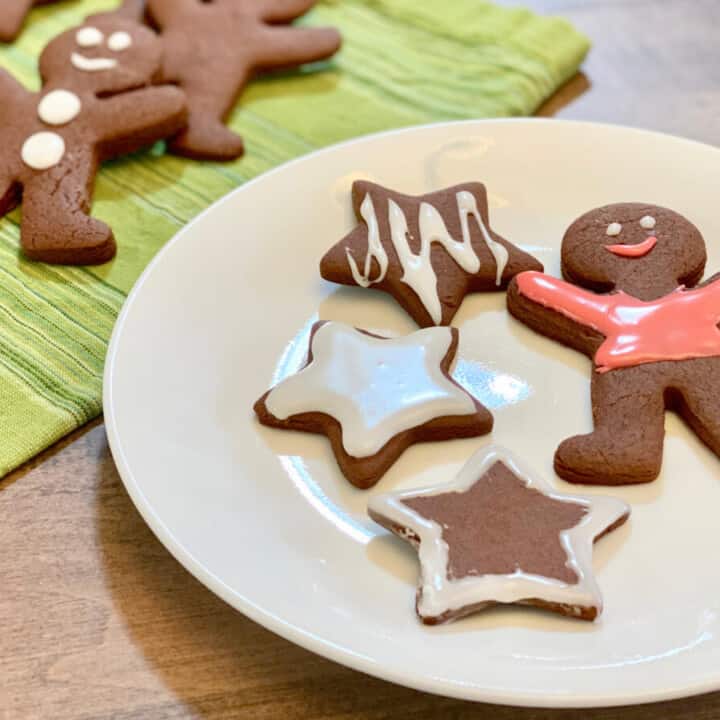 Snickerdoodle Muddy Buddies
Muddy buddies (puppy chow) meet the classic snickerdoodle cookie flavors of cinnamon and sugar.
Check out this recipe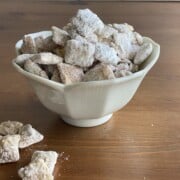 Old-Fashioned Classic Toffee
This classic old-fashioned toffee recipe is a holiday and family favorite. It is easy to make and results in the best sweet caramel flavor that toffee is plus a chocolate layer and slivered almonds.
Check out this recipe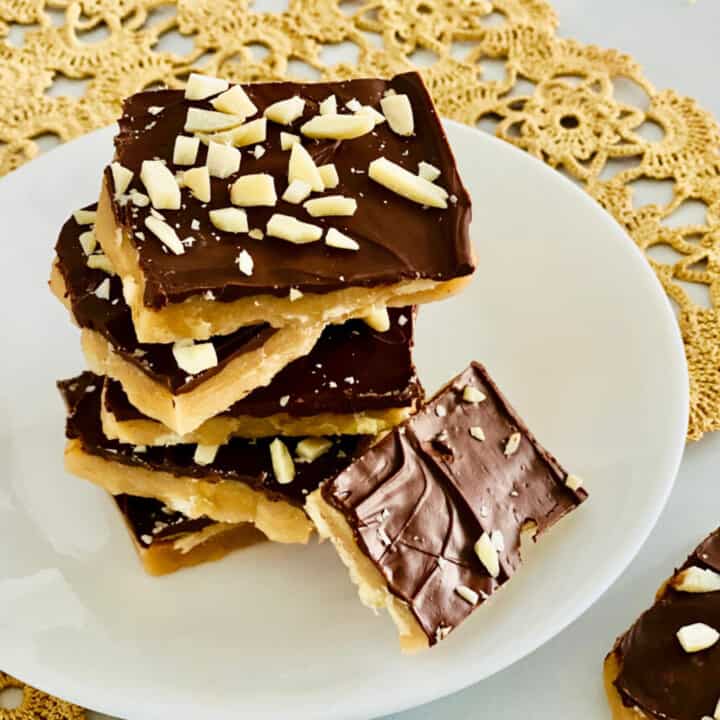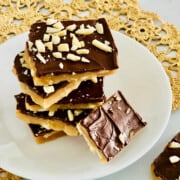 Homemade Snickers Bars
Snickers candy with chewy nougat, rich caramel, crunchy peanuts, and chocolate are a classic. Making your Snickers bars at home is an easy no-bake recipe to satisfy any sweet tooth.
Check out this recipe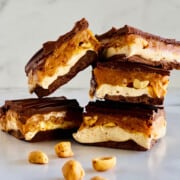 How to Store Peanut Butter Balls
Store them in an air-tight container in the refrigerator for up to a month. The chocolate-covered peanut butter balls will store for even longer in the freezer. I am one of those people that LOVES frozen peanut butter and chocolate treats. I warn you that you may need to hide these since they will be eaten fast if discovered. Enjoy and share with your loved ones. Nothing says I Love You and Merry Christmas like homemade old-fashioned peanut butter balls!
If you love peanut butter and chocolate too, then you will probably also not want to miss my recipe for FROZEN PEANUT BUTTER CUP PIE.
PIN FOR SAFEKEEPING & SHARING!
Product Recommendations for this Recipe:
The Short Order Cook is a participant in the Amazon Services LLC Associates Program. As an Amazon Associate, I earn from qualifying purchases. If you click on a link and make a purchase, I may earn a small commission on the sale at no additional cost to you. This helps with the costs of running the blog. Thank you!
OLD-FASHIONED PEANUT BUTTER BALLS
The two classic flavors of peanut butter and chocolate create the most loved holiday treat.
Ingredients
1

C

peanut butter

6

TB

salted butter

softened

2

C

powdered sugar

1

12oz-pkg

semi-sweet chocolate chips
Instructions
In a medium-sized mixing bowl combine the peanut butter, softened butter, and half of the powdered sugar. Mix to combine. Add the remaining 1 C of powdered sugar and stir to combine.

Refrigerate about 30 minutes so the mixture is not so sticky and soft.

Line a baking sheet with foil or parchment paper. Roll peanut butter mixture into 1-inch sized balls and place them on the baking sheet. It should make about 30 in total.

Place the baking sheet in the refrigerator for another 30 minutes to set.

In a double-boiler bring the water to a rolling boil. Turn the heat down to low to have a very low simmer on the water under the top boiling pot. Add chocolate to the top of the double-boiler and stir constantly until the chocolate is evenly melted. Do not turn the heat up, it should melt slowly. Once completely melted remove from the water and turn off the heat.

Remove the peanut butter balls from the refrigerator and dip one at a time coat in the melted chocolate. I use two spoons that I rotate back and forth and over the peanut balls as the chocolate coats it.

Place each coated ball back on the lined baking sheet. Let sit at room temperature or in the refrigerator until chocolate hardens.

Store in an air-tight container in the refrigerator. They can store for up to a month or even longer in the freezer. (but NO WAY they are not enjoyed much faster than that)
Did you make this The Short Order Cook Recipe?
Tag @theshortordercookblog (Instagram & Facebook) or @shortorder_cook (Twitter).
I would love to see your latest creations and kitchen adventures.