Some of the best flank steak recipes are also some of the easiest ways to cook beef for dinner. Flank steak is an easy cut of meat to grill, stuff, bake, or stir fry. No matter how you want to cook the flank steak, these recipes are delicious and family-friendly.
What I love most about flank steak is that it is typically done in minutes. The thin cut of meat is best-cooked medium-rare to medium to ensure it is juicy & tender. That often means just minutes per side when grilling or for a short time when roasted in the oven.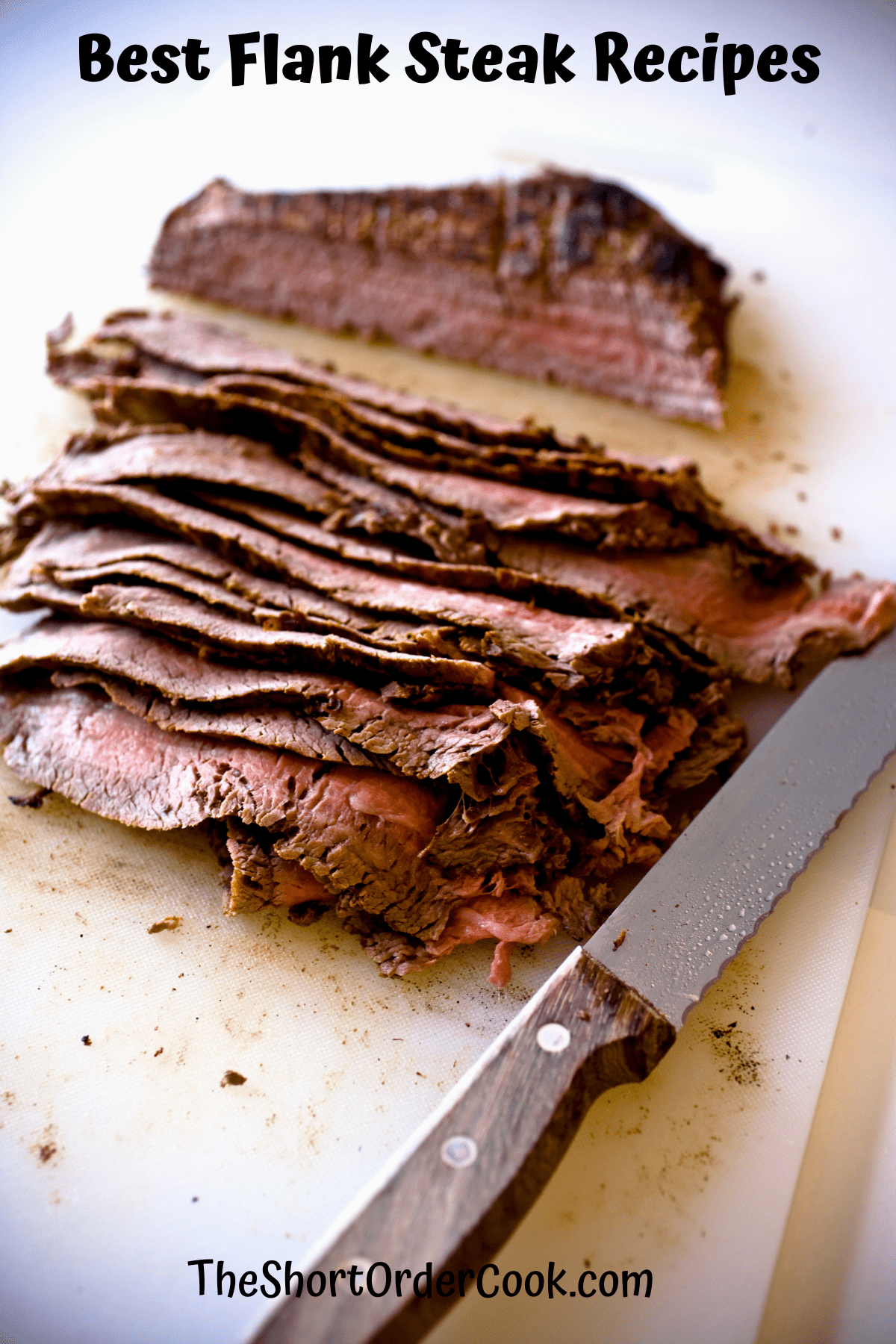 etc
Jump to:
Grilled Flank Steak Recipes
Fire up the grill and be ready to make some juicy flank steak recipes. All of these ideas are easy to make and have bold flavors. Flank steak is so easy to make on the grill any time of year. Air Fry up a batch of crispy crinkle french fries with any of these recipes for the ultimate steak frites!
GRILLED FLANK STEAK WITH CILANTRO LIME BUTTER - The compound butter for this recipe turns a juicy grilled steak into something any steakhouse would be proud to serve. Grilled and ready in minutes. Top with the cilantro lime butter and let the goodness melt over slices of steak for a mouth-watering dinner.
BOURBON MARINATED GRILLED FLANK STEAK - The easy marinade for this recipe is salty, spicy, and bold. This a great recipe for game day or to celebrate the bourbon fan in your family. Marinate the meat and grill - easy peasy.
GRILLED FLANK STEAK AND VEGETABLES - I love this recipe. A complete meal in one amazingly easy recipe. A few seasonings and yummy summer vegetables such as corn, squash, tomatoes, and more make this a healthy colorful meal everyone will love.
JALAPENO LIME STEAK TACOS - One of my favorite ways to enjoy flank steak is in a street taco. Wrap up thin slices of seasoned flank steak in a warm tortilla and my heart sings. Top with avocado, onion, cilantro, and a squirt of lime for the ultimate taco night at home.
Stuffed Flank Steak Recipes
These rolled flank steak recipes are stuffed with amazing ingredients. They are not only delicious but when sliced they are beautiful. These easy stuffed flank steak recipes are impressive, gourmet, & tasty. For a steakhouse classic meal, add my recipe for Creamed Spinach Casserole.
STUFFED FLANK STEAK WITH BACON, FETA, & SPINACH - This keto and the low-carb recipe is almost a full meal in itself. The salty, tangy, and hearty recipe is oven roasted and sliced into pinwheels. The red, white, and green colors of this beef recipe are lovely when plated.
ITALIAN STUFFED FLANK STEAK - If you love beef and cheese, this recipe is for you. Gooey melted provolone cheese will put a smile on your face. Plus prosciutto, garlic, basil, & sage helps make this Italian-inspired recipe over-the-top fantastic.
MUSHROOM AND BLUE CHEESE STUFFED FLANK STEAK - Two of my favorite things wrapped up in a juicy steak have me drooling. The stuffing in this recipe is packed with umami, salty, & tangy goodness. The red wine sauce makes this date-worthy.
Asian Flank Steak Recipes
Flank steak works really well with Asian flavors. Here are some of the best Asian-inspired flank steak recipes.
KOREAN GRILLED FLANK STEAK WITH ASIAN CHIMICHURRI - The sweet and savory marinade of this Korean recipe is perfect for grilling. The fresh herb chimichurri with sesame flavors is the condiment to set this into overdrive.
SOUS VIDE TERIYAKI FLANK STEAK - If you have never sous vided a flank steak before, this is a great easy recipe to try. The slow water-bath method of cooking this cut of beef results in gorgeous juicy slices of steak. The marinade and sauce are salty, sweet, and umami.
30-MINUTES STEAK STIR-FRY - Flavorful flank steak and a load of vegetables make this quick meal a great weeknight dinner. Broccoli, peppers, and onions complete this one-pan stir fry that has a tasty soy ginger sauce.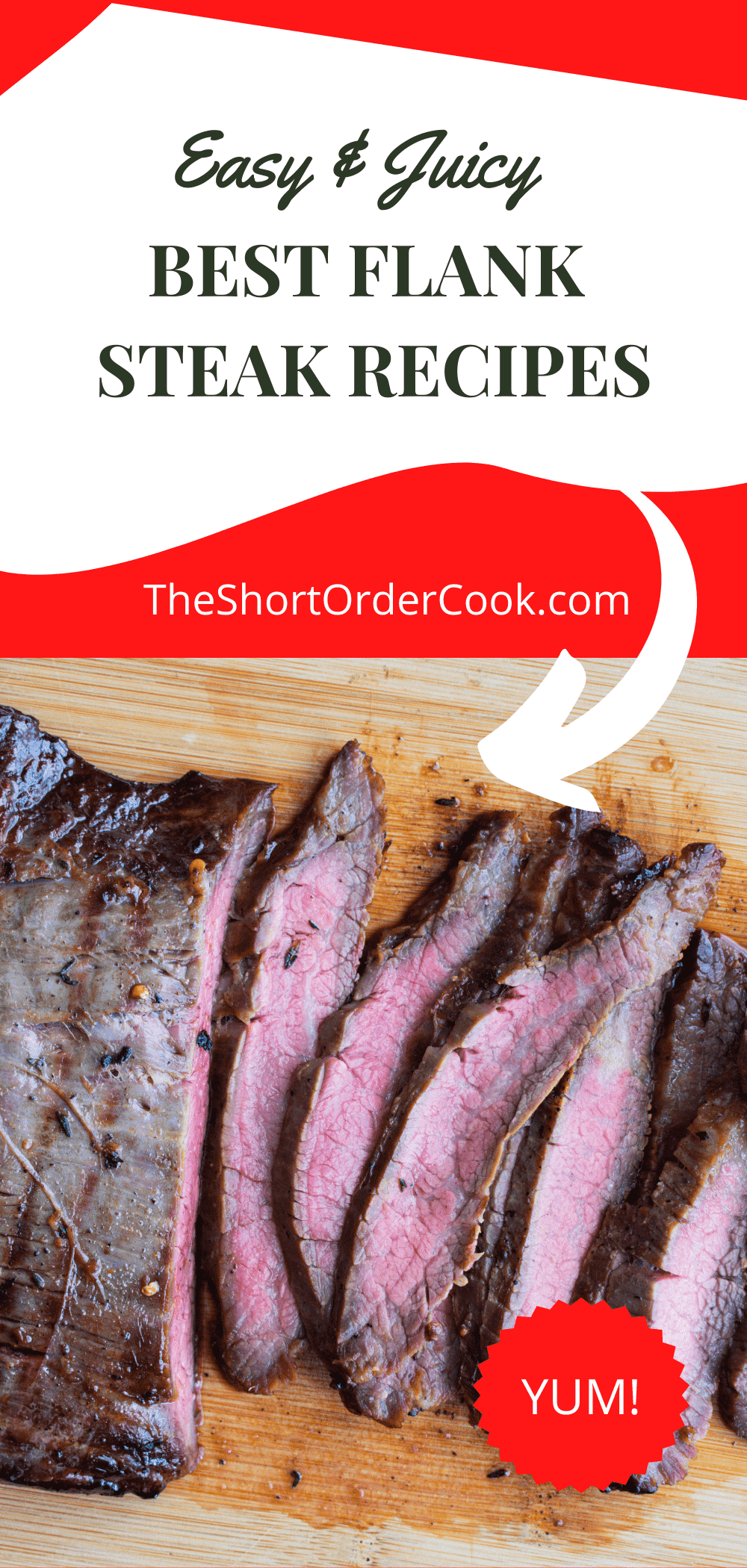 What to Serve with Flank Steak
Here are some great side dishes that go well with flank steak. These ideas include potatoes, rice, and vegetables. Plus gluten-free, healthy, and other yummy recipes.
Best Flank Steak Recipes
The best flank steak recipes are easy, delicious, and simple to make. Whether you want Asian-inspired, grilled, or stuffed flank steak, all these recipes are family-favorites.
Ingredients
Flank Steak Tacos

Sous Vide Teriyaki Flank Steak

Bourbon Marinated Flank Steak

Italian Stuffed Flank Steak

30-Minute Steak Stir Fry

Bacon, Spinach, & Feta Stuffed Flank Steak

Korean Grilled Flank Steak
Instructions
Make your favorite flank steak recipe.