Just like Rudolph the red-nosed reindeer, these cute Christmas cookies will go down in history. They are that adorable and delicious. This is an easy no-bake recipe using Oreo cookies to make the cutest Rudolph the Red-Nosed Reindeer cookies. Dip, decorate, & be delighted.
The holiday is not complete without these darling Christmas cookies. With a red gumdrop nose for Rudolph, or try some licorice ones too for Donner, Blitzen, and the rest of Santa's reindeer. They are all just as fun. I love making them as a gift to hand out with my other goodies like my famous chocolate-coated peanut butter balls.
Reindeer cookies are wonderful to make when the weather is cold outside and winter arrives. These adorable cookies designed to look like Rudolph are perfect for Christmas. Make some homemade hot chocolate & have the ultimate holiday sugar overload.
These salty and sweet ingredients also make another kid-favorite Christmas treat, Oreo Snowman Cookies. So gather twice the ingredients and have twice the fun.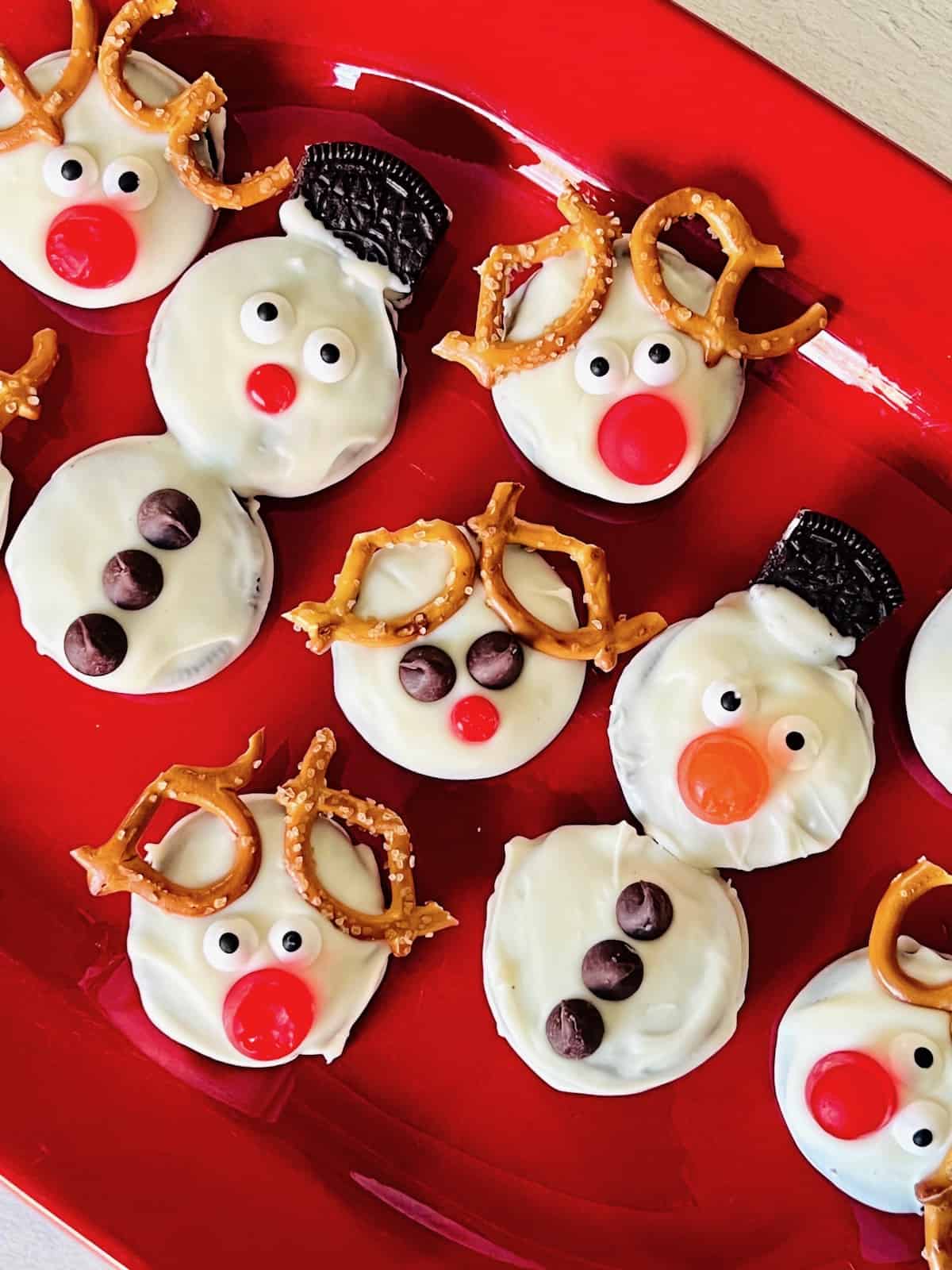 Jump to:
Ingredients for Rudolph Cookies
The base of this Christmas recipe is the Oreo sandwich cookies. They will be Rudolph's face that are candy-coated with vanilla flavored white melting wafers. Then come all the fun candies to make reindeer faces. The final touch are pretzel antlers.
Oreos
White Melting Wafers
Red Dots Gumdrops
Candy Eyeballs
Tiny Twist Pretzels
Cinnamon Red Hot Candies - optional nose
See the recipe card for quantities.
How to Make Oreo Reindeer Cookies
Begin by gathering all your ingredients so that once you get started you can decorate quickly. Here are the step-by-step instructions for this recipe.
For the pretzels you will want them to have jagged open edges. This will give them the look of antlers. Break each in half down the middle. It is ok if they all look different with some bigger or smaller. Then they will be just like real reindeer - unique!
Microwave the Melting Wafers
To a microwave-safe medium bowl add the white candy wafers. These melt fast and easily in the microwave. No need to stir over a double-boiler over your stove burner.
Microwave on high for 30 seconds. Stir. Continue to microwave in 30-second intervals with stirring each time. Once it is completely smooth after stirring, it is ready to begin dipping. Mine took 2 minutes. All was almost melted but once I stirred and distributed the heat the last few melted for total smoothness.
Dip & Decorate Oreos
Now for the fun part. Get ready to dip those Oreos. Once they are candy-coated it is time to garnish them with candies and pretzels.
Dip each cookie into the melted candy coating. Place it on parchment paper.
Add two broken pretzel pieces to the top half of the cookie. In the middle add two candy eyes. Finish with the red gumdrop under the eyes for Rudolph's shiny red nose.
Continue to dip and decorate each cookie. Place them on the parchment paper until they cool and become hard. It only takes 5-10 minutes for them to set and be ready. Once they are ready, move them to your favorite cookie platter to display. ENJOY!
Hint: Since the candy coating hardens as it cools, it is important to work quickly. I like setting up an assembly line with all the candies and decorating ingredients ready to go. I will usually dip the cookies and place them down on the parchment and let others decorate.
Top tip
Get friends and family involved. Have a fun reindeer decorating contest. Enjoy a sing-a-long belted out the lyrics to the famous Rudolph the Red-Nosed Reindeer song.
Each person can decorate their own. Use black gumdrops for the other reindeer. Use chocolate chips for the eyes. Go wild and make them just how you would want.
Substitutions & Variations
This dessert recipe is all about the decorations. So you want to make sure they still look like reindeer, especially Rudolph. For the eyes and nose, you can make a few changes in a pinch.
Below are some alternative ingredients you can use to still make a festive holiday cookie.
Candy Eyeballs - you can use chocolate chips instead of the Wilton candy eyes if you do not have any.
Vanilla Meltables - melt white chocolate to coat the cookies, it will not come out as smooth and shiny but can be used if you are a white chocolate fan.
Gum Drops- for red noses you can also use red hot cinnamon candies.
Oreos - try gluten-free Oreos or Golden Oreos instead of the regular cookies.
I have not tried to make a gluten-free version. However, you can easily replace the cookies and the pretzels with your favorite gluten-free versions. Dots candy is gluten-free so you are set there, as well as the other ingredients. Then you have a cute reindeer cookie idea for a gluten-free Christmas.
Below are some fun variations. What I love about this recipe is you can really play with it and decorate them in several different ways to make them unique. So grab a few more of these ingredients and have a reindeer cookie decorating party.
All the reindeer - don't forget Dancer & Dasher and the rest of the gang. Use some black gum drops on the cookies to make the rest of Santa's reindeer.
Snowy Antlers - use yogurt-coated or white-chocolate pretzels to have snow covered antlers on your reindeer cookies.
Milk Chocolate - melt and dip the cookies into milk chocolate to make brown reindeers.
Equipment
You will need a microwave-safe bowl, parchment paper, and candies to make these cookies. Here is what is recommended to ensure this recipe is easy to make and turns out pretty & tasty.
The Short Order Cook is a participant in the Amazon Services LLC Associates Program. As an Amazon Associate, I earn from qualifying purchases. If you click on a link and make a purchase, I may earn a small commission on the sale at no additional cost to you. This helps with the costs of running the blog. Thank you!
Storage
These cookies are a great make-ahead Christmas or winter dessert. Once they are dipped and decorated, they can be stored for up to 3 weeks in an air-tight container. Make sure they are stored in a single layer so the decorations are not disturbed. Store them in a cool & dry place, away from heat and light so they do not melt.
If you want to freeze these cookies, they can be frozen for up to 3 months. Place in an air-tight container in a single layer. You can use parchment paper within each layer after you flash freeze them. Otherwise, I do not suggest stacking them to store. Make sure to use freezer-safe labels to keep track of items and dates.
MORE KID-FRIENDLY HOLIDAY TREATS
These are fun for holidays throughout the year. Bake and make these recipes with your kids for Easter, Thanksgiving, or Christmas. They are easy, festive, & tasty.
FAQ
Can I use white chocolate for dipping the Oreos?
Melting wafers are so easy to use. They tend to melt easier and smoother than white chocolate. They also do not seize up or harden like white chocolate can so quickly.

However, if you want to use white chocolate instead, that substitution is ok. Work quickly and melt it carefully. The snowman will still be white, bright, & yummy.
Can I use a different cookie instead of Oreos?
If Oreos or other sandwich cookies with stuffing are not your thing, any other basic cookie that is round will work. Some store-bought cookies that can be a substitute include Nilla Wafers or ginger snaps.
Rudolph the Red-Nosed Reindeer Cookies
Have some holiday fun making these cute Oreo Rudolph the Red-Nosed Reindeer Cookies. This easy no-bake recipe is perfect for Christmas. Dip the sandwich cookies in a candy-coating for cute Santa reindeer treats. Decorate with candies for eyes, noses, and pretzel antlers. Kids will love these treats.
Ingredients
12

Chocolate & Cream Sandwich Cookies

Oreos

12

ounces

White vanilla melting wafers

12

tiny twist pretzels

12

red gum drops / Dots candies

or Cinnamon Imperials

24

candy eyeballs

or chocolate chips
Instructions
Prep the pretzels by breaking each tiny twist in half. These will be the antlers for each reindeer cookie.

In a medium-sized glass microwave-safe bowl, add the white melting wafers.

Microwave the candy coating wafers for 30-second intervals & stir between each cooking. Once it is completely smooth it is ready. Mine took 2 minutes (4 rounds).

Immediately dip and coat each cookie on all sides with the melted candy. Place on a wire baking rack.

Attach 2 pieces of pretzels side-by-side with a bit of space between - these go on the top ⅓ of each cookie. These will be the antlers.

Below the antlers place the eyes even spaced in the middle of the cookie. Then directly below that add one red gum drop for Rudolph's nose.

Continue to dip and decorate each cookie. The melting wafers will set up as it cools so work fast.

Let them cool and set until hardened. The candies and pretzels should be firmly stuck to the candy-coated Oreo cookies.

Store cookies in an air-tight container. Place the container in a cool dry place that will not be exposed to heat or sunlight. The cookies will stay fresh for up to 3 days.