Chicken spaghetti in the Instant Pot is the best quick and easy 30-minute recipe. This one-pot chicken and pasta recipe is comforting and delicious.  It's what you get when you marry mac & cheese with shredded chicken for dinner. This cheese creamy Instant Pot Chicken Spaghetti is a total winner.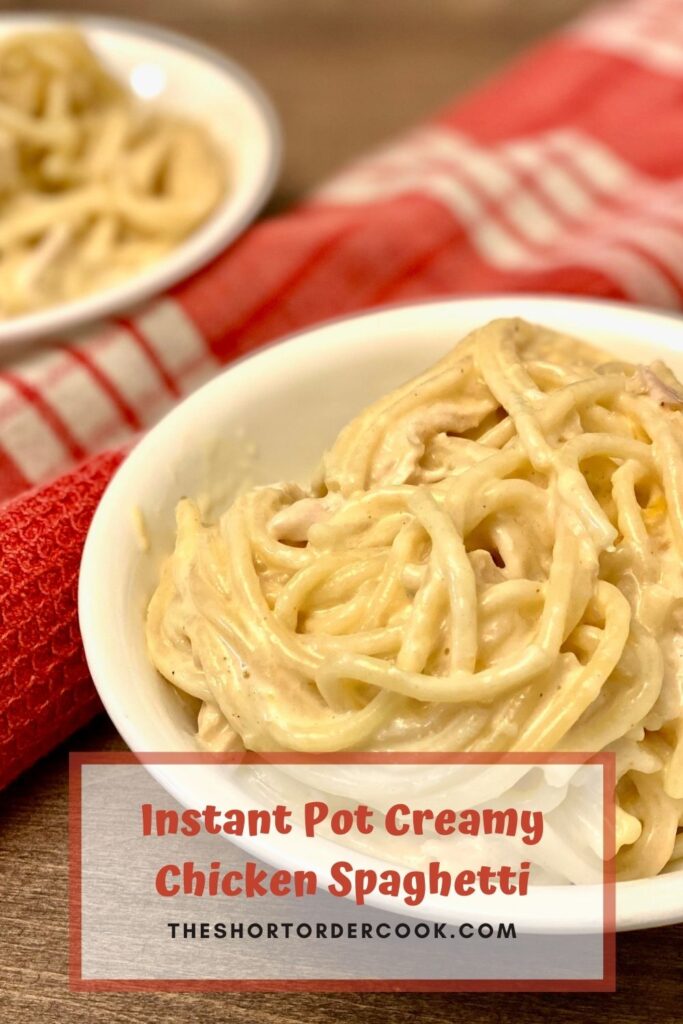 This creamy pasta & cheese dish is a family dinner favorite that kids and adults both love. The cream cheese plus 3 other kinds of cheese create a rich white sauce along with the spaghetti that cooks in chicken broth. Bake up some homemade rustic ciabatta bread & be in heaven.
This is a great one-pot recipe for chicken, pasta, and a cheesy cream sauce. Cooking chicken and pasta together at the same time in the Instant Pot is a delicious time-saving recipe. It not only cooks up fast but the clean-up is even faster. So much to love about this family-favorite recipe.
Jump to:
The boneless skinless chicken breast cook until tender and ready to shred once it is done cooking.  Adding the chicken back into the cheesy pasta is the perfect combination.
Ingredients for Instant Pot Chicken Spaghetti
Homemade chicken spaghetti for the pressure cooker requires a few simple ingredients that are likely staples in your house already. You will need spaghetti, boneless skinless chicken breasts, spices, seasonings, and tons of cheese. This creamy 3-cheese pasta recipe calls for the following ingredients.
Chicken Broth
Spaghetti
Boneless Skinless Chicken Breasts
Onion
Chopped Garlic
Full-Fat Cream Cheese
Heavy Cream
Seasoned Salt
Black Pepper
Paprika
Mozzarella Cheese
Cheddar Cheese
Parmesan Cheese
This recipe is made with real cream and dairy products. There are no condensed soups or other canned items in this recipe. It also does not have any processed cheese, like Velvetta. It is a great spaghetti recipe without tomato sauce - for anyone that doesn't like or has an allergy to tomatoes.
How to Make Chicken Spaghetti in the Instant Pot
If you have never made pasta in a pressure cooker, the key is to make sure the noodles are submerged under enough liquid. They are usually the first two items to be added into the insert just like in this chicken spaghetti recipe.
First, add in the broth and break the spaghetti noodles in half. Add a handful of the spaghetti in alternating layers so that they do not all stack up together - this will result in them sticking together and not cooking.
Next add the chicken breasts, sliced onions, garlic, and all the spices to the Instant Pot. This will all be on top of the broth and spaghetti noodles. The pasta will then be at the bottom and submerged in the liquid as seen below. VIOLA - this is one easy dump-and-start Instant Pot recipe.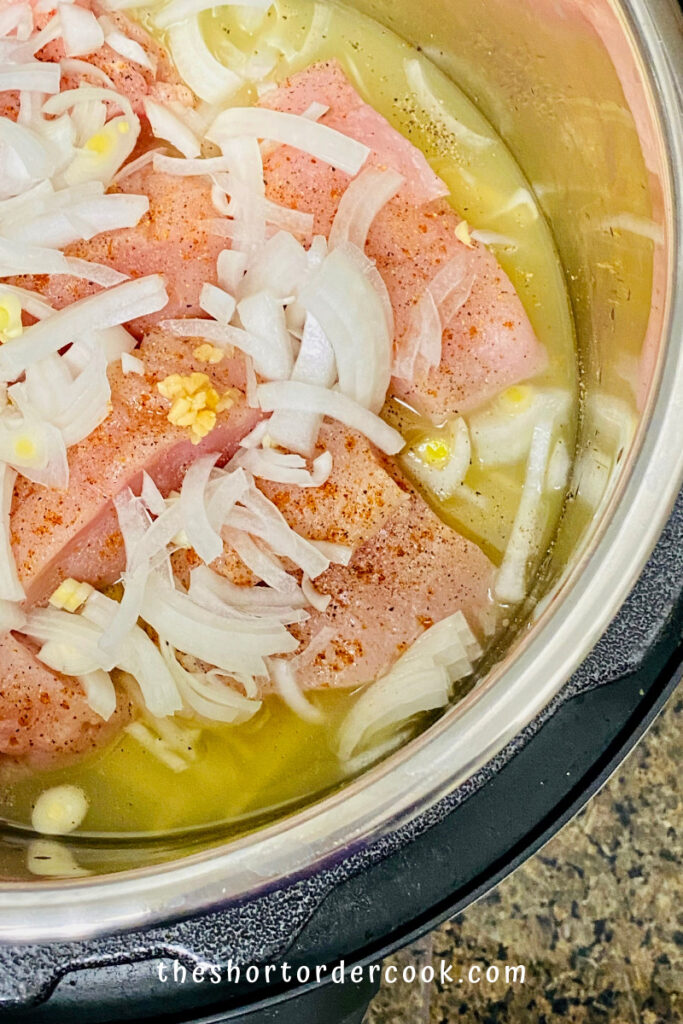 How Long to Cook Spaghetti in the Instant Pot
Once all the ingredients are in the pressure cooker, add the lid and make sure the seal is in place and the valve is closed. Set the Instant Pot to MANUAL for 8 minutes.  It will take about 10 minutes to come to pressure and then another 8 minutes to cook.
Once it beeps and is done cooking, you will want to do a MANUAL RELEASE. So please be careful as the steam WILL BE HOT - open the valve on the top and let the steam release until the unit unlocks.
Once it is ready, open the lid. Using a slotted spoon scoop out the chicken pieces and set them aside. Next, add the cream cheese chunks and stir in to melt with the spaghetti. Shred the chicken pieces, these will be hot too so be careful.
The next step includes adding the shredded chicken back into the Instant Pot along with the spaghetti. Then finally add all the cream and the remaining cheese. Stir to combine completely.
Once all the ingredients are mixed together, the spaghetti and chicken will be completely coated in the creamy white cheese sauce. The pasta will be cooked perfectly and the chicken will be shredded and tender. Scoop into pasta bowls for serving. Top with more parmesan cheese if desired.
Variations & Substitutions
This creamy pasta recipe is comforting and amazing as is. However, here are a few bonus ideas to mix things up. Also if you have a dietary need or allergy, here are some substitutions you can make to enjoy this recipe.
Substitutions
Here are some substitutions you can make for some of the ingredients needed to make chicken and spaghetti in the pressure cooker.
Chicken - if you have rotisserie chicken, you can use that and add it at the end instead of cooking some in the beginning steps. To make chicken spaghetti with shredded meat from a rotisserie or leftover roasted chicken, simply leave it out of the Instant Pot when adding all the ingredients. Then add it in the same step you would when you add the cooked chicken as listed below. (try it with leftover turkeys - like after Thanksgiving!)
Cheese - try adding fontina instead of cheddar for an Italian cheese overload.
Variations
Here are some fun ideas to up the chicken spaghetti game. Add one of these ingredients for a new twist on this recipe.
Mushrooms - add 1 cup of sliced mushrooms
Peas - add 1 cup of frozen peas
Bacon - add 1 cup of chopped cooked bacon at the end and stir in
Vegetarian - omit the chicken and use vegetable broth instead of chicken broth
Spicy - add ½ Tablespoon crushed red pepper with the other seasonings
What to Serve with Chicken Spaghetti?
Any of your favorite side dishes for pasta will be great to serve with creamy and cheesy chicken spaghetti. Since there are protein and carbohydrates in this recipe, what I suggest to make a complete meal is to add some vegetables.
A salad or steamed vegetables would be quick and easy side dish options to serve with the recipe. Here are the best sides to serve with chicken spaghetti, such as the steamed broccoli pictured below.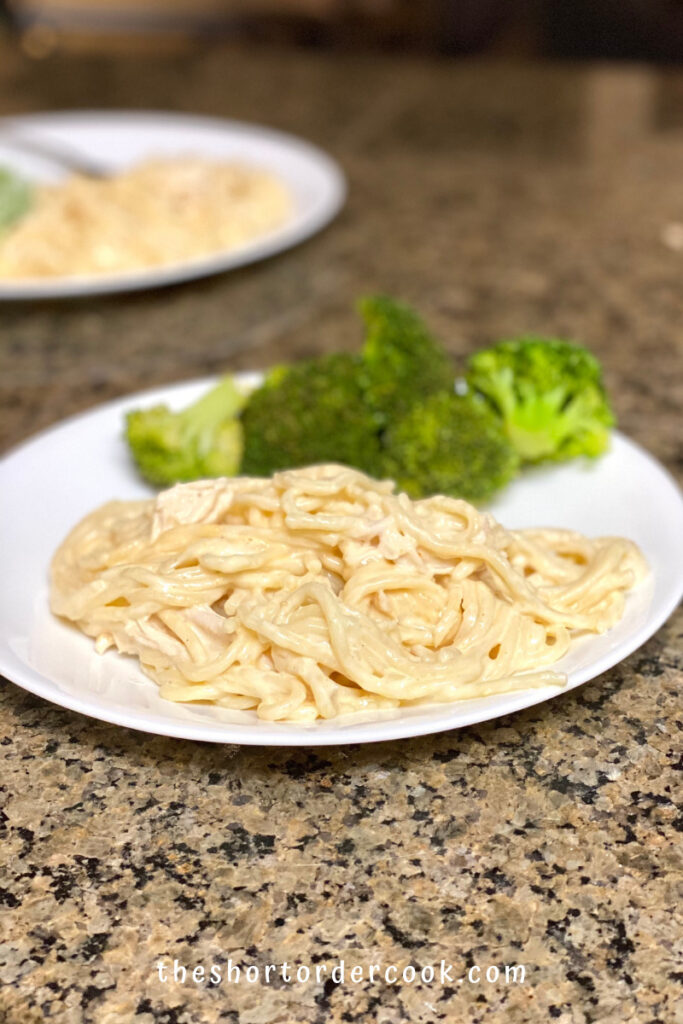 Storing Instant Pot Chicken Spaghetti
This recipe is great for meal planning. It stores well and reheats easily. Store any leftovers in an air-tight container. Place in the refrigerator and store for up to 5 days. Reheat in the microwave - a splash of cream helps bring the sauce back to a creamy texture.
This recipe has a cream base and it is not ideal to freeze. However, it can be frozen in an air-tight container. Store in the freezer for up to a month. Defrost for 1-2 days in the refrigerator. Add a bit of cream to the pasta, stir, and microwave to reheat.
FAQ
Can I use boneless skinless chicken thighs?
If you want to substitute thighs for breasts, go for it. They will cook in the same amount of time and would be a great alternative.
Can I use frozen chicken breasts?
The time for this recipe to come to pressure and cook is for thawed boneless skinless chicken breasts. Frozen chicken breasts would not be cooked all the way through. This recipe does not work for frozen chicken.
Why did my spaghetti stick together or not cook all the way?
If you do not have enough broth in the pot, the spaghetti will not cook all the way through. In addition, if you do not break the spaghetti and ensure it is submerged until the broth and other ingredients, it may stick together and not cook evenly.
What wine goes with chicken spaghetti?
The cream sauce with this recipe pairs well with white wine. Pinot Grigio or Chardonnay are both good choices to serve with chicken spaghetti.
Product Recommendations for this Recipe:
The Short Order Cook is a participant in the Amazon Services LLC Associates Program. As an Amazon Associate, I earn from qualifying purchases. If you click on a link and make a purchase, I may earn a small commission on the sale at no additional cost to you. This helps with the costs of running the blog. Thank you!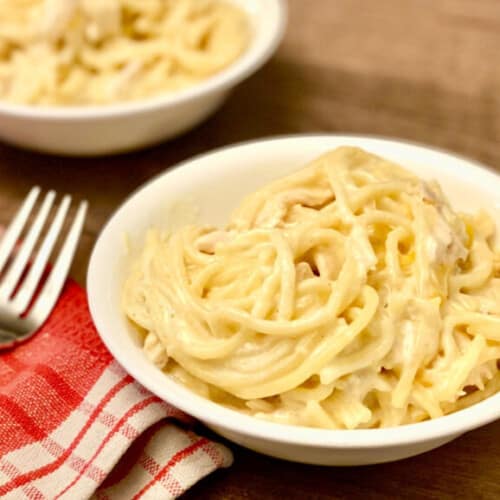 Instant Pot Creamy Chicken Spaghetti
Chicken spaghetti in the Instant Pot is a quick and easy recipe. This one-pot chicken and pasta recipe is comforting and delicious.  
Ingredients
4

cups

chicken broth

1

pound

spaghetti

broken & separated

¾

pound

boneless skinless chicken breasts

cut in large chunks

¼

large onion

thinly sliced

1

teaspoon

garlic

minced

1

teaspoon

seasoned salt

½

teaspoon

black pepper

½

teaspoon

paprika

8

oz

cream cheese

softened at room temperature & cut in small chunks

¼

C

heavy cream

½

C

shredded mozzarella cheese

½

C

shredded cheddar cheese

¼

C

grated parmesan cheese

additional parmesan cheese

optional for topping
Instructions
To the insert of your Instant Pot or pressure cooker, pour in the chicken broth. Next, break the spaghetti noodles in half and add a handful at a time to the chicken broth. As you add each handful, layer them in an offset pattern so some are going vertical and then next is horizontal. This is important so they do not stick together.

Add the chunks of raw chicken, onion, and garlic next. This will push the noodles further down into the broth. The spaghetti should be completely submerged at this point. Sprinkle with the seasonings.

Be sure the seal is on your lid correctly and the valve is closed. Place the lid on the Instant Pot and lock it into place. Press MANUAL and set the timer to 8 minutes.

Once the cooking time is done, you will want to do a manual release of the pressure. BE CAREFUL, STEAM WILL BE HOT. Using a long wooden spoon or something else, gently open the valve and release the pressure and steam

Remove the chicken pieces with a slotted spoon and set them aside on a dish to cool.

Add the small chunks of room temperature cream cheese to the spaghetti in the pot. Stir to melt and combine. Shred the chicken and add it back into the pot. For the final step, add the cream and 3 remaining kinds of cheeses.

Serve in pasta bowls and top with more parmesan cheese if desired.

For leftovers - store in an air-tight container in the refrigerator for up to 3 days. You may need to add a splash of cream to bring it back to its smooth creamy texture and stir when warming it in the microwave.
Notes
Nutrition Facts
Servings: 6
Amount per serving
 
Calories
557
% Daily Value*
Total Fat 25g
32%
Saturated Fat 13.1g
66%
Cholesterol 164mg
55%
Sodium 1103mg
48%
Total Carbohydrate 44.7g
16%
Dietary Fiber 0.3g
1%
Total Sugars 0.9g
 
Protein 37.2g
 
Vitamin D 3mcg
13%
Calcium 187mg
14%
Iron 4mg
23%
Potassium 483mg
10%
*The % Daily Value (DV) tells you how much a nutrient in a food serving contributes to a daily diet. 2,000 calorie a day is used for general nutrition advice.
Did you make this The Short Order Cook Recipe?
Tag @theshortordercookblog (Instagram & Facebook) or @shortorder_cook (Twitter).
I would love to see your latest creations and kitchen adventures.