If you have ever wondered if you can refreeze hot dogs once they have been defrosted, you are not alone. When it is summertime, hot dogs may go on sale and you may want to stock. And if you are like me, buying in bulk, buying a lot of hot dogs at once is cost-effective. We would hate to waste a thawed-out package of hot dogs.
Whether you have a full pack or partially-used package of thawed frankfurter hot dogs in your refrigerator, you can refreeze them. This article will share how to safely refreeze uncooked or cooked hot dogs, weiners, or frankfurts.
As long as they have thawed and were stored in the refrigerator they will refreeze well. Never leave any hot dogs on the counter to defrost, whether or not you will use them all right away.
This article has links to products/services that may make us a commission. #ad
Jump to:
Is it Safe to Refreeze Hot Dogs?
Simply put, yes it is safe to refreeze hot dogs. This is true for chicken, turkey, or beef hot dogs. They all can be frozen again as long as they were thawed safely, to begin with. Raw hot dogs refreeze well and easily if they had been correctly thawed in the refrigerator.
Unfortunately, if the hot dogs were not thawed safely in the refrigerator, I do not recommend refreezing them. It is not recommended to refreeze hot dogs that were thawed in the microwave or on the counter. It is never a good idea to thaw them that way no matter your intention.
The Best Hot Dogs for Quality
Starting with good quality hot dogs helps in the taste you will get once defrosted and refrozen. If you start with a brand that has a lot of preservatives, fillers, and chemicals, they will not freeze well.
I love the uncured hot dogs from Butcher Box. They are made with heritage pork and grass-fed beef. They have a snap when you bite into them that I just love. Grill them up and top with mustard and kraut and I am in hot dog heaven.
How to Refreeze Uncooked Hot Dogs
It is recommended to refreeze uncooked hot dogs within 3-5 days of them being defrosted. Thawed hot dogs in an unopened package can go right back into the freezer to refreeze. This is as long as it has been stored in the refrigerator for those 5 days.
If the package has been opened and partially used, it is best to refreeze them within 2-3 days. To do so, make sure you are sealing thawed hot dogs tightly when refreezing. Begin by wrapping them tightly with plastic wrap.
Next, add that wrapped meat to a ziplock bag. Make sure to squeeze all the air out of the bag before sealing it. This helps keep moisture out. This ensures that the frozen hot dogs do not get any freezer burn on the surface due to the air that may get in.
How to Refreeze Cooked Hot Dogs
The best way to refreeze previously frozen, then thawed hot dogs is easy. Once they have been cooked, it is best to refreeze them right away if you know you are not going to eat them immediately.
Our favorite way to cook hot dogs is by grilling them. If you love them that way too, make sure you are cooking them correctly when you barbecue them. You may not know whether to grill with the lid on or off, but for hot dogs - OPEN is best.
I suggest doing the same as you would a partially used package as outlined above. Begin by wrapping them tightly with plastic wrap. Follow that by sealing the cooked hot dogs into a Ziploc bag. Make sure all the air has been squeezed out to keep from any possibility of freezer burn.
How Long Will Refrozen Hot Dogs Last?
Once you have frozen your hot dogs for a second time, the clock moves faster to spoilage than it would from the initial freeze. When you first freeze a package of hot dogs, it will last for up to 4 months in the freezer.
However, refrozen hot dogs will only last up to 30 days for an unopened package. But if the hot dogs are raw from an open package it should only freeze for another 10-14 days.
Cooked hot dogs can be refrozen for up to 2 weeks. For more information, check out the FDA Refrigerator & Freezer Storage Chart.
Top Tips For Freezing Hot Dogs
LABEL! Make sure you put a date on the package of hot dogs. When freezing any food, it is important to label it. This is even MORE true when you refreeze something. Make sure to label it with the date frozen and add a "USE BY" date too.
PLACE! The other best thing you can do is make sure you place it in the right place in the freezer. Since you will need to use refrozen hot dogs quickly. Place the package in the front or on top of your freezer items. This way you will see it often and grab it to use quickly. If it gets buried, it will go bad and that is sad.
How to Thaw Frozen Hot Dogs
Whether you are defrosting a new package of hot dogs or one that has been refrozen, it's important to do it safely. The best way to thaw full packages or partially-used packages that have been opened is by placing the package or frozen pieces into the refrigerator. It typically only takes about a day for them to defrost in the fridge.
Once they have been thawed, use them quickly. An unopened package of hot dogs that were refrozen should be cooked within 4 days.
For a partial package, use it within 2 days. So make sure to only pull it out of the freezer when you are ready to cook it.
I DO NOT recommend you refreeze hot dogs twice. I recommend you only refreeze them once. Once your refrozen links have defrosted, use them or toss them.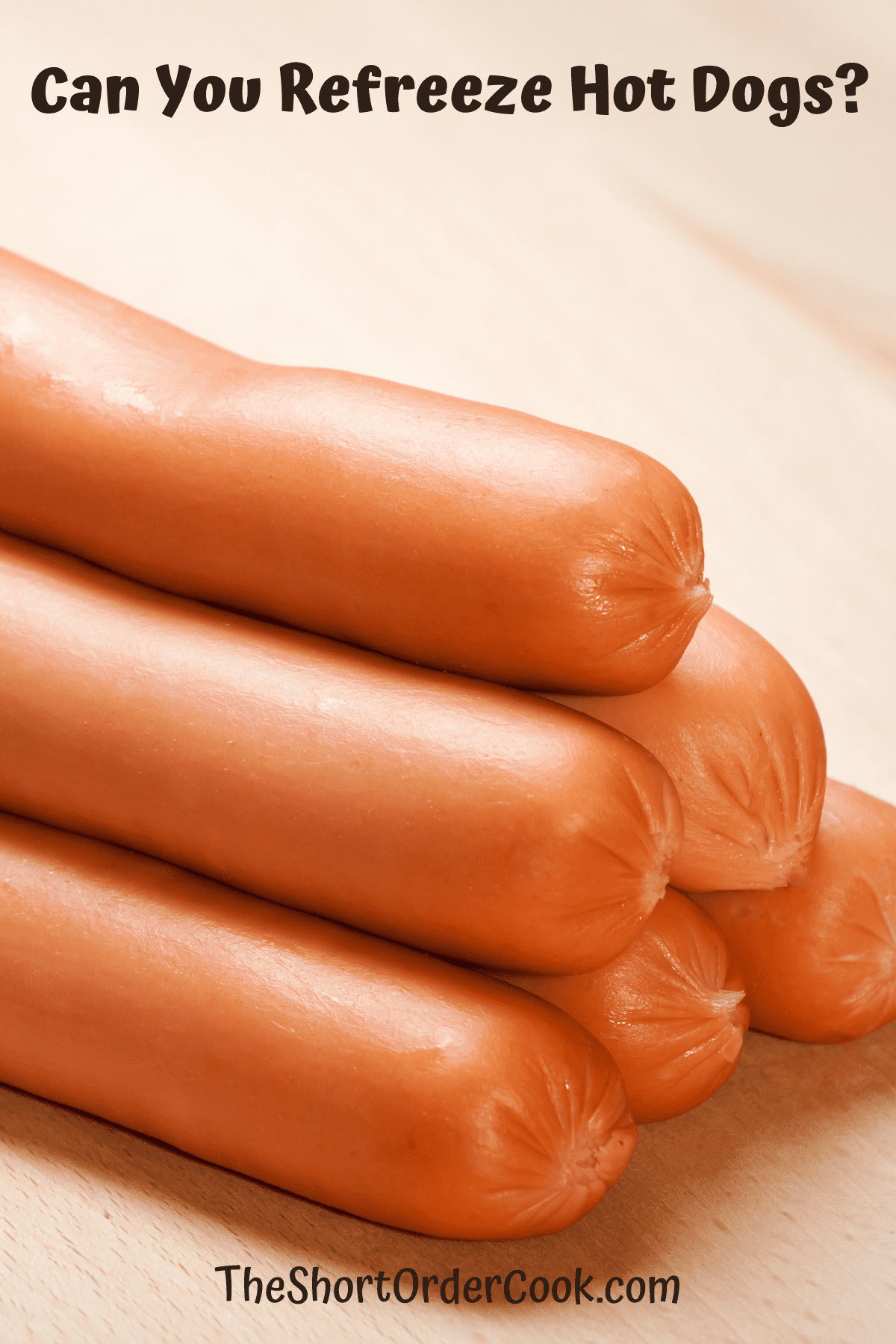 Reheating Precooked Hot Dogs
To reheat hot dogs that were cooked and frozen is quite easy. Simply place one or more in the refrigerator to thaw overnight. It only takes a few minutes to warm one up. The most convenient way to reheat them is either the microwave, oven, or toaster oven.
To reheat cooked hot dogs in the microwave try these easy steps. Place them on a paper towel-lined plate. Get them in the microwave for heating. Per hot dog, cook for 30 seconds at a time until it is heated through and ready to your liking.
To reheat cooked hot dogs in an oven or toaster oven, preheat to 400°. Once it is preheated, place them on a baking sheet with a rack (rack is optional but works best for keeping them out of their own fat drippings). Cook for 4-8 minutes or until it is to your liking.
Ideas for Using Leftover Hot Dogs
When you heat up your leftover hot dogs, try one or more of the best side dish ideas for what to serve with hot dogs. If you do not want to enjoy them simply put them in a bun with toppings, here are some great recipe ideas for enjoying hot dogs in new and exciting ways.
Make one of these recipes and add hot dogs to them for an exciting new mealtime favorite. I love to wrap my hot dogs around the cornbread chaffles for a keto version of a "corndog"
Other Freezing Tips
If you cook often, you may be freezing food frequently as well. Can you refreeze bacon is similar to hot dogs? It freezes well a second time if you do it properly. More items that freeze well include: