Whipped sweet potatoes with heavy cream and a touch of nutmeg and vanilla is a comforting side dish.  Perfectly cooked soft sweet potatoes are whipped until fluffy and creamy for a fall comfort food classic side dish. This whipped sweet potatoes recipe has a satisfyingly rich, savory, and spiced flavor.  It is a great recipe for Thanksgiving, holidays, and all fall or winter long.  Whipped sweet potatoes are healthy, vegetarian, and gluten-free.
Whipped sweet potatoes are an easy recipe that only needs a few simple ingredients for a ton of flavor. It is a healthy recipe without a lot of added sugar like most sweet potato casseroles.  There is no brown sugar, all the sweetness is from the natural sugars in the sweet potatoes. For southern whipped sweet potatoes add a tablespoon of brown sugar.  It is easy to make these sweet potatoes paleo or vegan by using coconut milk instead of butter and cream.
Ingredients for Whipped Sweet Potatoes
To make this recipe, you only need a few simple ingredients.  These whipped sweet potatoes will work with any color variety.  I have tried it with the purple-skinned but white-fleshed yams as well but find that the common variety of orange sweet potatoes seems to work the best.
For this recipe, I suggest using a Garnet or Jewel sweet potato.  They work best for mashed, whipped, or casserole recipes. In a pinch, instead of fresh, you can use canned sweet potatoes that are drained and then heated to make these whipped sweet potatoes.
Along with the sweet potatoes, you will need heavy whipping cream, salted butter, vanilla extract, and some nutmeg.  The vanilla and nutmeg add a depth of flavor by adding some sweet warmth that is also a little bitter in the nutmeg. Plus the vanilla gives a floral sweet aroma and flavor. Both pair beautifully with the sweet potatoes and the dairy from the cream and butter.
How to Make Whipped Sweet Potatoes
There are only a few easy steps to make this sweet and savory recipe of mashed sweet potatoes.  You will want to be sure to fully cook the sweet potatoes so they are easily mashed and then whipped. This will give them the fluffy texture that makes them so comforting.  Simply cook the sweet potatoes, mash them, then whip with a hand mixer to incorporate all the spices and dairy.  Here is how to make these fantastic whipped sweet potatoes.
Cook the Sweet Potatoes
The sweet potatoes will need to be fully cooked and soft before you begin whipping them and adding the other ingredients.  You can cook the potatoes in one of two ways. You can either roast them in the oven or you can steam them.  Find out How to roast sweet potatoes in the oven.
I do not recommend this method personally and here is why. But most importantly, by peeling, cutting, and then cooking them you do not need to handle hot potatoes later on.  When you roast them in the oven, you do so with the skins on.  Therefore, when they are done you either need to let them cool way too long to touch them safely or you end up possibly burning yourself.
I choose to steam them since that is a faster method and it still retains all the nutrients.     By cubing them into small pieces, they cook fast in the Instant Pot on a stovetop steamer.   Then when you are ready to begin mashing and whipping them, the sweet potatoes simply get put into a bowl and you do not have the handle any dangerously hot food - ouch HOT POTATO!    Check out my recipe to find out how to make INSTANT POT CUBED SWEET POTATOES.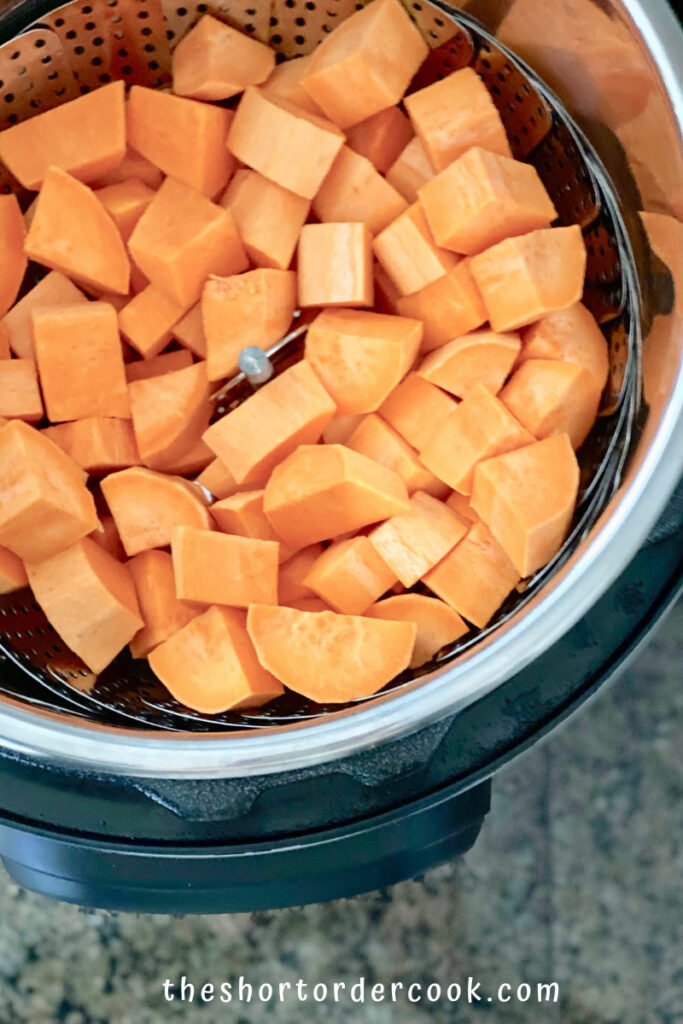 Whip the Sweet Potatoes
Once the sweet potatoes are done, add them to a large mixing bowl.   Add the butter and it will start to melt a bit as the potatoes are hot.  At this point, you can use the back of a metal spoon to mash some of the potatoes in the bowl if you are using full roasted potatoes.  If you are using the easier cubed method, you can skip this step. Simply use your hand mixer set on low-medium and begin to whip the butter into the sweet potatoes.
The difference between mashed and whipped potatoes is simple. Mashed (or riced) potatoes are down by hand where the mashing takes place with a masher and then butter and/or milk are added at the end and stirred in.  For whipped potatoes, the potatoes are whipped or beaten with a hand-mixer with the butter and cream added and whipped together.
Mashing tends to not activate too much starch and holds them intact for a lumpier recipe. Whipping adds air and can active starch for more a soft or fluffy texture.
do not use a food processor, blender, or immersion blender.  It will chop and combine but it will not incorporate the air that whipping does to make the sweet potatoes fluffy and creamy.
Once the butter and sweet potatoes are combined, slowly add in the heavy cream.  You will again mix on the low-medium speed with the hand mixer.  Scrape the edges with a rubber spatula as needed to fully combine. This should take only about 30 seconds.
You will notice it becomes a bit more fluffy and airy as the heavy whipping cream gets incorporated into the sweet potato mixture.  For the final step, you will add the nutmeg and vanilla and mix again with the hand mixer for about 15 seconds.    Season with salt and pepper and stir to combine. Serve and enjoy!
What to Serve with Sweet Potatoes
All of these amazing main courses and other side dishes all go well to make and eat with sweet potatoes.  This is a fantastic Thanksgiving side dish but it is just as wonderful all year long with your favorite proteins or vegetarian dishes.   Whipped sweet potatoes go well with chicken, turkey, pork, ducky, or other game. Pick any of these great sides or entrees to serve with sweet potatoes.
How to Store and Reheat Whipped Sweet Potatoes
It is easy to store and reheat this recipe. In fact, this is a great make-ahead recipe since it can be made and then reheated later with perfect results. Another reason it is ideal for Thanksgiving is you can make it the day before as it stores well in the refrigerator.   Simply place the whipped sweet potatoes in an air-tight container and store them in the refrigerator for up to 3 days.
You can also freeze whipped potatoes in an air-tight container for up to a month.  Defrost in the refrigerator for 1-2 days before reheating.
To reheat whipped sweet potatoes, place them in a microwave-safe bowl.  For this full recipe, heat it for 3 minutes in the microwave, stirring ½ way in between. You can add a few more drops of cream or a pat of butter and stir in as well to bring back a touch of creaminess.
PIN FOR SAFEKEEPING & SHARING!
Product Recommendations for this Recipe:
The Short Order Cook is a participant in the Amazon Services LLC Associates Program.  As an Amazon Associate, I earn from qualifying purchases.  If you click on a link and make a purchase, I may earn a small commission on the sale at no additional cost to you. This helps with the costs of running the blog. Thank you! 
Did you make this The Short Order Cook Recipe?
Tag @theshortordercookblog (Instagram & Facebook) or @shortorder_cook (Twitter). 
I would love to see your latest creations and kitchen adventures.