For juicy, saucy, & flavorful grilled BBQ chicken breasts, this recipe can't be beaten. With a zesty BBQ sauce & bold dry rub, the chicken is expertly grilled to achieve an amazing caramelized glaze while maintaining its tender and moist texture. I've perfected this grilling method & now you too can enjoy them at home.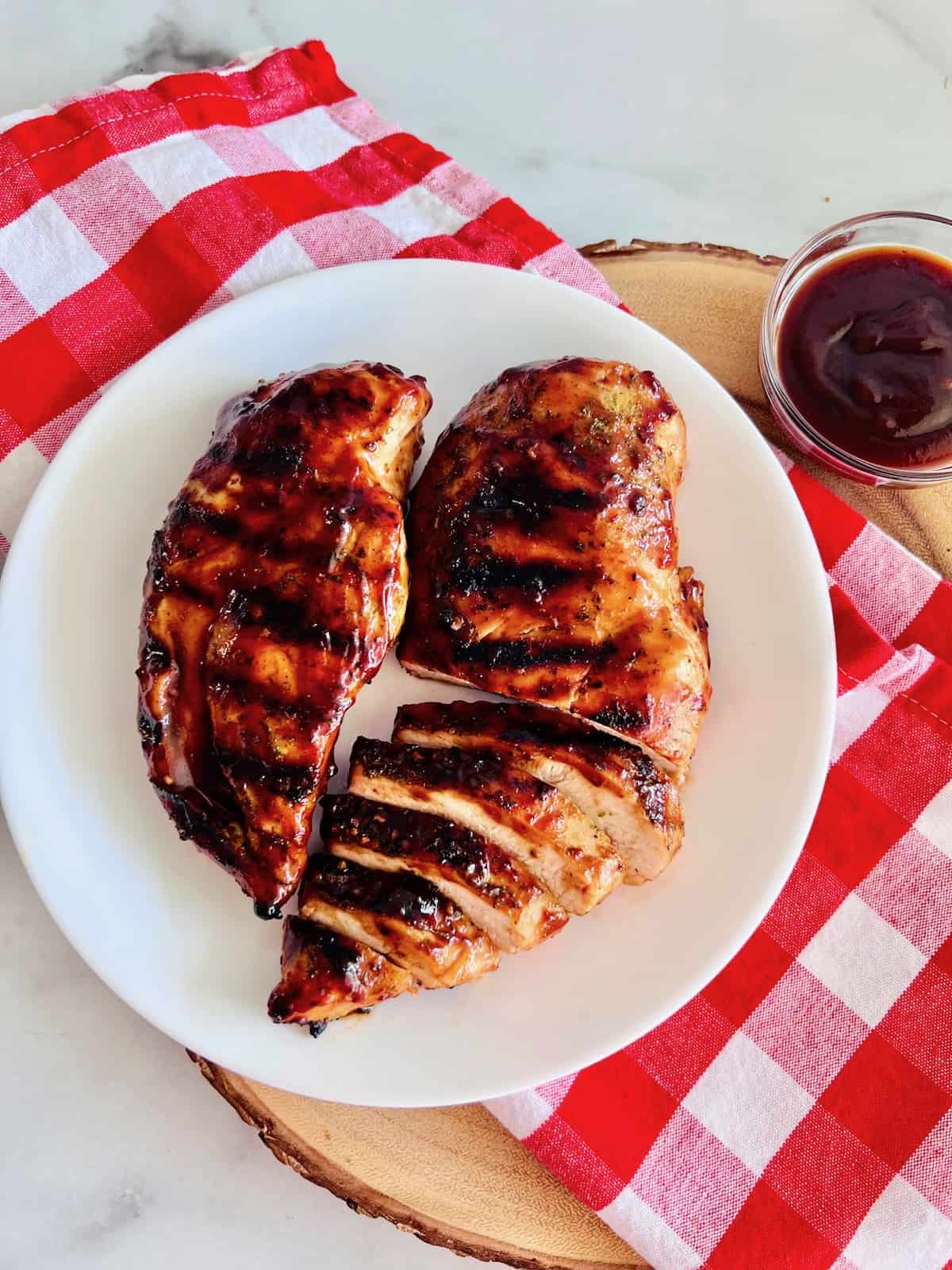 I've catered many BBQ events and besides grilled tri-tip, barbecued chicken breasts cooked on the grill are my most requested item. Add some homemade sweet potato fries & the party was happening. Little did they know that all you need is 3 ingredients, your grill, & 30 minutes.
Jump to:
Ingredients for Grilled BBQ Chicken Breasts
Everything you need for this recipe you likely already have in your home. This recipe uses boneless skinless chicken breasts but you can use other cuts, see the substitutions section below. All the flavor for this grilled chicken comes from the dry spice rub & a sweet & spicy barbecue sauce.
You may be asking if the chicken should be marinated first. There is no marinade needed for these grilled chicken breasts. The extra step and ingredients are not needed for juicy meat. When you cook them as I direct below, they come out tender & amazing.
Boneless Skinless Chicken Breasts - thick ones work best for a charred crispy outside with a juicy inside.
Kinder's Buttery Poultry Blend - this spice blend is my absolute favorite store-bought dry rub for chicken.
Kinder's BBQ Sauce - I love the sweet & spicy flavor combination in this brand but you can use your favorite.
See the recipe card for quantities.
How to Grill Boneless Skinless Chicken Breasts
Simple recipes like this are often hard to master. Chicken breasts have little fat and without the skin or bone, can easily become dry, rubbery, or tasteless if not done right. No worries, I have you covered.
Follow these easy steps & you will be slicing into the most succulent BBQ chicken breasts you have ever tasted. BBQ chicken breasts can be made on a gas, propane, or charcoal grill. Top brands like Weber or Char-Broil are quality & what we have used for over 20 years both at home & when catering. Get yours hot, set, & preheated to 350° & let's get grilling.
Add Dry Rub to the Chicken Breasts
Place your chicken in a rimmed dish or pan. Pat all sides dry so that the spices & herbs will stick to the meat. Liberally cover all sides of the boneless skinless chicken breasts with a dry rub. Do this while the grill is heating up, room-temperature chicken is best to use.
Sear the Chicken over Direct Heat
Once the grill is hot and preheated to 350°, put the chicken on the grates. Place each seasoned piece of chicken over direct heat. This is how you create a nice crispy exterior on the chicken breasts & lock in the juices. This is the best part so don't skip this step!
No oil or spray is needed. The chicken WILL NOT stick. The key is letting it sear completely so the meat releases easily from the grill when it is ready. Keep the lid open so the heat is only coming from the bottom when searing.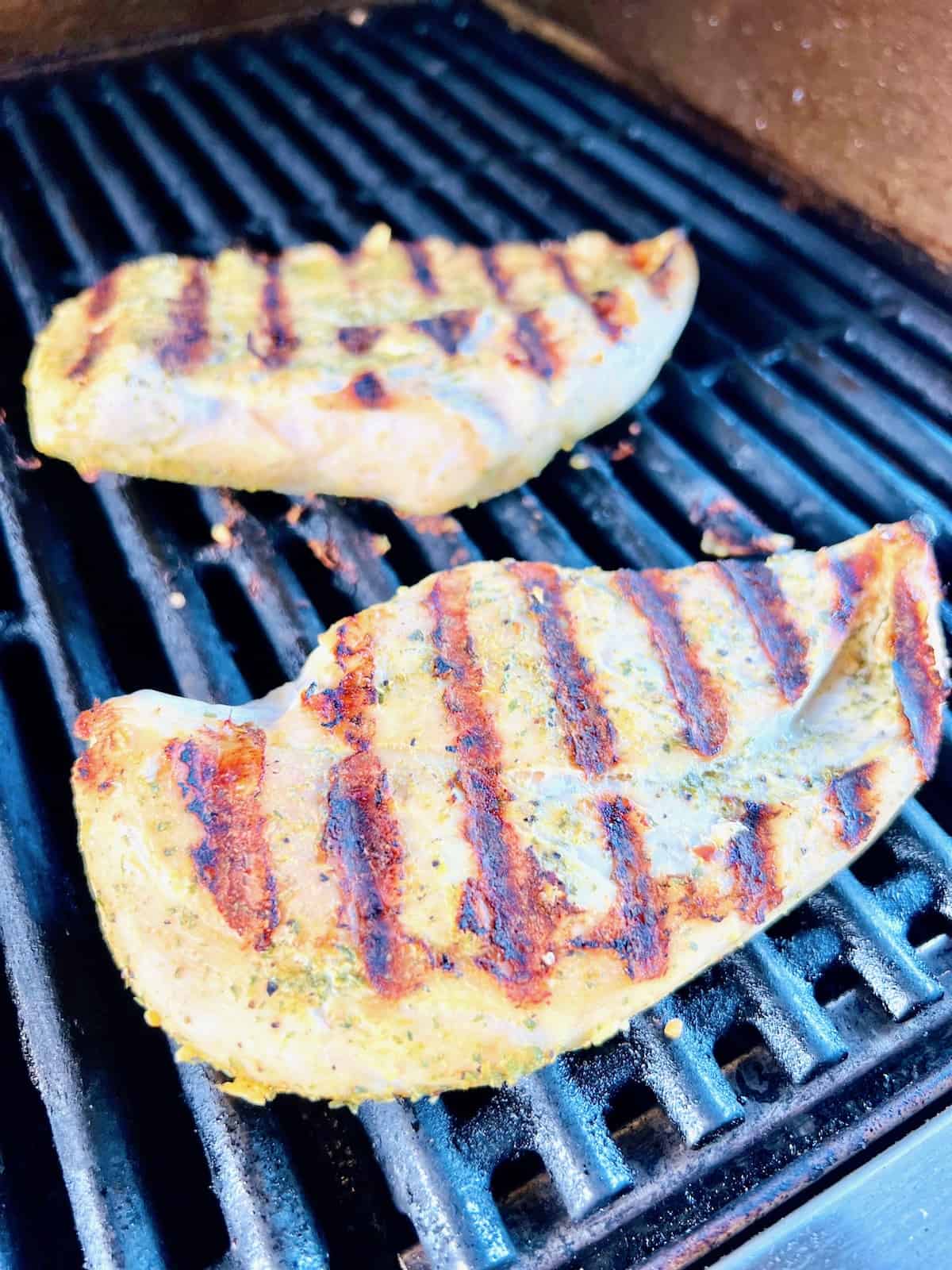 Let the chicken cook for 4 minutes on each side. They are ready to flip when they no longer stick to the grill & have these lovely deep crunchy grill marks on them.
HINT: Notice that no meat has been torn or opened up when flipping them. The outer crust is intact which seals in all the chicken juices!
Grill Over Indirect Heat
Once the chicken has seared on both sides, move the chicken breasts to the other side of the grill. You want to finish these over indirect heat.
Place the lid on or close the top of your grill. Now you want to cook the chicken from all sides. When you close the grill the heat is evenly distributed (like an oven). This helps cook the chicken breasts evenly and prevents them from drying out.
Knowing when to cook over direct or indirect heat is what makes a huge difference when grilling. Also knowing when to close or open the grill lid, can turn any home cook into a grillmaster.
Baste the Chicken Breasts with BBQ Sauce
The chicken should take about 15-20 minutes to cook through. Use an internal thermometer to check for when the chicken reaches 160°. This is when you add the BBQ. The BBQ adds a caramelized glaze with so much flavor.
Baste all sides of the chicken with the barbecue sauce at this time. This allows the sauce to adhere to the chicken and cook a bit before removing it from the grill. Do not add the bbq sauce any earlier or it may burn or char giving it a burnt or unpleasant taste.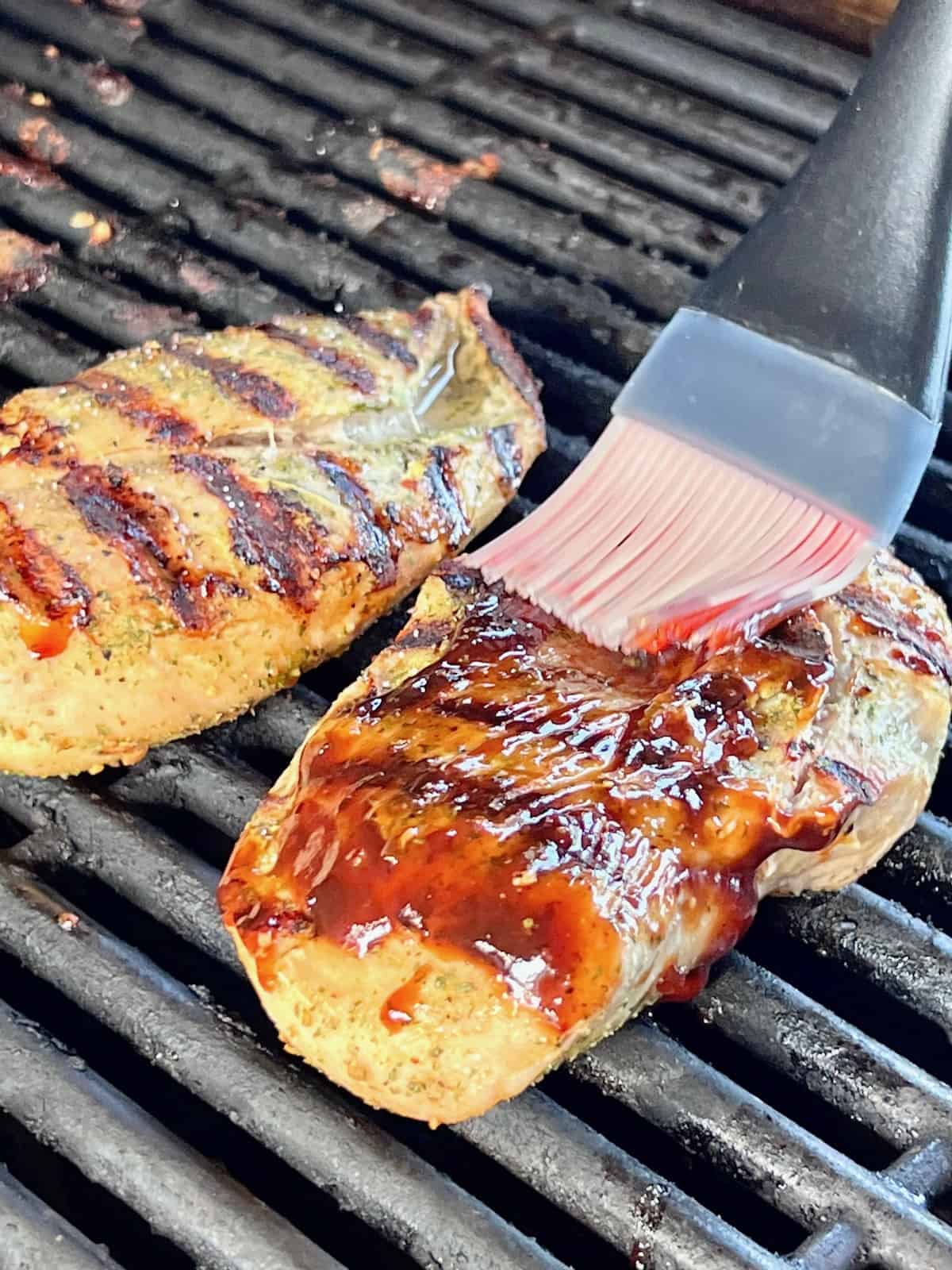 Continue cooking until the internal temperature reaches 165°. This is when you will know the chicken is cooked through & at a safe temperature.
Remove the chicken from the grill and place on a plate or cutting board to rest. DO NOT cut into them immediately, let them rest first.
Hint: let the grill run for 2-3 more minutes to burn off any remnants, then clean it. I like to use this bristle-free barbecue brush (affiliate link) for cleaning the grill.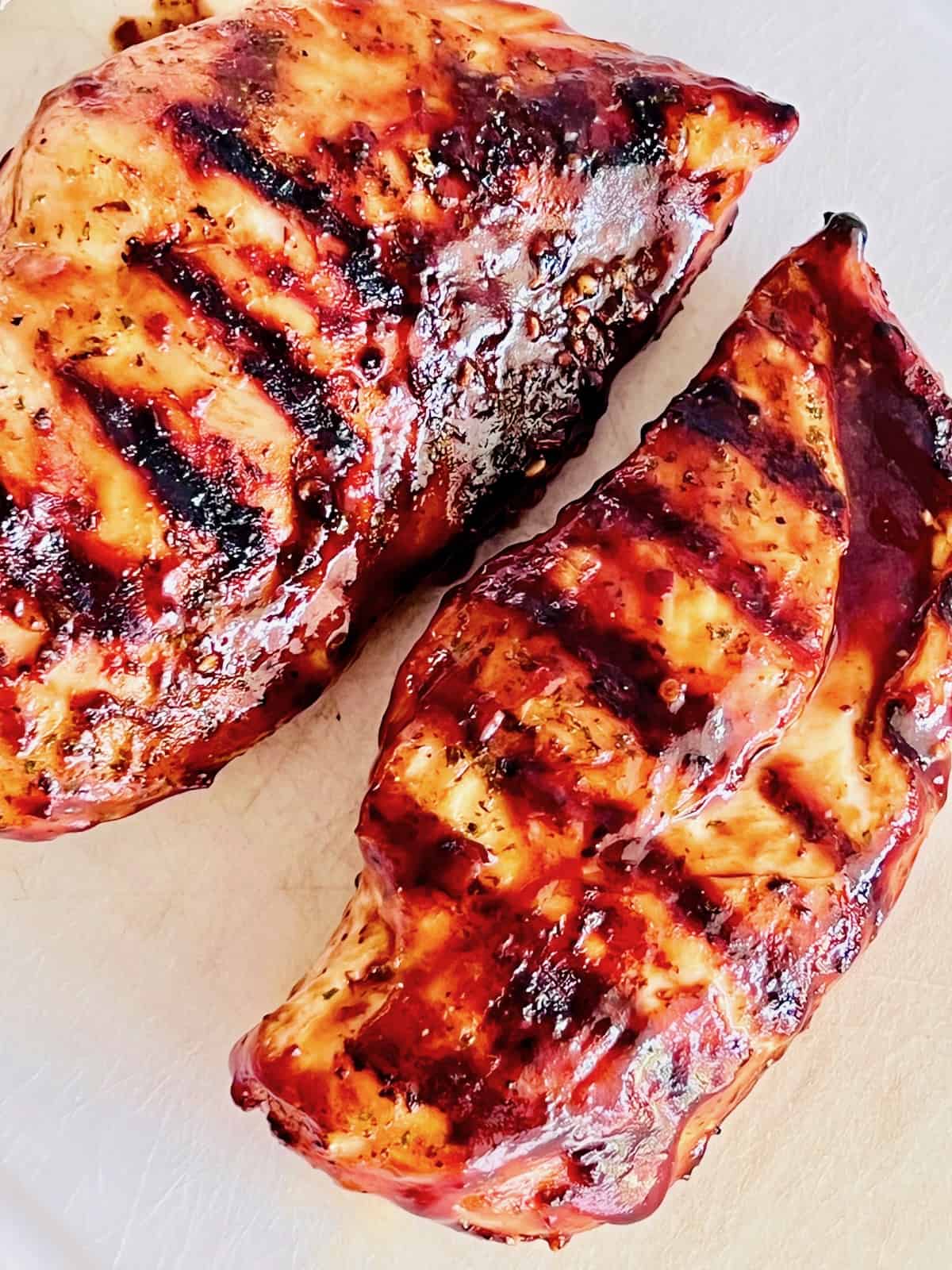 How to Serve Grilled Chicken Breasts
Once the chicken has rested for 5 minutes, they are ready to cut into. Use a sharp chef's knife to slice the boneless skinless chicken breasts against the grain. I recommend every kitchen have sharp quality knives & a chef's knife is inexpensive with great ones for under $100.
You will get evenly cooked slices that glisten with juicy meat. Serve with additional bbq sauce if desired.
Sides to Serve with Grilled BBQ Chicken
Try any of these amazing sides to serve with grilled barbecue chicken breasts. All go well with the grilled meat & are easy to make.
Substitutions & Variations
Here are some alternate ingredients & items that can be used in this recipe. Try any of these variations and keep the recipe tasty & simple.
Kinder's Buttery Poultry Blend - use your favorite brand of dry rub for chicken. My homemade rub for smoked chicken also works for grilling.
Kinder's BBQ Sauce - use your favorite brand
Spicy - use a spicy bbq sauce & spicy rub mix.
Keto/Low-Carb- use a keto-friendly bbq sauce with low or no-sugar.
Carolina BBQ - use a mustard-based Carolina BBQ, Trader Joe's makes a great one.
This recipe is already gluten-free, high-protein, and low-fat.
Top Tips
All of these great tips are shared in the post. But these are so good and important they are worth mentioning again so you don't miss them.
Pat the chicken dry before applying the dry rub so it sticks better.
Sear the chicken over direct heat with the lid open first.
Finish grilling the chicken breasts over indirect heat & with the lid closed.
DO NOT apply the bbq sauce until the chicken is almost done (around 160° internal temperature).
The chicken is done when it reaches 165° with a quick-read internal thermometer.
Let the chicken rest before slicing into it s the juices don't all run out.
Make a double batch to use later for meal planning and leftovers in salads & sandwiches.
Equipment
For this bbq recipe, you need a grill. Whether you have a built-in model in an outdoor kitchen or a small hibachi-style tailgate, this recipe can be made on any grill. Here are some of my favorite grills & accessories that help give you success with this recipe.
The Short Order Cook participates in the Amazon Services LLC Associates Program.  As an Amazon Associate, I earn from qualifying purchases.  If you click on a link and make a purchase, I may earn a small commission on the sale at no additional cost to you. This helps with the costs of running the blog. Thank you!  
Storing & Freezing Grilled Chicken Breasts
Leftover grilled chicken breasts store so easily in either the refrigerator or freezer. Place them in an air-tight container to store in the refrigerator for up to 5 days. Wrap them in plastic wrap and then seal them in a freezer-friendly resealable bag with the air pressed out of it. Then freeze the grilled chicken breasts for up to 30 days.
Enjoy leftover bbq chicken either cold or reheated for lunch or dinner. I love adding it chopped up to Broccoli Apple Salad for a protein boost. Reheat over the grill or in the oven on low heat so they don't dry out. Microwaving will make the meat chewy but is ok if you are in a pinch.
FAQ
Do I need to pound the chicken breasts or tenderize them first?
This recipe does not require tenderizing the chicken with a mallet or pounding it out thin. The BBQ chicken breasts are thick, juicy, & grilled to perfection. What results from this recipe is a crispy sauced outside & hearty slices of juicy meat on the inside. I don't recommend grilling thin breasts. The low & slow indirect heat method used here may not keep the insides tender & overcook them.
Can I make these ahead of time?
I love this recipe for meal planning & make-ahead meals. The grilled chicken is wonderful cold in salads, wraps, or sandwiches. It also reheats well to use later in casseroles, rice bowls, on a bun, or for a quick lunch.
Can I use chicken thighs instead?
This recipe is perfected using a thicker piece of chicken. Replacing a hearty chicken breast with thigh meat, which is thinner, will alter the cooking time & technique. If dark meat is more your jam, you will love my grilled boneless skinless chicken thigh recipe.
Can I grill frozen chicken breasts?
This recipe uses fresh thawed boneless skinless chicken breasts. I do not recommend using frozen breasts directly on the grill. It will dry out the meat by the time the inside is a safe temperature to eat.
Other Recipes for the Grill
Looking for other recipes like this? Try these: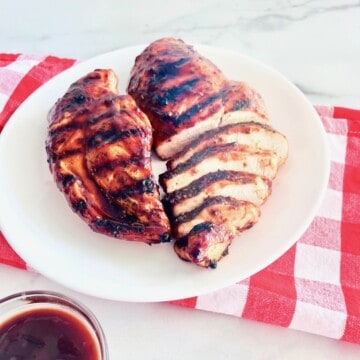 Grilled BBQ Chicken Breasts
For juicy, sauced, & seasoned grilled bbq chicken breasts, this summer easy recipe is the best. The crispy crust & tender meat is ready in 30 minutes. Only 3 ingredients for a sweet, spicy, & bold cookout chicken recipe.
Equipment
Gas, Propane, or Charcoal Grill
Ingredients
1

pound

boneless skinless chicken breasts

(typically 2-3 breasts)

Kinder's Buttery Poultry Blend

(or your favorite dry rub)

Kinder's BBQ Sauce

(or your favorite bbq sauce)
Instructions
Preheat the grill to 350°. Turn on one side or add coals to one side of the grill, you will want to have both indirect and direct cooking for this recipe.

Once the grill is hot and preheated to 350°, put the chicken on the grates. Place each seasoned piece of chicken over direct heat.

Let the chicken cook for 4 minutes on each side. Leave the grill lid off or open. They are ready to flip when they no longer stick to the grill & release easily. Grill marks will be noticeable & dark in color.

Once the chicken has seared on both sides, move the chicken breasts to the other side of the grill. You want to finish these over indirect heat with the lid closed or on. This lets the chicken cook throughout with even heat.

DO NOT add the BBQ sauce at this time - if you do this too early it will burn.

Using an instant-read thermometer check for when the chicken reaches 160°. Now baste all sides with the BBQ sauce.

Once the chicken reaches an internal temperature of 165°, they are done. Use tongs and place the chicken on a plate or cutting board.

Let the chicken breasts rest for 5 minutes before cutting into them. This allows the meat to stay juicy & tender. If you cut into it too early, the juices run out instead of being redistributed into the meat as it cools.

To serve, slice with a sharp chef's knife. Place on individual plates or a platter & serve with additional bbq sauce on the side if desired.

Store leftovers in teh refrigerator for up to 5 days or in the freezer for up to a month.
Notes
The nutritional information for this recipe may vary based on how much rub and sauce is used. It will also be different if using an alternate dry rub or bbq sauce. 
Nutrition Facts
Servings: 4
Amount per serving
 
Calories
335
% Daily Value*
Total Fat 8.4g
11%
Saturated Fat 2.3g
12%
Cholesterol 101mg
34%
Sodium 933mg
41%
Total Carbohydrate 28g
10%
Dietary Fiber 0.5g
2%
Total Sugars 26g
 
Protein 32.8g
 
Vitamin D 0mcg
0%
Calcium 17mg
1%
Iron 1mg
8%
Potassium 276mg
6%
*The % Daily Value (DV) tells you how much a nutrient in a food serving contributes to a daily diet. 2,000 calorie a day is used for general nutrition advice.
Food Safety & Grilling Tips
For these safety tips when cooking chicken on the grill.
Cook to a minimum temperature of 165 °F (74 °C)
Do not use the same utensils on cooked food, that previously touched raw meat
Wash hands after touching raw meat
Don't leave food sitting out at room temperature for extended periods
Watch the grill for flare-ups & close the lid to calm the flames.