The best dips for eating with sweet potato fries are these two quick and easy recipes. Here is not just one but two terrific dips to serve with your favorite french fries. Having two homemade dipping sauces that go well with french fries makes eating them all that more fun and tasty. Whether you enjoy sweet potato fries as a side dish, snack, or appetizer these are the dips you want to make for serving along side them.
Each sauce is a wonderful combination of 3 simple ingredients to make a yummy dip to serve with sweet potato fries. Everyone likes a side of ranch dressing but this spicy ranch-inspired dip is even better. Also, there is a sticky-sweet maple sauce ideal for dipping sweet potato fries. So dunk away and add so much flavor to your meal the next time you have fried sweet potatoes as a side dish.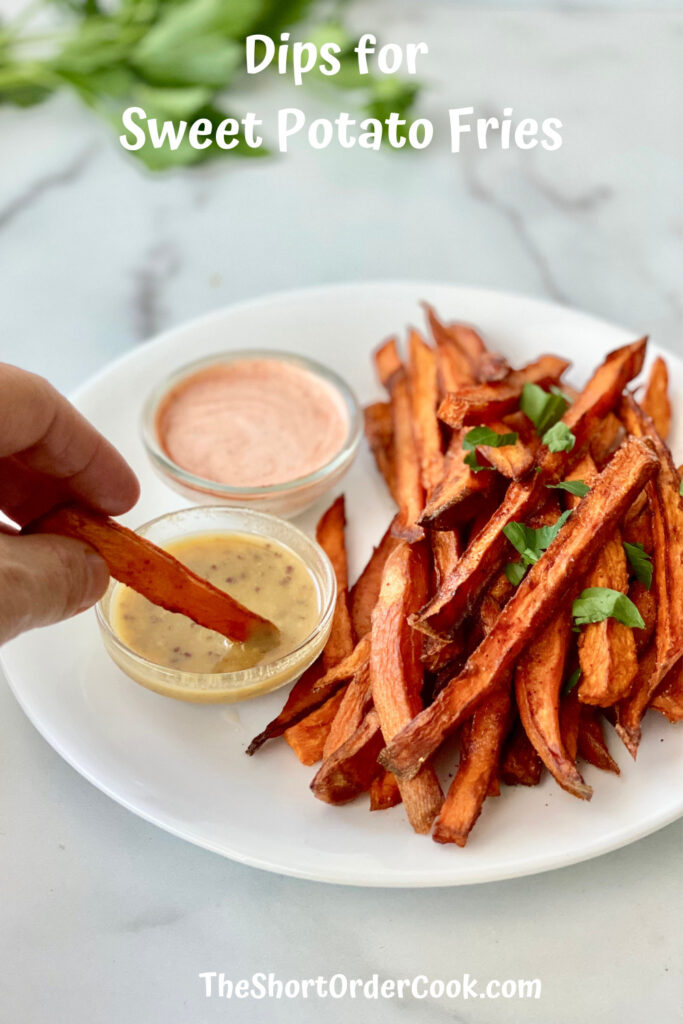 Ingredients for Sweet Potato Fry Dips
To make dipping sauces that are the perfect condiment for sweet potato fries, you only need 3-ingredients. I am sharing 2 recipes, both only need 3 ingredients for each wonderful dip. There is the best sweet and spicy maple mustard sauce. Plus a cool and spicy Siracha ranch combination that's perfect to dip your sweet potato fries in.
For the maple mustard dip, you will need maple syrup, whole grain mustard, and dijon mustard. These 3 ingredients make a fantastic sweet, sticky, spicy, and tangy maple sauce for sweet potato fries.
For the Siracha ranch dip, you will need sour cream, ranch seasoning blend, and Siracha sauce. These 3 ingredients make a delightfully spicy, creamy, and herby sauce for sweet potato fries.
How to Make Dipping Sauces
It could not be easier to make these dips to serve with sweet potato fries. For each dip, you need to gather the ingredients as listed. In a small bowl, add the ingredients. Then with a small whisk, whisk to combine until it is smooth and fully incorporated.
The Best Sweet Potato Fries Recipe
For the best sweet potato fry recipe, try out my DEEP-FRIED SWEET POTATO FRIES. They are fluffy sweet on the inside and crisp and golden on the outside. It is another 3 ingredient recipe that is simple and fast to make. They are my all-time favorite way to cook homemade sweet potato fries. Plus they are gluten-free and do not have a batter or cornstarch.
What to Serve with Sweet Potato Fries & Dip
Here are some great main courses or other appetizers that are great to serve with this recipe.
PIN FOR SAFEKEEPING AND SHARING!
Product Recommendations for this Article:
The Short Order Cook is a participant in the Amazon Services LLC Associates Program. As an Amazon Associate, I earn from qualifying purchases. If you click on a link and make a purchase, I may earn a small commission on the sale at no additional cost to you. This helps with the costs of running the blog. Thank you!
Did you make this The Short Order Cook Recipe?
Tag @theshortordercookblog (Instagram & Facebook) or @shortorder_cook (Twitter).
I would love to see your latest creations and kitchen adventures.