Fried spaghetti with eggs is a great way to enjoy leftover spaghetti in a delicious meal that is great for breakfast, brunch, lunch, or dinner. This simple recipe results in crispy spaghetti with a creamy garlicky sauce that pulls it all together in just minutes. Stir-fried spaghetti is sauteed with egg whites and then finished with an egg yolk parmesan cheese mixture that acts as an amazing sauce that is comforting, rich, & salty. Think of this recipe like the classic spaghetti aglio e olio with eggs added for some protein and comfort.
This leftover spaghetti recipe is an amazing breakfast or lunch carbonara without cream. It only takes a few minutes to fry spaghetti noodles in garlic-infused olive oil for so much flavor with a few simple ingredients. Everyone in the family loves when we have extra spaghetti so we can make this the next day. The fried eggs add protein to the leftover pasta for a complete meal in one quick and easy recipe. To up the protein especially as a breakfast or brunch item, I love adding a bonus poached or fried egg on the spaghetti.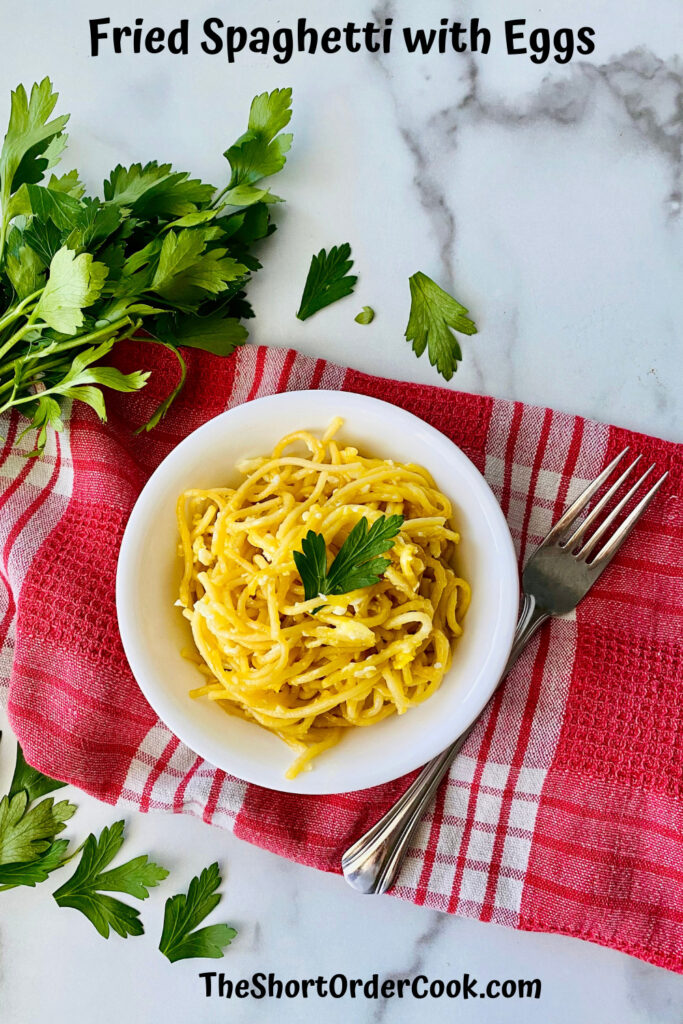 Fried Spaghetti Ingredients
This is a recipe for repurposing leftover spaghetti. Besides that as the main ingredient, you only need a few staples that you likely have in your home all the time. Because there are only a few ingredients, the quality and flavors that come from each one are important. Precooked spaghetti, or another long noodle, such as angel hair, linguine, bucatini, or fettucini, would work in this recipe with fried eggs.
It starts with a garlic-infused oil that the spaghetti and eggs will be fried in so you will need some fresh cloves of garlic and some olive oil. Then you will need 2 eggs, grated parmesan cheese, salt & pepper. You can also add other toppings for more flavor such as fresh parsley or crushed red pepper.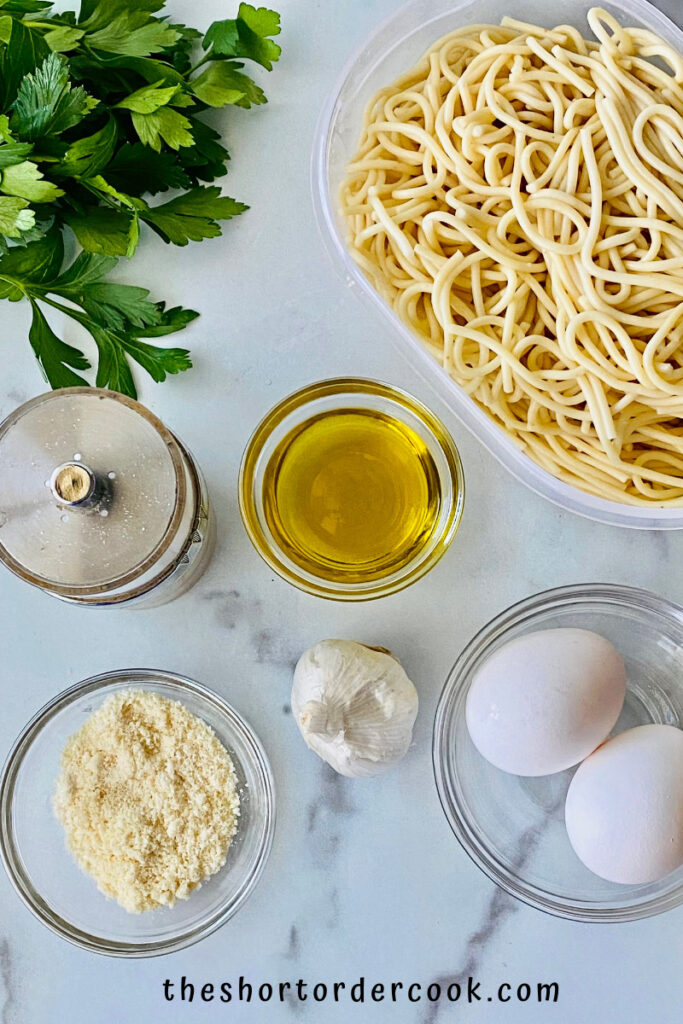 How to Make Fried Spaghetti
Making homemade fried spaghetti with leftovers and a few eggs is super easy. The garlic-infused oil is key to adding so much flavor so do not skip that step. To make this leftover spaghetti recipe you will add fresh garlic to olive oil, fry some spaghetti, add egg whites to fry, then add egg yolks that have been whisked with parmesan for a creamy mixture that is like a sauce.
How to Separate Eggs
Begin by separating the eggs. In a small bowl, you will want to have egg whites. In a medium-sized bowl, you will need to put the egg yolks. You want the yolk bowl a bit bigger since you will later add the parmesan cheese to it and whisk together.
To separate egg yolks you can use an egg separator if you have one. If you do not you can use the hand or eggshell method to separate eggs. Gently crack the egg and open it gently so that the eggshell opens in the middle. Hold the egg over the bowl the whites will go in and let the whites slowly fall into the bowl. Rotate the yolk back and forth between the two egg halves letting the whites fall into the bowl. You can do this with your hands as well leaving your hands cupped with very small openings between your fingers to let the egg whites fall between your fingers and into the bowl as you hold the yolk. Drop the yolks into the other bowl and set them aside.
If you get a shell into either bowl, you can easily take it out with its own eggshell. For some reason, eggs are attracted to their own shells. So use the edge of the broken eggshell like a spoon and scoop up the broken piece that may be in the bowl.
How to Make Garlic-Infused Olive Oil
To make garlic-infused olive oil, begin by crushing two cloves of garlic. To crush garlic cloves, you do not need to peel the cloves. Simply break two off from the garlic bulb and lay them on a flat surface like a cutting board or your counter. Using the side of a large chef knife, press the palm of your hand down on the flat side of the knife to crush.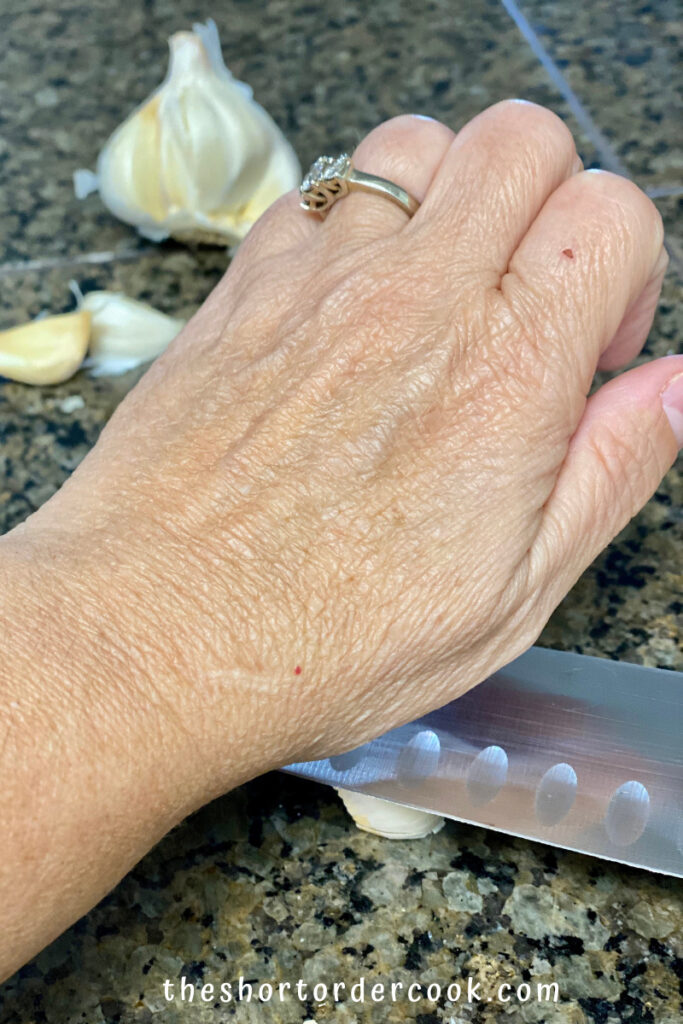 Once both cloves of garlic are crushed, the peel falls right off. Remove the peels. Warm the olive oil in a skillet over medium-low heat for 1 minute. Reduce to low heat and add the crushed garlic and let it warm in the olive oil slowly for 3-4 minutes. Once the garlic is just starting to brown, you want to remove it. You do not want to burn or "cook" the garlic, it is more about getting the essence of the garlic to flavor the olive oil slowly.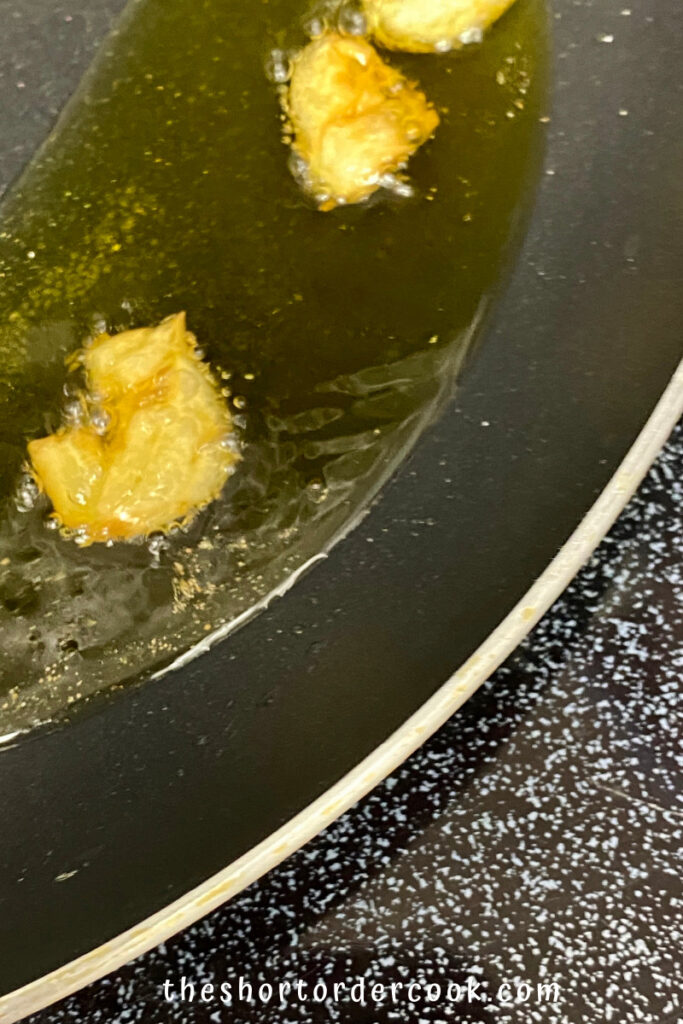 How to Make Leftover Fried Spaghetti
It is easy to prepare fried spaghetti once the garlic-infused olive oil is ready. The next step is to add the leftover pasta to the pan and saute over medium-high heat. Continue frying the leftover spaghetti for 5 minutes; you want it to sizzle and crisp up a bit as it is frying in the pan. Toss with tongs every minute or so to ensure all sides of the spaghetti get fried. It will be ready when some of the pasta is crispy but some of the spaghetti noodles are still soft and tender.
Once the pan-fried leftover spaghetti is cooked, turn the heat down to medium. Now add the egg whites to the pan and using the tongs, stir to combine. Try and get some egg over most of the noodles and stir with the tongs as they cook. Once heated through, try and get it in a single layer in the pan so some of the pasta and eggs can fry a bit. You don't want to burn the eggs but get them a little bit fried. Turn off the heat to cool it a bit at this stage. You want it warm but not blazing hot before adding the egg yolks.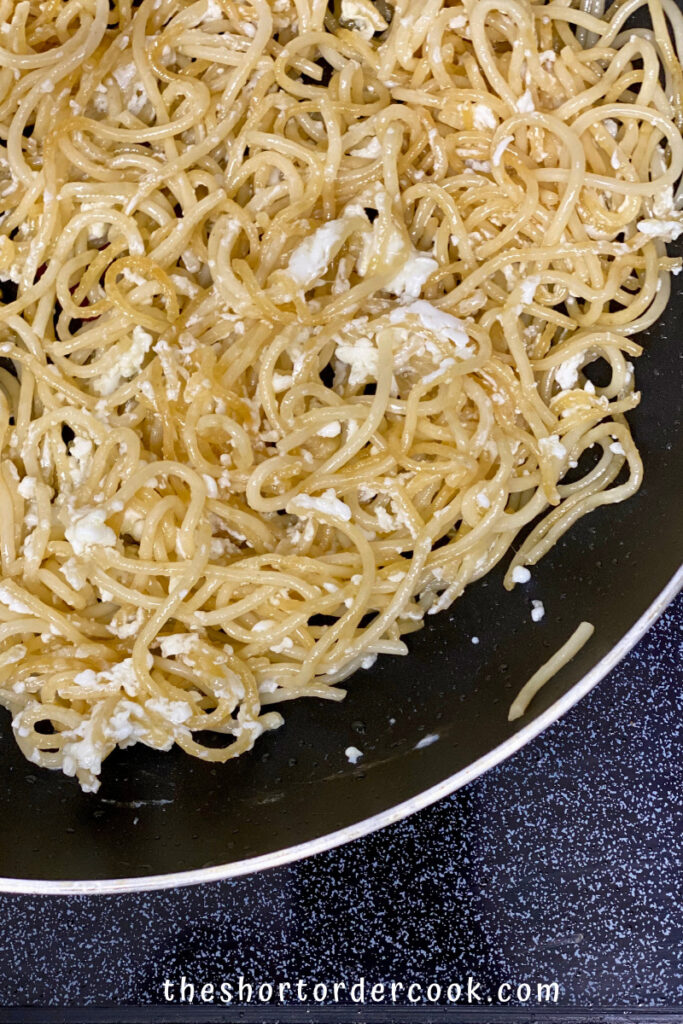 To finish making fried spaghetti, the egg sauce at the end is the lovely final step. To the warm fried leftover pasta and eggs, slowly add 2 tablespoons of the egg yolk & parmesan mixture. Toss with tongs to combine so the warm pasta can gently warm up the egg yolks.
Do not add it HOT or all of the egg yolks at once as it will cook/scramble the egg yolks. You want the egg yolks to combine with the pasta slowly and warm just enough to create a creamy sauce. Add a small amount of pasta at a time, stir and repeat 2-3x.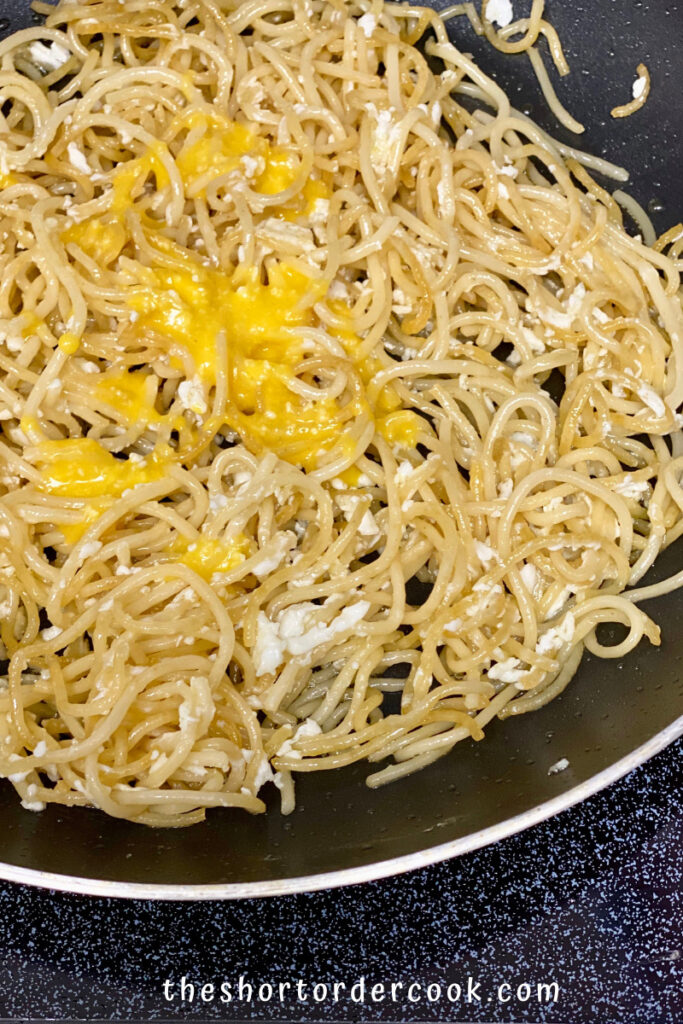 Once all the egg yolk mixture is combined with the pasta it is ready to serve. Add additional parmesan cheese at this time and toss. Using the tongs, divide the fried spaghetti with eggs and parmesan between two bowls. Add more grated parmesan cheese, fresh parsley, salt, & fresh cracked pepper to taste. Enjoy immediately.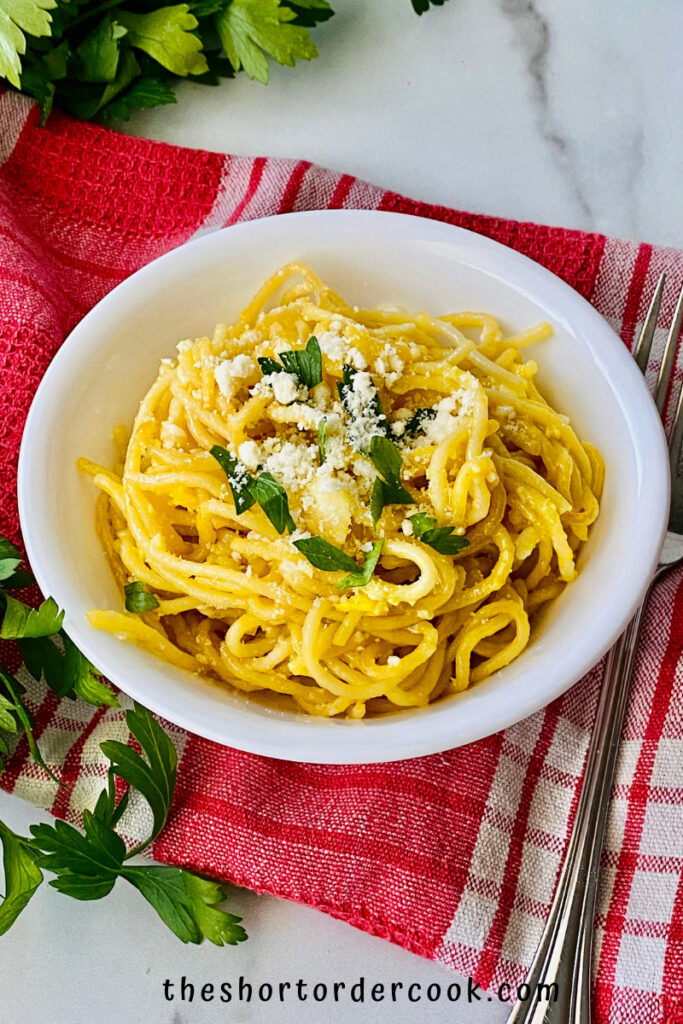 How to Store & Reheat Leftover Spaghetti
When you have leftover spaghetti, store it in an air-tight container or Ziploc bag. It can be stored in the refrigerator for up to 5 days if the spaghetti is plain without any sauce or oil. It can also be stored in the freezer for up to 3 months if the spaghetti is in an air-tight container or bag.
Once you use leftover spaghetti to make this recipe with fried eggs, it is best to eat it the same day. However, if you do find yourself with leftovers again, you can store this for up to 48 hours in the refrigerator in an air-tight container or bag. I do not recommend freezing fried spaghetti with eggs to store for later. I would reheat leftover fried spaghetti in a pan on the stove on medium0heat. You will need to add a bit of olive oil to the pan and heat before adding the leftovers. Serve immediately.
Other Recipe Ideas for Leftover Spaghetti
Never throw out leftover spaghetti again. Whether you have a little or a lot leftover, keep your spaghetti to try in any of these other great recipes. If you love this recipe with fried eggs, you would also love these quick and easy recipes to transform leftover spaghetti into a whole new meal for breakfast, lunch, or dinner. If you are wondering what to do with leftover pasta, here are some of the best recipe ideas.
Spaghetti Fritatta - add it to eggs and diced vegetables to make a frittata
Spaghetti Casserole - bake it with sauce and mozzarella for a tasty casserole
Spaghetti Tacos - the TikTok fun of adding spaghetti & sauce into a crunchy taco shell
Spaghetti Chicken Soup - cut the noodles into smaller pieces and add to chicken vegetable soup
What to Serve with Leftover Spaghetti
Whenever you have leftover spaghetti in a fantastic new recipe, try one or more of these recipe ideas to make and eat with it. These recipes go well with spaghetti and are perfect to serve with this leftover fried spaghetti recipe or any other pasta meal.
PIN FOR SAFEKEEPING & SHARING!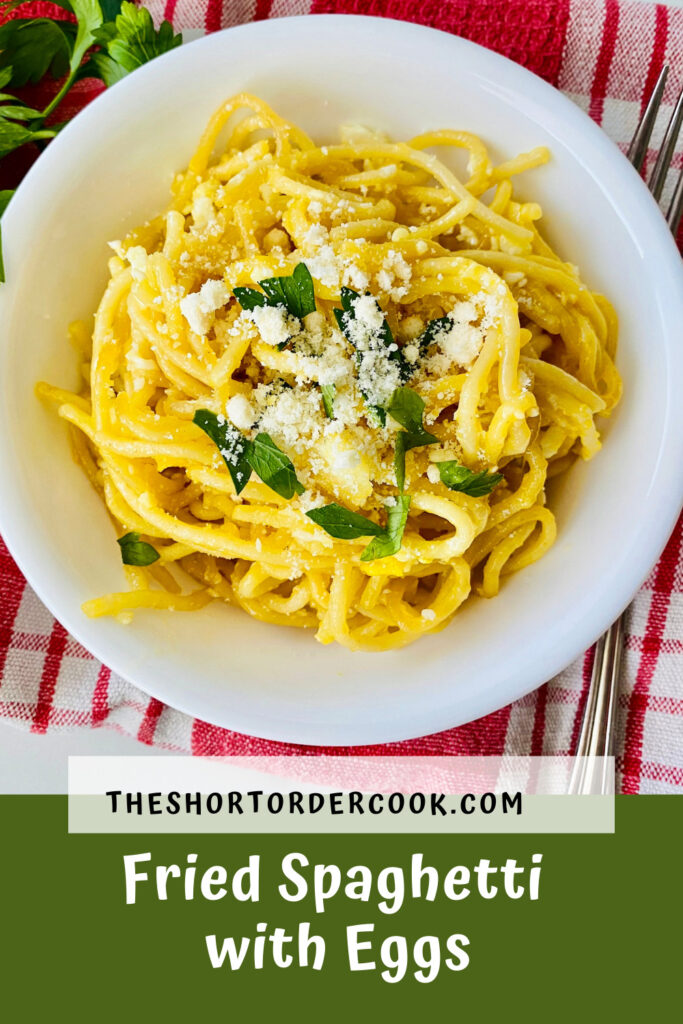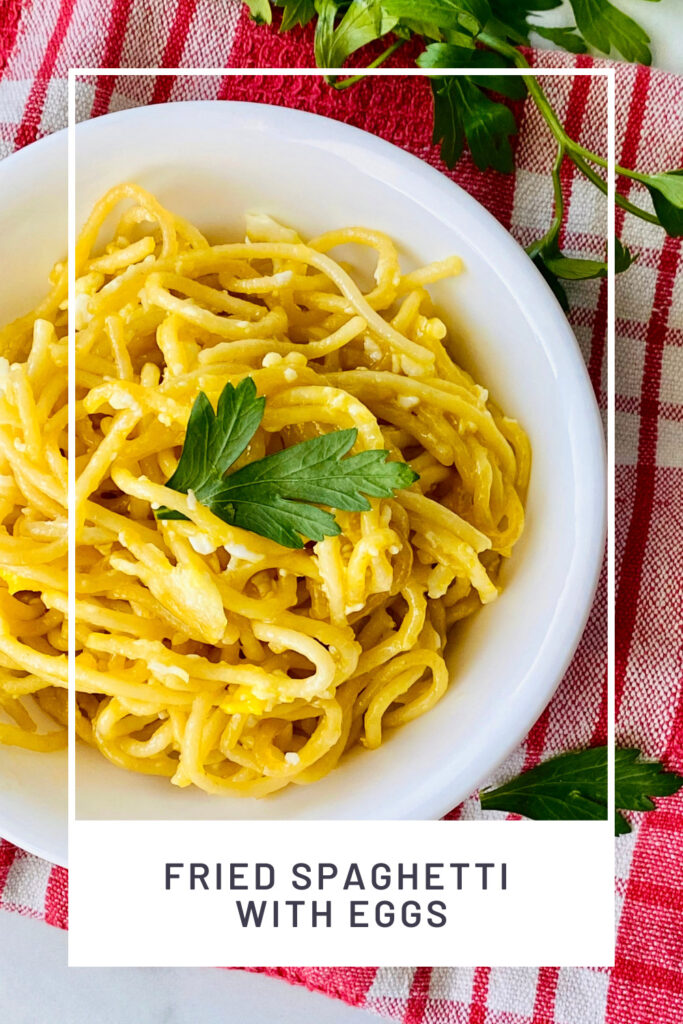 Product Recommendations for this Recipe - #ad:
The Short Order Cook is a participant in the Amazon Services LLC Associates Program. As an Amazon Associate, I earn from qualifying purchases. If you click on a link and make a purchase, I may earn a small commission on the sale at no additional cost to you. This helps with the costs of running the blog. Thank you!
Did you make this The Short Order Cook Recipe?
Tag @theshortordercookblog (Instagram & Facebook) or @shortorder_cook (Twitter).
I would love to see your latest creations and kitchen adventures.