Instant Pot Italian sausage and peppers is a quick & easy recipe. They are great for sandwiches or as is for the best low-carb or gluten-free meal. The Italian flavors of tomatoes, basil, and garlic cook with the sausages, bell peppers, and onions for a great flavor combination. This Instant Pot sausage and pepper recipe is done in one pot and is complete in just 30-minutes. That is one fast meal and perfect for busy weeknights.
With just a few ingredients and a few easy steps, dinner is ready. This keto-friendly Instant Pot sausage, peppers, and onions recipe works with more than just Italian hot or sweet sausage but is just as good with brats (bratwurst), chicken sausage, linguica, or your favorite link sausage. The cooking method to brown the sausage in the insert and then pressure cook it is all the same. No matter which sausage you choose this recipe results in juicy links, a seasoned red chunky tomato sauce, and perfectly cooked vegetables.
Ingredients for Instant Pot Sausage and Peppers
For this electric pressure cooker method of cooking Italian sausage and peppers, you will need some classic ingredients. Start with your favorite sweet, hot, or a bit of both, Italian sausage links. You will want 1-2 per person based on how you will be serving these and how big of appetites you are feeding. The other fresh ingredients needed are 2 sweet bell peppers, any color, ½ an onion, and garlic.
To complete the meal you will need the ingredients for the tomato sauce that this will be cooked in. That calls for a can of diced tomatoes, do not drain the juice. Finally, this recipe calls for dried basil, olive oil, and water to ensure the Instant Pot pressurizes correctly. Also, salt and pepper to taste and red pepper flakes if you like a little more heat are optional.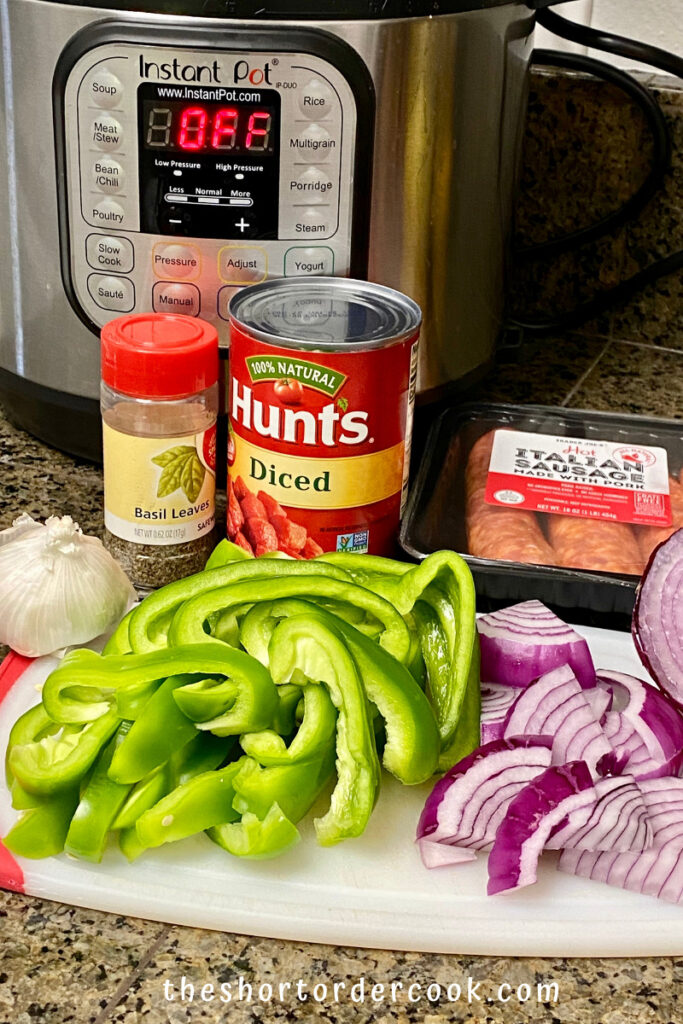 How to Make Instant Pot Sausage and Peppers
To ensure this cooks evenly since it is done all in one pot, you want to make sure everything cooks in the same amount of time. The key to this is making sure the slices of the peppers and onions are not too small. You want to cut the 2 large sweet bell peppers and the ½ of onion into large chunky strips. See the image above for a sample. Also, dice 2 garlic cloves. Once all this is ready gather your other ingredients.
Brown the Italian Sausage
Place the insert into the Instant Pot and select SAUTE. This will heat the insert to very hot heat, perfect for browning the sausage links. Add the olive oil and after about a minute it should be very hot and time to add the sausage links into the hot oil in a single layer. Brown for about 3 minutes each before turning. Turn each twice so it browns on 3 sides minimum for a total of 9 minutes for each link. Remove sausages to a plate and set aside.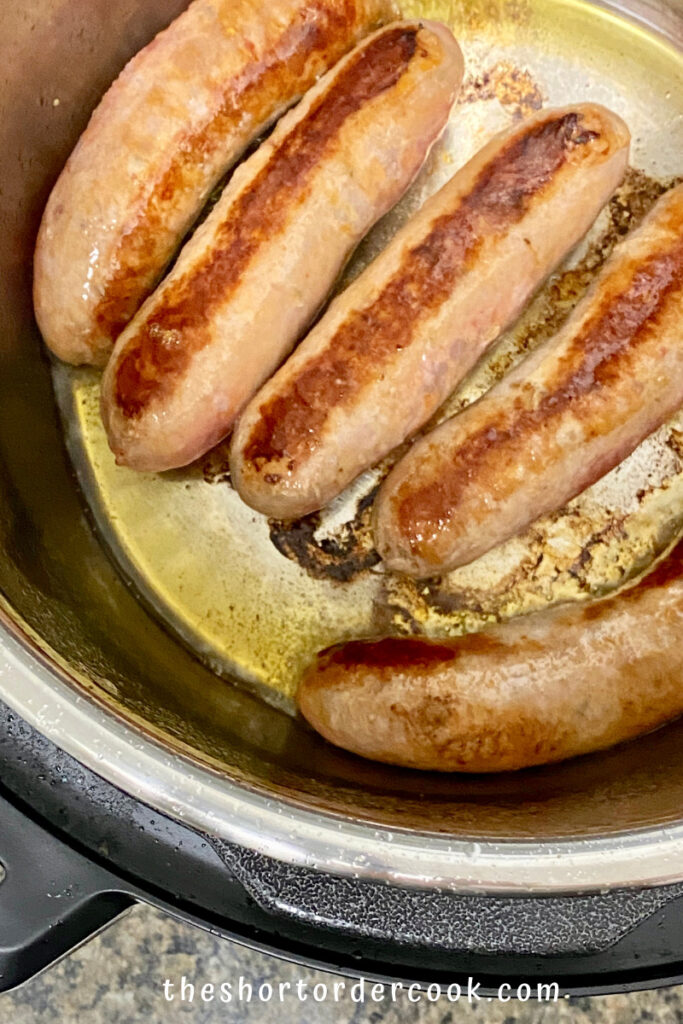 Add the Vegetables to the Instant Pot
Add the onions and let them cook in the hot oil for about 2 minutes, stir to ensure they do not stick or burn. Once brown add the garlic and stir. Add water and deglaze the bottom of the pan using a wooden spoon to scrape up all the bits. You will want to make sure you do not skip this step to ensure that you do not get a burn warning.
Turn the pot off by selecting CANCEL. This will stop the saute step. To the onions and garlic, add the bell pepper slices. On top of that line the sausage in a single layer over the vegetables.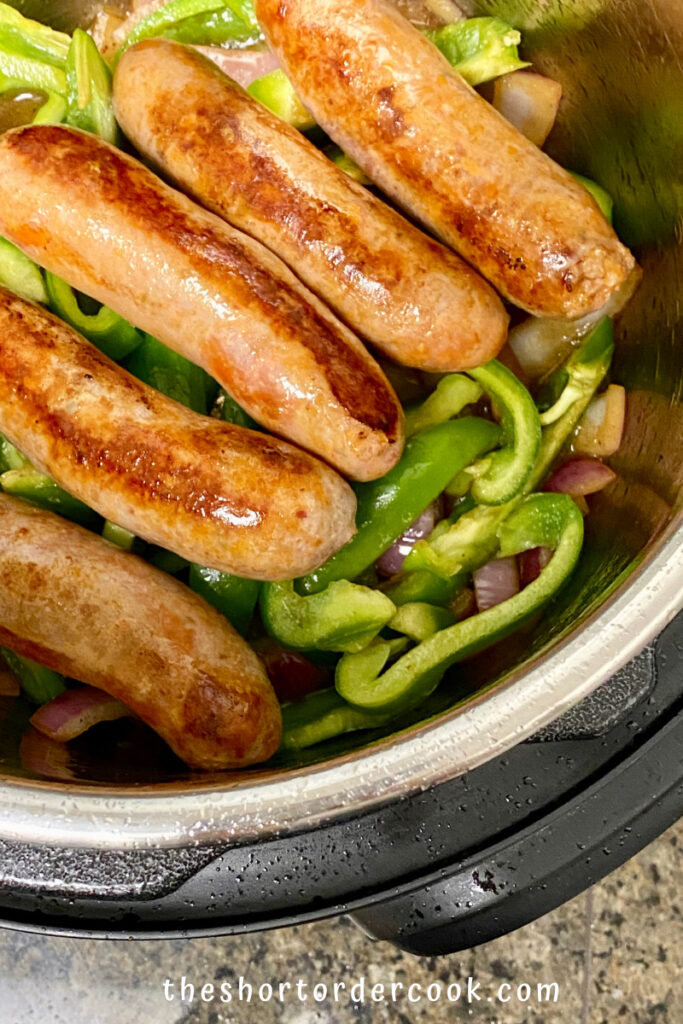 Cooking Italian Sausage in the Instant Pot
Next, add the full can of diced tomatoes including the liquid. For the last step, add the basil, salt, and pepper. Add the red pepper flakes at this time if you choose this optional ingredient for additional heat and spice for the sausage and peppers.
Once everything is in the Instant Pot, lock the lid in place and be sure the vent valve is closed and sealed. Select MANUAL and press the up/down buttons to set it for 3 minutes.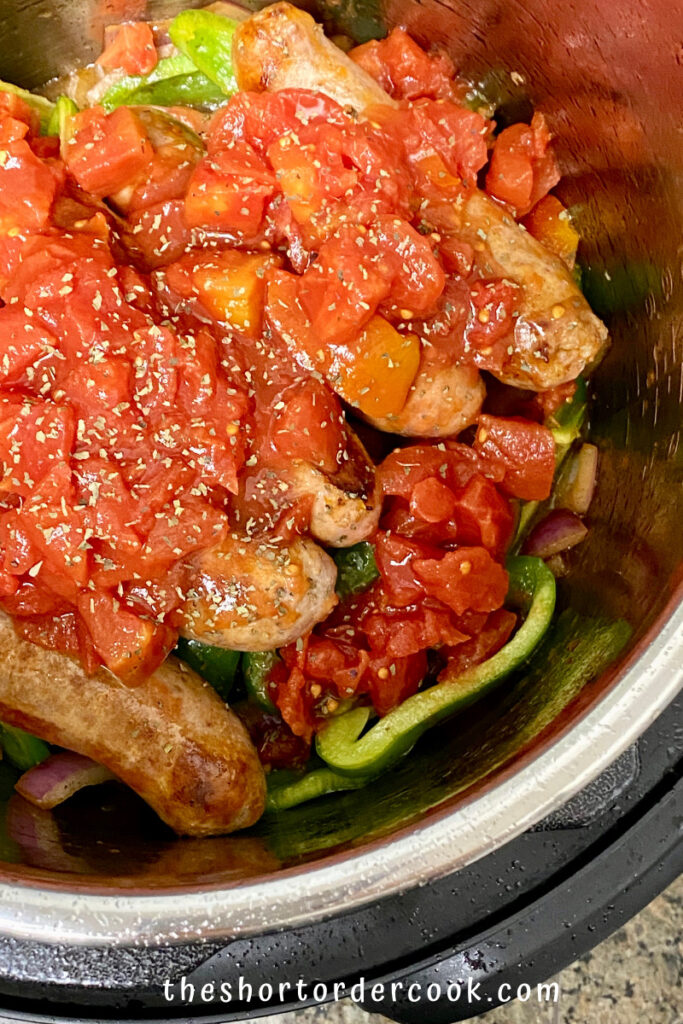 It will take about 5-10 minutes for the Instant Pot to come to pressure. Then it will cook for 3 minutes. Once it is done cooking let the electric pressure cooker naturally release for 5 minutes. Once the 5 minutes is reached on the digital readout, CAREFULLY open the valve on the Instant Pot to release the remaining pressure. CAUTION - STEAM WILL BE HOT! I typically do this with a wooden spoon to push the valve open from a distance.
Open the lid and serve immediately. Use a slotted spoon if serving on rolls for a sandwich. If you want the chunky tomato sauce you a regular spoon and serve it with pasta or plain. Instant Pot sausage and peppers can be stored in an air-tighter container in either the refrigerator for up to 5 days or 30 days in the freezer.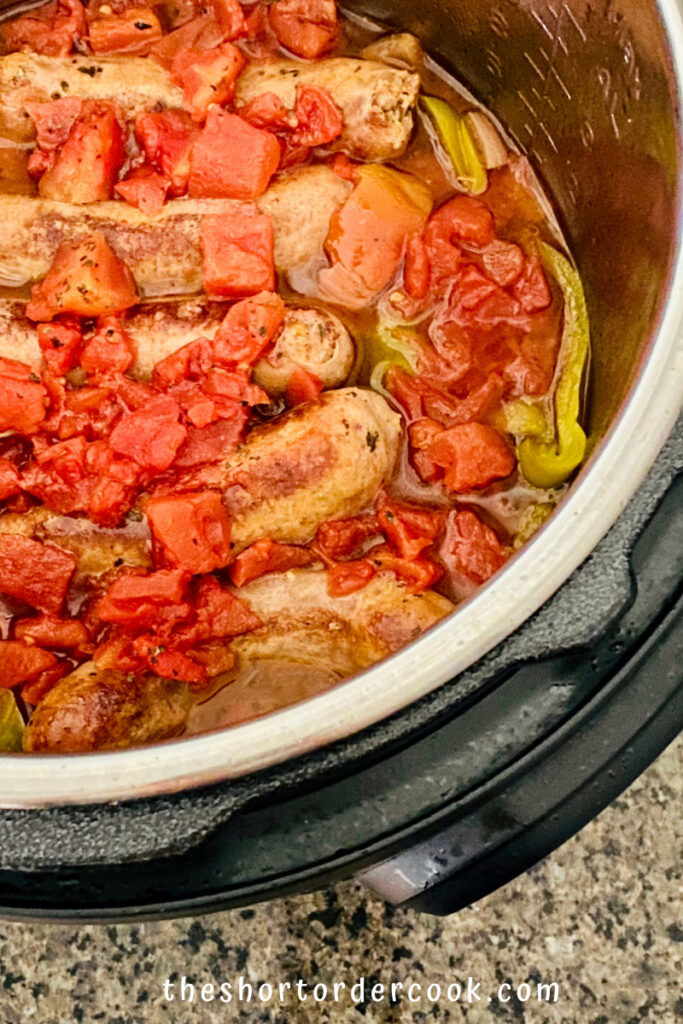 What to Serve with Instant Pot Sausage and Peppers
Italian sausage and peppers are great as-is for a complete meal. However, many people enjoy them in a roll or bun as a sandwich, hoagie, grinder, or whatever you prefer to call them. Add mozzarella to melt on them and a sprinkling of parmesan cheese for the ultimate pressure cooker sausage and peppers sandwich. Instant Pot sausage and peppers can also be served with pasta, fresh bread, over polenta, or with mashed potatoes or rice.
For more fantastic side dish recipe ideas, check out WHAT TO SERVE WITH SAUSAGE & PEPPERS
Other Great Instant Pot Recipes:
PIN FOR SAFEKEEPING & SHARING!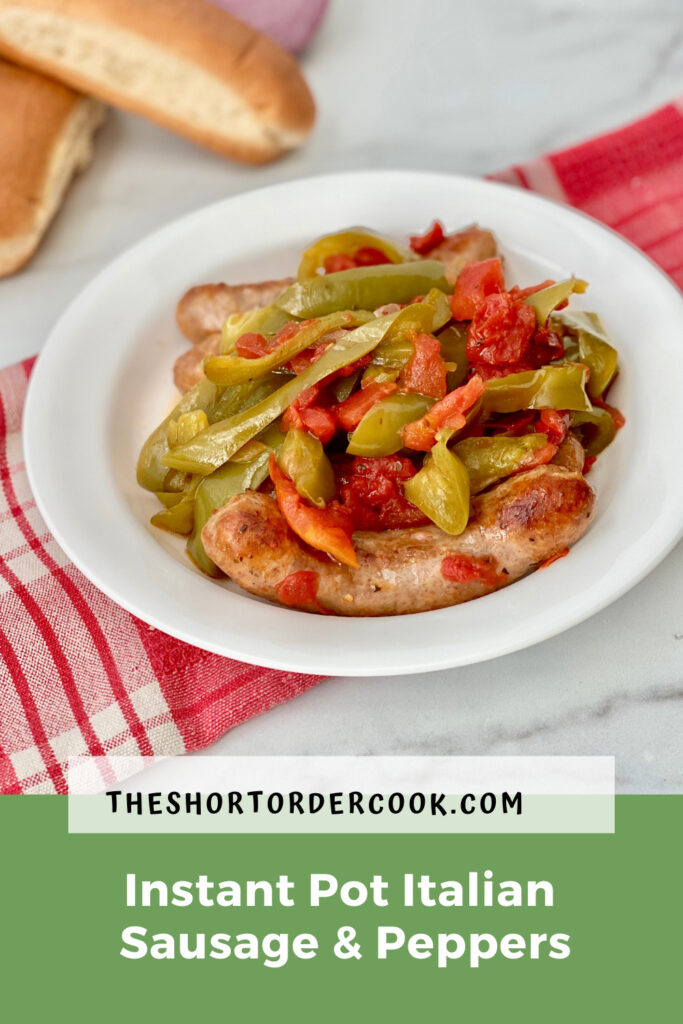 Did you make this The Short Order Cook Recipe?
Tag @theshortordercookblog (Instagram & Facebook) or @shortorder_cook (Twitter).
I would love to see your latest creations and kitchen adventures.