Creamy colorful Halloween Candy Bark loaded with candy toppings is an easy no-bake favorite recipe. The scary holiday is known for being a sugar lover's dream so why not enjoy it with something sweet, spooky, & fun?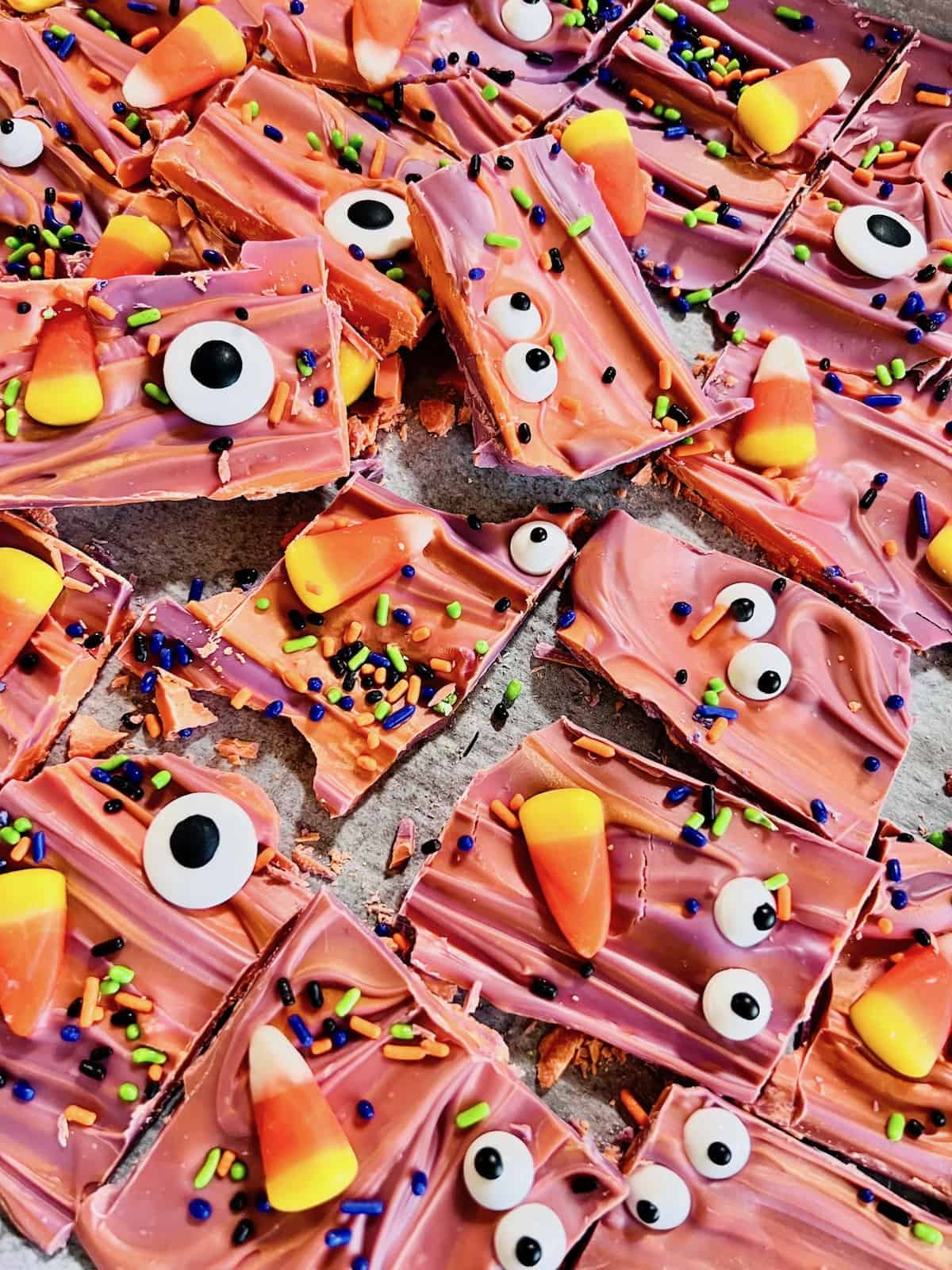 This homemade treat is great for any ghoulish, eerie, freaky, & scary event. Besides being ideal for costume parties, horror movie nights, & fright nights, any silly party or birthday needs some candy bark with creepy monster eyes, vibrant rainbow sprinkles, and candy.
This was inspired by my recipes for Peppermint Bark & Classic Chocolate-Covered Toffee. Both homemade candies like this recipe are so easy to make and a holiday favorite. Be sure to make a double batch so you can share & give some as a gift.
Jump to:
Ingredients for Homemade Candy Bark
The fun part of this recipe is you can really mix up the ingredients, colors, & candies to make this exactly what you crave and love. Colored candy melts are a must. Besides that have fun with your favorite candies, sprinkles & treats.
Here is what I used for this recipe which comes out spooky & pretty all in one.
See the recipe card for quantities.
How to Make Halloween Candy Bark
Before you begin cooking & decorating the candy bark, getting everything ready & prepped is very important. Because melted candy begins to set as soon as it begins to cool off, working FAST is the #1 top tip for this recipe.
Here are the easy steps for making bark candy for Halloween:
Prep the Pan & Ingredients
Melt the Candy Wafers
Add the Toppings
Cool & Cut the Candy Bark
1 - Prep the Pan & Ingredients
Line a baking sheet with parchment paper. I like to use binder clips to hold it in place.
To two microwave-safe bowls, add one bag of candy melts to each one. Make sure both bowls will fit in your microwave at the same time. Both need to be melted simultaneously. Grab 1 or 2 rubber spatulas for stirring the candy melts as they cook.
Finally, prep all the toppings. Open the sprinkles and fill bowls with the candy corn & candy eyeballs. Chop any additional toppings you may be adding - see the list of variations below for more yummy ideas!
2 - Melt the Candy Wafers
Place both bowls in the microwave. Heat the candy melts at 30-second intervals. Use a rubber spatula to stir them between each interval.
** It will take 3-5 intervals depending on the microwave used and the size of the bowl. Mine took 4 intervals, exactly 2 minutes total.
Once the candy melts are almost completely melted, they are ready. Stir to heat & melt the last bit until both are smooth & creamy.
BE READY TO WORK FAST for the next few steps!
Immediately drop big blobs of each color of melted candy in alternating spots on the parchment paper.
Gently spread & swirl the melted candy together. It is okay to have waves & crevices. Just try and make it similar in thickness - again work fast.
3 - Add the Toppings
Immediately add the candy eyeballs. Place them in random spots apart leaving room for the other goodies.
Next, add the candy corn. Spread them out randomly over the bark.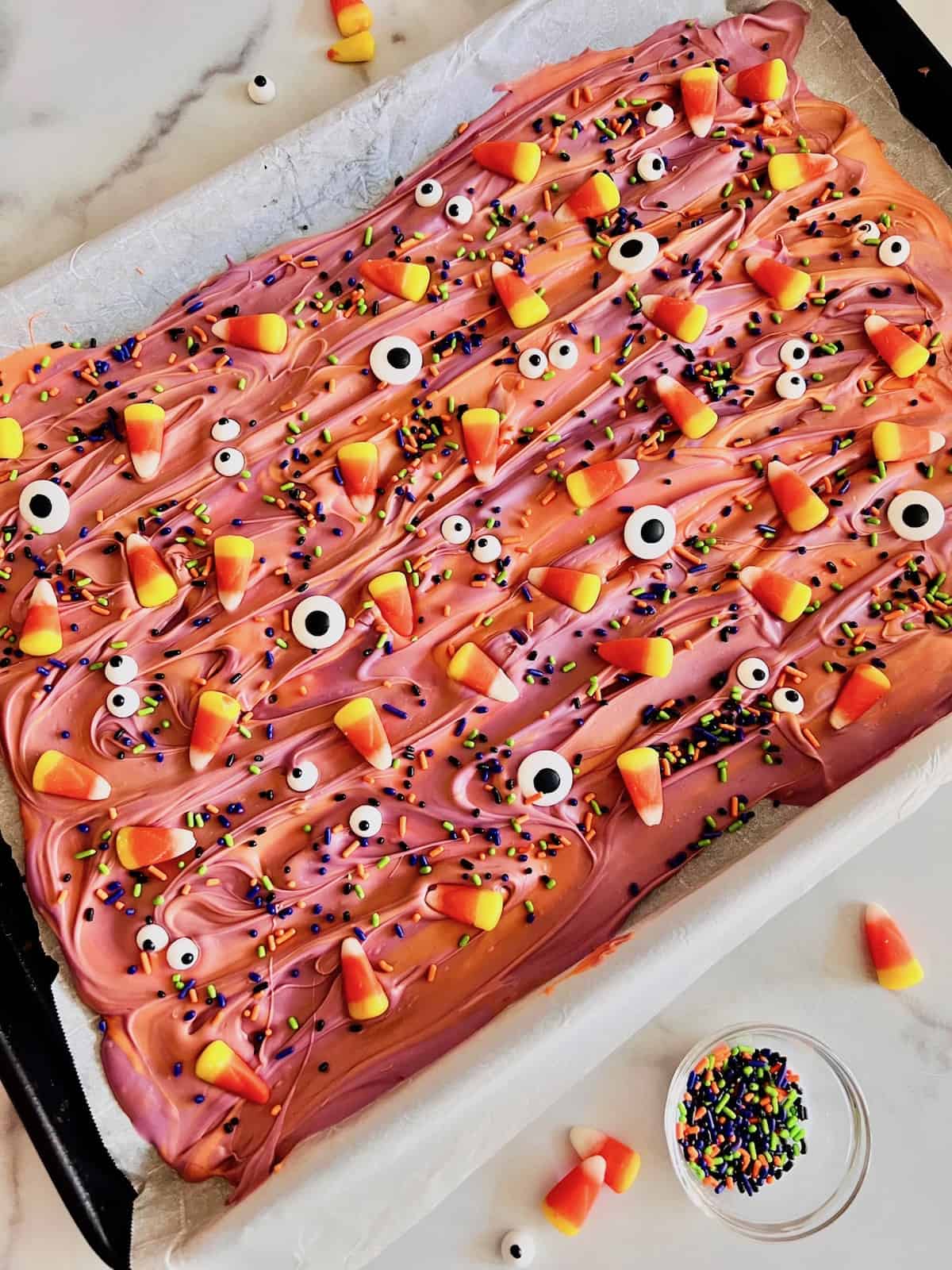 For the final step shake on the Halloween fright night sprinkles.
HINT: if the candy melt is starting to set, you may need to press lightly with your fingers to get some of the toppings to stick & set.
4 - Cool & Cut the Candy Bark
Once all the toppings are on, the waiting begins. I know it's hard to wait but there are probably extra candy corns to munch on in the meantime.
How long does it take for candy bark to set? Wilton candy melts melt quickly and easily which is great. What is also great is that it sets & is ready to eat quickly too. In as little as 30 minutes, the candy bark is ready to break, cut, or chop up.
How to cut or break bark candy? Once the bark has set, use your hands to break the bark into pieces. You can also use a knife to make more precise pieces. Try and get at least 2 different toppings in every piece.
Enjoy immediately - I mean can you really wait any longer? Place in a candy bowl or platter. Serve as is or in a spread with other candies, cookies, & desserts for a festive Halloween charcuterie board.
Substitutions & Variations
Try a recipe option with these variations and ingredient swaps. Modify, add, exclude, or replace to create a delicious recipe catering to a variety of cultural, dietary, health, or personal nutritional needs & tastes.
Substitutions
Candy Melts - instead of purple or orange, add or swap out another fun Halloween-themed color like black, green, or red.
Sprinkles - use nonpareils instead of sprinkles.
Candy Corn - besides the original candy corn try using sour, apple, or harvest mix varieties.
This recipe for Halloween bark has no chocolate. The candy melts do not have cocoa butter & are not white chocolate.
Variations
Salty - sprinkle on some flaky sea salt before the candy sets.
Crunchy - add broken pretzel or Oreo cookie pieces.
Chocolatey - add M&Ms, chopped Kit-Kats, Reese's peanut butter cups, or any chocolate candy.
Nuts - add sliced almonds, chopped peanuts, or any nuts.
Fruity - add dried fruits; cranberries, raisins, or chopped apricots.
Kid Favorites - add crushed potato chips or mini marshmallows.
*** Use whatever candy you have on hand for the trick-or-treaters. Chopped fun-size candy bars, gummy bears, sour worms, and
Equipment Needed
The right ingredients, supplies, & equipment help recipes taste amazing & turn out well. Here are recommendations for products that are needed for making this recipe. Shop this recipe & buy these top-rated items today.
The Short Order Cook is a participant in the Amazon Services LLC Associates Program. As an Amazon Associate, I earn from qualifying purchases. Clicking on links and making purchases may earn me a commission, supporting the blog's operational expenses. Thank you for your support!
Storing
Store the candy bark in a container with a tight-fitting lid. Place in a cool dry place, away from sun or heat, for up to a week. Candy bark can also be frozen for up to 3 months - keep in mind the toppings you may have used will not freeze well.
Top Tips
All of these great tips are shared in the post. But these are so good and important they are worth mentioning again so you don't miss them.
Get everything prepped before melting the candies.
Work fast so you can decorate before the bark cools & sets.
Get creative and all sorts of your favorite sweet, sour, salty, & savory toppings.
Store in a cool dry place for up to a week.
FAQ
Can I use almond bark instead of candy melts?
Like candy melts, almond bark is made from vegetable fats and flavorings. You can substitute and use almond bark in this recipe. Keep in mind almond bark is typically white/cream color so if you want vibrant colors, you will need to add drops of food coloring to it once melted.
Is almond bark the same as candy melts?
They are similar and can be used interchangeably for some recipes. Neither contains chocolate & both are mild in flavor, usually with a subtle vanilla taste. However, almond bark is typically uncolored. Candy melts are, for the most part, colored almond bark shaped into thin discs or wafers.
Can I use a melting pot?
When working with candy melts for dipping items a melting pot is a wonderful kitchen tool. It melts the wafers and keeps them smooth and warm so you have time to dip & coat all your food. Since this recipe doesn't involve dipping, a melting pot is not needed. Once it is all melted it just needs to be dumped, spread, & decorated.

If you want to use a melting pot, Wilton makes a great one. It is great for any wafers or discs. Use it for melting white candy melts to make Nutter Butter Ghosts.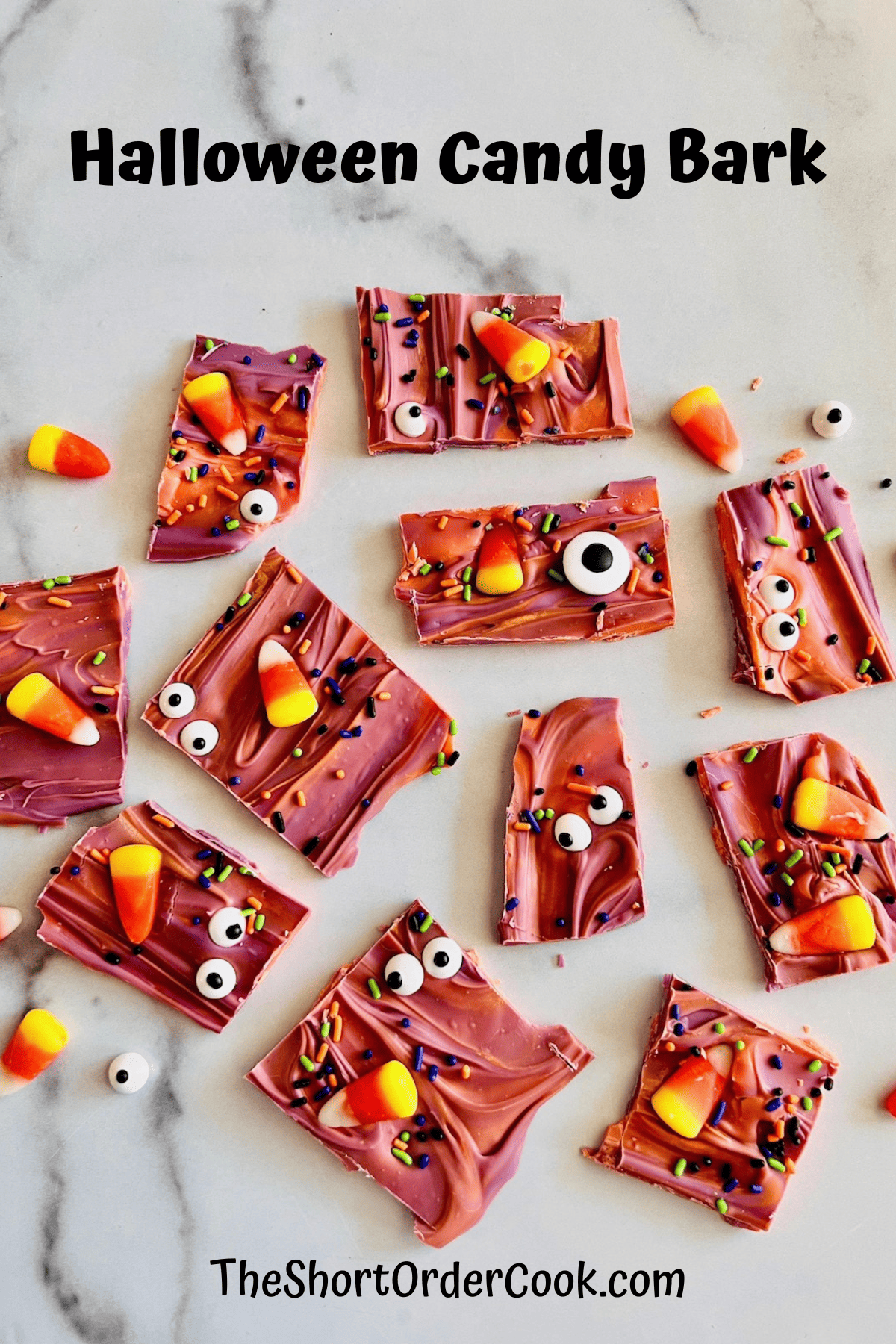 More Halloween Recipes
Looking for other recipes like this? Try these other Halloween sweets & desserts:
Halloween Candy Bark
The best Halloween Candy Bark is a scary holiday recipe. This easy no-bake dessert recipe with candy & sprinkles is fun, colorful, & sweet. Great for any Fall event, costume & school parties, & spooky nights. Add candy corn and sprinkles - or get creative with nuts, pretzels, cookies, fun-size candies from trick or treating.
Equipment
Parchment Paper

baking sheet

2 microwave safe bowls
Ingredients
1

bag

Wilton Orange Candy Melts

1

bag

Wilton Purple or Lavender Candy Melts

Candy Corn

Halloween Sprinkles

Candy Eye Balls
Instructions
Place each bag of candy melts in a microwave-safe bowl or container. Make sure both will fit in the microwave at the same time!

Line a baking sheet with parchment paper. Use binder clips to hold it in place.

Get the rest of the ingredients ready so they are within your reach as soon as the candy melts are melted. You want to work FAST at getting all the toppings on before the candy cools and hardens.

Place candies in bowls, open the sprinkles, unwrap, cut, chop, etc if you are using additional ingredients.

Microwave both bowls simultaneously at 30-second intervals. Between heating, stir the melts using a rubber spatula. Repeat until the candy melts are almost melted when you remove them from the microwave - stirring will cause the final ones to melt.

** Mine took exactly 2 minutes in the large-sized glass bowls I used.

Drop big blobs of each of the candy melts into alternating circles along the parchment paper. Work in rows so you drop some purple then orange and repeat across the parchment until you reach the end - then repeat for the next row.... work fast!

Once all the candy melt is dropped in sections on the parchment, use a rubber spatula to spread, swirl, & twirl to colors to create designs. While doing so try and get the candy melts as even as possible. It does not need to be smooth - the bumps & crevices hold the candy & are fun.

As soon as the candy melt is spread out, start adding the toppings quickly. Add the candy eyes, candy corn, & sprinkles so they are evenly distributed.

Let the candy bark cool so it sets and hardens. Keep it in a cool dry place away from heat or the sun. It will be ready in about 30 minutes.

Once it is hard, time to break it into pieces. Using your hands or a sharp knife break or cut the bark into small to medium-sized pieces. Try and make sure every piece has some of all the toppings.

Enjoy! Place the Halloween candy bark in a container with a tight-fitting lid. Store in a cool dry place for up to a week.