Elevate plain white rice into a flavorful side dish with this easy recipe. Buttery-rich Chicken Broth Rice is creamy, savory, and comforting. All it takes is 3 ingredients & 30 minutes.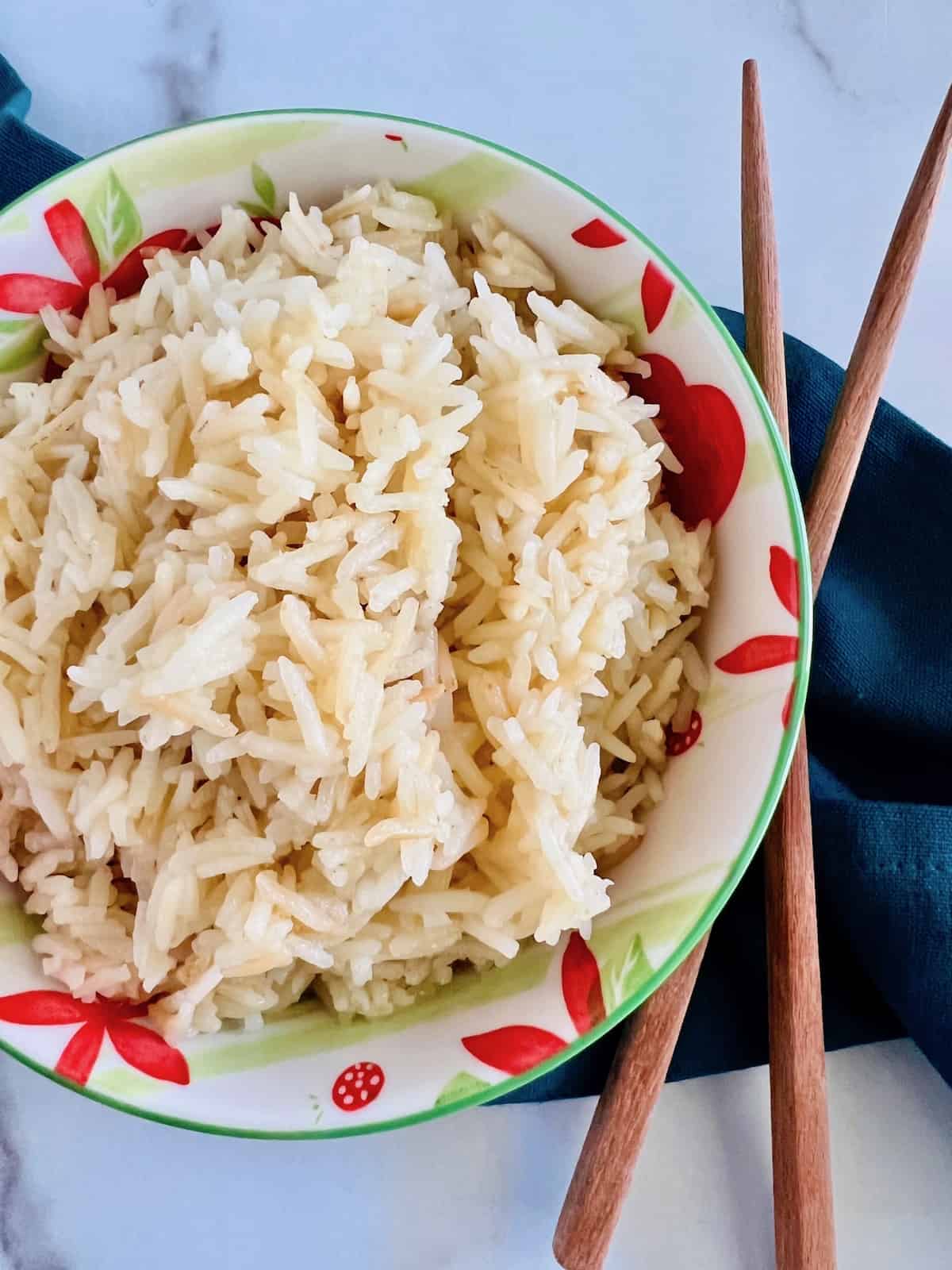 I grew up eating this as a side dish my entire childhood. My mom made this at least 2 times a month and was served pretty much anytime we had broiled or grilled chicken for dinner. It's not gourmet but it is comfort food that sure takes me back.
This is similar to my Easy Mexican Rice recipe since the recipes both start out by toasting the rice for added flavor and color. That additional step is what makes this the best rice made with chicken broth/stock. It goes great with any chicken recipe especially served in a bowl and then topped with Sheet Pan Buffalo Chicken & Broccoli.
Jump to:
Can You Use Broth Instead of Water for Rice?
This recipe does exactly that. A substitution of broth instead of water brings so much flavor to rice. After one bite you will be wondering why you haven't been making it this way your whole life.
In fact, this is not a new idea, any rice cooked in broth or stock has a name. It is called pilaf. This version is made without the additional seasonings, vegetables, or meats.
Ingredients for Chicken Broth Rice
This simple recipe for rice only uses 3 ingredients. The key is swapping out the plain water for chicken broth instead. This simple substitute is the game changer. If you love Rice a Roni, this recipe is for you!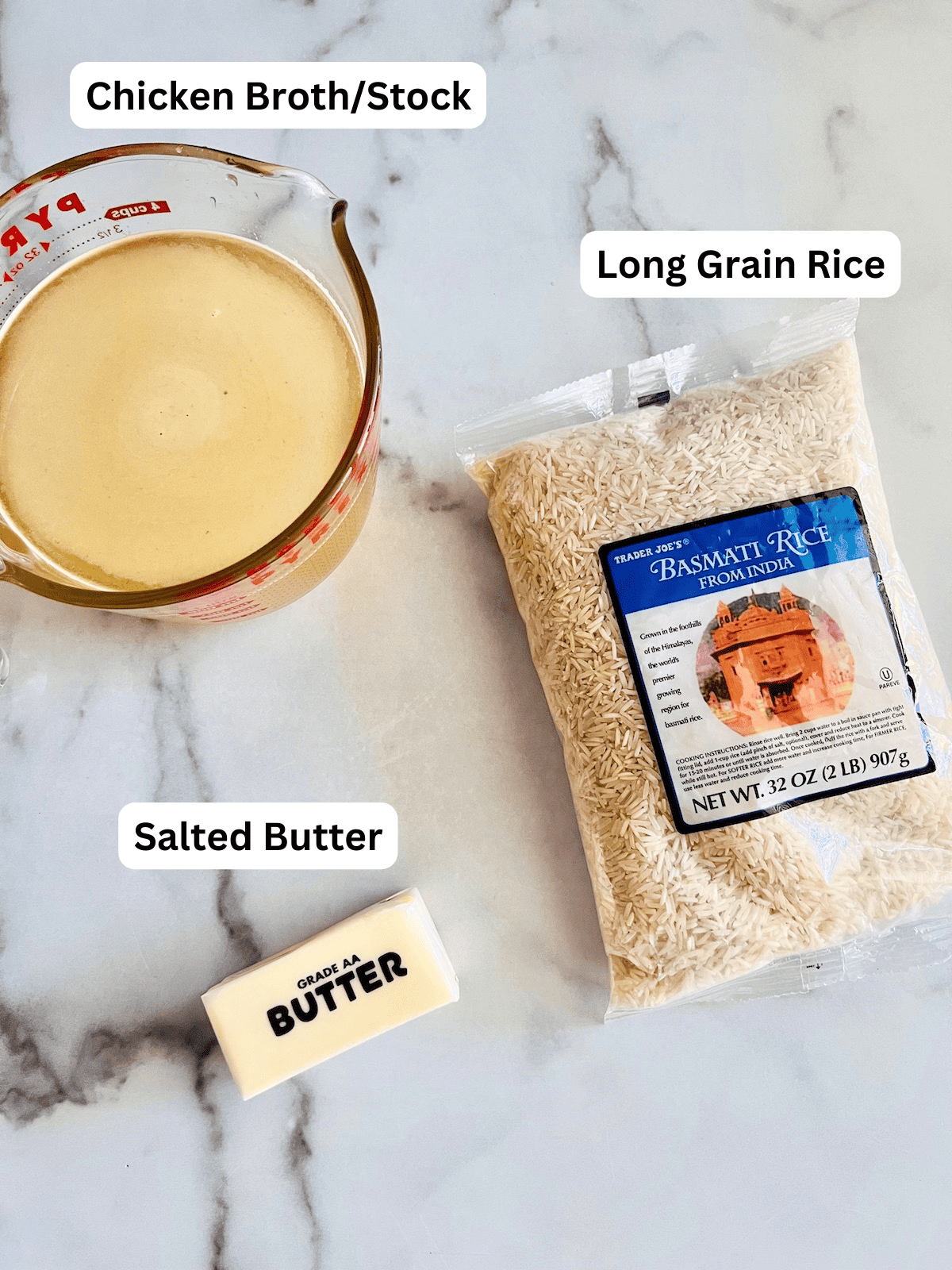 Long Grain Rice - Basmatic is my favorite but any long-grain rice works well with the broth ratio. Mahatma or Trader Joe's are my go-to brands.
Chicken Broth - use homemade or store-bought broth or chicken stock. Organic or regular is fine to use.
Salted Butter - for both sauteeing the rice & finishing at the end for a creamy texture.
Salt & Pepper - optional added to taste.
See the recipe card for quantities.
How to Cook Rice in Chicken Broth
This is an easy side dish recipe that relies on making sure you have the correct rice-to-broth ratio plus cooking method.
Unlike other rice recipes, it is not made in a rice cooker or a saucepan. It is made on the stove in a skillet. Sauteeing the rice in the butter before cooking it in chicken broth is what makes this fantastic.
Here are the easy steps for making rice with chicken broth.
Toast the Rice
Simmer in Chicken Broth
Finish with Butter & Season
1 - Toast the Rice
For this recipe, you will need to use a large skillet with a lid. This one piece of equipment will allow both steps; sauteing & simmering the rice.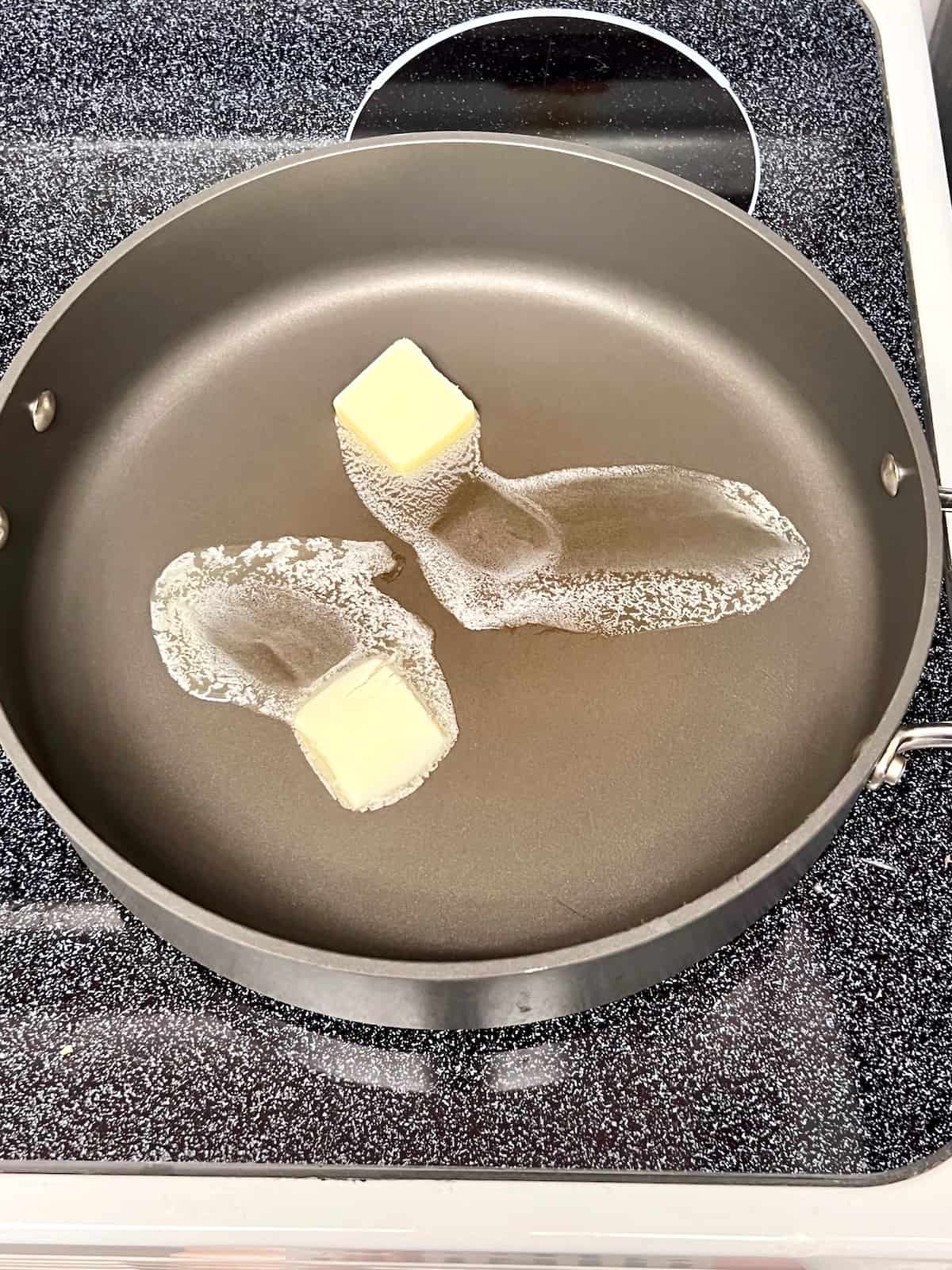 Over medium-high heat melt the butter in the skillet.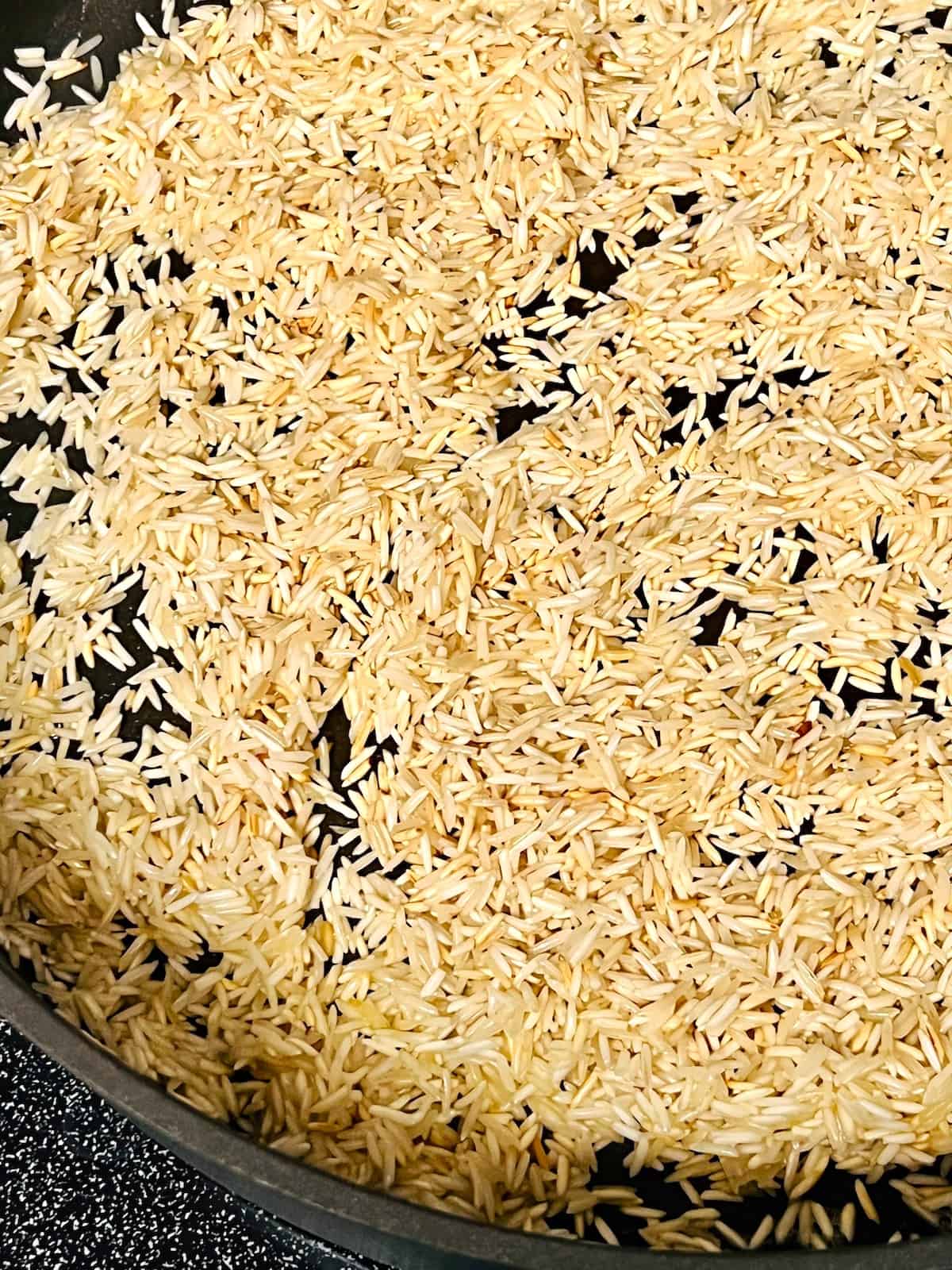 Add the rice to melted butter & stir to combine. Let the rice saute in the butter and saute until many grains of rice are golden brown.
2 - Simmer in Chicken Broth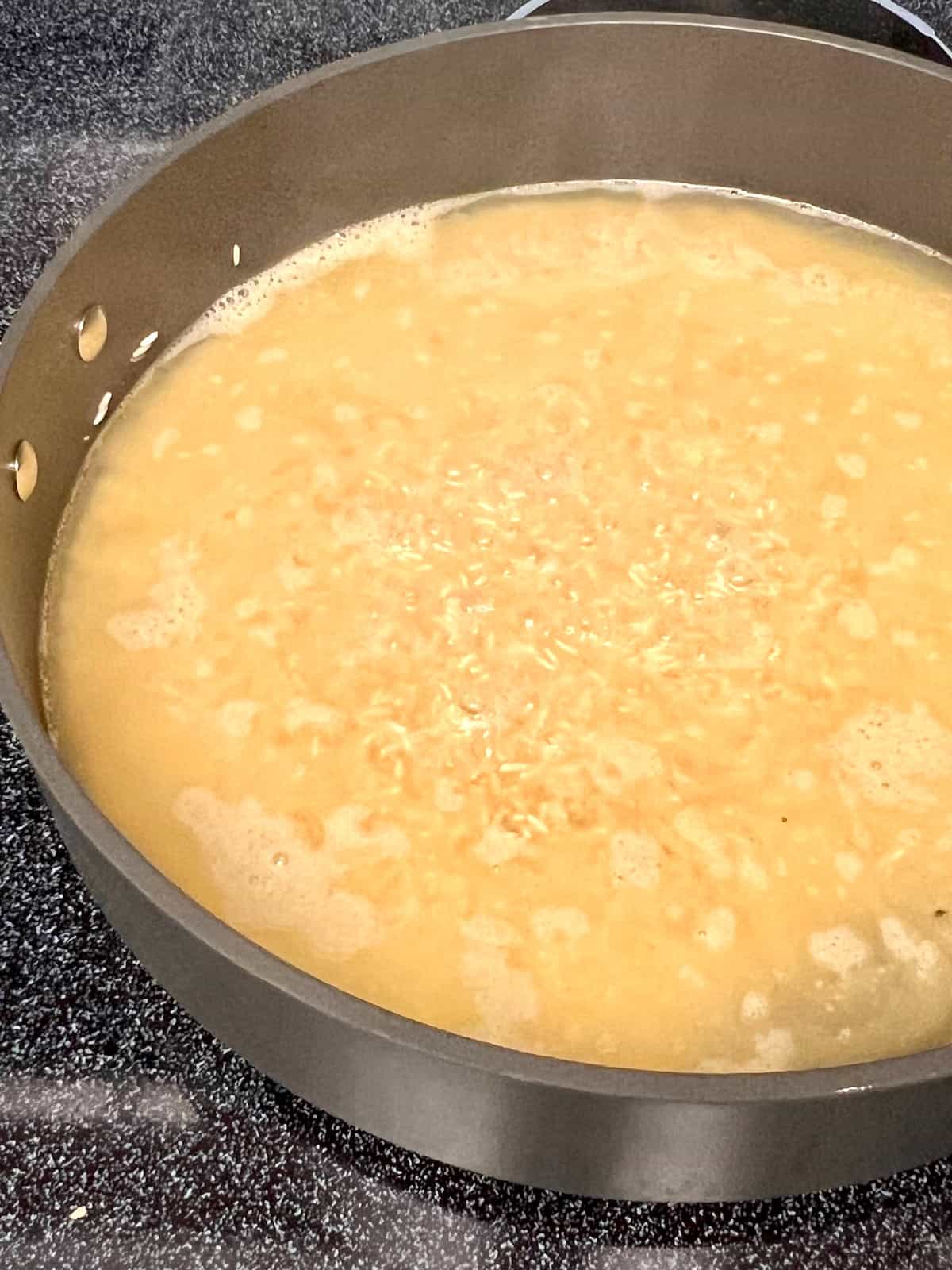 Slowly add the chicken broth to the toasted rice and stir to combine. Let it come to a boil then turn the heat down to low.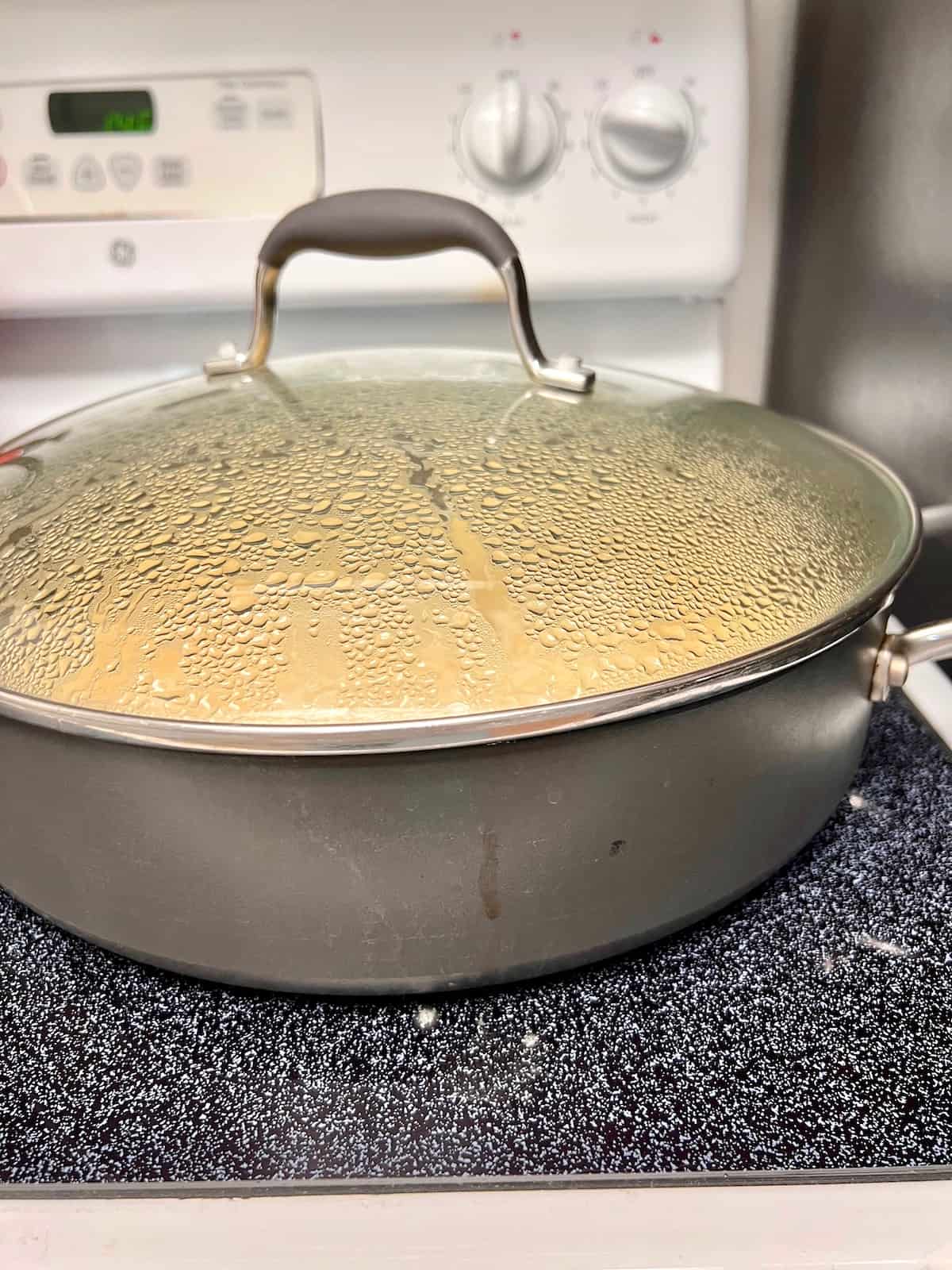 Place the lid on the pot. Let the rice simmer for 20 minutes over low heat. Stir a few times while cooking.
Hint: Another bonus of cooking the rice grains in butter before simmering is that this step also ensures the rice is fluffy & not sticky. Each grain is separated & flavored by the chicken broth & salted butter.
3 - Finish with Butter & Season
Once the rice is soft & cooked through, it is time to add butter and then season to taste. Turn the heat off and stir the rice again to make sure it is done cooking.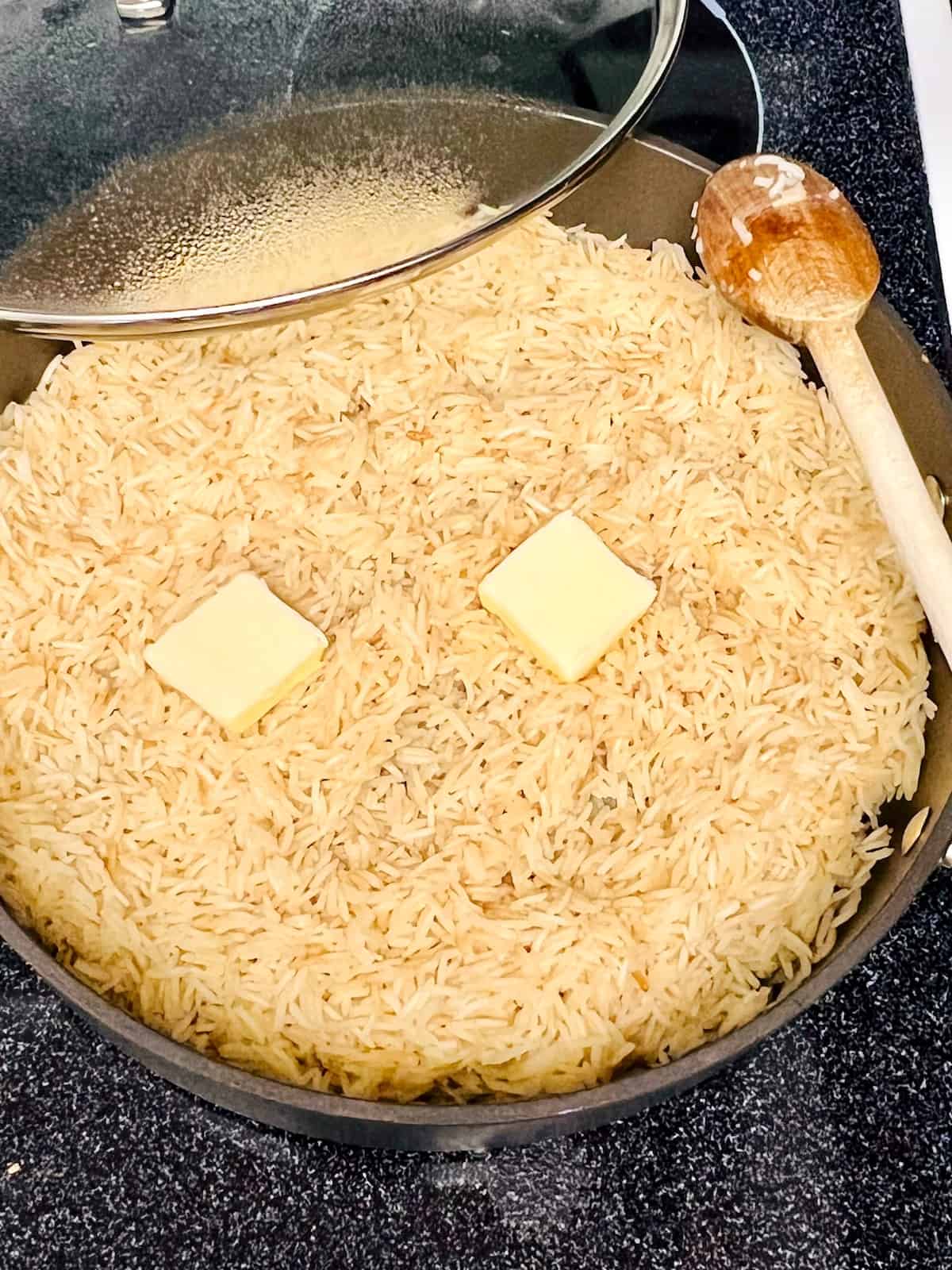 Add the remaining butter and stir into the cooked rice. This adds a bit of creaminess to the chicken broth rice. Because there is salt in both the broth and butter, no salt is added until the end. Now, taste and season with salt and pepper if desired.
Serve immediately in individual bowls or on a plate with meat, seafood, or vegetables.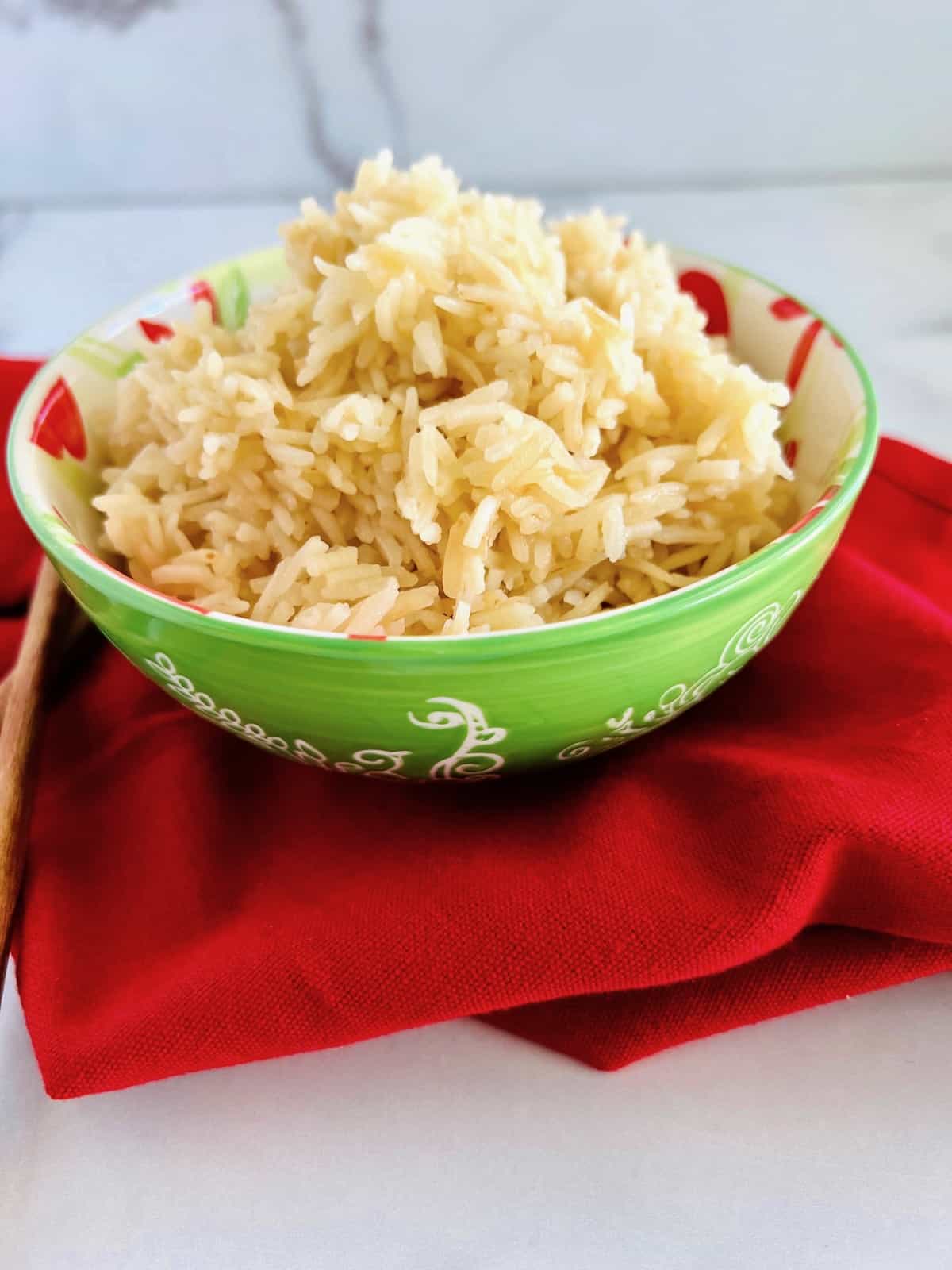 Substitutions & Variations
Here are some great recipe variations & ingredient substitutions that can be made. Add, omit, or use one of these alternatives for other delicious recipe ideas for rice with broth. These may help you enjoy this recipe even with dietary, health, or personal nutritional preferences. 
Substitutions
Chicken Broth - instead use chicken stock, chicken bone broth, or water with bouillon to create the broth. Use can also use seafood or beef broth instead of chicken.
Butter - use margarine for a non-dairy option.
Vegetarian - use mushroom broth or vegetable broth instead.
Low-Sodium - use low-sodium broth and unsalted butter.
For a vegan option, omit the butter & use vegan butter or olive oil along with vegetable broth. The recipe is already gluten-free.
Variations
Spicy - add ¼ teaspoon cayenne pepper to the rice while sauteeing in the butter.
Pilaf Copycat - add frozen peas & carrots when adding the broth to bulk up the dish. Then finish with a sprinkle of fresh minced parsley when serving.
Rice-a-Roni Copycat - add ¼ cup broken spaghetti noodles to the rice before sauteeing. You may need 1-2 additional tablespoons of broth - check near the end of cooking and if it is al dente.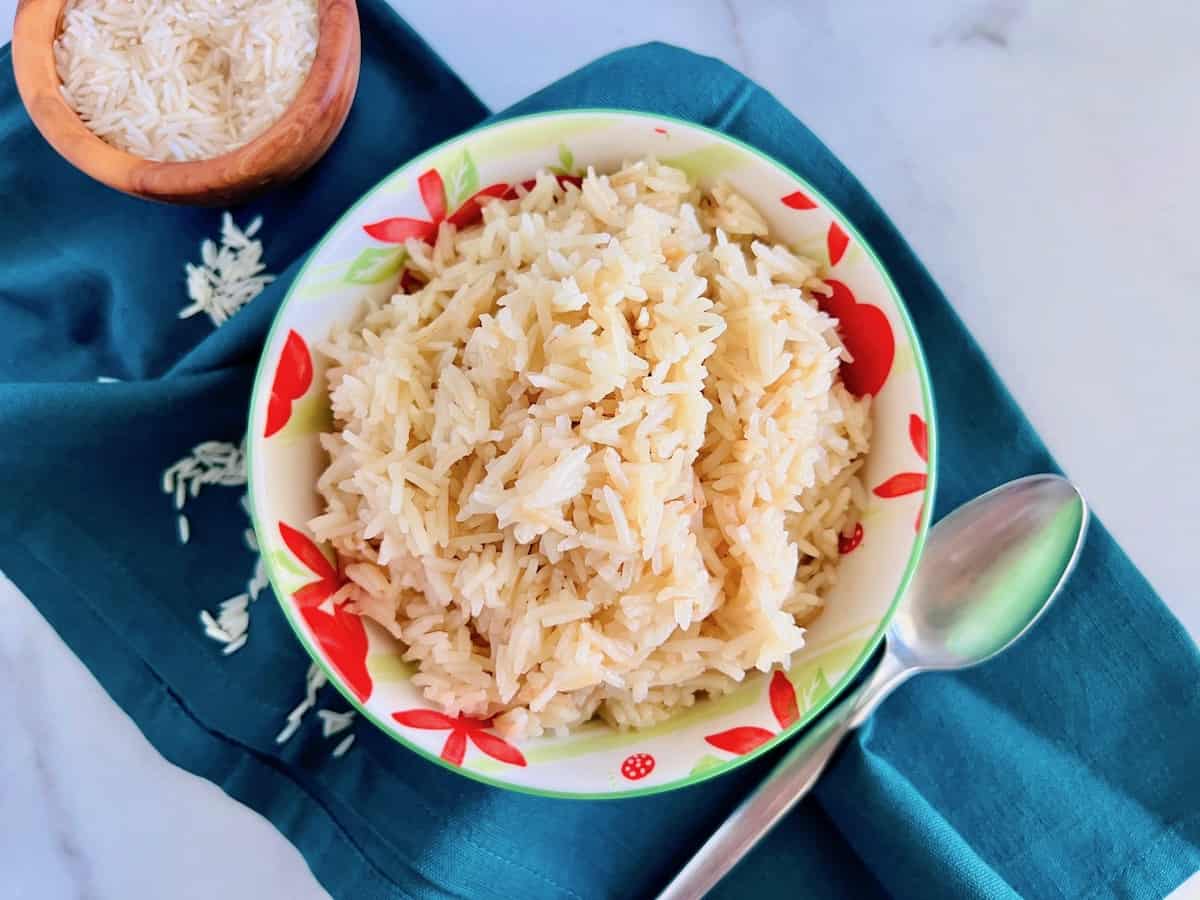 Equipment Needed
The right ingredients, supplies, & equipment help recipes taste amazing & turn out well. Here are recommendations for products that are needed for making this recipe. Shop this recipe & buy these top-rated items today.
The Short Order Cook participates in the Amazon Services LLC Associates Program. As an Amazon Associate, I earn from qualifying purchases. If you click on a link and make a purchase, I may earn a small commission on the sale at no additional cost to you. This helps with the costs of running the blog. Thank you!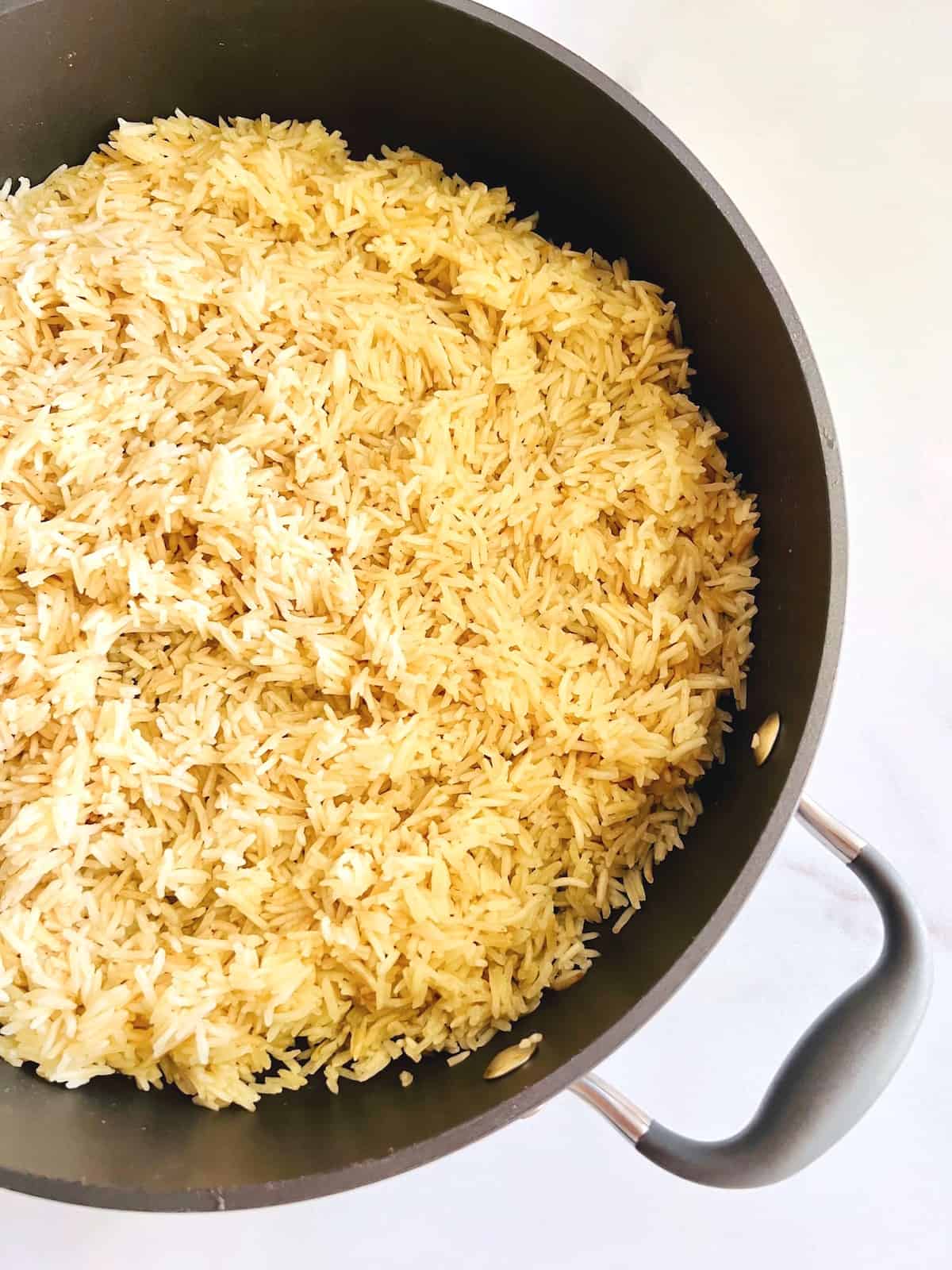 Storing & Reheating
This rice made by using broth instead of water is a great make-ahead and meal-planning side dish recipe. This is because it stores well for up to 5 days in the refrigerator. Store in an air-tight container in the refrigerator.
To reheat, warm up in the microwave for 30-60 seconds (depending on how much you are reheating). Sometimes a sprinkling of water & a bit more butter will help bring it back to life.
Top Tips
All of these great tips are shared in the post. But these are so good and important they are worth mentioning again so you don't miss them.
Cook the rice in a large skillet with a lid, not a stockpot.
Do not skip sauteeing the rice in butter, adds flavor, color, & texture.
Taste test after cooking. Because broth can be salty, only add salt & pepper at the end if needed.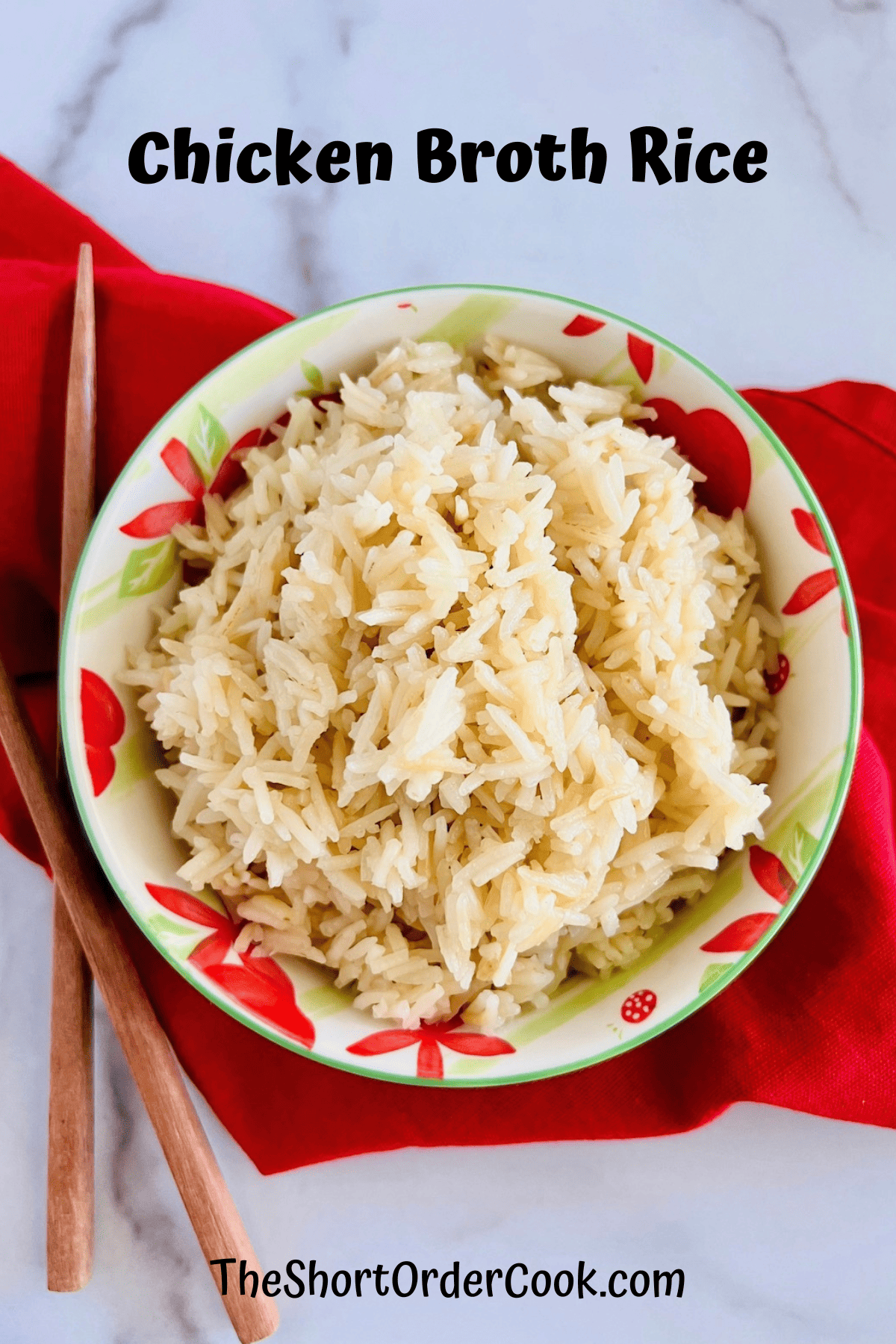 FAQ
How much broth for 1 cup or 2 cups of rice?
This recipe uses 1.5 cups of rice and 3 cups (24 ounces) of broth. The ratio is 2:1 broth to rice. For 1 cup of rice use 2 cups (16 ounces) of broth. For 2 cups of rice use 4 cups or (48 ounces) of broth.
Is this similar to Rice a Roni?
It is not an exact copycat of Rice-a-Roni but there are some similarities. Both involve sauteeing raw rice in butter before simmering. Both also have a broth base for flavoring. However, this recipe is all rice and no roni. It is a great gluten-free homemade option since it has no pasta.
What's the difference between chicken broth vs chicken stock vs chicken bone broth?
Can I use Minute Rice?
I have not tried sauteeing minute rice in butter before preparing it. But you can simply replace the water with chicken broth and follow the directions on the Minute Rice package. My mother did this all the time on busy school nights.
Can I use a rice cooker?
You can substitute water with chicken broth when making rice in a rice cooker. It will not be the same as this recipe because it will not include the step for toasting the grains in butter.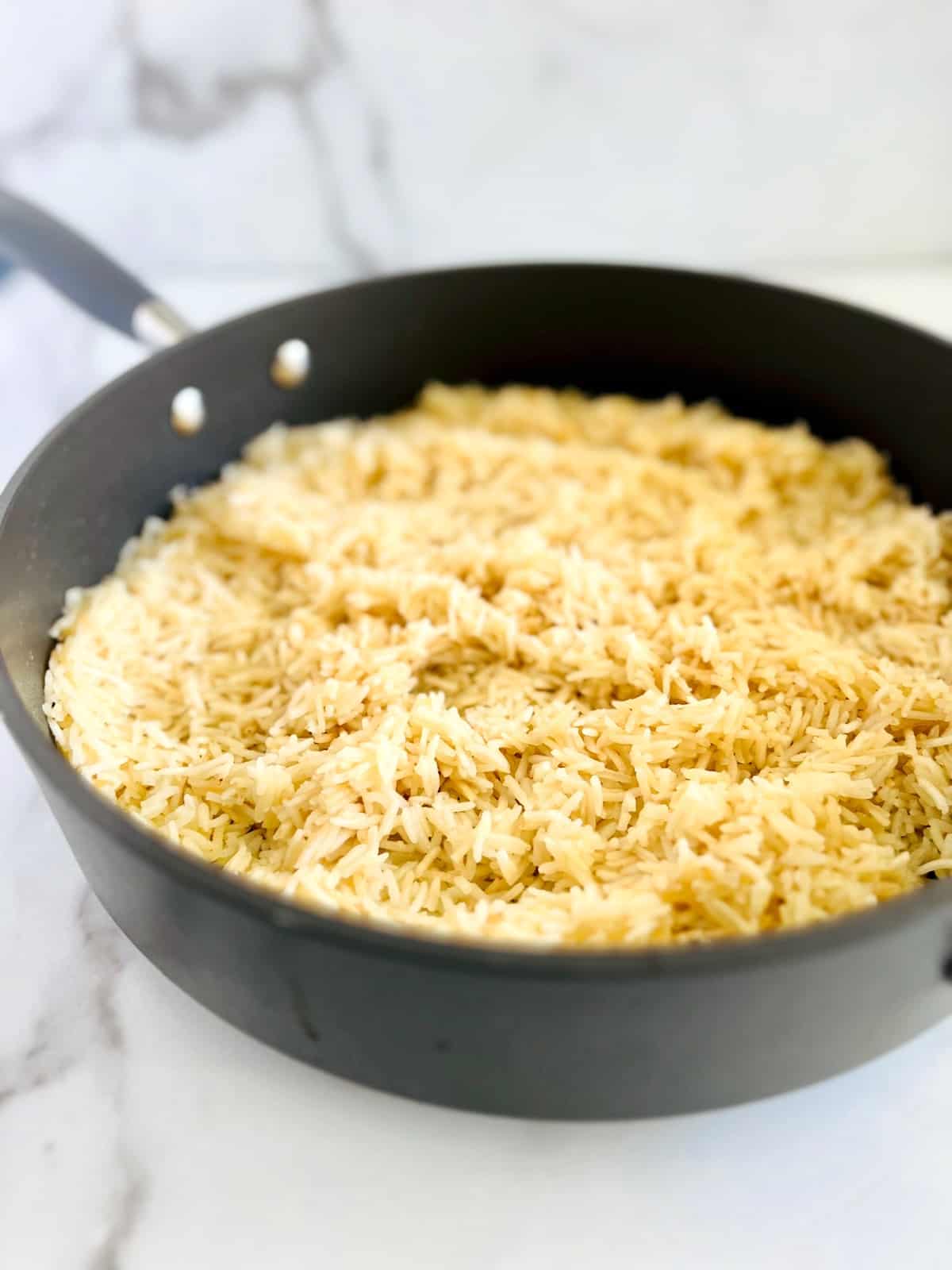 What to Serve with Chicken Broth Rice
These are my favorite dishes to serve with this buttery rice made with broth. This goes great with chicken, beef, pork, & seafood dishes: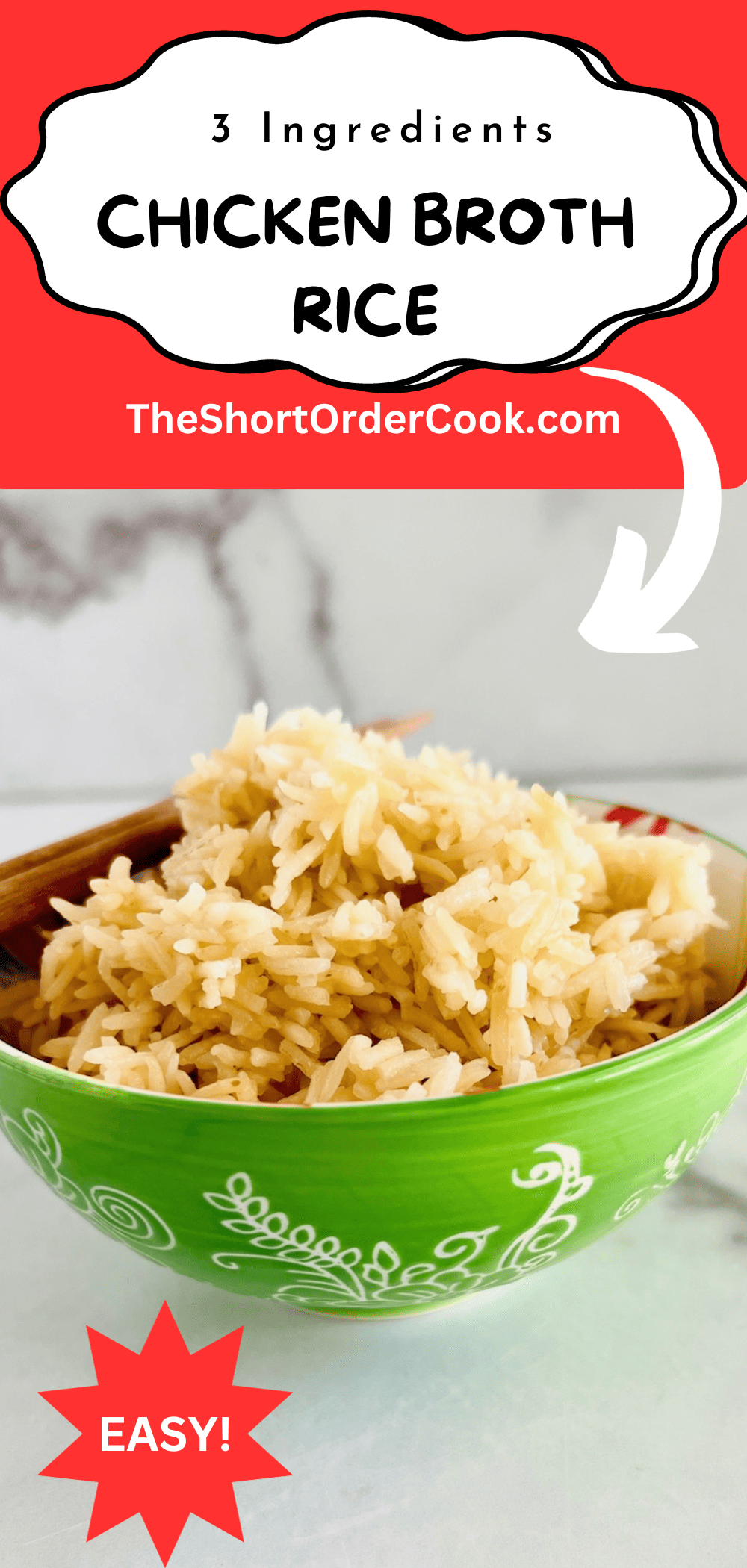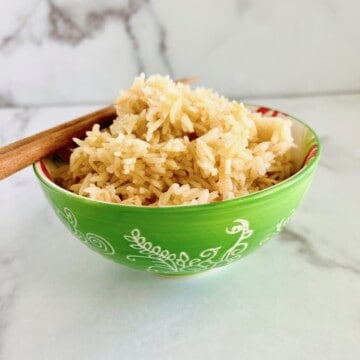 Chicken Broth Rice
For a flavorful 30-minute side, make 3 ingredient chicken broth rice. It's better than using just water, a buttery rich simple recipe. It's a comforting recipe similar to a no pasta/gluten-free Rice-a-Roni copycat. Made in a skillet & not a pot or rice cooker, the toasted rice flavor is the best.
Ingredients
4

tablespoons

salted butter

divided

1.5

cups

long grain rice

3

cups

chicken broth
Instructions
In a large skillet on medium heat melt 2 tablespoons of butter.

Add the long grain rice to the skillet and stir. Coat all of the rice with the butter. Saute the rice in the butter for 3-5 minutes. This allows the grains to get toasty and some start to brown.

Slowly & carefully add the chicken broth to the pan. Stir to combine. Bring the broth to a simmer and then reduce to low heat. Put the lid on the pan & let it cook.

Simmer on low for 20-25 minutes. Stir occassionally & replace the lid each time.

When all the liquid is absorbed and the rice is soft and cooked completely, turn the heat off. Add the other 2 tablespoons of butter, stir to melt. This will give the rice a creamy texture.

Place the lid on the pan and let sit for 2-3 minutes. Season to taste with salt & pepper if desired.
Notes
This recipe can be made with any broth - including beef, seafood, vegetable, or mushroom broth.  Omit the butter & use olive oil for the pan-sauteeing step for a vegan option along with vegetable broth. 
Store for up to 3 days in the refrigerator. Reheat in the microwave - add a few drops of water of broth to rehydrate if needed.  I do not recommend freezing leftovers as the rice tends to get mushy once defrosted. 
Nutrition Facts
Servings: 6
Amount per serving
 
Calories
256
% Daily Value*
Total Fat 8.7g
11%
Saturated Fat 5.1g
26%
Cholesterol 20mg
7%
Sodium 438mg
19%
Total Carbohydrate 37.5g
14%
Dietary Fiber 0.6g
2%
Total Sugars 0.4g
 
Protein 5.8g
 
Vitamin D 5mcg
27%
Calcium 20mg
2%
Iron 2mg
12%
Potassium 159mg
3%
*The % Daily Value (DV) tells you how much a nutrient in a food serving contributes to a daily diet. 2,000 calorie a day is used for general nutrition advice.

Recipe analyzed by