Crispy air fryer frozen fish fillets are so easy to make using your favorite store-bought frozen brand.  It is a family favorite in our house whether it is for an appetizer, snack, lunch, or dinner.  There is no better way to cook up some crispy breaded cod or haddock pieces than by air frying it.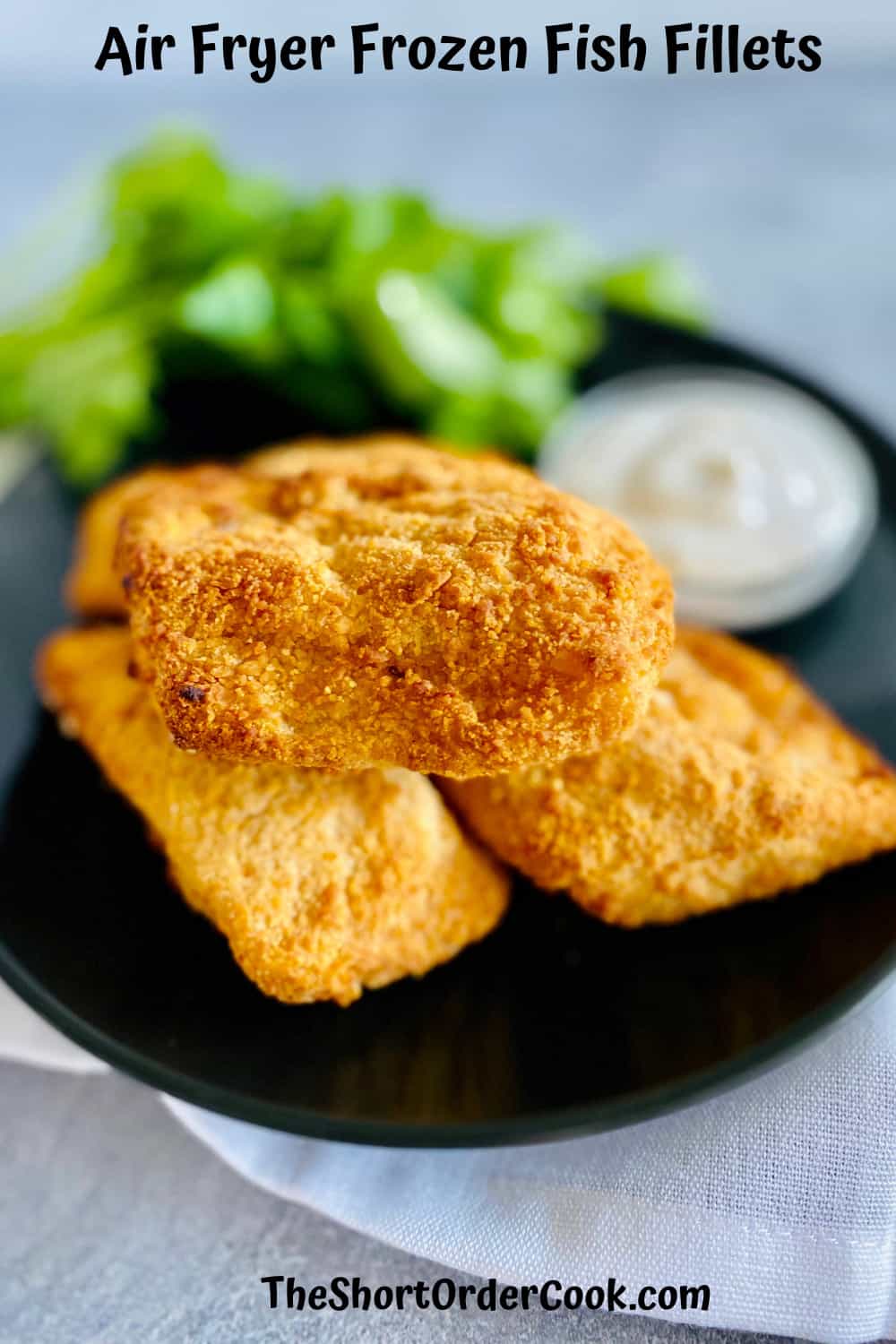 You will never want to bake them in the oven again since cooking them in the air fryer makes them crispier.  One bite and you will hear the crunch and be so happy. Plus these cook faster when air fried. 
Like Air Fryer Coconut Shrimp, crispy seafood bites are irresistible. Serve these fish filets made in the air fryer with air-fried radishes for a healthy meal.
Jump to:
Air Frying is the Best Way to Cook Breaded Frozen Fish
Cooking frozen fish with a breading or coating in the air fryer is quick and easy. No additional oil is needed which makes it healthier with less fat than deep frying would have. For the best crispy crunchy coating on fish simply buy a bag, get them in the air fryer basket or tray, and in a few minutes you have something tasty.   
Fish Fillets vs Fish Sticks
Have you ever wondered what is the difference between fish fillets, sticks, or nuggets?  Well to put it simply, the shape and size.  The main difference between them is how big the breaded whitefish pieces are.  Fillets tend to be square or rectangular in shape and about 4 ounces in size. 
On the other hand, fish sticks or nuggets are narrow long rectangles or square and about ¼ the size.  If you prefer fish sticks you can also enjoy them crispy with AIR FRYER FROZEN FISH STICKS. 
Ingredients for Air Fryer Fish Fillets
All you need for this recipe is the frozen breaded fish fillets. Many other items you cook in an air fryer may need a spray of avocado oil when cooked in the air fryer. 
However, these do not. This is because in the ingredients that make up the coating there is also some sort of oil, typically vegetable oil.  Therefore, they will get crispy and golden without any added oil.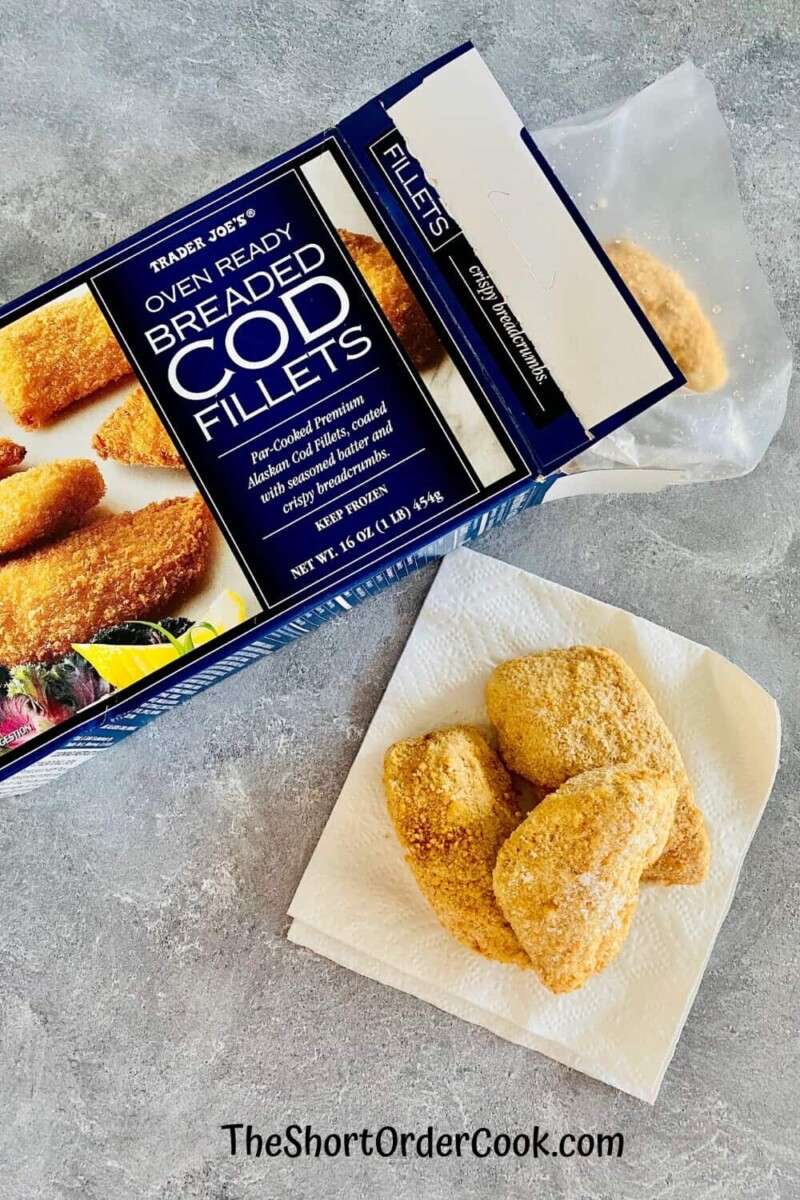 This recipe works to air fry your favorite brand. So whether you have any ready-made fish fillets such as Gorton's, Wal-Mart, Trader Joe's, Van de Kamps, or Trident all cook great in the air fryer. Discover What's the Dish with Whitefish and all the types that fall in that category and are commonly used in frozen breaded fish products.
Breaded Frozen Fish - most brands are cod but any whitefish will cook up similarly in the air fryer.   
How to Cook Frozen Fish in the Air Fryer
To make air fryer frozen breaded fish, simply add the fillet pieces to your air fryer basket or tray.  Make sure they are in a single layer.  It is also best to not overcrowd the basket or tray when air frying.   
If you can spread them out, that is my recommendation so that the hot air can circle all sides of the coated fish pieces to cook evenly. This way they don't stick and there are no soggy or undercooked edges. 
How Long to Air Fryer Frozen Breaded Fish
I find it best to put the food in and then set it; therefore, the fish can be inside while preheating. There is no need to worry about watching it preheat to make sure you get it in immediately as the time starts ticking down. This way you set it and forget it – let the air fryer do the cooking.
Once they are in the air fryer, be ready to cook.   Set it to air fry at 400°.  Then set it for 18 minutes.  I find that if they are spaced out enough there is no need to shake or flip the frozen fish pieces while air frying.  They should brown evenly on both sides. 
When is Air Fried Frozen Bread Fish Done?
They will be done when they are flakey hot on the inside and crispy brown on the outside. They will also not be soft or sticky when you try and pick them up with tongs. This is how they will be after 18 minutes. They should be light brown with some dark brown edges. For extra crispy fish, set the air fryer timer for 20+ minutes.
Once the timer is complete, carefully remove the tray or basket from the air fryer with an oven mitt. Using tongs, plate them for eating. Enjoy for lunch or dinner on a bun. Or serve fish fillets with ketchup, tartar sauce, lemon juice, or your favorite dipping sauce.
What to Serve with Air Fryer Frozen Fish
These great recipes go well as a side dish for lunch or dinner. Try one or more of these ideas the next time you air fry some cod.
Tasty Sauce & Dip Ideas
Check out my favorite condiments to enjoy with breaded fish. There is a creamy homemade ranch, a sweet & spicy hot honey recipe, and more.
Product Recommendations for this Recipe - #ad:
The Short Order Cook is a participant in the Amazon Services LLC Associates Program. As an Amazon Associate, I earn from qualifying purchases. If you click on a link and make a purchase, I may earn a small commission on the sale at no additional cost to you. This helps with the costs of running the blog. Thank you!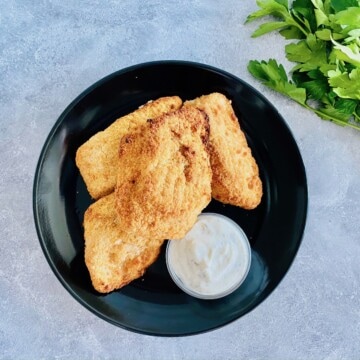 Air Fryer Frozen Fish Fillets
There is no better way to cook frozen fish fillets than the air fryer. The best hot & crispy fish is ready in minutes.
Ingredients
4

frozen breaded fish fillets
Instructions
Add frozen fish to your air fryer basket or tray. Depending on the size of your air fryer basket or tray, add only as many as will fit without overcrowding.  Be sure to leave some space between each piece and that they are in a single layer.  

There is no need to preheat. Once the fish is in the air fryer, set it to cook. Set to air fryer at 400°.  Next set the timer for 18 minutes. 

For extra crispy, set it for 20+ minutes. 

When they are done cooking, carefully remove them from the oven and plate. 

Serve with your favorite dip or on a bun as a sandwich. Enjoy!
Notes
Nutritional Information will vary depending on the brand and size of fish used. 
Did you make this The Short Order Cook Recipe?
Tag @theshortordercookblog (Instagram & Facebook) or @shortorder_cook (Twitter).
I would love to see your latest creations and kitchen adventures.