This sweet & savory recipe for slow-cooker acorn squash is fabulous. Brown sugar and apple stuffed acorn squash is an easy autumn recipe perfect for the Crock-Pot.  It takes just a few minutes to prep and gets all before you know it the squash is tender & the cinnamon sweet apples are irresistible. As it cooks, the house will smell just like an apple pie with the wonderful scent of cinnamon and nutmeg. 
There is no better sweet and savory fall harvest recipe.  Think of it as a crustless apple pie squash dessert to love.  Hands down this is the best acorn squash recipe for the slow cooker. If you love acorn squash, try some healthy but yummy Air Fried Acorn Squash Slices.
These stuffed acorn squash are wonderful to serve at Thanksgiving with my recipe for cooking a 20-pound turkey or any holiday dinner in fall or winter.  It is a tasty side dish but I will be honest, these apple cinnamon stuffed acorn squash with brown sugar are an amazing dessert as well. 
Jump to:
The sweet brown sugar apples in the rich savory acorn squash make every bite a comfort food classic similar to pumpkin or sweet potato pie.   Bonus, the flesh and apples can also be scooped out to puree for the whole family to enjoy acorn squash, including toddlers and babies.
Ingredients for Slow Cooker Acorn Squash
This stuffed acorn squash recipe only uses 6 ingredients. You will need a large acorn squash, salted butter, brown sugar, cinnamon, nutmeg, and an apple. I recommend using your favorite apple for baking, such as a golden delicious or a granny smith, which is what I am using.
Acorn squash is gluten-free and paleo food. (minus this recipe that adds plenty of sugar! ) However, it is not a keto or low-carb food. You can find out more also on the Health Benefits of Acorn Squash. It is still a very healthy food and has plenty of reasons to enjoy it. For nutritional information such as calories and carbs, here is how it is based on a cup of raw acorn squash -
% Daily Value*

Total Fat

0.1 g

0%

Saturated fat

0 g

0%

Cholesterol

0 mg

0%

Sodium

4 mg

0%

Potassium

486 mg

13%

Total Carbohydrate

15 g

5%

Dietary fiber

2.1 g

8%

Protein

1.1 g

2%
Vitamin C

25%

Calcium

4%

Iron

5%

Vitamin D

0%

Vitamin B-6

10%

Cobalamin

0%

Magnesium

11%
Variations for Acorn Squash Stuffing Ideas
This is a vegetarian slow cooker acorn squash side dish that is easy to prepare and takes on a few hours to cook on low. But if you want a more savory version that is filling enough for the main course, you can try adding a few of these additional ingredients to make slow cooker acorn squash:
Add cooked crumbled sausage to the apple-stuffed acorn squash
Add cooked crumbled bacon to the apple-stuffed acorn squash
Add dried cranberries or raisins to the apple-stuffed acorn squash
Use half an apple and a pear for a fruit medley stuffed with acorn squash
How to Cut Acorn Squash
The key when cutting an acorn squash for stuffing is to make sure the two halves are the same size and the bottoms are flat.   Here are the best steps to prepare and cut acorn squash for this recipe.
Cut it across the middle horizontally to expose the inside cavity of fibers and seeds.
Slice off the ends (the stem and pointed end) so that the bottoms will be flat.
How To Prepare Acorn Squash for Stuffing
Once it is cut in half and the bottoms are even, it is time to scoop the acorn squash halves out clean.  Use a medium-sized metal spoon to scrape out the fibers and seeds inside the halves. 
Each cavity should be fairly deep and plenty big for filling them up.  They are now ready for the apples and other ingredients we will be using to stuff these acorn squashes before they go in the slow cooker. 
How To Make Acorn Squash in the Crock Pot
You will need a large oblong Crock Pot for this slow cooker acorn squash recipe. Each squash half will be fairly large and to get them in a single layer on the bottom insert. Therefore, a small round slow cooker will not work well with this recipe.
Begin by placing each acorn squash in the bottom of the slow cooker. You will divide all the ingredients in half so each squash has the same amount of ingredients.  First, add the diced apples and top with the diced pieces of butter into the cavities of each one. 
Next, sprinkle the spices evenly over each half.  The final step will be to pour the water slowly around each acorn squash.   The water will help create the steam that will help cook the brown sugar and apple-stuffed acorn squash to soft and tender perfection.  
Cooking Acorn Squash in the Slow Cooker
For how long to cook the acorn squash in your Crock Pot, the best setting would be to do so on low for 3-4 hours. It will depend on the size of your squash halves, so adjust slightly and start checking around the 3rd hour. You will know the slow cooker acorn squash is ready when the apples and squash are soft and fork-tender.
Remove each carefully from the slow cooker and place it on a plate or cutting board. Cut each half into two equal-sized pieces. This recipe is for 4 servings and is plenty as a side dish to your favorite meal. Serve immediately while warm. It will be sweet and a bit savory.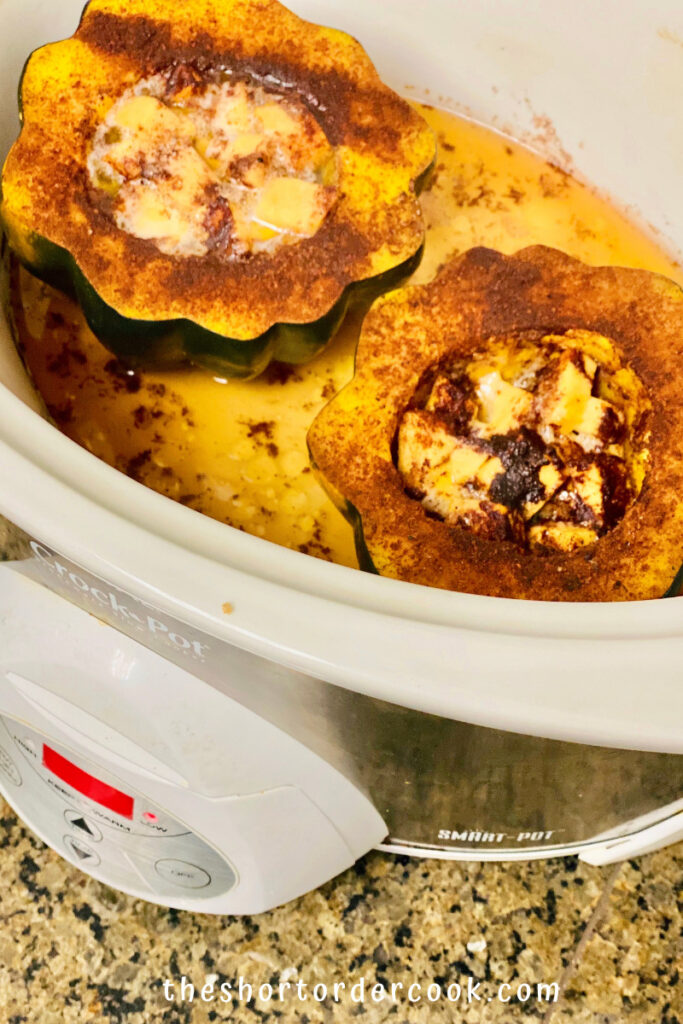 What to Serve with Acorn Squash
For great main course or other side dish ideas, try one or more of these recipes that all go well to serve and pair with acorn squash.  All these savory meat or vegetarian, entrees, and sides are perfect to cook and eat the next time you make this slow cooker acorn squash. 
Smoked Beef Short Ribs
The best way to make short ribs in my mind is in the smoker.  The low and slow method of smoking meat breaks down the meat and renders the fat for the most delicate fall-off-the-bone short ribs you will have ever had. 
Check out this recipe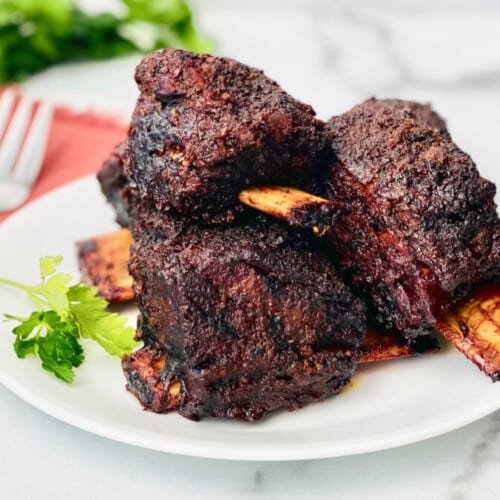 Paleo Chicken Thighs
Juicy chicken thighs browned in a cast iron pan and cooked in a wonderful lemon sauce with Greek ingredients like olives, capers, tomatoes, and artichoke hearts. A bright and flavorful easy one-pan meal that anyone on a paleo, gluten-free, keto, low-carb, or Whole30 diet.
Check out this recipe
Broccoli & Cheese Stuffed Chicken Breasts
Chicken breasts stuffed & rolled up with 3 kinds of cheeses and broccoli is an Italian-inspired rollatini recipe. These thin sliced boneless skinless chicken breasts are baked with alfredo sauce for a cheesy, creamy, & satisfying meal. It's gluten-free, keto-friendly, & low-carb.
Check out this recipe
Butternut Squash, Apple, and Kale Salad with Honey Dijon Vinaigrette
Butternut squash and kale make the perfect Fall salad. The crunchy pecans, crisp apples, sweet raisins, and roasted butternut squash make the most amazing Autumn harvest salad recipe.
Check out this recipe
Deep-Fried Sweet Potato Fries
Homemade deep-fried sweet potato fries are a quick and easy family favorite recipe. This fantastic method to deep fry & season them makes the best appetizer or side dish.
Check out this recipe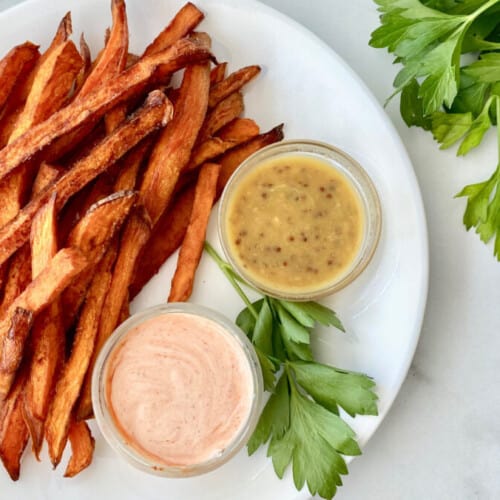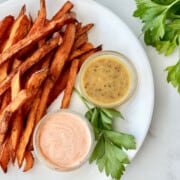 Dry Brine for Smoking a Turkey
In just 3 days you can have the perfect holiday bird. When you dry brine a turkey, it is so moist and juicy. This works great for turkey, chicken, and other birds when smoking them. (also great if you oven roast or deep fry your turkey too!)
Check out this recipe
How to Store Slow Cooker Acorn Squash
This acorn squash recipe stores in the refrigerator and freezes well. It is a great make-ahead recipe for that reason.  The acorn squash already cooked can store in an air-tight container in the refrigerator for up to 5 days. 
You can freeze acorn squash in an air-tight container for up to 3 months. To defrost frozen acorn squash, place it in the refrigerator to thaw for 2 days.  Acorn squash recipes reheat well in the microwave.  
PIN FOR SAFEKEEPING & SHARING!
Product Recommendations for this Recipe:
The Short Order Cook is a participant in the Amazon Services LLC Associates Program. As an Amazon Associate, I earn from qualifying purchases. If you click on a link and make a purchase, I may earn a small commission on the sale at no additional cost to you. This helps with the costs of running the blog. Thank you!
Slow Cooker Acorn Squash
This sweet and savory acorn squash recipe is a fabulous side dish. The taste of fall is wonderful in this slow cooker brown sugar acorn squash recipe. Cook it in the CrockPot for the best that is stuffed acorn squash with apple & cinnamon you have ever had. Great for Thanksgiving or Christmas dinner.
Ingredients
1

acorn squash

1

apple

2

Tablespoons

salted butter

4

Tablespoons

brown sugar

½

teaspoon

cinnamon

¼

teaspoon

nutmeg

¾

Cup

water
Optional additional ingredients
1

Tablespoon

raisins

1

Tablespoon

dried cranberries

apples & pear combo vs just apples
Savory Meats optional additional Ingredients - use only half an apple and then add the following:
¼

cup

cooked crumbled sausage or bacon
Instructions
Cut the acorn squash in half horizontally across the middle. Slice off the stem or uneven bottom of the squash.  You want each half to be flat in the bottom of the slow cooker insert so that the other ingredients stay in place.

Scoop out the insides and remove seeds and fibers. Place each half inside the slow cooker insert

Core and cut apples in medium-sized cubes about ½" each. (peeled or unpeeled, whatever your preference is) Add half of the apple pieces to each acorn squash cavity.

Cut each tablespoon of butter into 4 cubes for a total of 8 tiny cubes. Add 4 tiny cubes to each apple stuffed acorn squash.

Sprinkle each acorn squash half with 2 tablespoons of brown sugar, ¼ teaspoon of cinnamon & ⅛  teaspoon of nutmeg.

Pour the water carefully into the slow cooker insert along the inside edge so that you do not pour it directly onto the squash but around it.

Next, place the lid on the slow cooker. Set it on low and cook for 3 – 4 hours. (depends on side of the acorn squash)

You know the apple stuffed acorn squash is ready when a fork pierces into the flesh easily and the apples are soft.

Carefully remove each acorn squash half from the slow cooker. Place on a platter and cut each into 2 large wedge pieces. It will be a total of 4 servings.
Notes
Nutrition Facts
Servings: 4
Amount per serving
 
Calories
149
% Daily Value*
Total Fat 5.7g
7%
Saturated Fat 3.6g
18%
Cholesterol 15mg
5%
Sodium 63mg
3%
Total Carbohydrate 25.9g
9%
Dietary Fiber 3.1g
11%
Total Sugars 13g
 
Protein 0.9g
 
Vitamin D 0mcg
0%
Calcium 51mg
4%
Iron 1mg
5%
Potassium 388mg
8%
*The % Daily Value (DV) tells you how much a nutrient in a food serving contributes to a daily diet. 2,000 calorie a day is used for general nutrition advice.
Did you make this The Short Order Cook Recipe?
Tag @theshortordercookblog (Instagram & Facebook) or @shortorder_cook (Twitter).
I would love to see your latest creations and kitchen adventures.