Hungarian goulash is a hearty stew with a bright flavorful paprika broth.  It's a high-protein stew packed with fork-tender chunks of beef along with some carrots and potatoes.  The rich paprika broth is comforting and warming which makes it the perfect dinner to make when the temperature gets cold outside.  So grab your slow cooker and make this easy recipe for tasty Hungarian goulash and find out why people love it. 
This slow cooker recipe for traditional Hungarian goulash is a quick and easy homemade recipe that you will want to make all the time. For a comforting taste of Eastern Europe, enjoy this beef goulash recipe that is so easy to make thanks to your Crock-Pot.  This comforting homemade beef stew recipe is gluten-free, grain-free, low-carb, and paleo-friendly.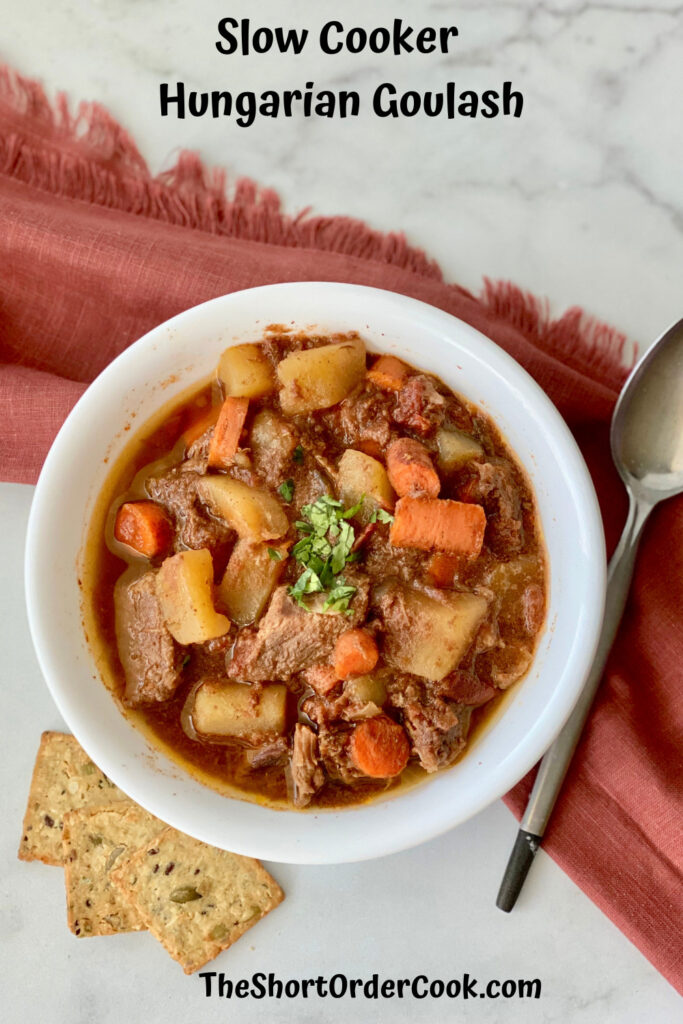 Goulash (Hungarian: Gulyas) is a soup/stew recipe that is all about the meat and vegetables commonly eaten in Eastern & Central Europe. Classic goulash does not have pasta, macaroni, or ground beef, that's an American version. Do not add macaroni or other pasta to it, enjoy this time-honored recipe that originated in Hungary for what it is, a true meat-lovers goulash. It is a medley of tender beef roast cut into chunks & simple vegetables. 
The slow cooker is so wonderful at breaking down the meat so it is tender. I love it for tough cuts of beef which turn out amazing like Corned Beef cooked in the slow cooker. But it is also a time saver that "cooks" dinner without much effort like in my CrockPot Chicken Cacciatore recipe.
Jump to:
Ingredients for Classic Hungarian Goulash
The key to a really good goulash is to make sure you are using quality ingredients. Since this is a simple meal, the flavors come from the basic ingredients and the freshness of the main ingredients.  For a really tasty goulash, be sure to use good-quality beef.  You can buy stew meat as I did or you can cut up a chuck roast, whichever you prefer or have access to. 
You also want to use fresh produce and this recipe calls for onion, carrots, and potatoes to make Hungarian goulash. You can use fresh tomatoes as well but I find the juice is important for the broth so I like to use canned. Plus fresh tomatoes are not very good quality here in the winter and that is when I tend to make this stew.  But if you choose to use fresh tomatoes be sure to include any juices that run on the cutting board when you dice them up. 
For that deep rich broth, a lot of paprika is needed for goulash. I happen to have fantastic sweet and spicy paprika from Hungary in these cute little tins.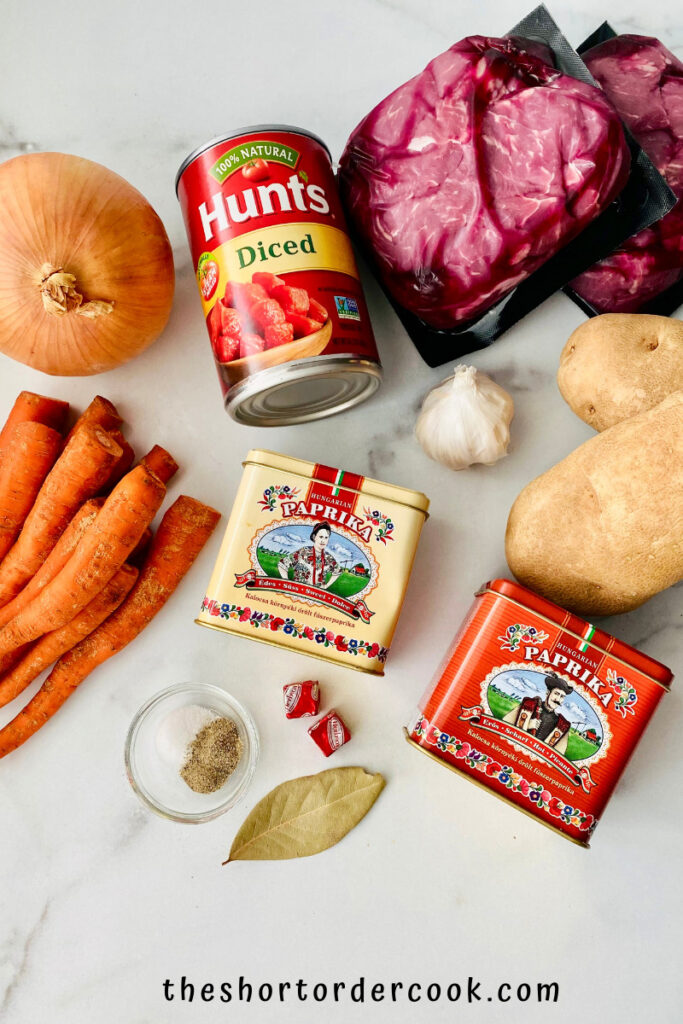 Beef Stew Meat
Carrots
Potatoes
Onion
Garlic
Tomatoes
Paprika - sweet & spicy
Beef Bouillon
Bay Leaf
Salt
Pepper
How to Make Goulash in the Slow Cooker
Once you have all the ingredients for the goulash, begin prepping the little bit you need to do for this easy slow cooker recipe. It is almost a dump-and-go recipe since there is very little to cut.  Plus there is no need to sear or brown the meat beforehand when making this CrockPot goulash.   Everything just goes into the slow cooker insert and the magic happens over the hours of cooking tender meat and soft vegetables.
Cutting the Beef & Vegetables
In making slow cooker Hungarian goulash, begin by prepping & cutting the meat and vegetables.  The key to cutting each ingredient is to make them relatively the same size so they cook evenly. I purchased stew meat that was already cut so I just made sure they were all similar in size and only had a few larger chunks to cut in half.   
Next, peel the potatoes and cut them into bite-sized chunks.  Do the same with the carrots.  You can peel or leave the skin on the carrots.  I leave the peels on the carrots in stews since it becomes soft and tender plus most of the Vitamin C and niacin in carrots is in the peels.   Dice up your onion also.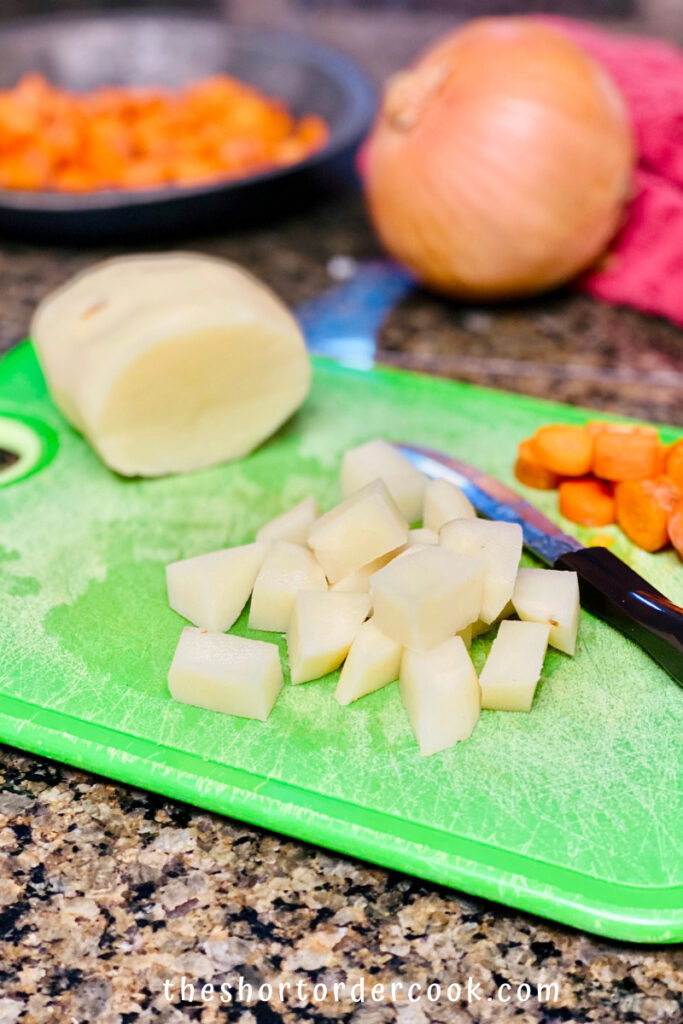 Add Ingredients to the Slow Cooker
Once everything is cut, you can begin adding the ingredients to the CrockPot. For the goulash, add the cut chuck roast to the bottom of the insert. Next, add the garlic, bay leaf, & sprinkle on the seasonings.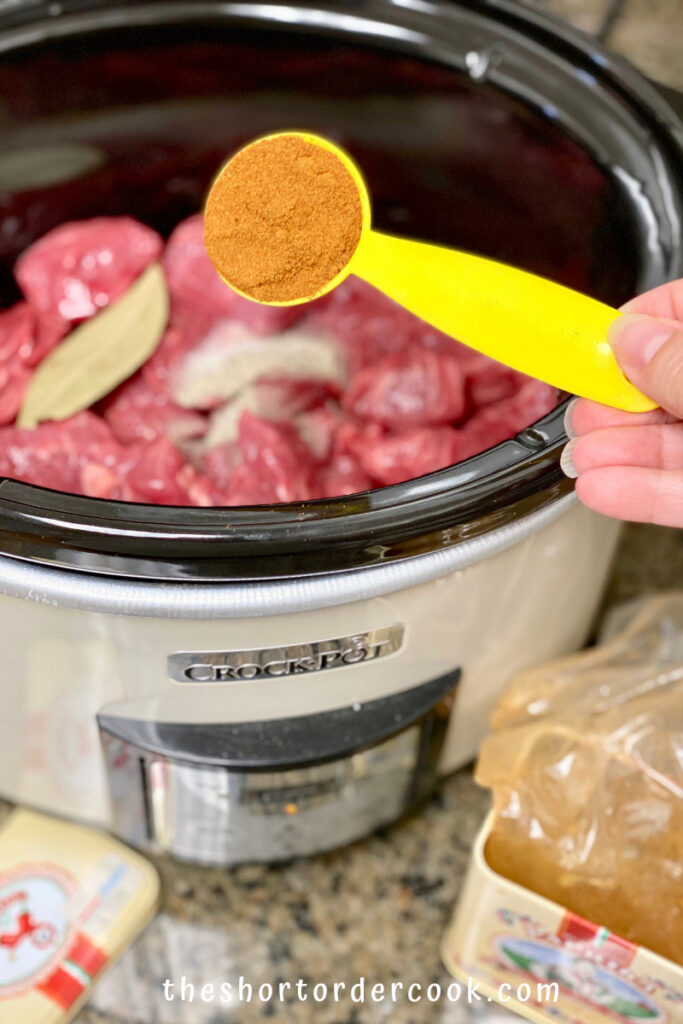 Once all the meat and seasonings are in, top it with the cut-up onion, carrots, & potatoes. Notice how they are all relatively the same size. This helps all ingredients to cook evenly and be ready to eat at the same time. There is nothing worse than having a spoonful of stew but some of the potatoes are still hard but the rest is cooked.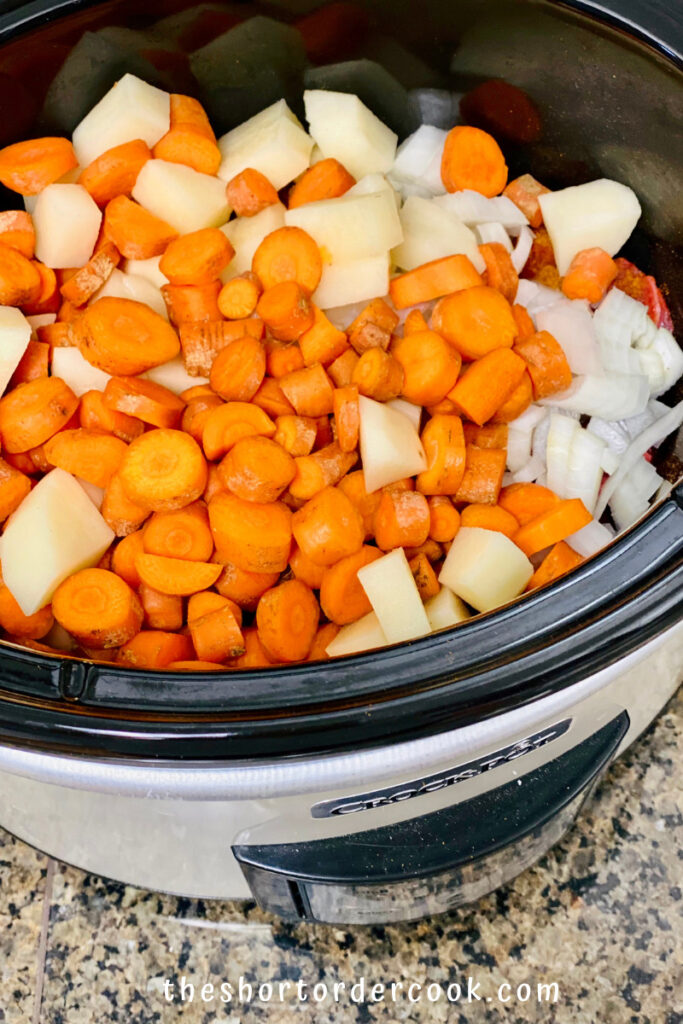 For the final items, add in the canned tomatoes, including the juice, and the beef broth. Stir everything to combine in the slow cooker. Now you are ready to put the lid on and set it to cook. I can cook on low or high, it depends on how many hours until you are ready to eat.
How Long to Cook Goulash in a CrockPot
Goulash in the slow cooker can be ready in as fast as 4 hours. It can also cook even longer if you need it to such as if you are gone for your workday and will not be eating for hours. Depending on your day, please set the slow cooker accordingly with the right setting and time. It can stay on warm for a few hours even if your slow cooker has that setting. It will remain lovely and not dry out or overcook. This goulash recipe is great for making when you will be gone up to 12 hours and need to get dinner into the CrockPot.
Set the slow cooker to cook the goulash to either heat temperature setting & hour combo:
HIGH for 4 hours
LOW for 8-10 hours
How to Tell if Goulash is Done Cooking
When it is done, the meat will be tender and almost fall apart if you were to use a spoon on it. The potatoes and carrots will be soft and the broth will be a rich red color. At this time it is done cooking. You can now remove the bay leaf. You may choose to skim some of the fat off the goulash but I do not. Give the Hungarian goulash a stir and ladle it into serving bowls. To serve, top with any optional ingredients. Fresh parsley is great and so is a dollop of sour cream to stir into the stew. Serve immediately. Enjoy.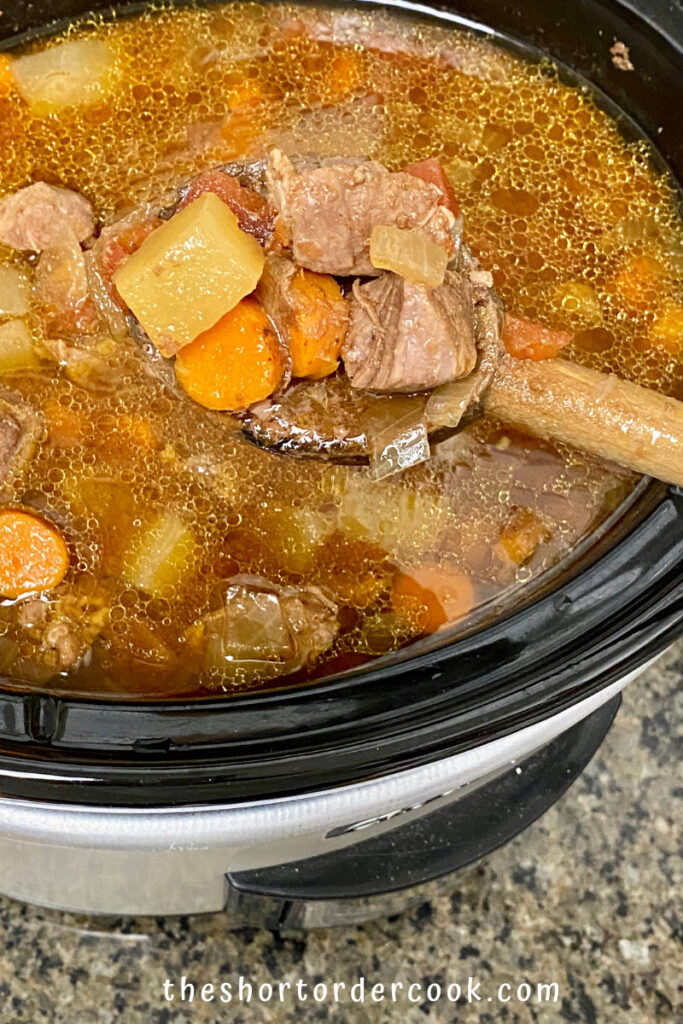 What to Serve with Hungarian Goulash
Here are some great recipes to serve and eat along with goulash. All these recipe ideas for sides, salads, and fresh-baked types of bread go well with goulash for dinner. These tasty recipes to serve with goulash include keto, low-carb, gluten-free, healthy, and paleo sides.
Broccoli Salad with Apples & Cheese
This healthy broccoli salad with carrots, raisins, apples, and cheese is amazing. The creamy greek yogurt dressing is low-fat and made without mayo. It is tangy, crisp, fresh, and sweet in every bite. It holds up great for potlucks and barbecues. It is even great as a leftover, unlike other salads.
Check out this recipe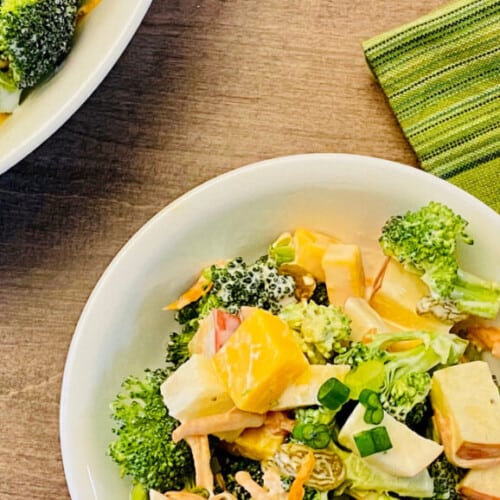 Butternut Squash, Apple, and Kale Salad with Honey Dijon Vinaigrette
Butternut squash and kale make the perfect Fall salad. The crunchy pecans, crisp apples, sweet raisins, and roasted butternut squash make the most amazing Autumn harvest salad recipe.
Check out this recipe
Easy Homemade Soft Dinner Rolls
The best soft homemade dinner rolls baked using yeast are easy to make. These rolls are delicious and enjoyed best when warm straight out of the oven.
Check out this recipe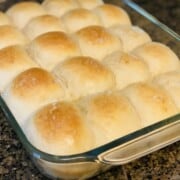 Keto Cornbread Chaffles
Cornbread chaffles made with almond flour are the best Mini Dash keto waffle recipe. A savory low-carb & gluten-free side for chili, soup, or salad.
Check out this recipe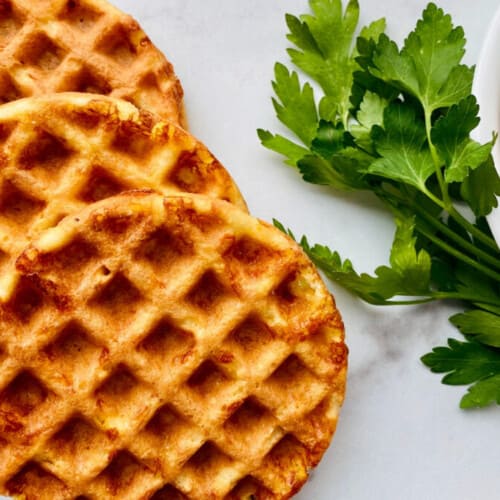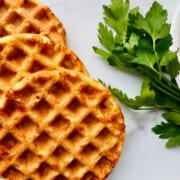 How to Make Artisan Ciabatta Bread
Homemade rustic artisan ciabatta bread has a crispy crust and a tender chewy inside. This classic Italian recipe comes out so good & is easy to make. There is nothing like fresh-baked bread straight from the oven.
Check out this recipe
Instant Pot Steamed Broccoli
Instant pot steamed broccoli is a healthy and easy recipe that comes out perfect every time. In just a few minutes fresh broccoli is cooked and ready to enjoy.  This method works in any electric pressure cooker with or without a steamer basket and results in fresh steamed broccoli that is not mushy. 
Check out this recipe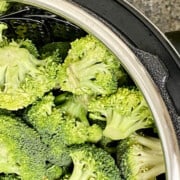 Oven- Roasted Green Beans
These delicious oven-roasted green beans will be a family favorite. The nutty sesame seasoning that includes garlic and onion adds so much flavor. This quick & easy recipe is the best thanks to everything but the bagel seasoning that elevates this simple vegetable side dish.
Check out this recipe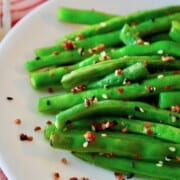 How to Store, Freeze, & Reheat Goulash
PIN FOR SAFEKEEPING & SHARING!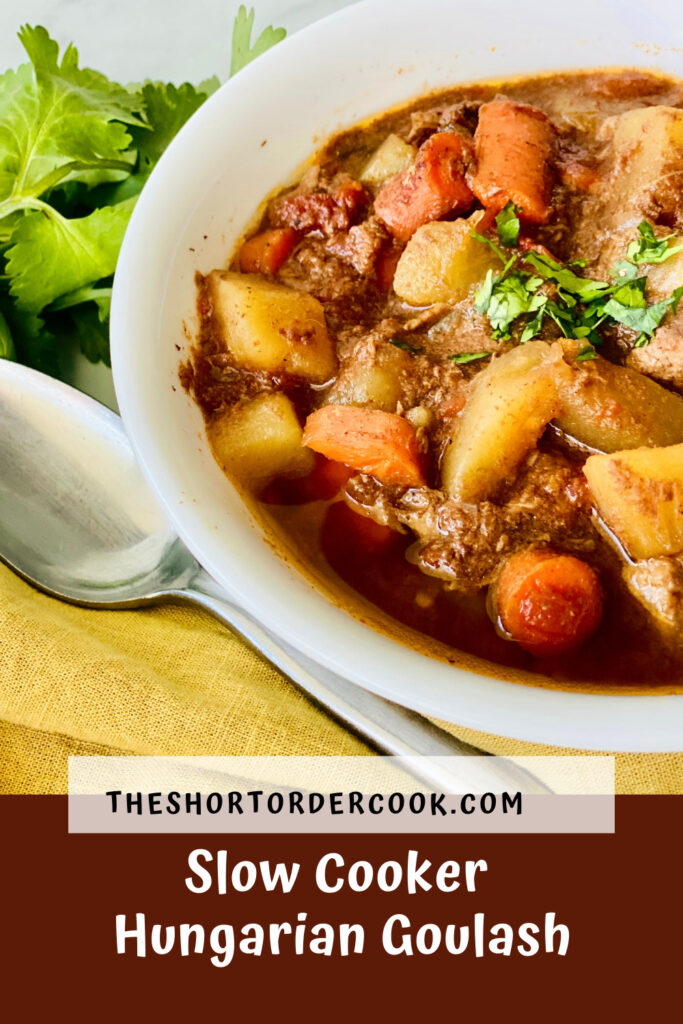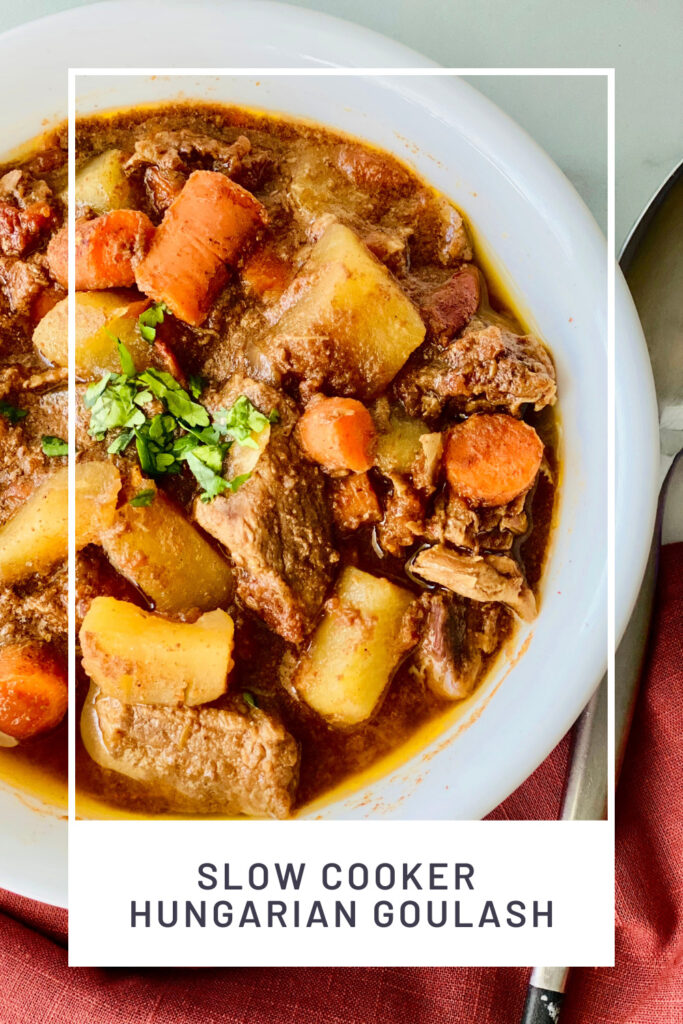 Product Recommendations for this Recipe - #ad:
The Short Order Cook is a participant in the Amazon Services LLC Associates Program. As an Amazon Associate, I earn from qualifying purchases. If you click on a link and make a purchase, I may earn a small commission on the sale at no additional cost to you. This helps with the costs of running the blog. Thank you!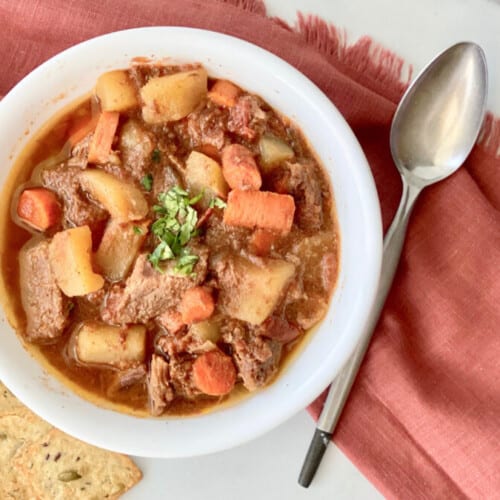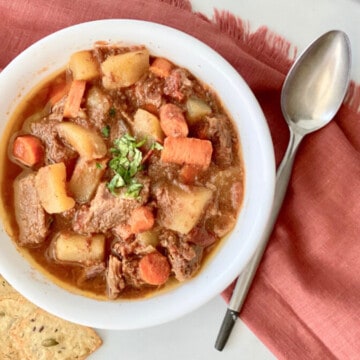 Slow Cooker Hungarian Goulash
This traditional Hungarian goulash is a hearty stew with a bright flavorful paprika broth. Classic goulash is packed with tender beef & vegetables, no pasta or macaroni in this one. Enjoy this comforting Eastern European recipe that is so easy to make thanks to your Crock-Pot
Ingredients
2

pounds

beef stew meat

chuck roast cut into bite-sized pieces

1

onion

diced

2

cups

beef broth

or 2 bouillon cubes & 2 cups of water

1

15oz can

diced tomatoes with juice

2

cloves

garlic

minced

3

Tablespoons

sweet paprika

see notes above for a spicy version

1

teaspoon

salt

½

teaspoon

black pepper

1

bay leaf

1 ½

cups

carrots

diced

2

cups

russet potatoes

peeled & diced

fresh minced parsley

OPTIONAL - for topping

sour cream

OPTIONAL - to stir into goulash when serving
Instructions
Begin by prepping & cutting the meat and vegetables.

To the slow cooker insert, add the meat, garlic, & seasonings.

Next, top the meat with the cut-up onion, carrots, & potatoes.

For the final items, add in the canned tomatoes, including the juice, and the beef broth.

Stir everything to combine in the slow cooker.

Set the slow cooker to high for 4 hours or low for 8-10 hours.

When done cooking, remove the bay leaf. Ladle into serving bowls and top with any optional ingredients. Fresh parsley is great and so is a dollop of sour cream to stir into the stew.

Serve immediately. Enjoy.
Notes
Nutrition Facts
Servings: 8
Amount per serving
 
Calories
705
% Daily Value*
Total Fat 24.7g
32%
Saturated Fat 8.2g
41%
Cholesterol 300mg
100%
Sodium 828mg
36%
Total Carbohydrate 12.6g
5%
Dietary Fiber 3g
11%
Total Sugars 3.4g
 
Protein 102.8g
 
Vitamin D 0mcg
0%
Calcium 107mg
8%
Iron 12mg
67%
Potassium 356mg
8%
*The % Daily Value (DV) tells you how much a nutrient in a food serving contributes to a daily diet. 2,000 calorie a day is used for general nutrition advice.
Did you make this The Short Order Cook Recipe?
Tag @theshortordercookblog (Instagram & Facebook) or @shortorder_cook (Twitter).
I would love to see your latest creations and kitchen adventures.