Smoothies are more than just a fruity drink or a quick breakfast or snack. Freshly blended fruit drinks are a healthy, delicious, & easy way to fill you up with something fast. This sweet & creamy apple banana smoothie is ready in just 2 minutes & all you need is 5 ingredients.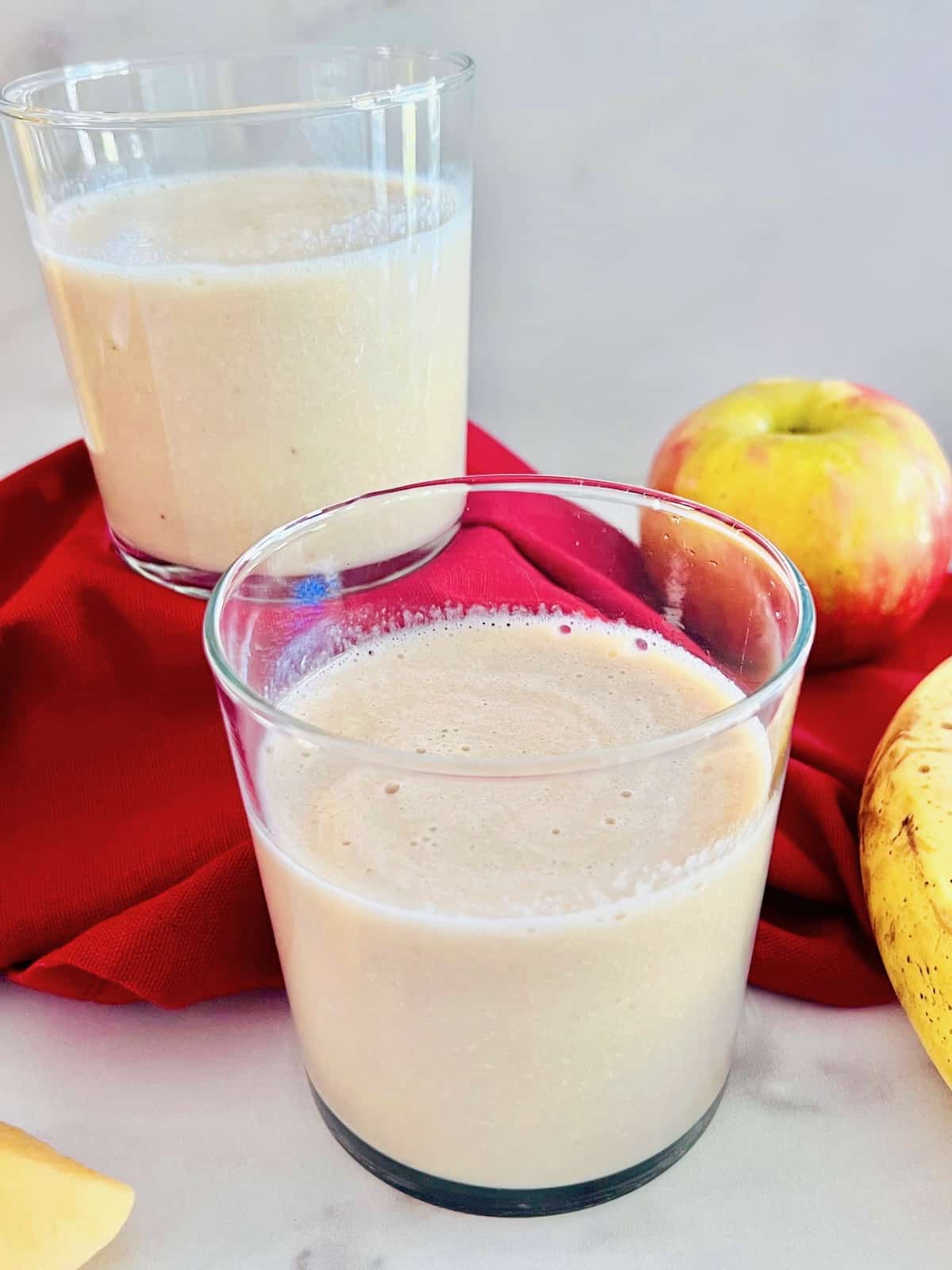 I decided to make this smoothie one day while making some fresh banana juice. I wanted something thicker & had fresh apples to use instead of just apple juice. This blended apple banana smoothie sure hits the spot.
Jump to:
Ingredients for Apple Banana Smoothie
Here are the 5 ingredients needed to make a fruit smoothie with apples & bananas. This recipe uses only real whole-food ingredients. It's a nutritious breakfast, snack, or dessert you can feel good about enjoying any time of day.
There is no ice in this recipe. It will not be watered down, icey, or chunky. The whole milk instead adds the liquid needed to make it velvety & dreamy to sip on.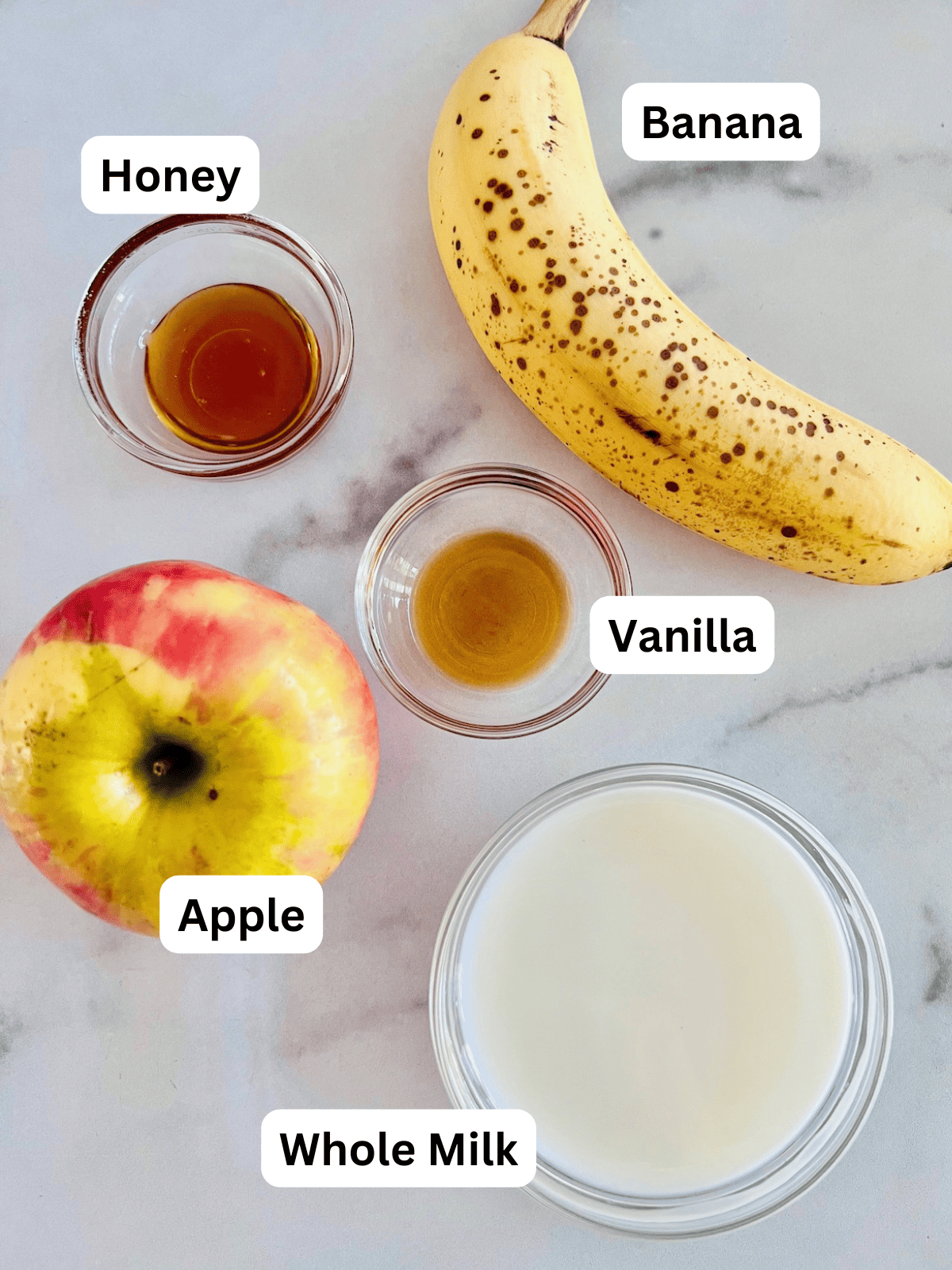 Banana - for thickness & extra-creaminess with a potassium punch
Apple - use your favorite kind; tart or sweet
Honey - for additional sweetness plus an anti-inflammatory & antibacterial boost
Vanilla Extract - a flavor enhancer with floral undertones similar to a slice of apple pie
Milk - whole milk for creaminess, protein, & calcium
optional - dash of cinnamon or nutmeg
See the recipe card for quantities & full instructions.
How to Blend an Apple Banana Smoothie
This quick recipe is ready to whirl up in your blender in just a minute or two. Begin by peeling your apple and removing the core. Then chop it up into large chunks & throw them in your blender.
Next add the peeled banana, honey, vanilla, & whole milk into the blender container. Add the optional dash of cinnamon and/or nutmeg for a taste similar to yummy apple pie. Place the lid on tightly.
Blend on medium for 1 minute. The smoothie should be well combined, thick, & luscious. My Ninja blender chops & purees this up in 30 seconds.
Pour it into one tall glass or two small ones to share. Add a straw and enjoy.
Hint: This smoothie is best enjoyed immediately. Both bananas & apples oxidize when exposed to air. The discoloration is still safe to eat but it may not look as fresh & pretty.
Substitutions & Variations
This smoothie is pretty simple & has classic ingredients. There are a few changes you can make using alternate ingredients or adding to it for a personal touch.
Whole Milk - instead of whole milk you can use nonfat or low-fat but keep in mind it will have a thinner consistency.
Milk - instead of cow's milk use oat milk, almond milk, or soy milk for a non-dairy option.
Honey - use maple syrup instead if you have an allergy.
Protein - for added calories & a protein-packed recipe, add a scoop of your favorite whey or vegan protein powder. For more drinks for weight gain, try more high-calorie smoothie recipes.
Thick - add ½ cup of Greek yogurt for a thicker smoothie.
This drink is already gluten-free, grain-free, & vegetarian. If you wish to have a vegan version, see the milk & honey substitutions above.
Equipment
Having a good quality blender for making smoothies is important. Here are the blenders that are top-rated for making smoothies & other drinks like cocktails.
The Short Order Cook participates in the Amazon Services LLC Associates Program. As an Amazon Associate, I earn from qualifying purchases. If you click on a link and make a purchase, I may earn a small commission on the sale at no additional cost to you. This helps with the costs of running the blog. Thank you!
Storage
This smoothie is best enjoyed right away. The banana and apples in the blended drink will separate & also discolor due to oxidation.
Top Tip
This smoothie is a great way to still enjoy & use up imperfect, bruised, or overripe fruits. This blended drink is a great way to use up bruised bananas or soft apples - it will taste just as good & be just as healthy. Or make some banana ice cream instead if you are up for decadence versus healthy eating - no judgment!
FAQ
Is it healthy to blend milk with fruits?
For a combination that is good for you and delicious most fruits go well with milk. The exception is citrus & acidic fruits like orange, grapefruit, lemons, & strawberries. The citric acid and milk will coagulate and not be desirable & can lead to acid reflux & heartburn. This apple banana smoothie is made without orange juice for that reason.
What other fruits can I add to this smoothie recipe?
Many other fruits can be added to this for some variations of a great base. Here are some additional ideas to either add an entire piece of the fruit or whatever equals 1 cup of fresh fruit. (make sure to remove peels, cores, or seeds where applicable)
- Apple Banana Pear Smoothie
- Apple Banana Blueberry Smoothie
- Apple Banana Mango Smoothie
Related
Looking for other recipes like this? Try these other smoothies & drinks:
Apple Banana Smoothie
For a creamy & fresh apple banana smoothie, blend this 5-ingredient drink in just 5 minutes. It's a healthy, quick, easy, & tasty recipe.
Ingredients
1

banana

1

apple

¾

cup

whole milk

1

tablespoon

honey

1

teaspoon

vanilla extract

dash

cinnamon or/and nutmeg

optional
Instructions
Peel, core, & cut the apple into large chunks. Add it to your blender bowl or cup.

To the blender bowl add the peeled banana, honey, milk, & vanilla. Sprinkle in the optional cinnamon and/or nutmeg if using.

Place the lid on tight & affix it to the blender base. Blend on high for 1 minute. The smoothie should be smooth, thick, & creamy.

Pour into one large glass or two small glasses to serve. Add a straw & enjoy.

This apple banana smoothie is best enjoyed immediately while it is fresh.
Notes
Nutrition Facts
Servings: 2
Amount per serving
 
Calories
203
% Daily Value*
Total Fat 3.4g
4%
Saturated Fat 1.8g
9%
Cholesterol 9mg
3%
Sodium 39mg
2%
Total Carbohydrate 41.9g
15%
Dietary Fiber 4.3g
15%
Total Sugars 32.5g
 
Protein 3.9g
 
Vitamin D 37mcg
183%
Calcium 108mg
8%
Iron 1mg
4%
Potassium 470mg
10%
*The % Daily Value (DV) tells you how much a nutrient in a food serving contributes to a daily diet. 2,000 calorie a day is used for general nutrition advice.