Summer at my house means making the best homemade ice cream recipes in our ice cream maker. Don't get me wrong, we use it all year long but my Cuisinart ice cream maker sure does do double duty when the weather heats up outside. We love to make basic recipes like peaches & cream or get crazy and try peanut butter and throw in chopped-up candy bars and mini chocolate chips. Ice cream is typically made with three main ingredients; sugar, cream, & milk - then the fun begins with all the yummy stuff you add to it.
If you are like me you are always ready to find the best ice cream machine recipes for any time of year. I reached out to many fellow food bloggers and was blown away by all the amazing recipes they shared. I knew I had not only hit the gold mine but had to share all these ice cream maker ideas with my readers. Today is your lucky day so I hope your ice cream maker insert is frozen and ready to churn out some of the best ice creams you have ever made.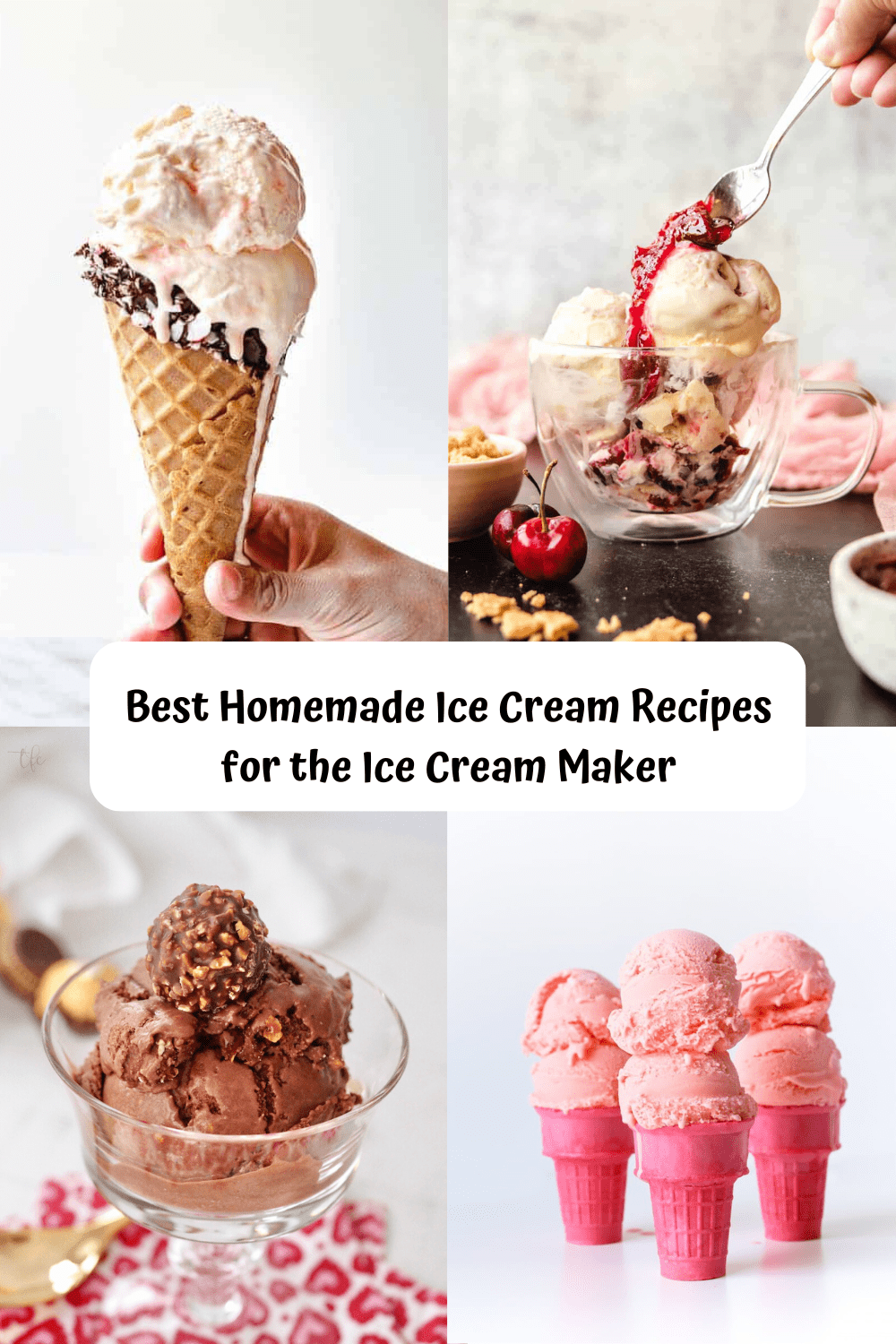 To make it easy to find your new favorite or multiple favorites, I have created some categories. There are so many wonderful kinds of ice cream to make and try out, that you may not know where to begin.
So if you have a dietary need like gluten-free, egg-free, dairy-free, or low-carb/keto, there is a great ice cream recipe for your ice cream maker here for you. Some ice cream recipes have eggs and some are made without them. There are even a few vegan recipes made without milk or cream.
There are also family favorites with classics like chocolate, vanilla, or fruits or fun & tasty mix-ins. You can also churn up some great kid-friendly or boozy and gourmet ice creams for the adults. No matter which of these great recipes you choose to serve your friends and family, everyone will agree these are some of the best homemade ice creams ever.
Jump to:
Family Favorite Ice Cream Recipes
All of these recipes are found on the blog here. We love ice cream and using the Cuisinart I got as a wedding gift years ago. (no, I won't tell you how many years ago that was but let's just say the Cuisinart Ice Cream Maker is quality and lasts for many many years!).
Here are some of our family favorites. When summer comes around, mango ice cream is our favorite. These recipes can all be made in a 1.5-quart ice cream maker which is what I have.
Ice Cream Recipes with Fruit
Fruity flavors are classic when it comes to ice cream. If you want something tropical, with citrus, berries, or unique there is a homemade recipe here for you. When any of these fruits are in season, grab all you can and get your ice cream maker ready.
Strawberry (fresa, fraise, fragola, morango, etc) may be one the most common flavors in all parts of the world and for good reason, it's delicious and pretty with a sweet-tart combination. There are two great strawberry versions below for you to try. But try something new like soursop or passion fruit. So many other fruits make great ice cream too. Here are recipes for the best ice cream with fresh fruit.
Chocolate or Caramel Ice Cream Recipes
For decadent ice cream, my first thought is something rich and chocolatey or sticky sweet with caramel. The recipes below have just that and more. Whether you love dark or white chocolate, there is a summer dessert here for you. Plus every caramel lover will delight in the ice cream recipes shared here.
Ice Cream Recipes with Mix-Ins
These recipes for great ice cream with fun mix-ins will be the favorite for kids of all ages. These ice cream maker ideas have all sorts of fun, tasty, sweet, or salty ingredients. They may include cookies, nuts, cake, candies, and more. These are some seriously amazing ice creams that make any day a special day.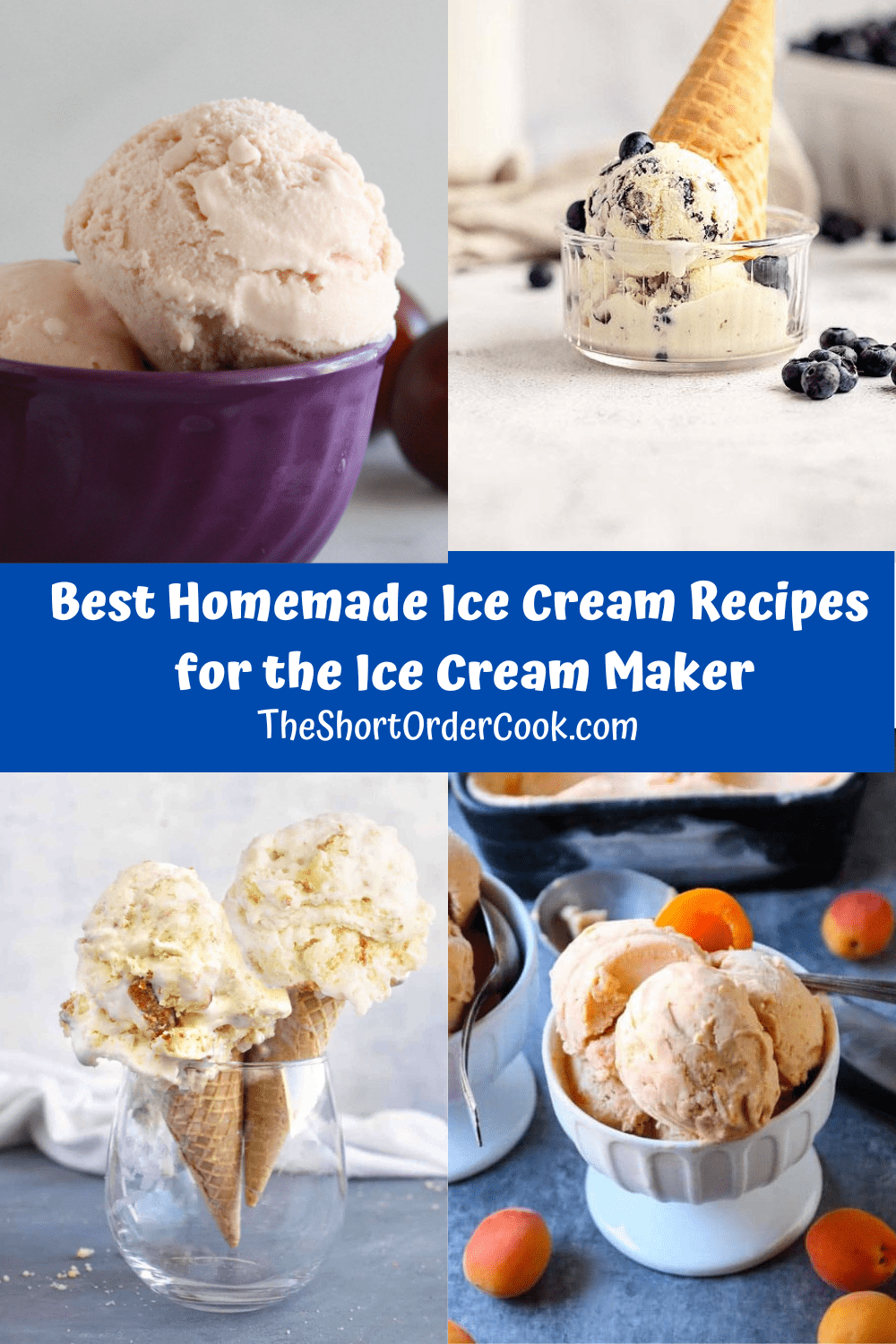 Kid-Favorite Ice Cream Flavors
Kids of all ages will love these flavors of ice cream. There are smooth and creamy basic flavors like strawberry and vanilla that toddlers to teens will enjoy. There are also colorful and fun homemade ice creams perfect for a child's birthday party. No matter when you make these kid-approved recipes, the ice cream will be deliciously messy & sweet.
Adult-Favorite Ice Cream Recipes
These complex, gourmet, and often boozy ice cream flavors will please the adults you know. So if you like your alcohol with a bit of ice cream, these recipes are for you. They will make any happy hour into dessert happiness. There are a few sophisticated unique flavors too that I myself cannot wait to try - like the
Low-Carb or Vegan Ice Cream Recipes
Here are a few final ice cream recipes to round out this amazing list. For those on a low-carb or keto diet, you can try my Keto Mason Jar Coffee Ice Cream which is made without an ice cream maker. But for those that love slow-churned homemade ice cream, these keto or vegan-approved recipes are for you.
Equipment
To make the best creamy ice cream that is airy & rich, an ice cream maker is needed. The churning is what really ensures homemade ice cream is creamy and not firm and icy. Here are some of the best ice cream makers you can buy, including my favorite - the 1.5 quart Cuisinart model that I have had for almost 20 years it is still going strong! I also share my favorite ice cream scoop or spade you can buy. These are the best for scooping homemade ice cream.
The Short Order Cook is a participant in the Amazon Services LLC Associates Program. As an Amazon Associate, I earn from qualifying purchases. If you click on a link and make a purchase, I may earn a small commission on the sale at no additional cost to you. This helps with the costs of running the blog. Thank you!