These fun & tasty ideas are the perfect way to top your ice cream sundae or cone. With so many choices, these best topping ideas for ice cream will for sure bring smiles to the faces of every ice cream fan. I don't know about you but ice cream is one of my favorites and there is something special about adding various toppings to a scoop that makes it a special dessert.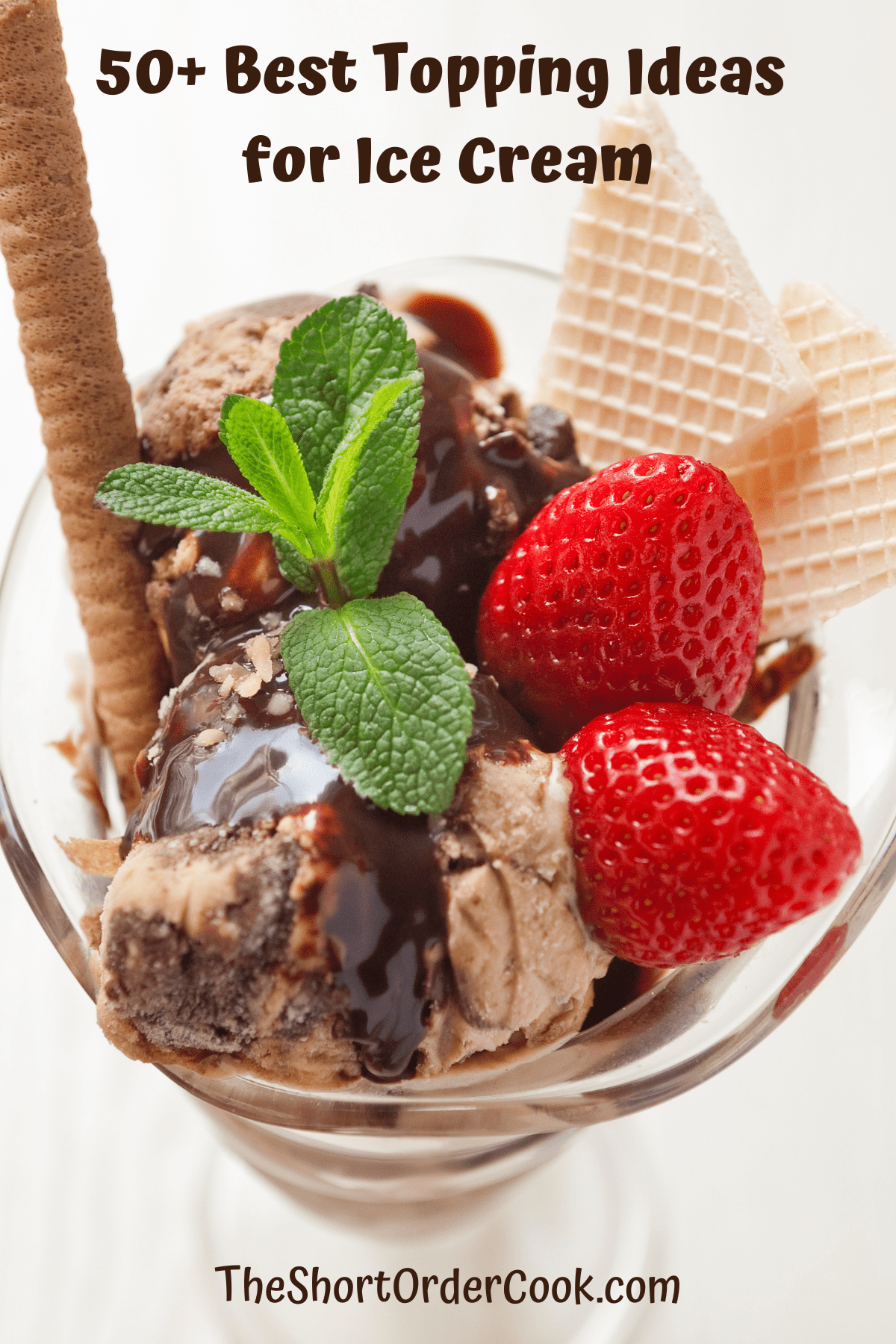 Whether you love sweet sticky sauces, something chocolatey, or colorful toppings, there is no better way to complete a decadent sundae or top an ice cream cone. I am sharing the best recipe or topping ideas to add something sweet, sour, nutty, fruity, unique, creamy, or hot & gooey! So whether you drizzle on some chocolate sauce, shake on some sprinkles, or pile on the fruit, grab a big spoon and be ready to dig in.
Jump to:
These classic and unique topping ideas for ice cream include everything from hot fudge sauce to crumbled bacon and everything in between. Below are the best store-bought ice cream toppings as well as easy and tasty homemade recipes. This list is great for a variety of garnishes, sauces, and more. I recommend all these ice cream toppings for parties, birthdays, summer cookouts/BBQs, or Sunday sundaes (a weekly tradition at our house!)
There is no wrong way to make a sundae or top an ice cream cone. So go for it and don't forget the cherry on top. All the best toppings are listed here for you to build the ultimate sundae or ice cream cone. These classic, unique, healthy, or kid-friendly topping choices are tasty, colorful, & fun. Plus plenty of toppings to choose from for any diet whether you are gluten-free, keto, diabetic, nut-free, vegan, or dairy-free.
Get ready to set up the ultimate ice cream bar with these fixings - get scooping - make a mess - have brain freeze & enjoy - that's part of the fun!
Classic & Popular Ice Cream Toppings
These simple ideas are the classic ways to top ice cream. They turn a traditional scoop of vanilla ice cream into a wonderfully bright & decadent dessert. So gather up the ingredients and build your own sundae.
HOT FUDGE - that warm, gooey, rich, & thick chocolatey classic sauce
CARAMEL SAUCE - buttery, sticky, & sweet caramel sauce
STRAWBERRY SAUCE - the dark pink fruity sauce is always a hit
SODAS - the classic Root Beer float or a fun Orange Fanta for creamsicle flavor
WHIPPED CREAM - the fluffy topping every sundae needs
CHOPPED PEANUTS - sprinkle on a top or roll a dipped cone in these
CHOCOLATE CHIPS - literally the best way to add chocolate to just anything
TOFFEE - chop up your favorite toffee candy, such as Heath or Almond Roca
M&Ms - the mini ones are our favorite to sprinkle on ice cream
CRUSHED OREOS - the classic cookies & cream treat
WAFER COOKIES & ROLLS - the flaky crispy classic ice cream garnish
EDIBLE COOKIE DOUGH - level up your ice cream treat with gobs of this
MARASCHINO CHERRY - gotta have a cherry on top!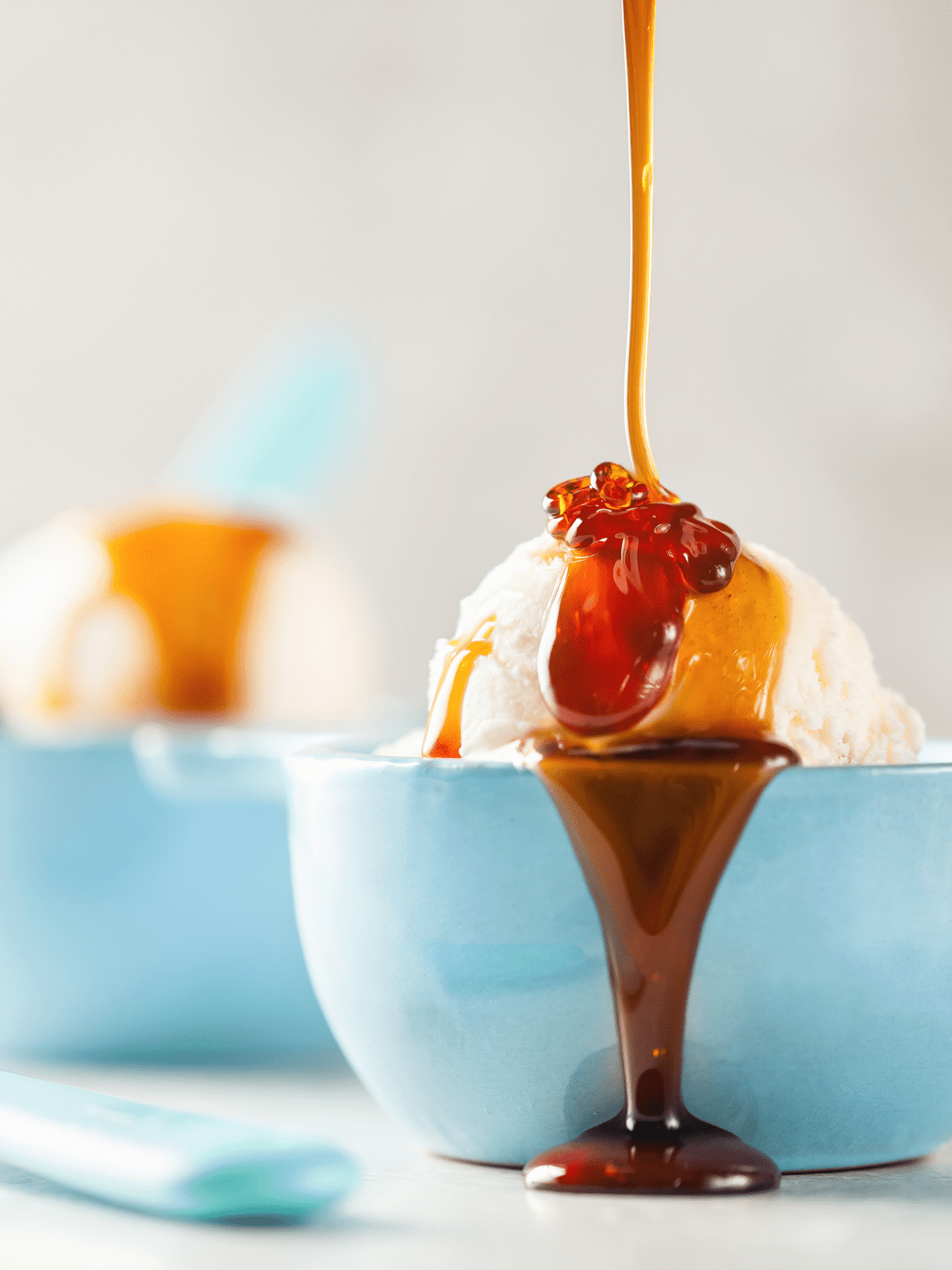 Crazy & Unique Ice Cream Toppings
For a gourmet sundae or a unique scoop with crazy weird toppings try these amazing ideas. Many combine sweet, savory, & salty flavors together for a dessert that hits all the yummy notes. I recently tried some hot sauce on vanilla ice cream - WOW! I have also always loved an affogato. Plus I recently indulged in a sundae topped with peanut butter & bacon - SWEET SAVORY HEAVEN! Try one or more of these and delight your taste buds.
ESPRESSO - pour a shot over ice cream for a classic affogato
LIQUOR - pour a shot of Kahlua, Frangelico, Bailey's Irish Cream, or Spiced Run
CRUMBLED BACON - a salty savory touch with sweet ice cream is divine
CRACKER JACK/CARAMEL CORN - crunchy sweet & salty fun
SESAME SEEDS - little bites of nutty & crunchy goodness
POTATO CHIPS - another salty crunchy layer that is irresistible
PEANUT OR COOKIE BUTTER - creamy & dreamy
NUTELLA - chocolatey hazelnut richness
CHOCOLATE-COVERED PRETZEL - a perfect combo of chocolate, salt, & crunch
CRACKERS - salty & flaky ones like Ritz, Cheez-its, & Saltines are delish
HOT SAUCE/SALSAS - fruit salsas for sweet heat or hot sauce for peppery cool
HOT CHEETOS - crushed and dip your cone in for color, crunch, & heat
FRESH BASIL & OLIVE OIL - an Italian combo that is earthy, fruity, & aromatic
BERRIES & BALSAMIC VINEGAR - another Italian combo not to be missed
FLAKY SEA SALT - this one I love atop hot fudge or caramel sauce
PIE FILLINGS -spoon on homemade or canned apple, peach, cherry, blueberry, etc
LEMON CURD - add some sweet and sour tang with this citrus spread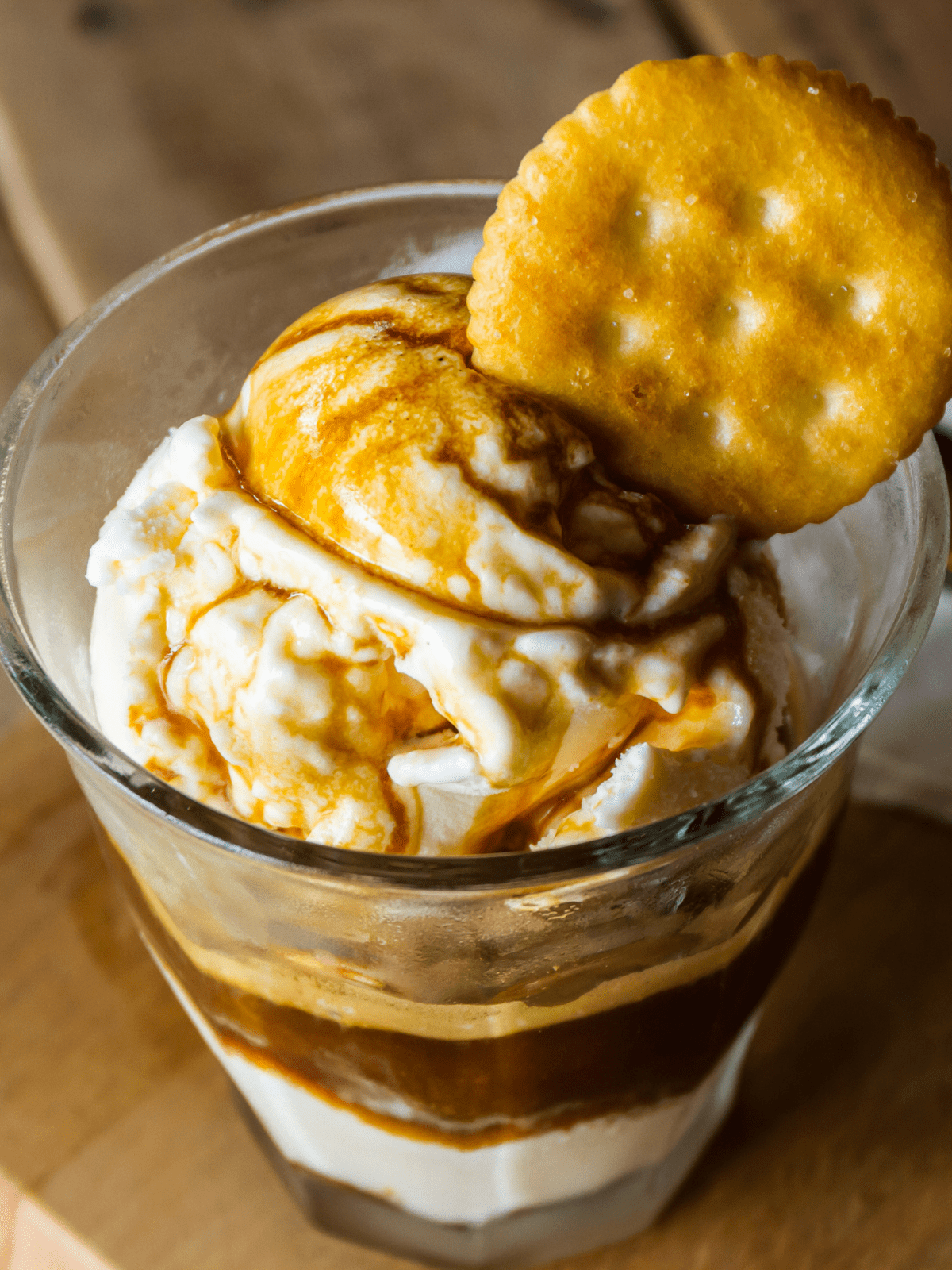 Healthy Ice Cream Toppings
Ice cream can be a healthy dessert option. If you are on a low-carb, keto, or diabetic diet, ice cream is often enjoyed with store-bought or homemade sugar-free flavors. The recipe below for my Keto Mason Jar Coffee Ice Cream is full-fat, full-flavor, & perfectly low-carb. Whether you enjoy this one or another healthy ice cream option, here are great topping ideas including fruits, and nuts, and many are low-calorie or low-sugar.
UNSWEETENED COCONUT FLAKES - nutty flavor with so much texture
FRESH MINT - add hand town mint leaves for that cool natural flavor
CRUSHED PINEAPPLE - for a tropical twist that is part sauce part fruit
FRESH BERRIES - these low-carb fruits add color and so much flavor
DICED STONE FRUITS - in summer nothing is better than peaches and plums
FREEZE-DRIED FRUITS - Trader Joe's bananas crushed are to-die-for
FRUIT PUREES - blend up for something saucy using mangoes, berries, etc
EDIBLE FLOWERS - not just fancy & beautiful but can be quite yummy
RAISINS/CRAISINS - the unsweetened ones add their own sweet touch
CHOPPED NUTS - favorites are macadamia, pistachios, pecans, & almonds
PROTEIN POWDER - dip & roll your scoop into one like a yummy chocolate kind
CACAO NIBS - for a chocolatey crunch without all the sugar
SUGAR-FREE CHOCOLATE - so many great brands to chop or sprinkle on
SUGAR-FREE COOL WHIP - for a creamy topping all good sundaes need
DATE SYRUP - for natural sweetness with a sticky gooeyness
SUGAR-FREE SAUCES - chocolate or caramel, like those at ChocZero are the bomb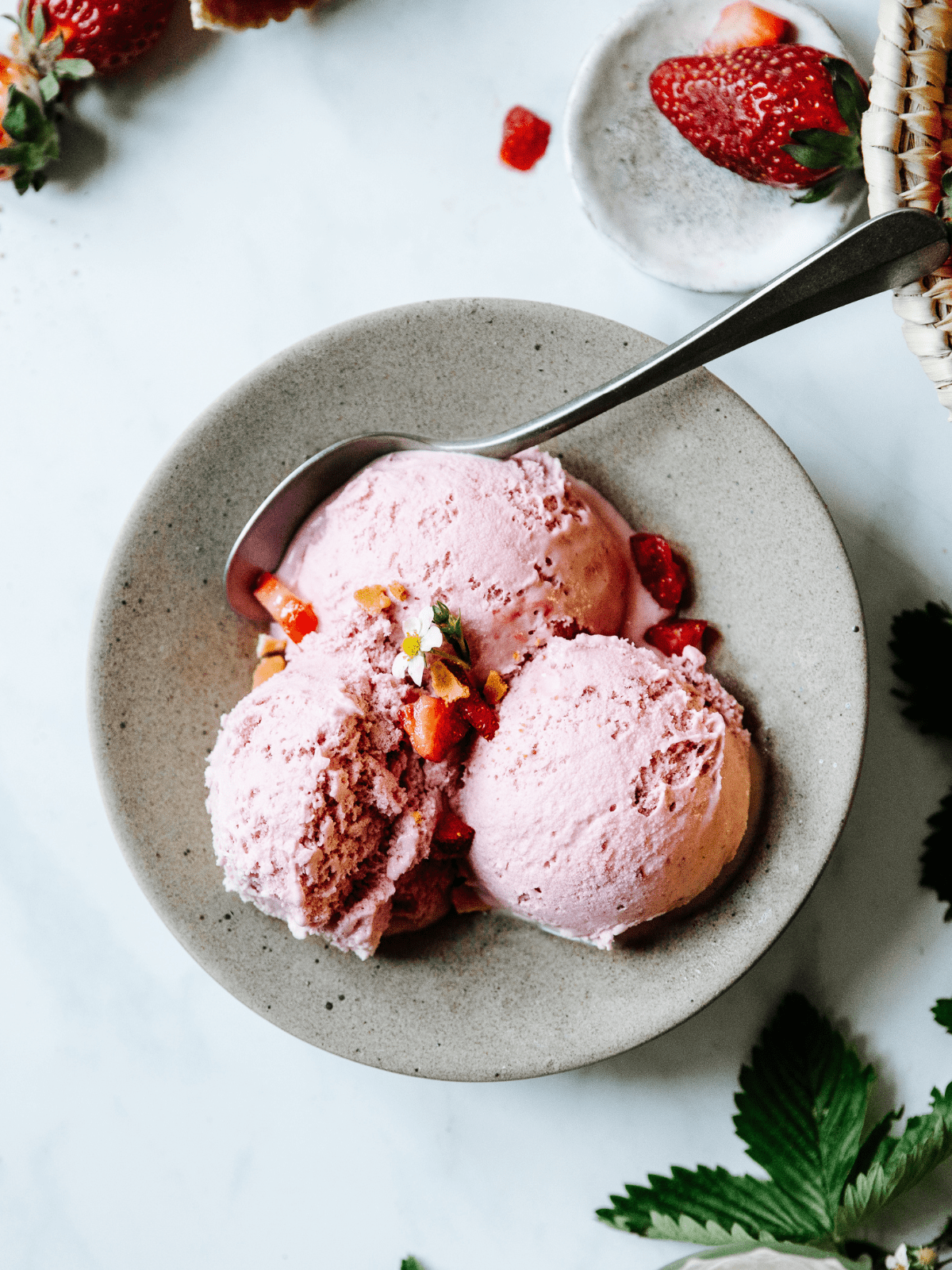 Kid-Favorite Ways to Top Ice Cream
Kids of all ages cannot resist an ice cream sundae. When they get to make their own from a sea of toppings, sauces, and decorations their eyes will light up and their tummies will be happy. Here are some favorites that my kids love - oh yeah, and I cannot resist these either!
SPRINKLES - sprinkles of any shape or color are a must-have
GUM BALLS - for kids that love bubble gum ice cream, throw some of them on
GUMMIES - from classic bears to sour worms these chewy guys are a hit
CANDY BARS - chop up favorites like peanut butter cups, Snickers, & Twix
MARSHMALLOWS - add some fluffy sweet minis or spoon on some sticky fluff
CEREALS - dip cones into favorites link Fruity Pebbles, Lucky Charms, & corn flakes
GRANOLA/TRAIL MIX - one ingredient and so much flavor and texture
COOKIES - crush favorites like Chips Ahoy, Circus Animals, or graham crackers
BROWNIES/CAKE - crumble on brownie bites or cake chunks
MAGIC SHELL - the magical hard coating is wonderful on cones & sundaes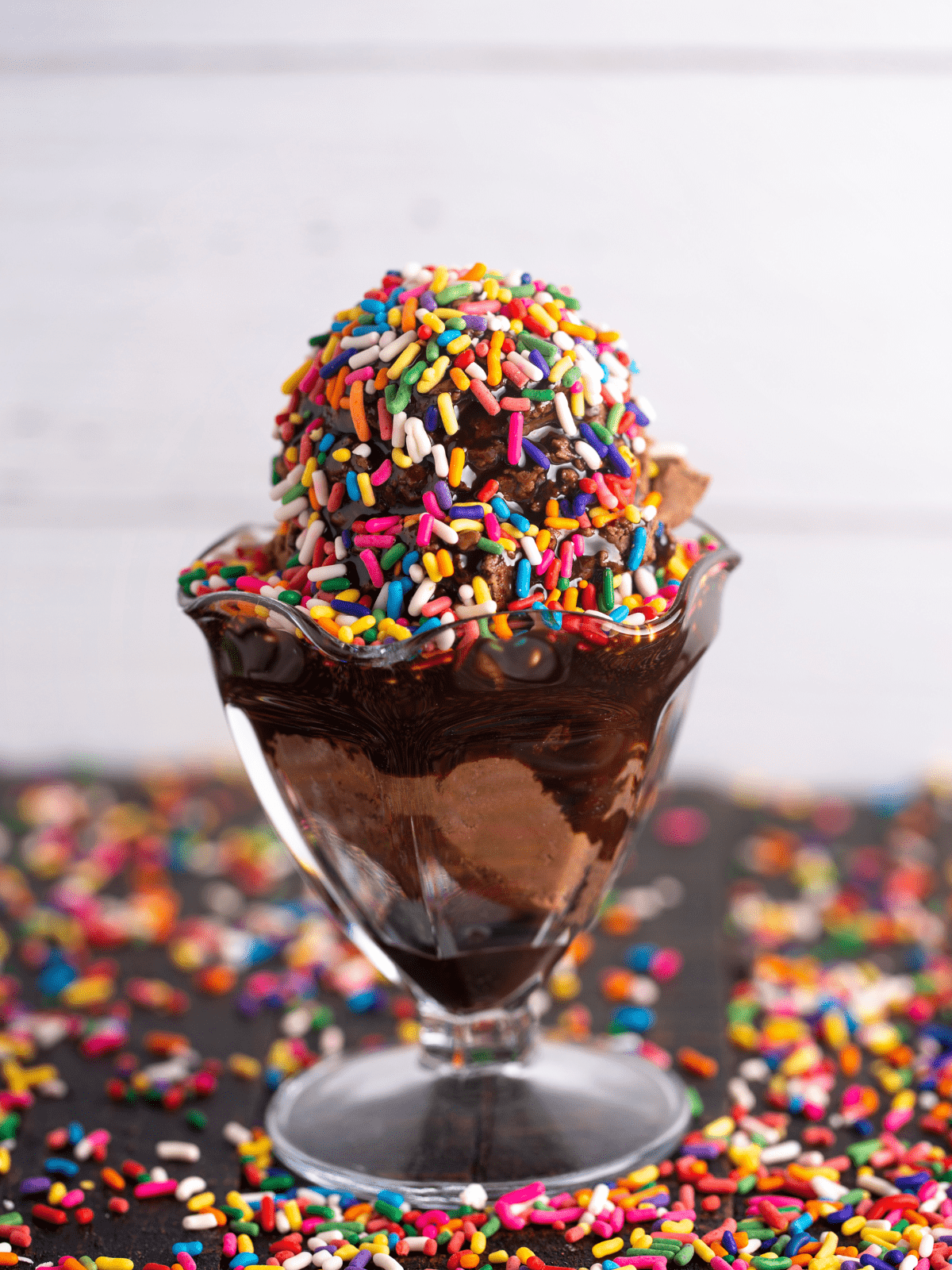 So what did you decide to add to your ice cream to make it your own? I hope you found something new to love or mixed up several for a new combination. No more boring ice cream sundaes when you try a few things from this list, that is for sure. Enjoy endless possibilities with these sundae and ice cream cone dippers or toppings.
I would love to hear about and see your concoctions - send me an email or post on my FaceBook page.
Ice Cream Recipes
Here are a couple of ice cream recipes from the blog. They are great for a base with many of the ideas shared here today. The keto coffee ice cream is unreal with bacon bits for example. You also must make the Mango Ice Cream and top it with whipped cream, a drizzle of rum, and coconut flakes for tropical delight. If you have an ice cream maker, here are a bunch of the BEST HOMEMADE ICE CREAM recipes you can find.
Best Store-Bought Toppings
Here are some of the toppings for ice cream that I mentioned above. You can find them in your local grocery or specialty stores, or order them online. These are my favorites and are kid-approved - HINT: if you have kids, let them shop with you and pick out something they will love too (my kids always gravitate to sprinkles!) Plus some fun products to make your sundae building easy & pretty. Including my favorite gluten-free ice cream cone.
The Short Order Cook is a participant in the Amazon Services LLC Associates Program. As an Amazon Associate, I earn from qualifying purchases. If you click on a link and make a purchase, I may earn a small commission on the sale at no additional cost to you. This helps with the costs of running the blog. Thank you!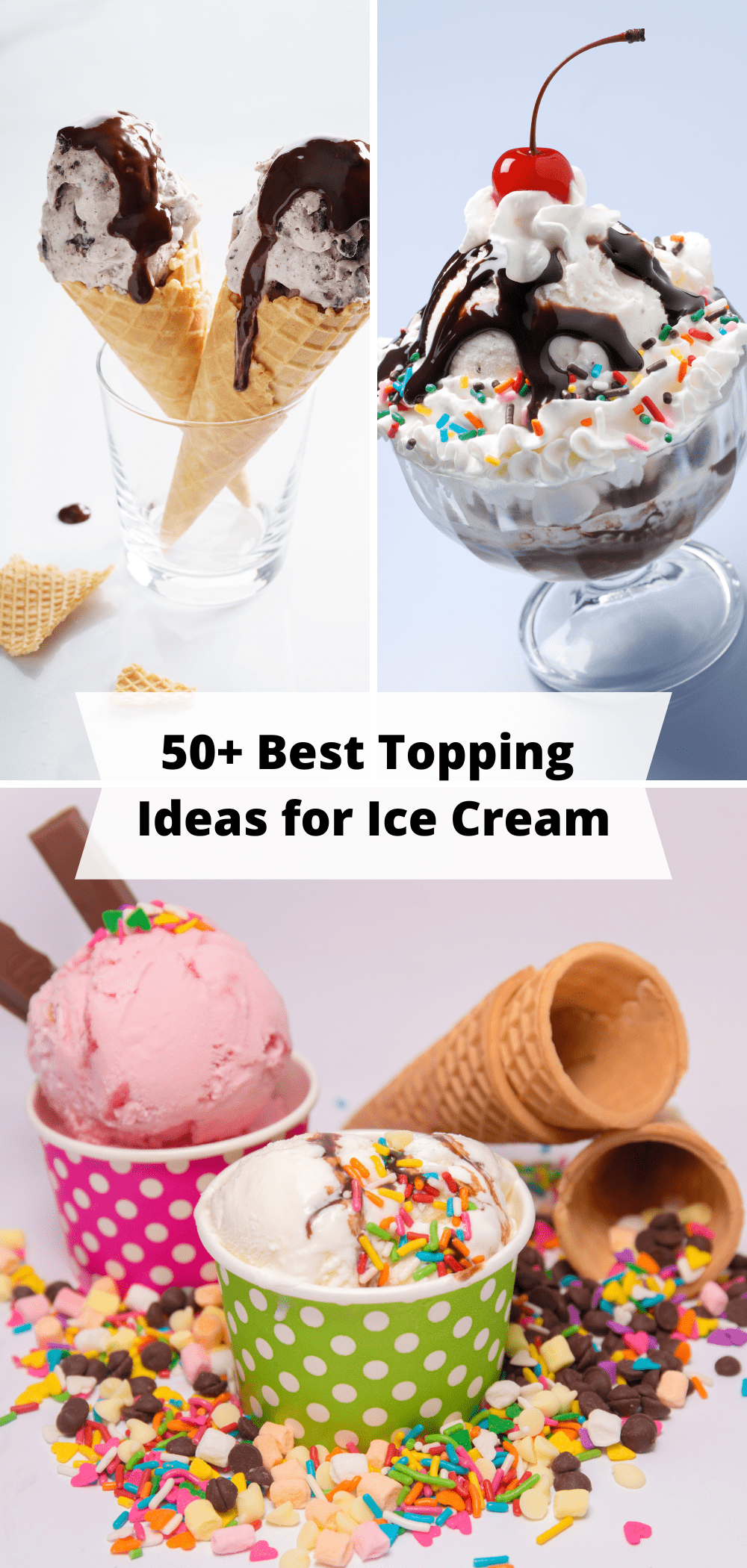 50+ Best Topping Ideas for Ice Cream
All the best toppings, sauces, and garnishes for ice cream. Build your own sundaes or dip your own cones into one of these many topping ideas. There are healthy, unique, crazy, classic, and kid-friendly toppings that just about everyone will love. Over 50 ways to top ice cream including gluten-free, keto, low-carb, sugar-free, nut-free, dairy-free, & vegan choices.
Equipment
Ice cream scoop

Ice cream sundae cups or cones
Ingredients
Hot Fudge

Potato Chips

Mini Marshmallows

Hot Cheetos

Edible Cookie Dough

Sprinkles

Espresso

Chopped Nuts

Crumbled Bacon

Granola

Gum Balls

Whipped Cream

Cereals

M&Ms
Instructions
Scoop your favorite ice cream into bowls or onto a cone.

Top with any of these sauces, toppings, garnishes, and more.