For a hearty soup, this easy slow cooker chicken and corn soup recipe is just the thing you need. It is creamy & filling packed with sweet corn, tender chicken, and vegetables. This recipe for homemade corn soup with chicken is so easy to make and only requires a few minutes prep and then everything is dumped in the Crock-Pot. The cream, cream cheese, and toppings put it over the top for a fantastic creamed soup to love in winter but also all year long. You can even use fresh corn in summer for this chicken soup recipe. It is a complete comforting meal in a bowl perfect for lunch or dinner any time of year.
This homemade creamy chicken corn soup is thick and rich thanks to the heavy cream and cream cheese. It is thick and hearty like a stew or chowder but has no potatoes. It is wonderful topped with fresh chives, bacon, or cheese for the best cheesy chicken and corn chowder-like soup recipe. The touch of cayenne pepper and thyme adds some heat and herbs for a soup flavor similar to a pot pie which everyone will love. If you love this, you will also love my POT PIE SOUP recipe which is fantastic with any leftover protein or vegetables only.
INGREDIENTS FOR CHICKEN & CORN SOUP
The beauty of this recipe is the ingredients are common to many households and you may have most of the ingredients already on hand in your pantry, freezer, or refrigerator. I am using boneless skinless chicken breasts for this chicken and corn soup but you can use boneless skinless thighs as well. You can use canned or frozen corn for this recipe. The recipe needs 3 cups of chicken broth so you can use some already made or make some using bouillon cubes or Better-than- Bouillon as I did.
Then for the vegetables that add to make this an even more complete bowl of soup fit enough as a meal on its own. The classic onion, carrots, and celery are diced small. You can buy them precut, in the refrigerator sections. This soup recipe is so easy and perfect to use Trader Joe's mirepoix to make. There is no roux made with flour in this soup; therefore this chicken and corn soup is gluten-free. The recipe calls for heavy whipping cream and cream cheese to create that thick velvety creamed broth that makes this slow cooker chicken and corn soup so yummy. It is finished off with some fresh garlic, salt, pepper, thyme, and cayenne pepper for deep flavors that brighten the creamed chicken broth.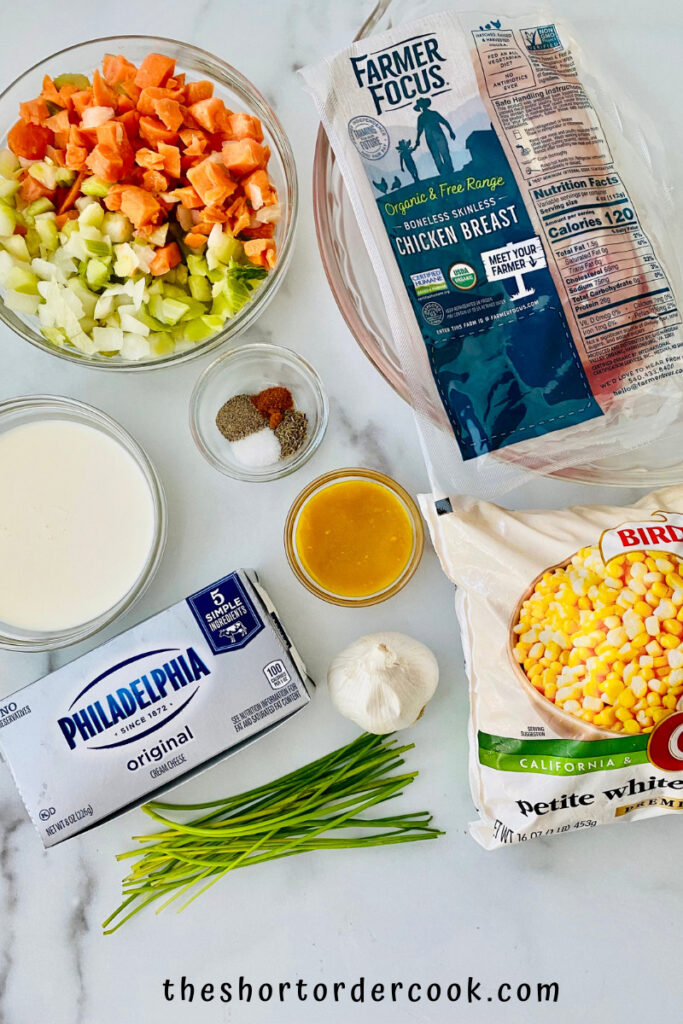 HOW TO MAKE SLOW COOKER CHICKEN & CORN SOUP
Once you have everything cut up, this is basically a dump-and-go soup recipe for your Crock-Pot. In a large Crock-Pot slow cooker, add the cut ingredients. Next, add the drained or frozen corn and stir to combine. This is actually a low-carb chicken soup even with the corn in it. It comes in at only 7.4 net carbs per serving of this chicken corn soup.
If you do not have store-bought chicken broth in a can or box, next make the broth. Heat the water in a microwave-safe container until hot. Add the bouillon and stir to dissolve. Cover the ingredients with the broth. Finally, add and stir in the spices through cayenne pepper.
HOW LONG TO COOK CHICKEN & CORN SOUP IN THE SLOW COOKER
You can cook this chicken and corn soup recipe on either low or high in your CrockPot. Set your slow cooker to low for 8 hours or high for 4 hours.
Once the soup is ready, add the heavy cream and diced cream cheese. Stir to combine & melt in the soup. Continue to let it warm up in the slow cooker for 30 minutes to heat through and thicken up a bit.
HOW TO SERVE & STORE CHICKEN & CORN SOUP
Once the soup is ready to eat, ladle the homemade chicken corn soup into a serving bowl. Top with fresh chives and enjoy. Additional toppings for this slow cooker chicken corn chowder include cooked & crumbled bacon, diced ham, a dollop of sour cream, a dash of hot sauce, or shredded cheese. I like adding both bacon and shredded cheddar cheese for the ultimate cheesy bacon chicken corn soup. Heaven in a bowl!
You can store leftovers in your refrigerator. Seal chicken and corn soup into air-tight Ziploc bags or containers and place it in your refrigerator for up to 5 days to enjoy. To reheat, do so on the stove or in the microwave until your desired temperature. This soup can be frozen but with dairy products, it does not do as well. You can freeze it in air-tight Ziploc bags or containers for up to a month. If you freeze this creamed chicken corn soup, be sure to thaw it in the refrigerator for 1-2 days. To reheat it once frozen, you may want to add more cream to it again to get that creamy texture that will be lost once it is frozen.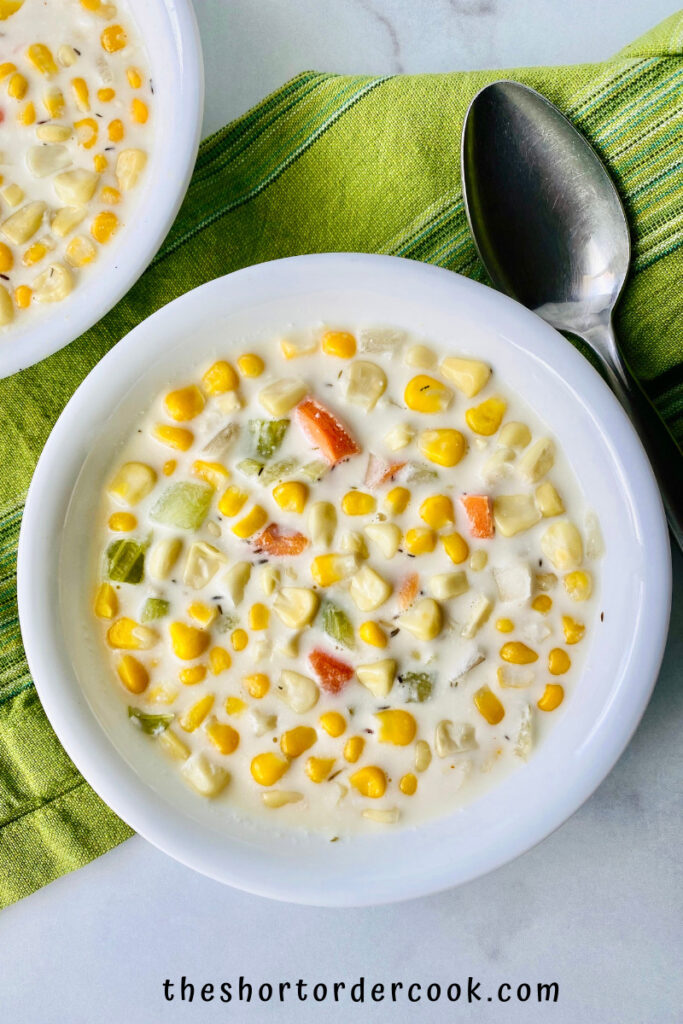 WHAT TO SERVE WITH CREAMED SOUPS OR CHOWDERS
All of these recipes will be a great side dish or accompaniment to enjoy with chicken & corn soup. These recipe ideas are the best to make, serve, and eat with any creamed soup or chowder. Add one or more for a complete meal that will please everyone at the table.
What Makes a Soup a Chowder?
Do you need potatoes to call it chowder? The short answer is no. If you want to know what makes a soup versus chowder, it is mostly based on the size of the ingredients. It is also more common for chowders to be cream based such as this slow cooker chicken and corn recipe. For all the information, read more on the Difference Between Soup and Chowder.
PIN FOR SAFEKEEPING & SHARING!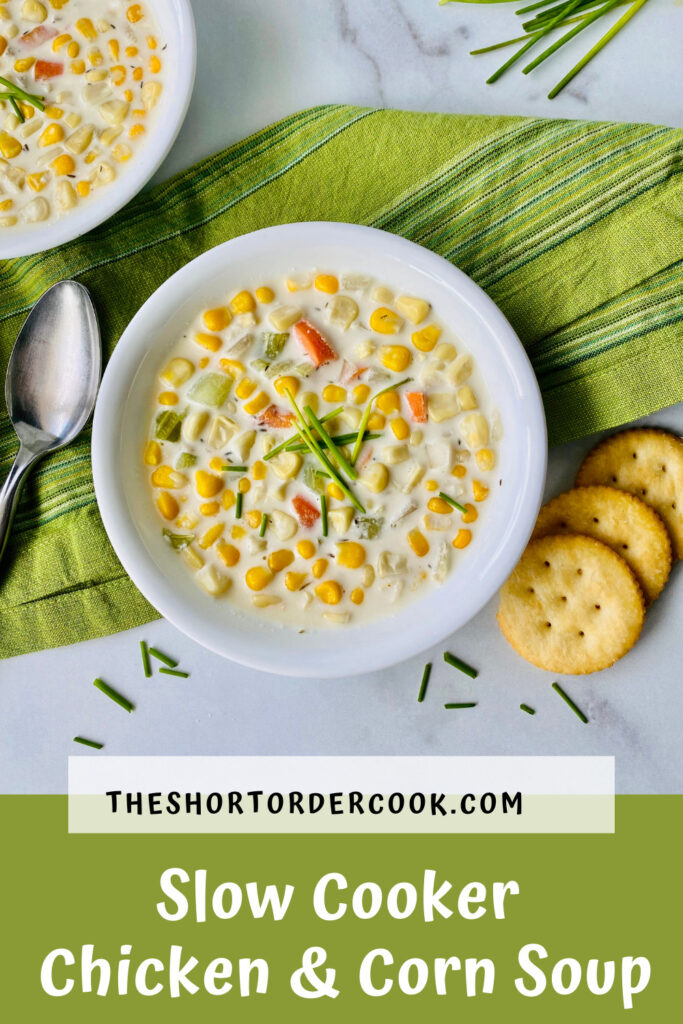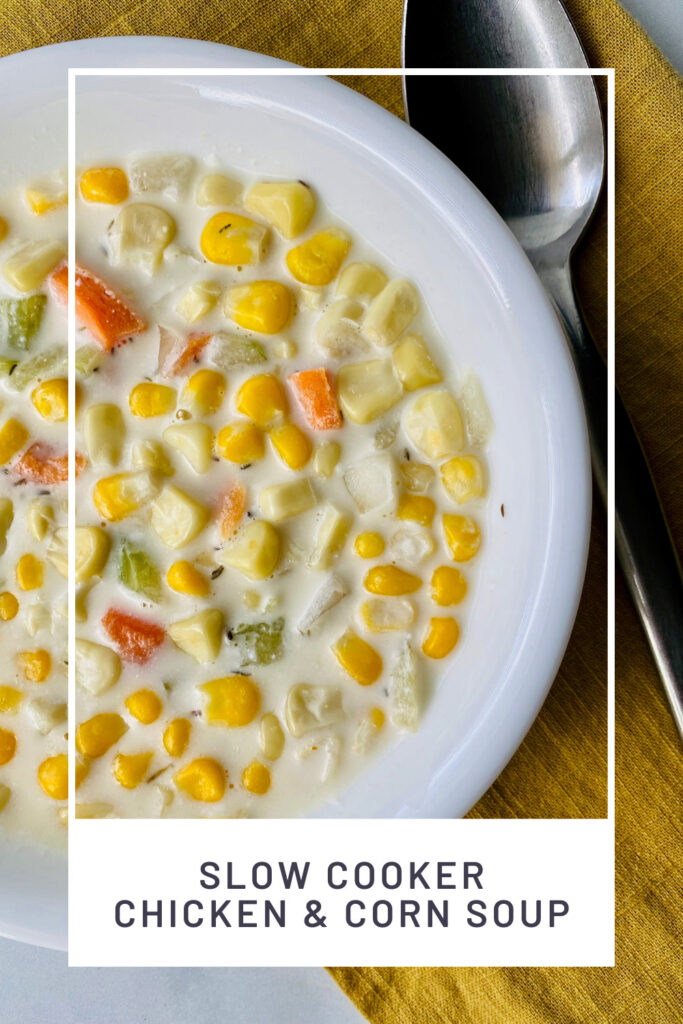 Product Recommendations for this Recipe #ad:
The Short Order Cook is a participant in the Amazon Services LLC Associates Program. As an Amazon Associate, I earn from qualifying purchases. If you click on a link and make a purchase, I may earn a small commission on the sale at no additional cost to you. This helps with the costs of running the blog. Thank you!
Did you make this The Short Order Cook Recipe?
Tag @theshortordercookblog (Instagram & Facebook) or @shortorder_cook (Twitter).
I would love to see your latest creations and kitchen adventures.