I am always on the lookout for tasty, sweet, and easy alcoholic shot recipes. When I heard that Burt Reynolds had a favorite drink that included Butterscotch Ripple, I knew I had to try it. Butterscotch is so underrated and I love a good sweet shooter.
This sweet & spicy 2-ingredient Burt Reynolds shot recipe has a kick and now I know why he loved it so much. It warms you like the vanilla and cinnamon-spiced rum goes down and finishes with the rich buttery caramel-like schnapps. Wow! This recipe for Burt Reynolds's favorite shot goes great with any of his movies, plus some popcorn. So pour one or two, sit back, and enjoy the show.
If you don't know who Burt Reynolds is - where have you been? Sorry, but as a GenXer, there were so many Burt Reynolds movies when I was growing up. He was one of the first movie star "hunks" that I remember hearing was sexy. His mustache is legendary and his laugh was infectious. Review his full TV and movie credits and find a new or favorite one to watch as you enjoy Burt's favorite cocktail.
My husband still loves Smokey & The Bandit and can probably recite the whole thing. I was so excited when I went to Nashville and found BAN ONE at the Country Musical Hall of Fame! The infamous Pontiac TransAm seemed to be the most photographed item in the whole museum.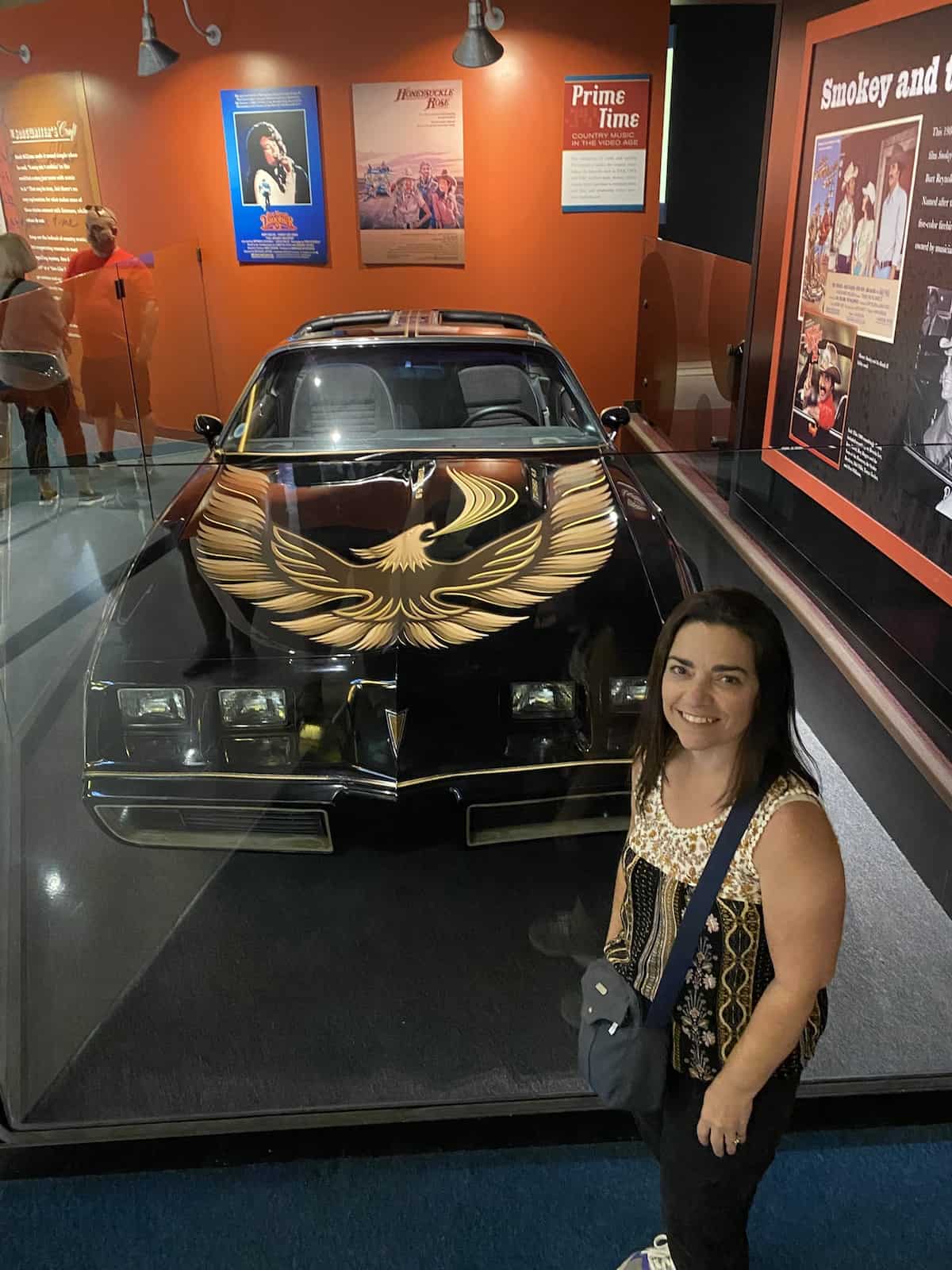 Jump to:
What is in a Burt Reynold's Shot?
Ingredients
As I mentioned, it only takes two ingredients for this shot recipe. If you are in Canada or visiting soon, grab some Butterscotch Ripple to make this. For the rest of us, here is what you need to make this drink. I got all my ingredients at Total Wine but I have seen the butterscotch liquor at BevMo as well.
Unfortunately, in the United States, you cannot find Butterscotch Ripple so I had to make a small substitution. This shot is made up of two alcohols that are poured in equal parts for this yummy shooter.
BUTTERSCOTCH SCHNAPPS
SPICED RUM
See the recipe card for quantities.
How to Pour a Burt Reynolds Shot
This easy shot is not only just a 2-ingredient cocktail but it is also so easy to measure. It is equal parts butterscotch schnapps and spiced rum. I am using Sailor Jerry for this recipe. You can use other brands such as Captain Morgan's, Sly Dog, or Kraken to mix this shot.
Grab as many large shot glasses as you will need for yourself and your guests. Make sure they are large ones that will hold 2.5-3 ounces. Begin by adding 1 part of butterscotch schnapps, 1 oz.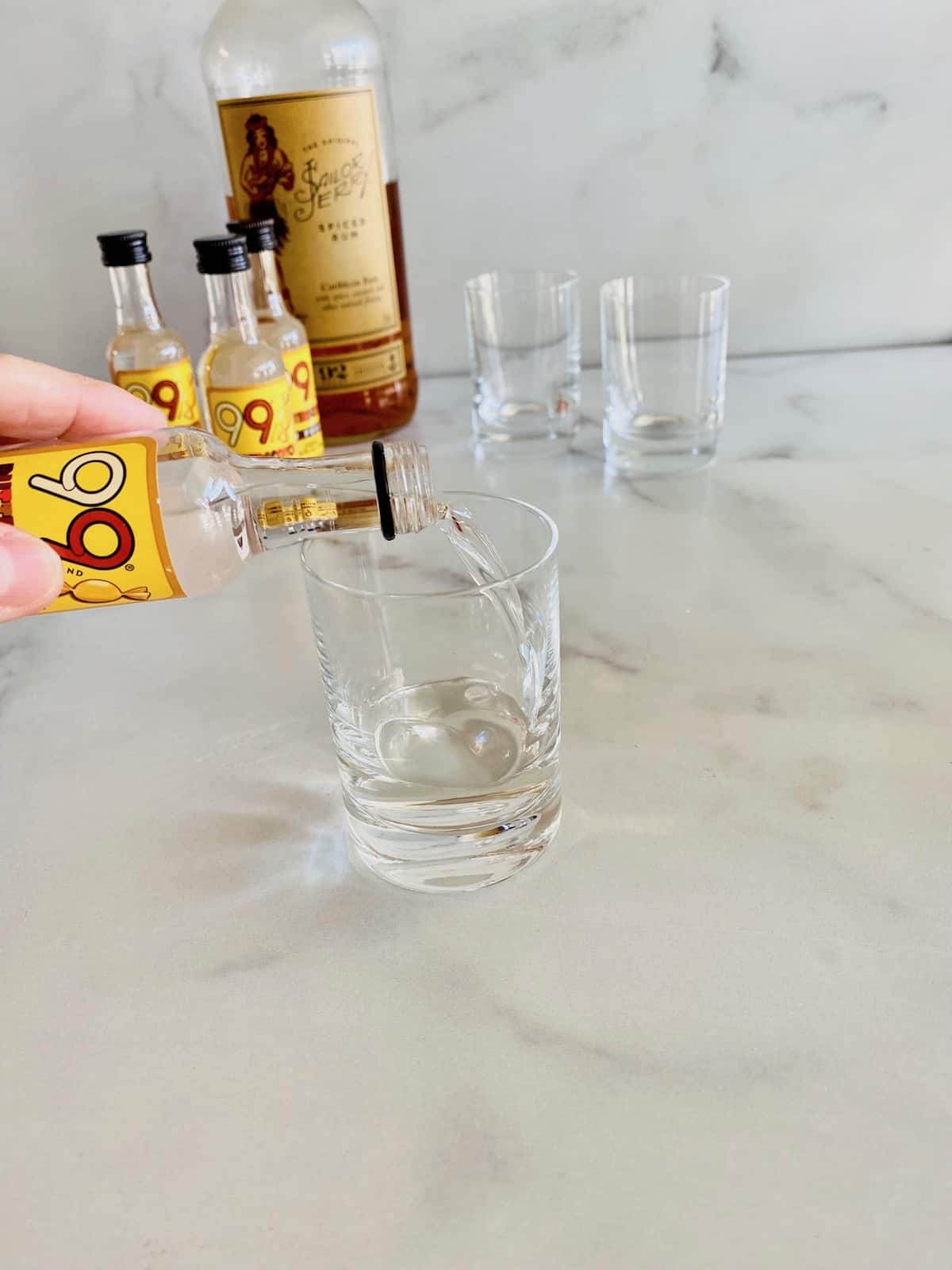 To the butterscotch schnapps, add 1 part spiced rum, 1 oz. That pretty amber color will come to life. Plus it smells so good.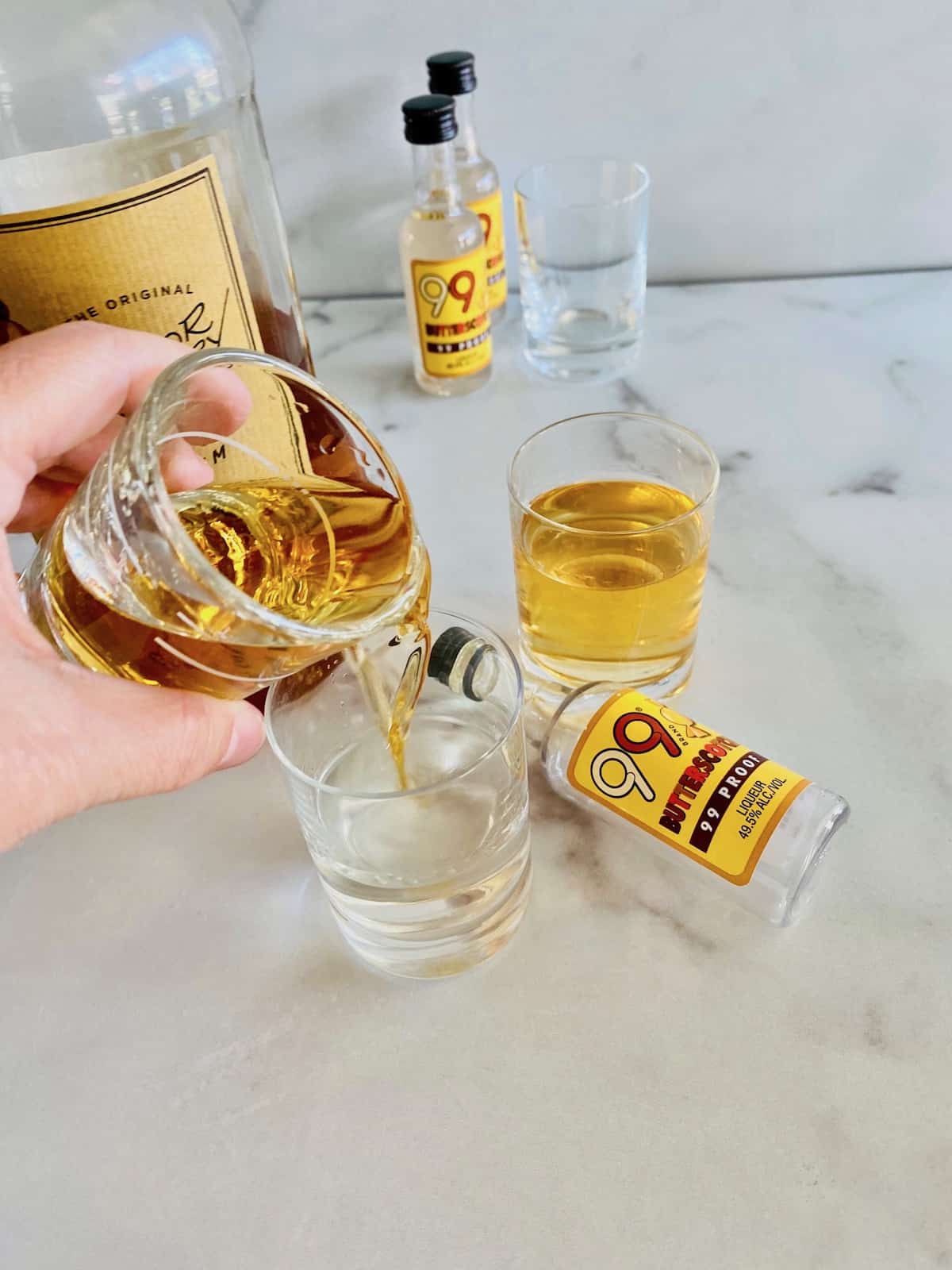 That is all it takes, you can give it a quick stir if you wish with a stir stick but it doesn't need it. I am more of a sipping sort of gal, so I enjoy this in about 3-4 sips. But if you are ready for a quick sweet shooter with some heat that warms you fast, take it one shot.
This is how you make the infamous Burt Reynold's mustache shot recipe. Enjoy! Cheers to Burt Reynolds!
Trust me it is still good whether you sip this Burt Reynolds shot or you shoot it quickly. This is a festive drink that is great as a dessert or end-of-the-evening libation.
Snacks to Serve with Sweet Shots
If you want something sweet, salty, crunchy, or all the above, try one or more of these snack recipes. They are easy to make and great to put out when you are having dessert cocktails that this sweet drink.
Variations
If you are lucky enough to be able to purchase Butterscotch Ripple, that would be the classic way to make this drink. So next time you are in Canada visiting or if you live there, grab a bottle.
How Long Does Alcohol Last?
Alcohol has a long storage life if stored properly. Make sure to store it out of sunlight and in a cool dry place. You do not want it near heat, like next to your oven or on a windowsill that gets sun. Store the opened bottles in a pantry, cupboard, or closet with the caps tightly back in place.
Opened bottles of alcohol will keep for up to 2 years, but best to use them within a year. Those with a higher sugar content should be enjoyed within a year. For the most part, opened bottles of alcohol do not go bad unless they have been sitting around for years.
Alcohols that are sweet, or in this case, spiced - tend to change flavor easier than other alcohols. Though spiced rum can last for years, it may taste off after a year of it being opened. Always taste test a bit before mixing a drink.
Other Sweet Cocktails & Shots
If you love this sweet shooter, you may enjoy these other recipes. All these cocktails are sweet with a kick. Whether you want a dessert cocktail or a quick sweet alcoholic shot, these are the best recipes.
For another delicious 2-ingredient shot recipe, the TOOTSIE ROLL SHOT cannot be beaten.
Product Recommendations for this Recipe - #ad:
The Short Order Cook is a participant in the Amazon Services LLC Associates Program. As an Amazon Associate, I earn from qualifying purchases. If you click on a link and make a purchase, I may earn a small commission on the sale at no additional cost to you. This helps with the costs of running the blog. Thank you!
Burt Reynolds Shot
This sweet & spicy drink is a favorite of Burt Reynolds. One sip and you will fall in love too with the butterscotch and spiced rum combination.
Equipment
3 ounce size shot glasses
Ingredients
1

bottle

butterscotch schnapps

or Buttescotch Ripple if you are in Canada

1

bottle

spiced rum
Instructions
To a shot glass add, 1 ounce of butterscotch schnapps.

To the schnapps, add 1 ounce of the spiced rum
Notes
Different brands and alcohols will vary but here is a representation of nutritional information for this drink -
Nutrition Facts
Servings: 1
Amount per serving
 
Calories
87
% Daily Value*
Total Fat 0g
0%
Saturated Fat 0g
0%
Cholesterol 0mg
0%
Sodium 0mg
0%
Total Carbohydrate 1.4g
1%
Dietary Fiber 0g
0%
Total Sugars 0g
 
Protein 0g
 
Vitamin D 0mcg
0%
Calcium 0mg
0%
Iron 0mg
0%
Potassium 1mg
0%
*The % Daily Value (DV) tells you how much a nutrient in a food serving contributes to a daily diet. 2,000 calorie a day is used for general nutrition advice.
Did you make this The Short Order Cook Recipe?
Tag @theshortordercookblog (Instagram & Facebook) or @shortorder_cook (Twitter).
I would love to see your latest creations and kitchen adventures.