For a fun and festive Halloween, make one or more of these dry ice cocktails. These dry ice drink recipes are all perfect for a party where you want a creepy or spooky vibe. The smoke that rises from these alcoholic beverages sets them over the top and really makes them a showstopper.
Halloween cocktail or costume parties are so much more fun with a few special cocktail recipes. There is nothing more festive and eery than a cocktail that has a special effect like the smokey excitement you get with using dry ice.
Any Halloween gathering or event would be perfect with these cocktails with dry ice as a special effect. The Halloween dry ice punch recipe for kids is the perfect non-alcoholic drink for your costume party or before trick-or-treating in the neighborhood.
Dry Ice Safety & Handling Procedures
BE CAREFUL when handling and using dry ice with any food, drink, or project you are doing. Follow the guidelines and information carefully in the recipe ideas shared here.
Once you do and make any of these recipes, make sure you have your camera ready. You will want to take some amazing photos of these amazing Halloween alcoholic drinks with a dry ice effect. For more information on the proper handling of dry ice check out DRY ICE SAFETY INFORMATION.
Where to Buy Dry Ice Near You
Most grocery or liquor stores do not sell dry ice. I am lucky enough to have a large chain grocery store less than a mile away that does. But for most, you need to search it out for where dry ice is for sale. Before you go to purchase it, make sure to bring a cooler for your dry ice - you do not want to handle it directly. Here is a great DRY ICE LOCATOR BY PENGUIN ICE.
Dry Ice Cocktail Recipe Ideas
Dry ice cocktail recipes shared here include so many different alcohol choices including rum, gin, tequila, vodka, and even Midori.  For me a dry ice martini is the ultimate Halloween cocktail for my holiday party. Here are a few cocktails I love for Halloween. The Hocus Pocus Cocktail has a fun dry ice fog effect. The others can be extra spooky with the addition of dry ice too.
Just be CAUTIOUS - any cocktail with sparking bubbles or carbonation like sodas, beers, seltzers, and Champagne will SHOOT up in the air like a volcano if you add dry ice. So that is a NO NO unless you love sticky messes!
Some of these cocktails do not contain a dry ice feature, but they are fantastic for Halloween. When having a party, it is great to offer a few special cocktails that fit with the theme.  These drinks are easy and perfect for a Halloween cocktail or costume party.   They are both sweet and the perfect treat for adults.
Any can be a cocktail or even make them in a big batch such as the Witch's Brew Drink or Cauldron Cocktail in a big punch bowl. That would look amazing with dry ice spilling over it for an eery effect. There is also a non-alcoholic mocktail Halloween punch that is great for all ages.
Blackberry Sage Margarita
The gorgeous deep red margarita is a Halloween delight. The dry ice or a smoking sage leaf adds dramatic and spooky effects to this tequila drink.
Check out this recipe
Witch's Brew
A fun and tasty Halloween cocktail treat that glistens and smokes. The luster dust and dry ice create a gorgeous yet spooky look to this rum and peppermint drink.
Check out this recipe
Bloody Eyeball Halloween Punch
Spooky wow with this creepy good Halloween drink. This Bloody Eyeball Halloween Punch is easy to make and only takes a few ingredients...but will be the drink everyone remembers at your next party. It is a mocktail so everyone will want to sip this tricky treat.
Check out this recipe
Ginger Bramble
Gin, ginger, and blackberries come together for this amazing cocktail. The dry ice creates a Halloween eeriness perfect for any spooky party.
Check out this recipe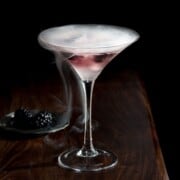 Halloween Magical Cocktail
This Midori cocktail is vibrant and festive. This delicious Halloween drink is even more impressive with a fun dry ice swirl of spookiness.
Check out this recipe
Cauldron Cocktail
This rum cocktail is a dark and spooky Halloween drink. This black festive cocktail looks creepy and evil but tastes like a treat more than a trick.
Check out this recipe
Dry Ice Halloween Cake
FOR A BONUS RECIPE - A SMOKING FUN VOLCANO CAKE! How fun and exciting is this amazing volcano cake recipe that billows smoke. It will be a wonderful dessert and table centerpiece for any party, especially a Halloween party with other dry ice recipes.
Smoking Volcano Cake
If you want an amazing dessert or centerpiece for your Halloween cocktail table - this smoking volcano cake will do the trick. This amazing treat is unbelievably delicious and fun.
Check out this recipe
More Great Halloween Recipes
All of these recipes are great to make for trick-or-treaters, school parties, & your costume parties at home.  These sweet treats are fun and tasty. The best part is most are easy to make so get the kids involved in some Halloween cooking.
HAPPY HALLOWEEN EVERYONE!
I HOPE YOU HAVE MORE TREATS THAN TRICKS!
PIN FOR SAFEKEEPING & SHARING!
Product Recommendations for this Article:
The Short Order Cook is a participant in the Amazon Services LLC Associates Program. As an Amazon Associate, I earn from qualifying purchases. If you click on a link and make a purchase, I may earn a small commission on the sale at no additional cost to you. This helps with the costs of running the blog. Thank you!
Dry Ice Cocktails
The best dry ice cocktail recipe ideas are shared here. These drinks will be great for a creepy fun Halloween party. The dry ice effects are a special party trick for a spooky theme.
Ingredients
Try one or more of the recipe ideas shared here:
Hocus Pocus Cocktail

Witch's Brew

Blackberry Margarita

Candy Corn Martini

Halloween Magical Cocktail

Cauldron Cocktail

Bloody Eyeball Haloween Punch (mocktail)

Ginger Bramble
Instructions
Make one or more of the dry ice cocktails

Be careful when working with dry ice - see above for safety information
Did you make this The Short Order Cook Recipe?
Tag @theshortordercookblog (Instagram & Facebook) or @shortorder_cook (Twitter).
I would love to see your latest creations and kitchen adventures.