Cooking restaurant-style Mexican rice at home is so easy. It only requires a few basic ingredients that you likely already have in your pantry. It is delicious, made in one pot, and is done in 30 minutes. You could not ask for anything more delicious.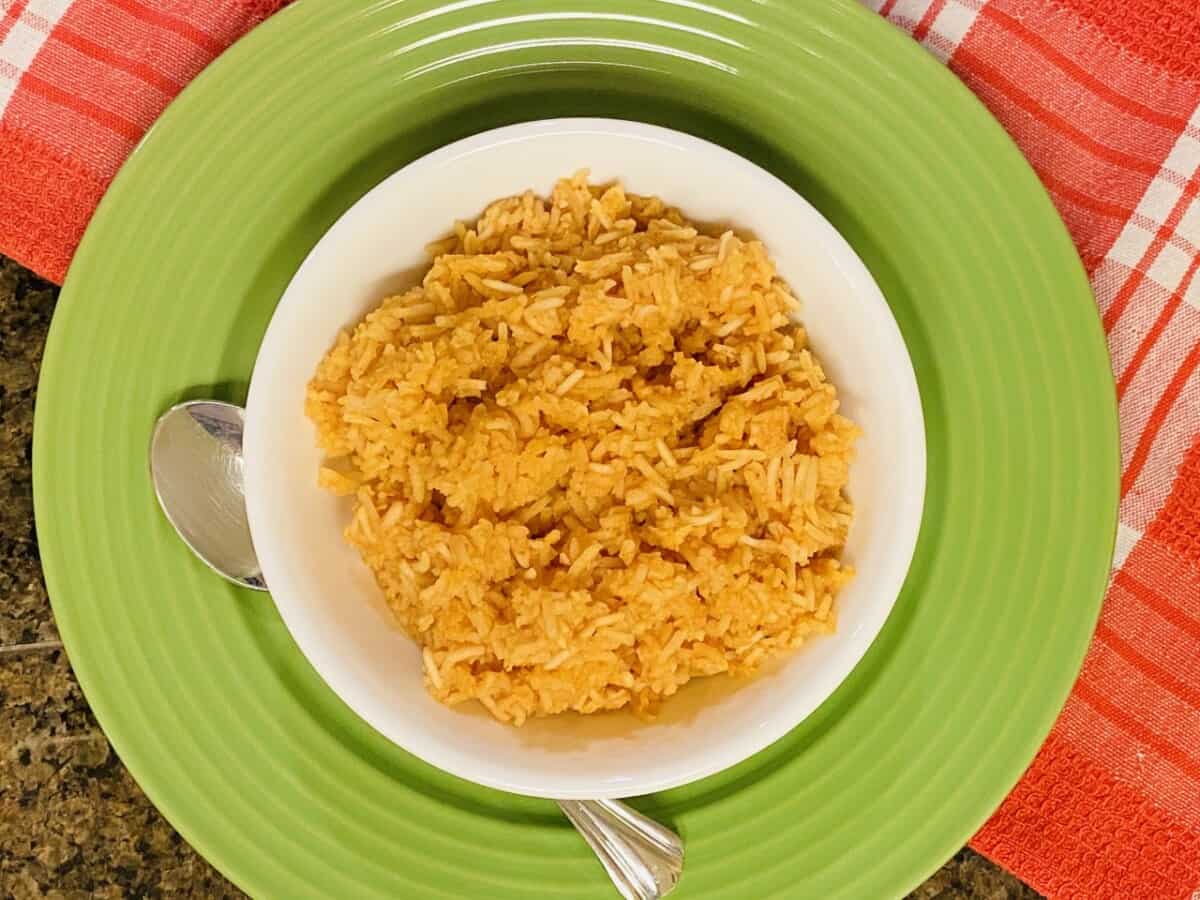 You will be making this authentic Mexican rice all the time once you find out how flavorful and easy it is to make. Enjoy some chips & watermelon salsa as an appetizer while you are cooking.
It is the best side dish to serve with tacos, enchiladas, tamales, or quesadillas. This recipe will go great with the following recipes:
Jump to: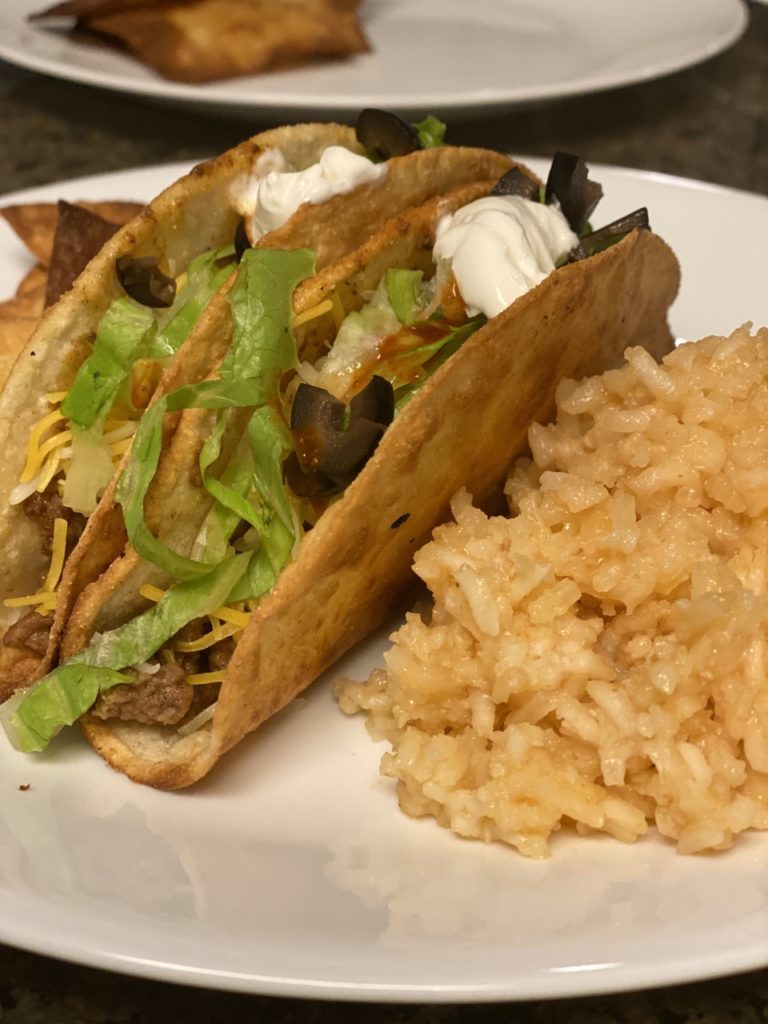 Authentic Mexican Rice
There are many versions of what people think is considered authentic when it comes to Mexican food and rice is one of those dishes that surely has many recipes out there considered "authentic". Having grown up in California, I have eaten a fair share of rice dishes but all my friends with Mexican heritage swear by this recipe also.
They also all agree that Mexican rice never has cilantro, corn, or chunks of tomatoes in it. They also agree that using long-grain rice and chicken broth is a must.
How to Make Mexican Rice
Making amazing restaurant-style Mexican rice is easy and is the perfect side for any taco, enchilada, or carne asada. Here are the foolproof step-by-step instructions for fluffy and flavorful Mexican rice that is cooked on the stovetop. I have tried numerous rice cooker recipes, and Mexican rice just tastes so much better and is less sticky when you do it right, on the stovetop.
For vegetarian Mexican rice, use vegetable bouillon instead of chicken broth. To make Mexican rice without tomato sauce you can use tomato paste instead. If you have salsa you can use that too. But for what I consider the best restaurant-style Mexican rice with a tint of red/orange, please use tomato sauce.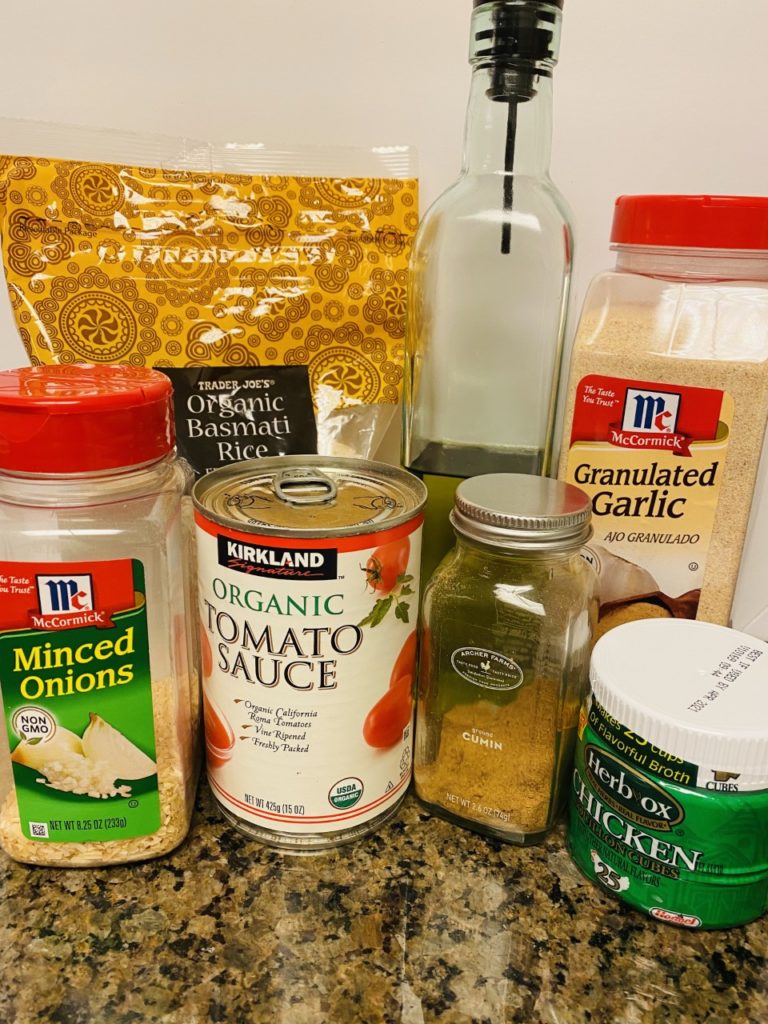 Ingredients for Homemade Mexican Rice
Here is everything you need to make Mexican rice at home. Long-grain rice is what is recommended. Other types of rice do not work with the broth-to-rice ratio.
Long grain white rice (do NOT substitute with any other type of rice)
Chicken Broth (do not use just water, you can use vegetable broth instead if vegetarian)
Tomato sauce
Cumin
Garlic
Minced Onion
Vegetable oil
Step-by-Step Instructions
This is a quick and easy recipe. It only takes about 5 minutes to get this rice ready in the pot. Then let it simmer until it is tender and fluffy.
Saute the rice in oil to bring out a nutty flavor
Add the spices and brown those with the rice before adding the liquid
Simmer slowly in the broth to flavor every grain
Add tomato sauce for some acidity and for that orange-red color we all recognize
Toast the Rice
First, add the vegetable oil to a large saucepot and bring it to medium-high heat. Add the rice and stir to toast /fry some of the grains. Some will become white as they heat up and a few will become a bit brown as they toast. This is what you want to see.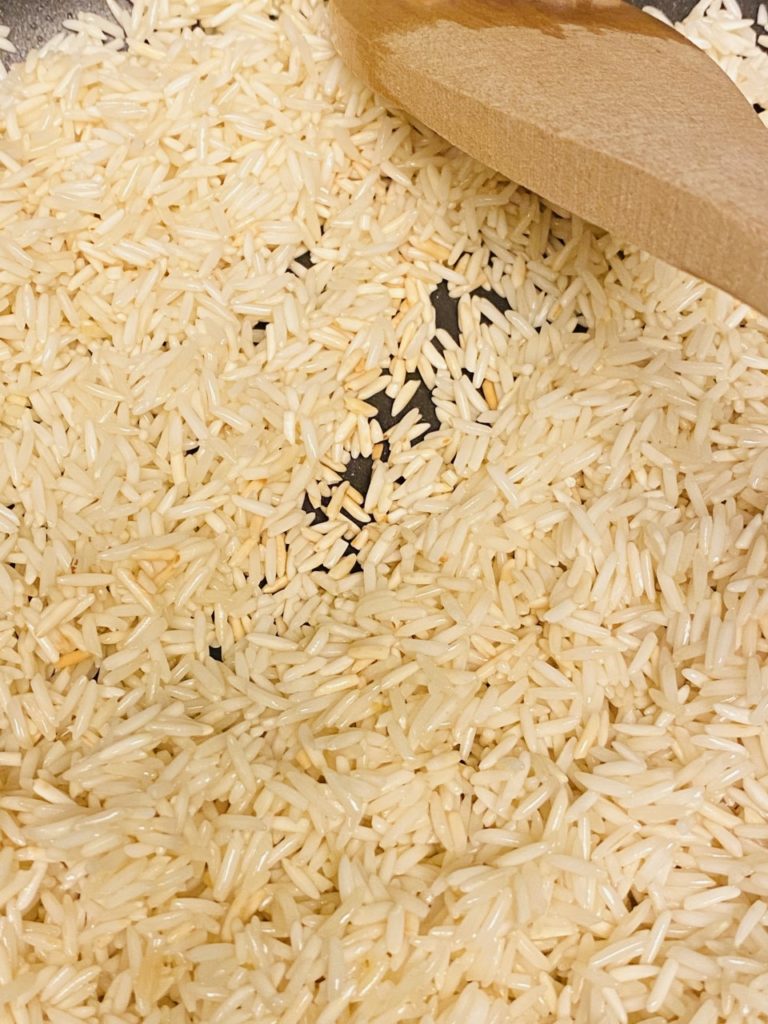 Toast the Spices
Next, add the minced onion, cumin, and garlic powder. Stir and toast for a minute to really get the spices mixed with the warm rice and hot oil. You should be able to smell the spices and the onions as they release their own oils.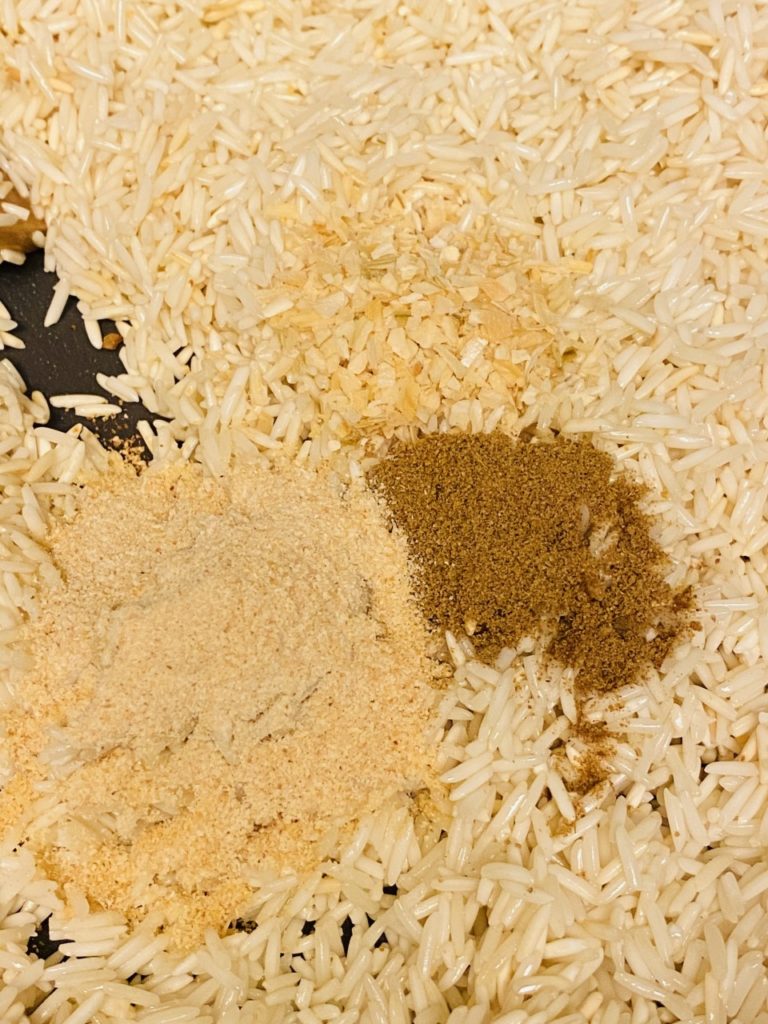 Add the Broth & Tomato Sauce
Once all the dry ingredients are combined add the broth (water/bouillon combination) and the tomato sauce. Stir to combine and bring to a slow boil.
Simmer the Mexican Rice
Once everything comes to a slow boil, turn the heat down to low and cover. Stir a few times during the cooking process but try to not remove the lid which lets out the heat or stir too often, which breaks up the rice grains and can make it mushy.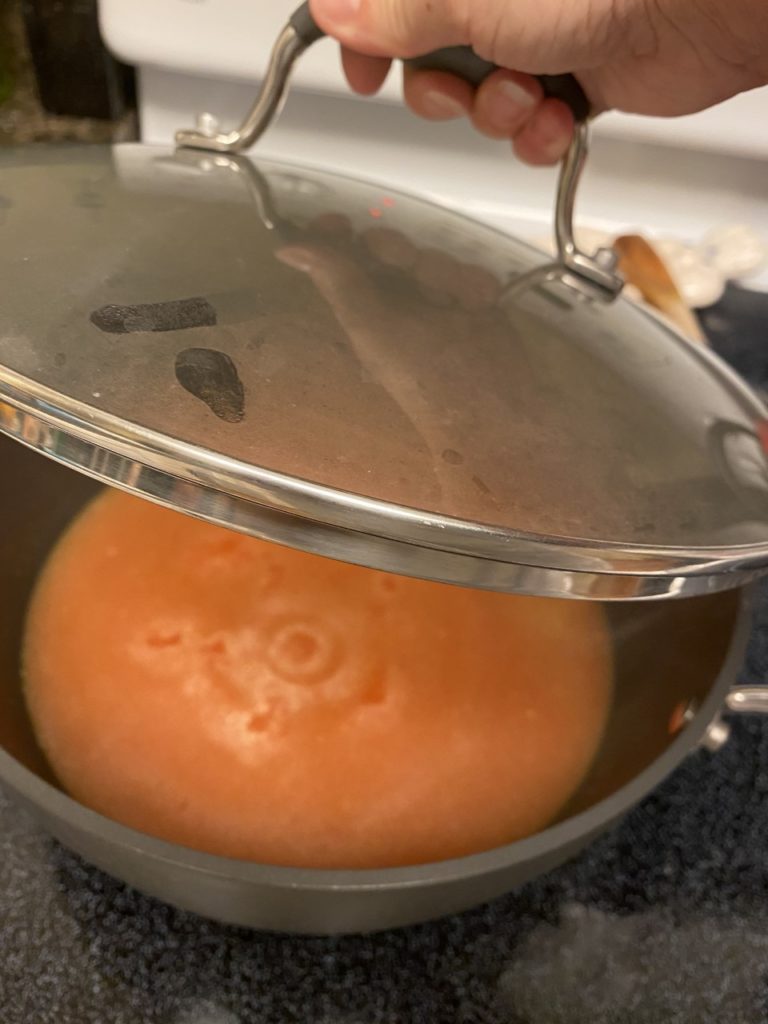 How to Tell When Mexican Rice is Ready
The rice will be ready once all of the liquid has been absorbed. The Mexican rice should have a lovely orange color. When taste-tested it should be soft and tender. The rice should not be crunchy or hard.
Once ready, spoon it into a serving dish or alongside your favorite tacos, enchiladas, chile rellenos, etc.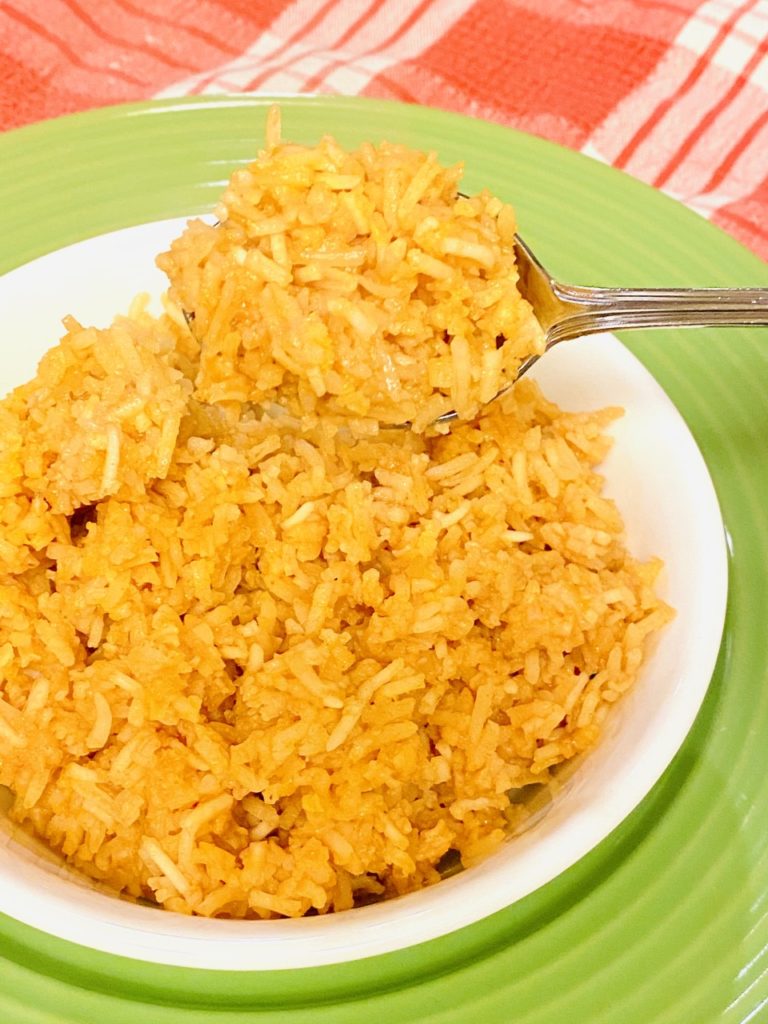 Look at all those wonderful rice grains and that orange-red color.  This is what Mexican rice should be.  Make sure you save this recipe on Pinterest.
Recipe Ideas for Mexican Rice
This savory rice recipe is made in chicken broth with some tomato sauce. Those flavors combine into a great rice side dish that is good to add to other recipes. Stir Mexican rice into seasoned ground beef, onions, & peppers for a base as a casserole.
This Mexican rice recipe is great also for burritos.  It is the ideal rice to add to beans, cheese, meat, and all the other goodies you may like wrapped up in a tortilla. I will take mine with lots of cheese and avocado, please.  What do you like in a burrito?
Storing & Reheating
This rice stores well in the refrigerator for up to 5 days in a container with a lid. To reheat, warm in the microwave with a drizzle of water to freshen it up.
This makes a lot of rice. As a side dish, it makes enough for about 10 people. If using it in a Mexican rice bowl as a base, it is good for 6 servings.
I do NOT recommend doubling this recipe. The ratios do not cook the rice correctly for some reason. For other rice recipes, follow my tips for how much rice to make per person.
Product Recommendations for this Recipe:
The Short Order Cook is a participant in the Amazon Services LLC Associates Program. As an Amazon Associate, I earn from qualifying purchases. If you click on a link and make a purchase, I may earn a small commission on the sale at no additional cost to you. This helps with the costs of running the blog. Thank you!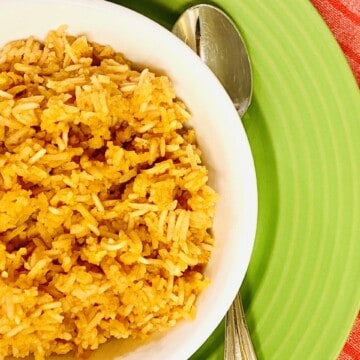 Easy Restaurant Style Mexican Rice
Tastes just like the flavorful, bright, and fluffy Mexican rice you get in your favorite authentic Mexican restaurant.
Ingredients
2

TB

vegetable oil

1 & ½

C

long-grain white rice

1

teaspoon

garlic powder

½

teaspoon

ground cumin

½

TB

minced dry onion

3

C

chicken broth

OR vegetable broth works too

½

C

tomato sauce
Instructions
Heat oil on medium-high in a large saucepan. Add rice and saute to brown and toast the grains. Some should be slightly brown and others white as they heat.

Add the garlic, cumin, and dry onion. Stir to saute and toast the spices along with the rice for about a minute.

Add in the broth and stir. Next, add the tomato sauce and stir.

Bring to a boil and then turn down to low. Put the lid on your saucepan and continue to cook on a very slow simmer for about 20 minutes.

Try and only remove the lid and stir 1-2x during the 20 minute cooking time.

When done, fluff with a fork and transfer to a serving bowl.
Did you make this The Short Order Cook Recipe?
Tag @theshortordercookblog (Instagram & Facebook) or @shortorder_cook (Twitter).
I would love to see your latest creations and kitchen adventures.