A vodka sunrise is a cocktail with beautiful colors that makes you feel like you are at the beach and relaxing.  The bright orange and red layers are soothing and relaxing much like a beautiful sunrise.  It is a blend of cherry, tangy citrus, and smooth vodka for a sip that is delightful and smells like a tropical locale.
This 3-ingredient cocktail is so easy to make and tastes as if a bartender made it, especially for you at the poolside bar. It is sweet & fruity just like my watermelon martini recipe. It is a special occasion party cocktail that is perfect for summer BBQs, the 4th of July, and pool parties.
This is one gorgeous vodka cocktail. The red and orange are bright and hard to resist. This recipe was inspired by the #1 cocktail on the blog - the amazing Candy Corn Martini. Both drinks have vibrant colors & are deliciously sweet.
Jump to:
Tequila Sunrise vs Vodka Sunrise
If you are wondering what is the difference between a vodka sunrise and a tequila sunrise, well the only difference is the obvious - the type of alcohol. Both cocktails mix the same orange juice over ice with either vodka or tequila and then are finished with a slow pour of grenadine. That slow pour of the thick sweet cherry-flavored grenadine is what settles to the bottom and creates the stunning layers in the vodka sunrise drink.
Ingredients for a Vodka Sunrise
The 3 ingredients to make the perfect vodka sunrise include orange juice, grenadine, and your favorite vodka. You do not want orange juice that has a lot of pulp. You want a smooth pulp-free orange juice to blend with the grenadine and alcohol. This vodka sunrise recipe is simple and only takes a minute to mix so be ready to enjoy this refreshing and gorgeous drink in no time.
Best Vodka for a Sunrise Cocktail
To make a great vodka sunrise at home, simply use your favorite vodka. You want a plain one, nothing fancy or flavored. We love the Kirkland brand at Costco, as you can see.
Other great vodkas to use to mix a vodka sunrise include Belvedere, Grey Goose, Titos, Ketel One, Svedka, or Absolut. All of these vodka brands are great to add to orange juice. To find out more check out 16 BEST VODKA BRANDS.
How to Make a Vodka Sunrise
To mix the best vodka sunrise, follow this quick and easy recipe.   Begin by gathering all your ingredients and making sure your orange juice is chilled.   Next, fill two highball glasses about ⅔ the way with ice.  You can use cubed or crushed ice.
This drink is all about adding the ingredients in the right order, here is how to pour the perfect vodka sunrise cocktail:
Prep the Garnish
Pour the Orange Juice
Add the Vodka
Drizzle in the Grenadine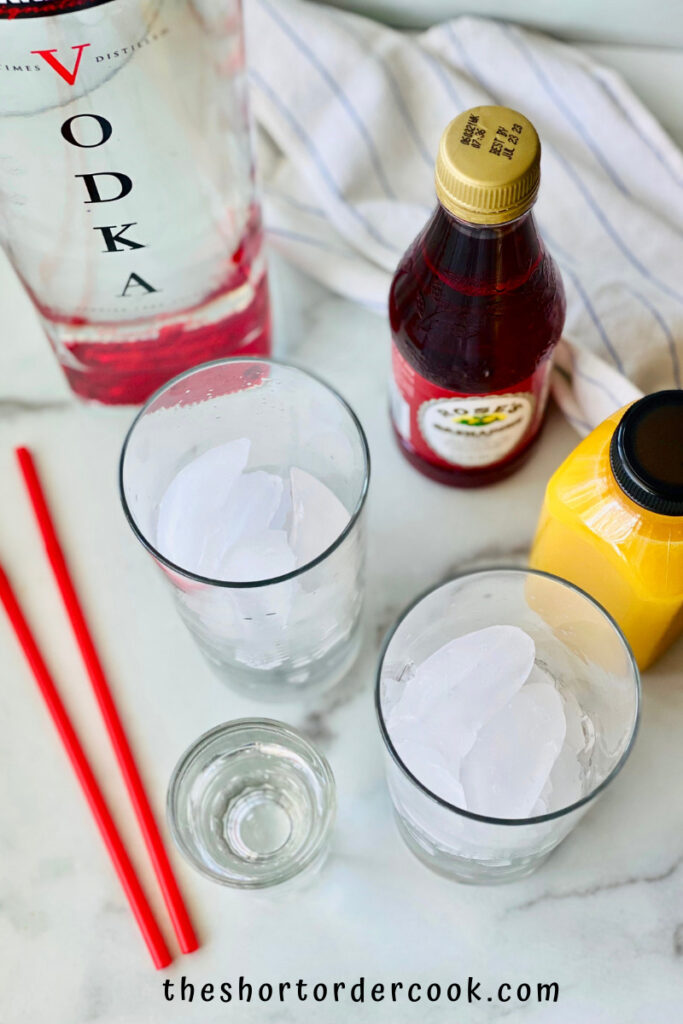 1 - Prep the Garnish
Orange you Ready for More?Ok sorry about the silly joke. But this drink is packed with fresh orange goodness.  Slice the orange that you will use for garnish.  Then cut the slices into wedges so you have them for garnish. 
2 - Pour the Orange Juice
Now, pour the orange juice over the ice. The glasses should be about 80% full at this point.
3 - Add the Vodka
Next, add 2 shots of vodka to each highball glass that already has ice and orange juice in it. This cocktail recipe has 2 ounces of alcohol per drink but does not have a strong flavor thanks to the juice and cherry syrup.
It is important to do these pours in the order specified here. This is to ensure everything chills properly but also so the distinct layers that make the infamous sunrise so lovely do develop.
4 - Drizzle in the Grenadine
The last pour will be with the grenadine. Since this is a sweet syrupy mixer,  it is thick and heavy.  Drizzle it slowly into each glass and let it float to the bottom where it will settle.   This creates the stacked layers of colors that you want.
Notice how the red grenadine is dancing its way down through the orange juice and vodka. The red will settle close to the bottom, with a dark orange middle, and the lightest orange juice layer will be at the top. A vodka sunrise has this beautiful ombre effect that makes you really want one.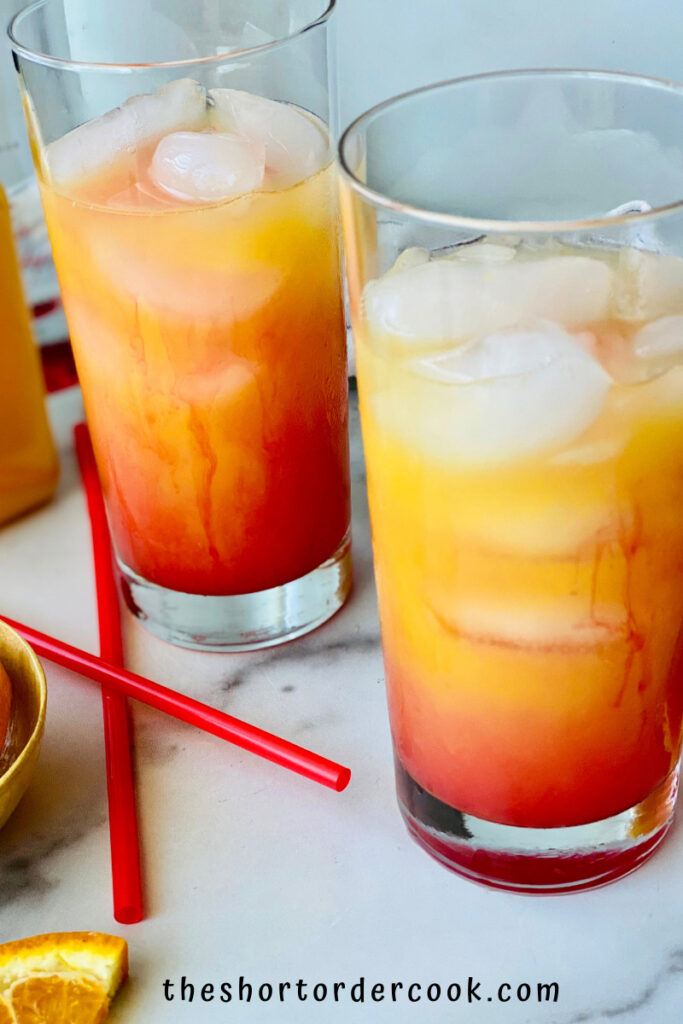 Garnish the Vodka Sunrise Cocktails
They are now almost ready to drink. Add your orange wedge garnishes and some straws. DO NOT STIR, you want to be sure the grenadine stays at the bottom and doesn't mix too much in the drink. Those layers should not be disturbed. Drink immediately and enjoy.
If you love this cocktail, you will also love my unique twist on a tequila sunrise. For two great tequila and juice cocktail recipes try out TEQUILA SUNRISE WITH TWO UNIQUE TWISTS. If you love tangelos or pineapple orange juice, this Codigo tequila cocktail is for you.
More Easy Cocktail Recipes
Here are a few of my favorite drink & shooter recipes. These alcoholic recipes will turn any time of day into happy hour.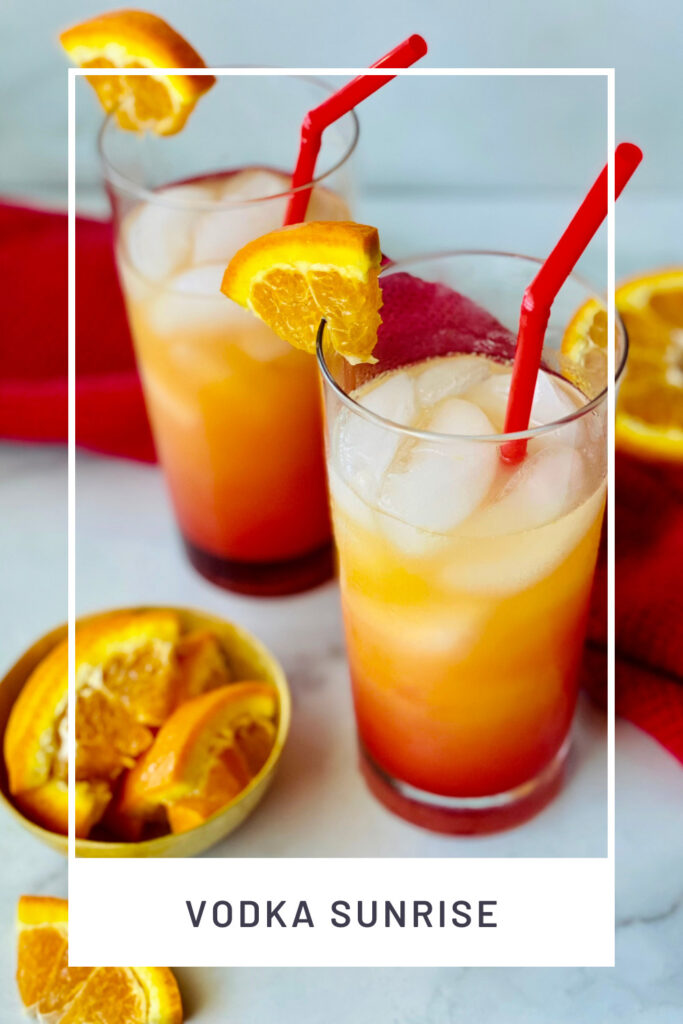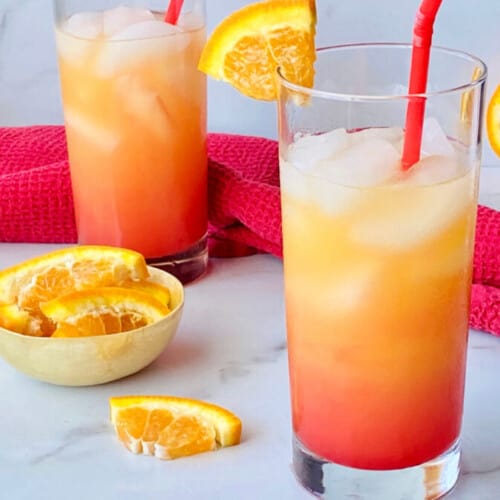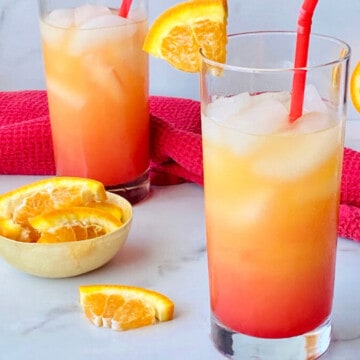 Vodka Sunrise
For a gorgeous colorful cocktail with vodka & orange juice, make this easy recipe. The colorful layers make you feel you are on vacation in a tropical location enjoying a peaceful sunrise.
Ingredients
1.5

Cup

Orange Juice

4

Oz

Vodka

2

Oz

grenadine

ice
Instructions
Fill each high ball glass with ice cubes until filled about ⅔ the way.

Pour ¾ C of orange juice into each glass.

Add 2 shots of vodka to each glass.

Lastly, slowly pour in 1 oz of grenadine. into each glass Let it trickle down to the bottom of the glass. DO NOT STIR.

If using a straw or adding a garnish, finish with that.
Notes
Nutrition Facts
Servings: 2
Amount per serving
 
Calories
300
% Daily Value*
Total Fat 0.4g
0%
Saturated Fat 0.1g
0%
Cholesterol 0mg
0%
Sodium 2213mg
96%
Total Carbohydrate 42g
15%
Dietary Fiber 0.4g
1%
Total Sugars 38.3g
 
Protein 1.3g
 
Vitamin D 0mcg
0%
Calcium 2mg
0%
Iron 2mg
13%
Potassium 373mg
8%
*The % Daily Value (DV) tells you how much a nutrient in a food serving contributes to a daily diet. 2,000 calorie a day is used for general nutrition advice.
Product Recommendations for this Recipe - #ad:
The Short Order Cook is a participant in the Amazon Services LLC Associates Program. As an Amazon Associate, I earn from qualifying purchases. If you click on a link and make a purchase, I may earn a small commission on the sale at no additional cost to you. This helps with the costs of running the blog. Thank you!
Did you make this The Short Order Cook Recipe?
Tag @theshortordercookblog (Instagram & Facebook) or @shortorder_cook (Twitter).
I would love to see your latest creations and kitchen adventures.