Toss together this easy & healthy simple spinach salad in just minutes. With homemade croutons & dijon vinaigrette, it's a fresh side dish that goes with any meal or enjoy for lunch.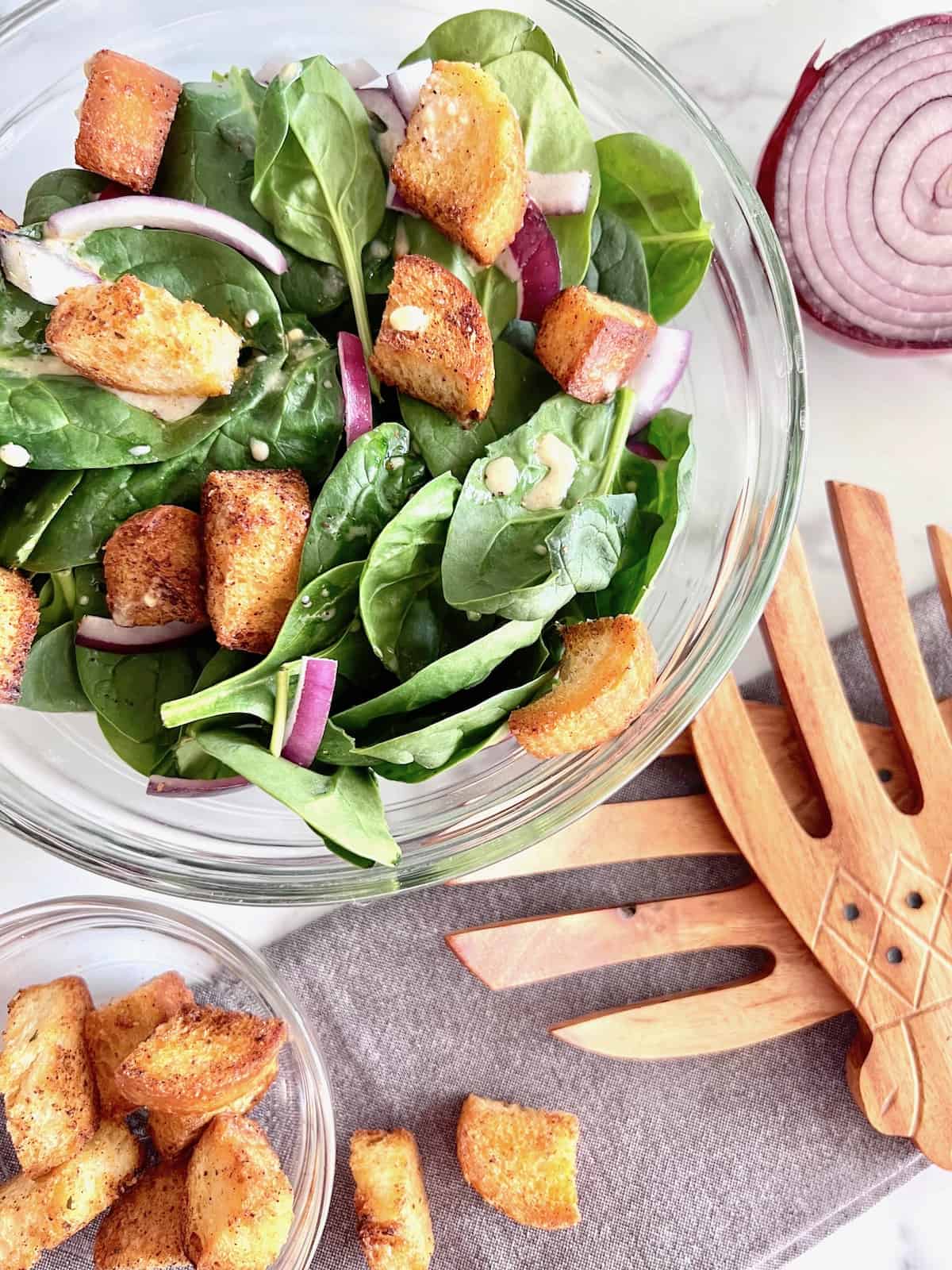 This vegan spinach salad has crunchy garlic croutons, crisp red onion, & a tangy homemade vinaigrette. It goes well with just about any pasta, meat, or plant-based proteins. I love this with soup or sandwiches like my recipes for Roast Beef & Cheddar Sliders or Slow Cooker Potato Leek Soup.
Jump to:
Ingredients for Simple Spinach Salad
Raw fresh spinach is the star of this salad. The mild-tasting leaves are hearty and hold up well with a variety of toppings. It is a vegan version made without a hot bacon dressing. The savory & slightly sweet leaves need just a simple dressing of olive oil & vinegar to shine.
This salad only needs a few ingredients. You likely already have everything you need in your pantry and refrigerator already. All are easy to find at grocery stores & are budget-friendly.
Here is what you need to make this simple spinach salad recipe.
Spinach - fresh raw baby spinach washed & dried.
Red Onion - this sweet onion with pretty color is best for salads.
Croutons - homemade ones ensure this salad is extraordinary.
Olive Oil - the light fruity oil is perfect with spinach.
Red Wine Vinegar - the mild vinegar pairs well with olive oil for a simple dressing.
Dijon Mustard - to help emulsify the dressing so it is slightly cream & adds a kick of spicy flavor.
Salt & Pepper - add to taste
See the recipe card for quantities.
How to Make a Simple Spinach Salad
This salad can be made in just 10 minutes. That is if you don't spend 20 minutes making the homemade Air Fryer Croutons. I highly recommend you spend the time to do this. All you need is a crusty loaf of bread, olive oil, & spices so go for it.
Here are the steps to make the best quick & easy fresh spinach salad.
Combine Ingredients in a Salad Bowl
Make the Dijon Vinaigrette
Toss the Salad Together
Step 1 - Make Air Fryer Homemade Croutons
Follow my recipe for making crispy garlic croutons in the air fryer. My recipe for vegan Air Fryer Croutons is so easy. It only takes 15 minutes & they are 100x better than anything premade & store-bought. While the croutons are cooking, prep the remaining ingredients.
Step 2 - Combine Ingredients in a Salad Bowl
In a medium-sized serving bowl or large platter, add the salad ingredients. Add the small baby spinach leaves that are prepped - washed & dried. If there are any large leaves or stems hand tear them into smaller pieces.
Slice the red onion thinly. Add it to the spinach in the bowl. When the croutons are done & cool, sprinkle them on top of the salad.
Step 3 - Make the Dijon Vinaigrette
Once you realize how tasty & easy homemade dressings are you won't want to use bottled store-bought ones anymore. It takes just 30 seconds & 3 ingredients plus salt & pepper for this quick recipe.
Measure the olive oil, red wine vinegar, & dijon mustard and add each to a small mixing bowl.
Add the salt & pepper to the dressing bowl. Whisk to combine.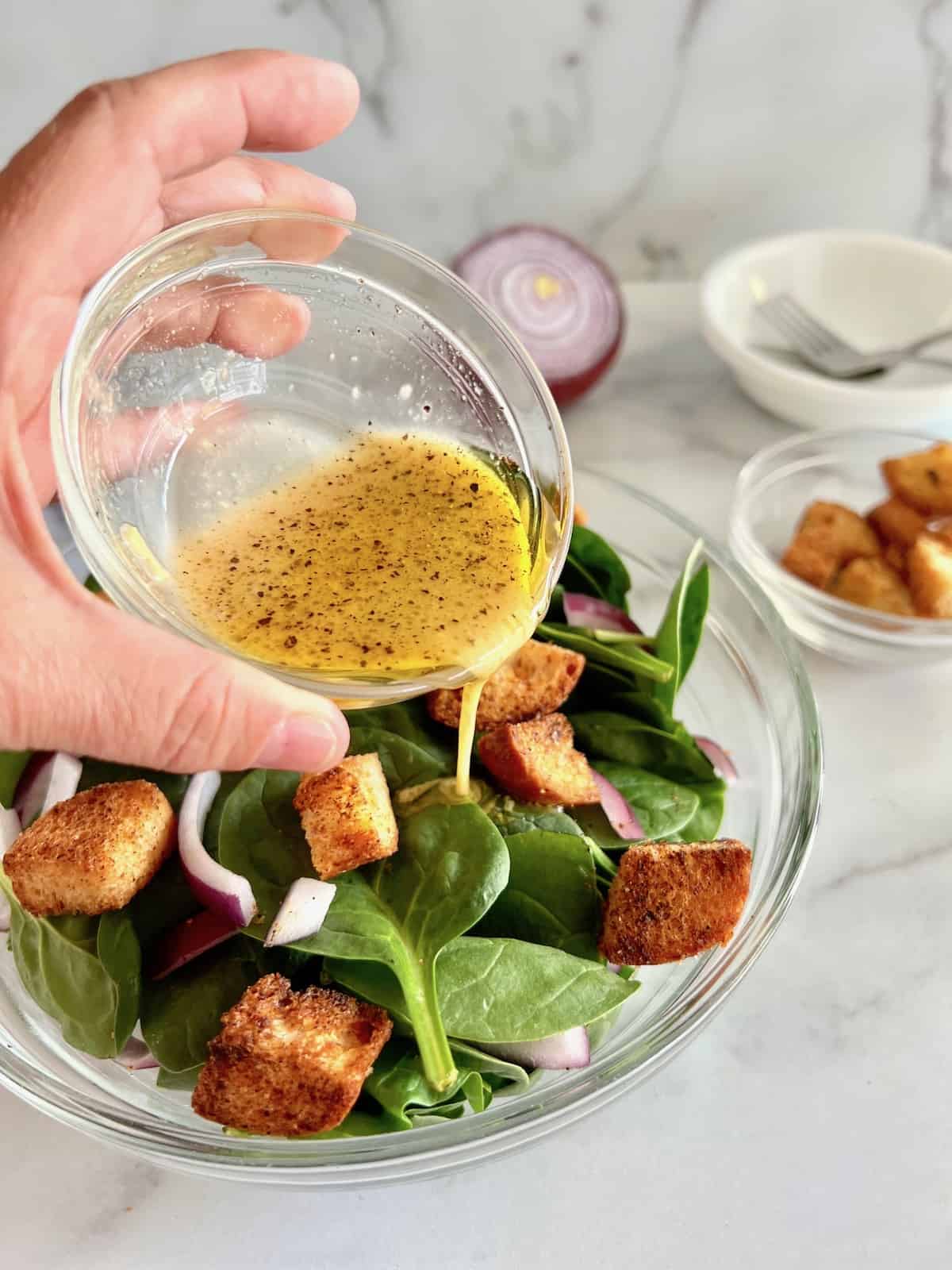 Drizzle the dressing over the spinach salad.
Offer additional croutons on the side. The salad will not wilt quickly & can be set aside while completing your other recipes.
Step 4 - Toss the Salad Together
Using tongs or salad forks, toss the salad gently so the ingredients are coated with the dressing. Season with additional salt & pepper if desired.
Serve immediately in individual serving bowls or plates. It is also great to serve in a buffet or at a potluck in a large bowl or platter.
Hint: Again, try and find baby spinach. It not only tastes better but is ideal for small easy-to-eat leaves. The small stems are also more enjoyable to eat too. If all you have are large spinach leaves, I recommend tearing them into bite-sized pieces & removing large stems.
Proteins to Add
Make this effortless salad a protein-packed meal in no time. The best way to have a healthy lunch or quick weeknight dinner is to add some leftover meat, seafood, or beans. Add one or more of these proteins for a spinach salad that is filling & delicious.
Substitutions & Variations
Here are some great recipe variations & ingredient substitutions that can be made. Add, omit, or use one of these alternatives for other delicious recipe ideas. These may help you enjoy this recipe even with dietary, health, or personal nutritional preferences. 
Substitutions
Spinach - instead of spinach use arugula.
Croutons - use store-bought croutons as a shortcut instead of homemade ones.
Red Onion - use sweet yellow onions, vidalia works great as an alternative.
Dressing - use store-bought if you are in a rush.
Use gluten-free croutons instead of regular ones to make this gluten-free/grain-free. Or use your favorite gluten-free bread to make the homemade ones.
Variations
Spinach Blend - add other leafy greens like frisee, arugula, or romaine along with the fresh spinach leaves.
Cheesy - add any cheese that goes well with spinach, I recommend goat cheese, feta, parmesan, or cheddar.
Deluxe - add more vegetables like sliced cucumber, cherry tomatoes, & avocado.
Fruit in spinach salads is delicious & healthy. For another great recipe, try my Spinach Blueberry Salad with juicy plump fresh berries, pecans, & parmesan cheese. Or for the holiday season, try Pomegranate & Pear Goat Cheese Spinach Salad.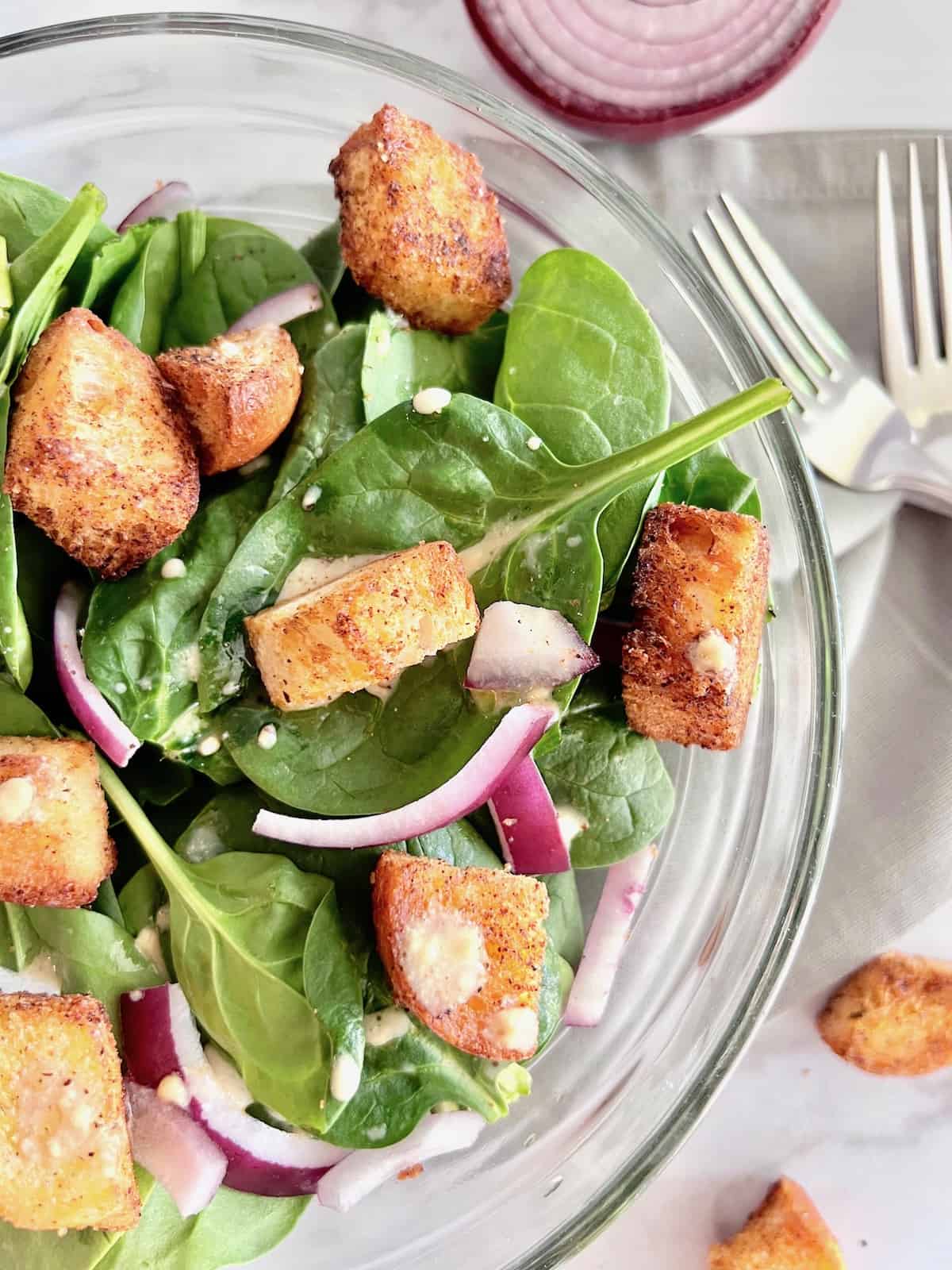 Equipment Needed
Here is what you need to make this salad recipe. These are the ingredients & tools that will bring success & a delicious outcome.
The Short Order Cook participates in the Amazon Services LLC Associates Program.  As an Amazon Associate, I earn from qualifying purchases.  If you click on a link and make a purchase, I may earn a small commission on the sale at no additional cost to you. This helps with the costs of running the blog. Thank you!  
Storage
This salad keeps longer than many green leafy salads. However, it does not store well. Serve & enjoy within 4-6 hours for the best taste & freshness. I do not recommend freezing this spinach salad.
Top Tips
All of these great tips are shared in the post. But these are so good and important they are worth mentioning again so you don't miss them.
Use baby spinach for smaller leaves that are easier to bite.
Make the homemade croutons - they are exceptional.
Add your favorite protein for an entree salad.
FAQ
Is spinach healthier than lettuce?
Out of 14 lettuces ranked - spinach comes in as #1 (behind kale). So make this salad often & feel good about the healthy option. Spinach is loaded with iron, folate, Vitamin A & Vitamin C.
Why does my mouth or teeth feel weird after eating raw spinach?
Some people may be more sensitive than others to raw spinach. Spinach contains a high amount of oxalic acids. They are small crystals that are released when you chew. It's what coats the teeth, resulting in a chalky or gritty feeling. It is perfectly safe & doesn't hurt your teeth, tongue, or gums.
Related
Looking for other recipes like this? Try these:
What to Serve with Spinach Salad
These are my favorite dishes to serve with this recipe for a simple & healthy spinach salad: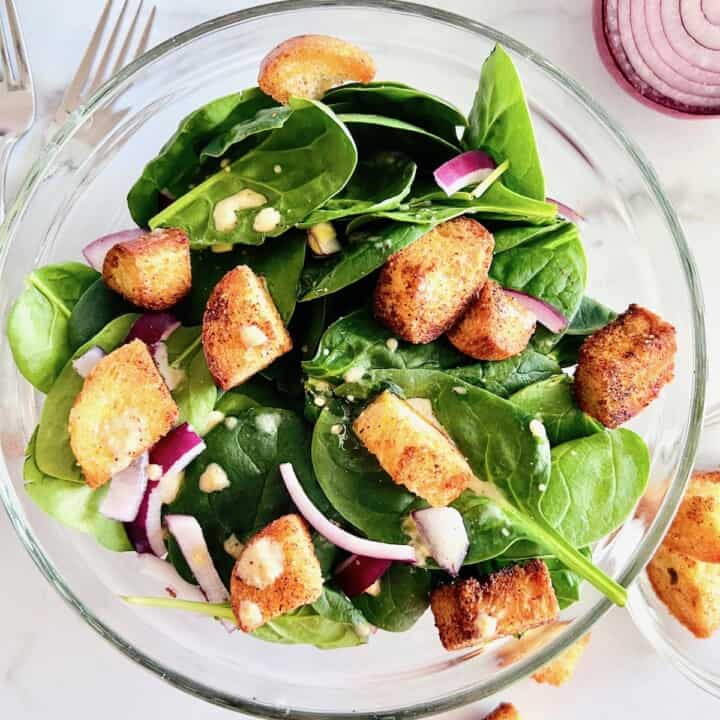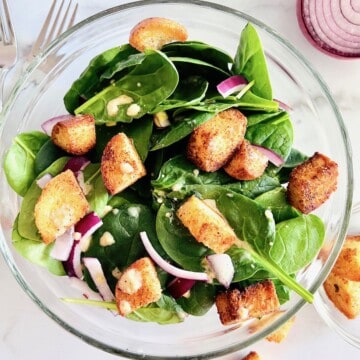 Simple Spinach Salad
Toss together this quick & easy simple spinach salad in just minutes. The crunchy croutons are made from scratch & with a homemade dijon vinaigrette this is the best recipe hands down. It's a fresh & healthy side dish that goes with any meal or enjoy for lunch. Pile on some protein for an entree dinner.
Ingredients
5

cups

baby spinach leaves

washed & dried

⅓

cup

red onion

sliced thinly & chopped

1

cup

homemade croutons

recipe link below
Dijon Vinaigrette Ingredients
2

tablespoons

olive oil

1 ½

tablespoons

red wine vinegar

1

tablespoon

Dijon mustard

pinch salt & pepper
Instructions
Make the air fryer croutons. While they are cooking in the air fryer get the other ingredients in the salad bowl

Combine the spinach, sliced red onion, & croutons in a medium-sized salad bowl.

Add the olive oil, red wine vinegar, & dijon mustard to a small mixing bowl. Whisk to combine. Add a pinch of salt & pepper. Whisk again.

Drizzle the dressing over the spinach salad.

Using tongs or salad forks, toss the salad gently so the ingredients are coated with the dressing. Season with additional salt & pepper if desired.

Serve immediately. Divide between 4 serving bowls or plates. The salad is also great to put out for a buffet or potluck where everyone can serve themselves.
Notes
Don't skip this step - link for HOMEMADE AIR FRYER CROUTONS RECIPE 
Nutritional information will vary based on the bread/croutons used to complete the salad. Here is an estimate for 4 side dish servings.
Nutrition Facts
Servings: 4
Amount per serving
 
Calories
155
% Daily Value*
Total Fat 10g
13%
Saturated Fat 1g
5%
Cholesterol 0mg
0%
Sodium 325mg
14%
Total Carbohydrate 15.7g
6%
Dietary Fiber 1.2g
4%
Total Sugars 3.3g
 
Protein 4g
 
Vitamin D 0mcg
0%
Calcium 42mg
3%
Iron 1mg
6%
Potassium 233mg
5%
*The % Daily Value (DV) tells you how much a nutrient in a food serving contributes to a daily diet. 2,000 calorie a day is used for general nutrition advice.

Recipe analyzed by