Never have a fun crawfish dinner or party and run out of food. Here is all you need to know to make sure everyone has enough crawfish and all the fixings to eat. So crack open a beer, pour some homemade lemonade, or a sweet tea, and have a good old-fashioned crawfish boil.
Crawfish taste like a combination of shrimp and lobster. They are slightly sweet and rich. They are not fish, despite their name. Crawfish are crustaceans that live in freshwater, like rivers, lakes, and marshes. Louisiana is the biggest source of farmed and wild crawfish in the United States. Below is all the information you need to be sure you know how many pounds of crawfish to buy and cook per person.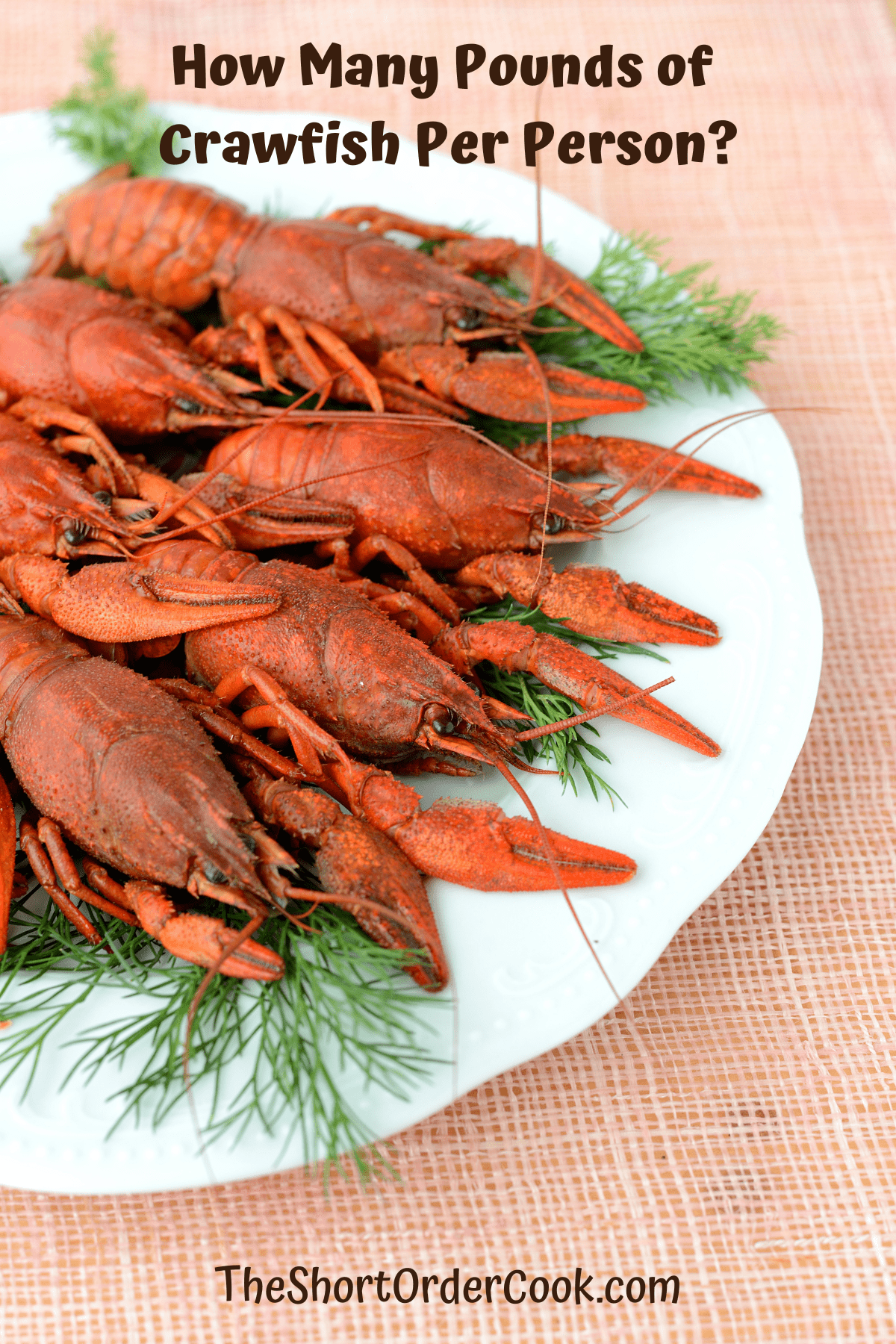 Other Names for Crawfish
These small lobster-like shellfish have a lot of names. Depending on where you grew up, your region/location, or your family you may call crawfish by another name. Here are the other commonly used names for crawfish. They are used interchangeably when shopping for, cooking, or searching for recipe ideas.
Crayfish or craydids
Crawdaddies or crawdads
Freshwater, mountain, or rock lobsters
Mudbugs or baybugs
Yabbies
Buying Raw Crawfish
When trying to figure out how much crawfish to buy, knowing how many people you want to serve is important. It is also important to take into account the type of guests and how much they may typically eat. Know if you have small eaters versus big eaters. It is also important to know the number of kids compared to adults too.
Buying crawfish (live) by the pound or sack is typically how you can purchase it. Here are the recommended calculations on how much raw crawfish to buy per person for a crawfish boil.
3 pounds per person - average eaters with some guests being kids
4 pounds per person - for a group of all adults that are average eaters
5 pounds per person - for big eaters
6 pounds per person - for a party!
** If you are having a crawfish boil with 2-3 additional sides like rice, cornbread, mac & cheese, etc - order 1 less pound per person than the above estimates **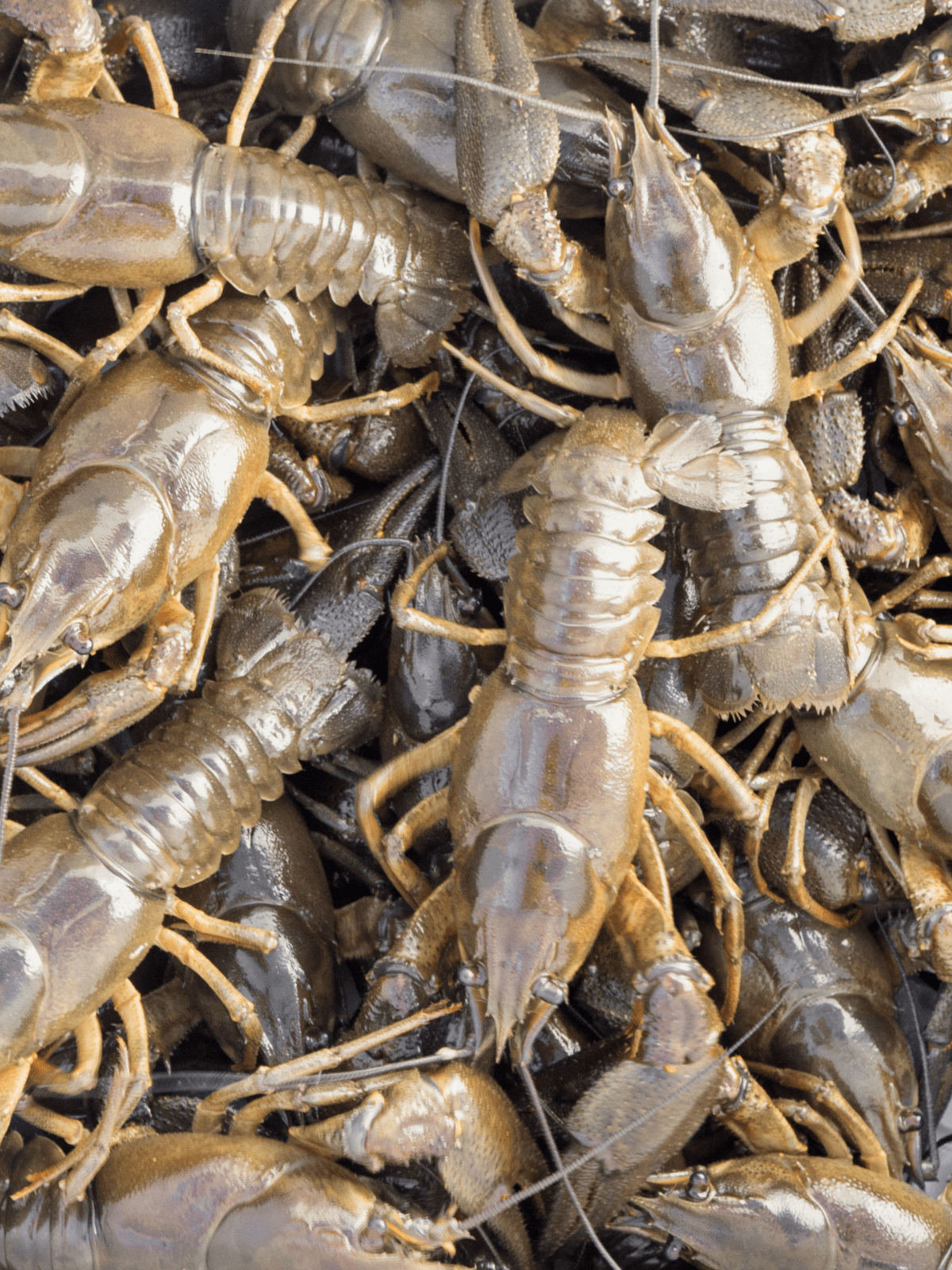 How Much Cooked Crawfish
The amount of cooked crawfish meat you will yield is much less than the actual weight of the raw crustaceans. Keep in mind, even though all parts of a crawfish are edible, most people only eat the tail meat. Some may suck on the heads but for the most part, the tail meat is what is eaten or some claw meat if they are large enough.
WIth that being said, pounds of live crawfish does not offer pounds of technically edible meat. Three pounds of raw crawfish typically yields only about a ½ pound or 8 ounce of tail meat. This may also help you figure out how many pounds to cook up to ensure you have enough tail meat to feed everyone.
If you are planning a crawfish boil, here is how much cooked crawfish meat each person will get once it is extracted from the shells. These are all estimates so always make a bit extra to be sure you have enough.
3 pounds per person = ½ pound of crawfish tail meat
4 pounds per person = 10.5 ounces of crawfish tail meat
5 pounds per person = 13 ounces of crawfish tail meat
6 pounds per person = 1 pound of crawfish tail meat
So if you need shelled crawfish for a recipe, keep this information handy. If you need 1 pound of tail meat for a cassrole or chowder, you will need to start with 6 pounds of raw crawfish. Hopefully this gives you a better understanding of how much will actually be available to eat when they are cooked and shelled.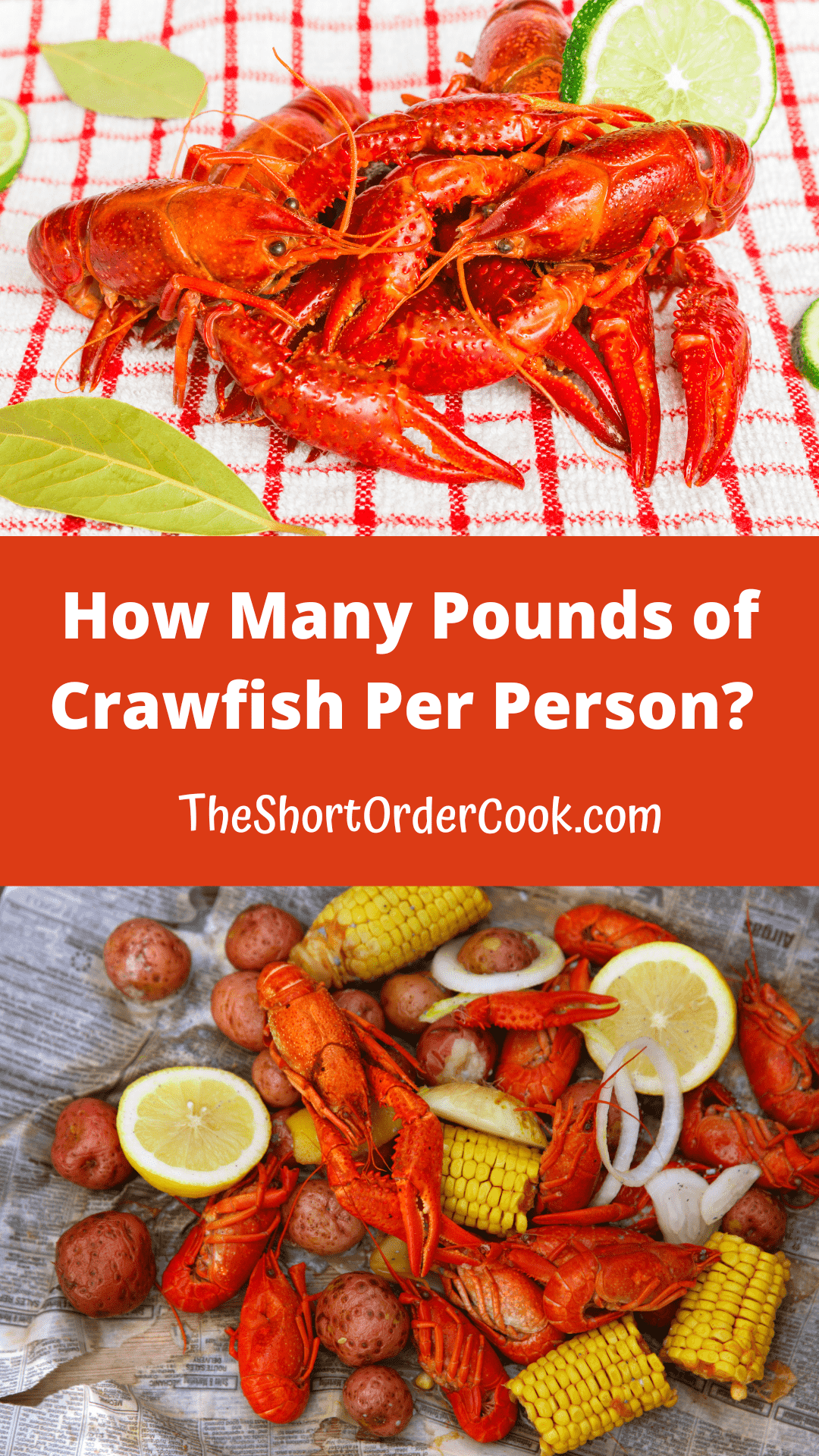 Making the Best Crawfish Boil
To have a complete meal, the crawfish boil really has it all. Traditionally it includes small ears of corn, and red potatoes, along with herbs and spices in the crawfish boil. Serve it on paper-lined tables dumped into a big pile along with lemon wedges.
If you want to serve additional side dishes with your crawfish boil, here are some great recipes. These sides all go well with a classic crawfish boil. Don't forget a fun & refreshing cocktail like my Texas Ranch Water.
Storing Leftover Crawfish
If all these calculations are done and you still find yourself with leftovers, that's perfectly fine. If you are like me and love leftovers, celebrate. Crawfish stores easily in the refrigerator or even an ice chest if you are camping or on a boat. Store leftover crawfish in an air-tight container in the refrigerator for up to 3 days. If you have it on ice, as long as it is very cold, it should last up to 48 hours.
You can even shell the leftover crawfish to enjoy later. Leftover crawfish meat makes for wonderful chowders, dirty rice, or other delicous recipes.
Best Crawfish Boil Equipment
Here is all you need to host a great crawfish boil party. So send out the invitation and get ready to dig in with your hands and have a great time.
The Short Order Cook is a participant in the Amazon Services LLC Associates Program.  As an Amazon Associate, I earn from qualifying purchases.  If you click on a link and make a purchase, I may earn a small commission on the sale at no additional cost to you. This helps with the costs of running the blog. Thank you!