This classic old-fashioned baked macaroni & cheese recipe is even more amazing with crispy bacon & sweet caramelized onions. It's creamy, gooey, & comfort food at its best. My mother made this all the time & now I make it for my family. It's a tried & true southern recipe that will be a homemade mac & cheese favorite at your house guaranteed.
This old-fashioned mac and cheese casserole recipe made from scratch is soul food at its best. It tastes gourmet with a cheese sauce using a classic roux technique stirred into al dente elbow macaroni. Finally, the addition of sweet caramelized onions and smoky crispy bacon just lifts this recipe to a whole new level of elevated goodness.
Whether you call it macaroni and cheese, mac and cheese, or mac n cheese one thing is for sure, everyone will ask for seconds. It's a great main dish to serve with my oven-roasted green bean recipe. Or enjoy it as a side along with tender short ribs from the smoker.
Jump to:
What are the Best Cheeses for Mac and Cheese?
Sharp Cheddar - the old standard with pronounced aged cheddar perfection
Gruyere - adds an earthy depth and complex nuttiness *(substitute Swiss cheese if hard to find)
Monterey Jack - mild, buttery, and melts easily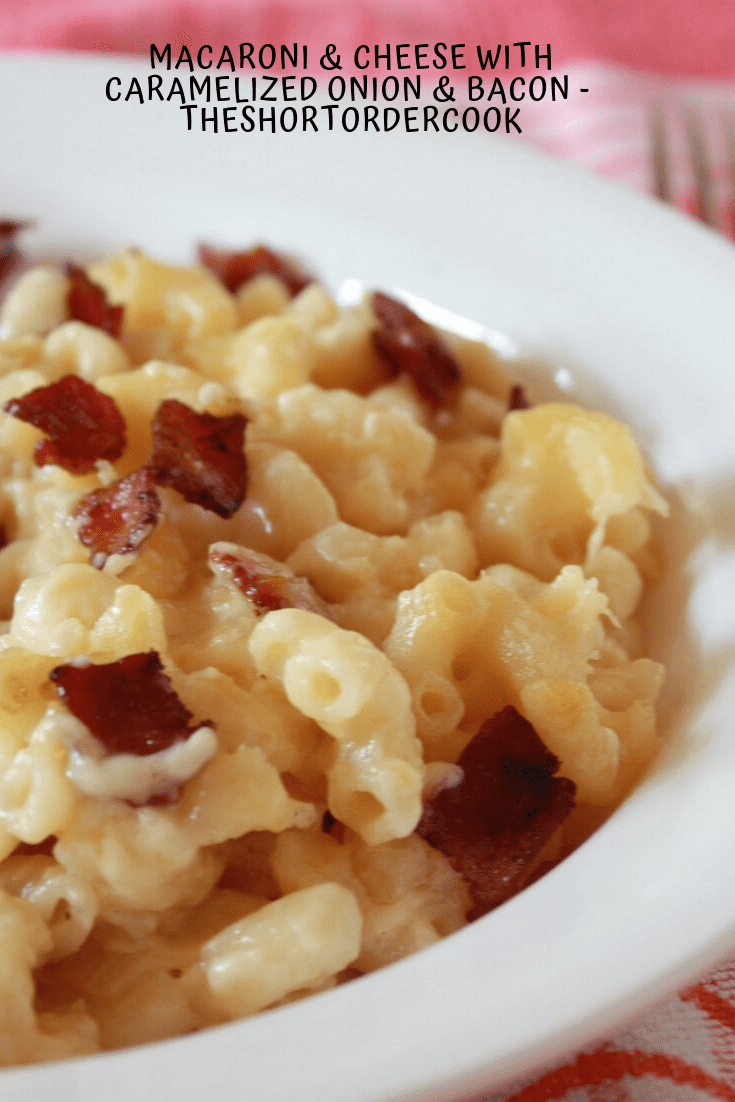 Ingredients for Old-Fashioned Macaroni and Cheese
This is made with a tasty 3-cheese blend of Gruyere, sharp cheddar, and jack for the best macaroni and cheese recipe ever. The rest of the ingredients are pantry staples.
3 kinds of cheese - sharp cheddar, gruyere, and Monterey jack
butter
flour
elbow shaped pasta
salt, pepper, and nutmeg
bonus ingredients = bacon and onions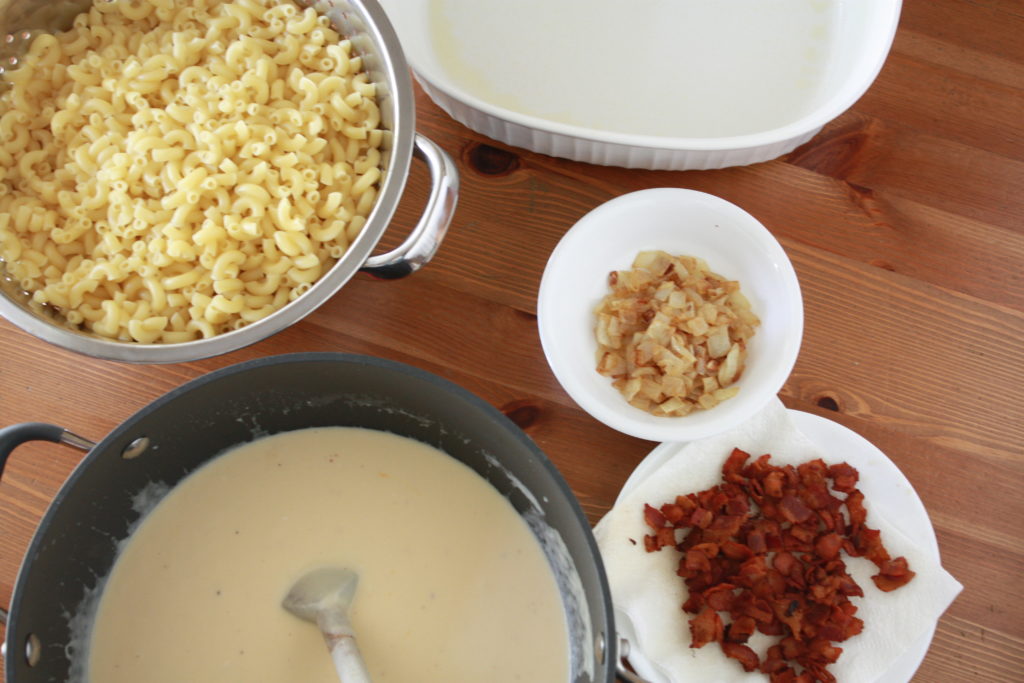 How to Make Baked Mac and Cheese
This is my go-to recipe when I want a crowd-pleaser that will make the kids happy but all the adults love it too. (nothing boring here!) It is the best baked macaroni & cheese casserole. As a side dish, this recipe feeds about 8-10 and as a main dish, it feeds about 4-5 people.
Here are the steps outlined on how to make this recipe:
Caramelize the Onions
Cook the Bacon
Boil the Macaroni Pasta
Make the Cheese Sauce from a Traditional Roux Recipe
Assemble & Bake the Mac & Cheese
How to Caramelized Onions
The extra steps of caramelizing the onions are worth every sweet bite. It takes some time but it is so easy. Learning how to caramelize onions is easy. Follow these basic steps or check out my link above for more in-depth details.
Melt butter over low heat in a skillet.
Add diced onions to the pan.
Cook over low heat for 15-20 minutes, stirring occasionally.
Cook until soft, translucent, & golden brown.
Fry the Bacon
Set the onions aside and next crisp up the bacon pieces in a saute pan. Drain the bacon on a plate with paper towels. Once both are ready, start the roux for the cheese sauce and get the pasta cooking.
Boil the Macaroni Noodles
Begin boiling a large pot of water for cooking the elbow macaroni. Once it comes to a boil, add the box of macaroni. Stir so they do not stick together. Start the cheese sauce now & preheat the oven to 400° so it will be ready.
Reduce the heat to medium-high so it continues to bubble but does not boil too high & spill over. Cook until pasta is al-dente, about 8 minutes.
Make the 3-Cheese Sauce
Meanwhile, as the water is coming to a boil, time to make the cheese sauce. This will be the base for the baked mac & cheese casserole. It will seem like a lot of sauce. Baked mac & cheese recipes need a lot of sauce so they are creamy and do not dry out.
Here are the easy steps to making the cheese sauce.
Over medium-low heat, melt butter in a medium-sized saucepan.
Sprinkle in the flour & whisk until a golden paste. Cook for 2 minutes so there is no raw flour taste.
While whisking, add the milk. Turn the heat to medium-high and cook for 2 minutes.
Once thick & smooth, turn it off and remove from the heat.
Add the 3 kinds of shredded cheese, nutmeg, and cayenne. Stir to combine so it is a rich smooth cheese sauce.
Assemble & Bake the Old-Fashioned Macaroni and Cheese
To the cooked macaroni, add the cheese sauce. Stir to combine. It will be very cheesy.
To assemble, butter or spray a large casserole dish. Next, add ½ of the bacon and onion pieces to the macaroni & cheese, and stir to combine.
Pour it into the prepared baking dish. Sprinkle the remaining bacon and onions on top before baking.
Place the mac & cheese into the preheated oven to bake for 20-30 minutes. It will be bubbling on the edges and warm in the center when it is ready. Do not overbake or it will dry out.
Let it sit for 5 minutes before digging in. Spoon onto plates as a side dish or in bowls for a main dish. Enjoy!
Substitutions & Variations
Vegetarian - you can make a simple substitution and omit the bacon. But if you still want a smoky taste, replace the Monterey Jack cheese with a smoked gouda.
Bacon - use turkey bacon instead of pork bacon if that is your preference. It will still have that crispy & salty texture that makes this mac & cheese irresistible.
Gluten-Free - use a gluten-free flour such as Bob's Red Mill 1:1 replacement instead of regular flour. Also, use your favorite gluten-free macaroni, such as gluten-free pastas, & follow the box instructions for cooking.
Extra Cheesy - sprinkle additional shredded cheese over the top ½ way through baking.
Storing Mac & Cheese
You can make macaroni and cheese ahead of time. Just cover and place in the refrigerator for up to 2 days. On the day you want to bake it, let it sit on the counter as you preheat the oven. Then put it in the oven and bake it.
Leftover mac & cheese stores well in the refrigerator & freezer. Place in an air-tight container and store in the refrigerator for up to 5 days and in the freezer for up to a month.
To thaw, place a frozen container in the refrigerator for 48 hours. Reheat refrigerated mac & cheese in the microwave - it may need a splash of milk or more butter to make it creamy again but it will still be fantastic.
What to Serve with Homemade Mac & Cheese
Here are some family favorites to serve with this recipe. All go well together for a complete meal - the kid's favorite is AIR FRYER POPCORN CHICKEN!
3-Ingredient Sloppy Joes (Gluten-Free)
This easy homemade sloppy joe sauce is made of only 3 ingredients. Together they make this classic sandwich saucy, sweet, and savory with a bit of tang. There is a lot of flavor with just a few ingredients.
Easy 3-Ingredient Sloppy Joes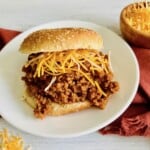 Grilled Boneless Skinless Chicken Thighs
The best grilled boneless skinless chicken thighs are easy to make for summer cookout perfection. They have a sweet and spicy dry rub that adds so much flavor. These yummy chicken thighs come out juicy and cook in less than 15 minutes for a quick meal. Chicken thighs are great for meal planning to add to salads, soups, sandwiches, and wraps for lunch or dinner.
Grilled Seasoned Chicken Thighs
Smoked Pulled Pork Shoulder (pork butt)
The best smoked pulled pork is done low & slow. This tender & juicy pork shoulder is an easy recipe. This is a great pulled pork recipe for beginners thanks to its simplicity and foolproof method.
Pulled Pork from the Smoker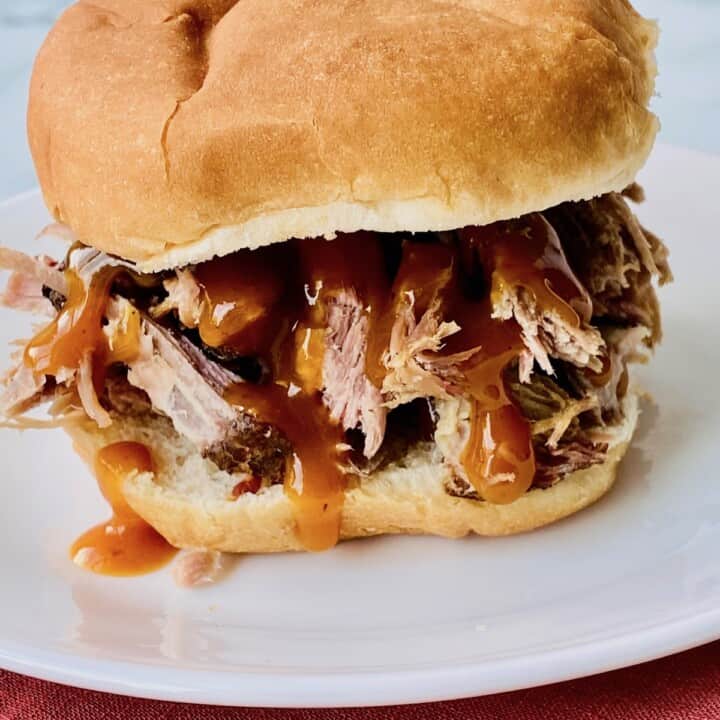 Italian Chicken
This recipe for authentic Italian chicken drumsticks is bursting with flavor thanks to an easy lemon, pepper, garlic, and herb marinade. The chicken legs are grilled to juicy perfection.
Grilled Lemon Pepper Chicken Legs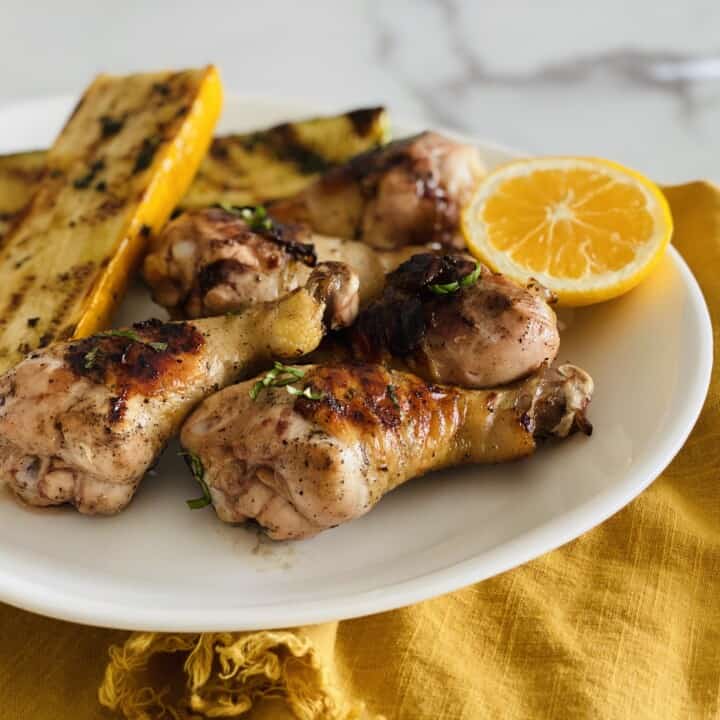 Philly Cheesesteak with Trader Joe's Shaved Beef
Tender beef and melty cheese are delicious in this iconic sandwich, easy enough to make at home. This is the best Philly Cheesesteak using Trader Joe's Shaved Beef Steak.
Philly Cheesesteaks with Shaved Beef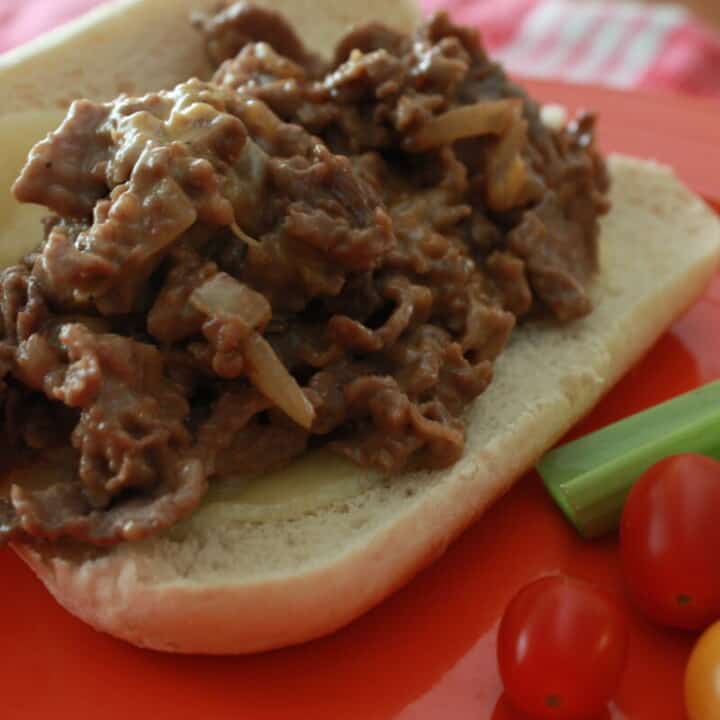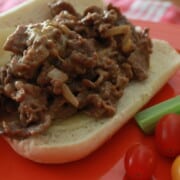 Caramelized Brussel sprouts with Brown Sugar, Bacon, & Blue Cheese
Caramelized Brussel sprouts with brown sugar are a wonderful simple side dish.  To make Brussel sprouts even more wonderful add bacon and blue cheese for a sweet, salty, creamy, and nutty delight. 
Brussels Sprouts with Bacon & Blue Cheese
Broccoli Salad with Apples & Cheese
This healthy broccoli salad with carrots, raisins, apples, and cheese is amazing. The creamy greek yogurt dressing is low-fat and made without mayo. It is tangy, crisp, fresh, and sweet in every bite. It holds up great for potlucks and barbecues. It is even great as a leftover, unlike other salads.
Broccoli Apple Salad with Greek Yogurt Dressing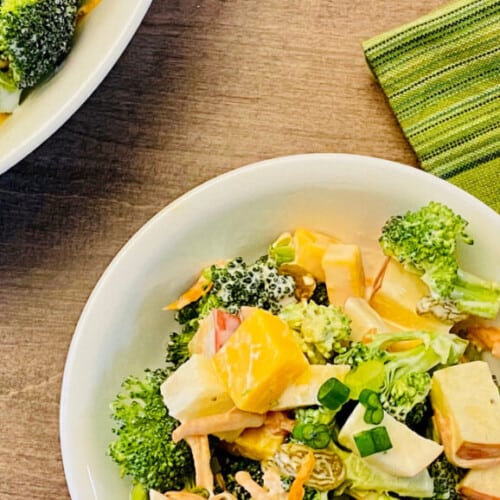 Air Fryer Shishito Peppers
Air fryer shishito peppers char up with crunchy blistered skins for so much flavor. In minutes you have one of the best appetizers. For a sweet, spicy, and smoky bite there is nothing more simple yet delicious as these peppers.
Air Fryer Shishito Peppers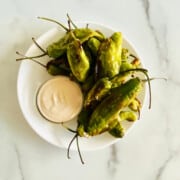 Other Bacon Recipes
Bacon lovers be ready to enjoy these yummy recipes that are all made better thanks to loads of crispy bacon.
Product Recommendations for this Recipe:
The Short Order Cook is a participant in the Amazon Services LLC Associates Program. As an Amazon Associate, I earn from qualifying purchases. If you click on a link and make a purchase, I may earn a small commission on the sale at no additional cost to you. This helps with the costs of running the blog. Thank you!
Old-Fashioned Baked Macaroni & Cheese with Bacon
Creamy macaroni & cheese with caramelized onions & bacon is a classic old-fashioned recipe. The best homemade baked mac and cheese begins with a traditional roux, 3 kinds of cheese & al dente elbow pasta. This family-favorite casserole recipe is creamy, comforting, & simple to make.
Ingredients
2

tablespoon

salted butter

½

yellow sweet onion

diced or sliced thin

6

slices

bacon

diced

1

package

elbow pasta

16 oz

3

tablespoon

salted butter

3

tablespoon

all-purpose flour

2

C

whole milk

6

oz

Gruyere cheese

grated

6

oz

sharp cheddar cheese

grated

3

oz

jack cheese

grated

¼

teaspoon

black pepper

pinch

ground nutmeg

pinch

cayenne pepper
Instructions
Preheat the oven to 400 degrees F.

Measure the milk and let come to room temperature while you do the upcoming steps.

Heat saute pan on medium heat and melt butter. Add diced onion and set to low, cook the onion slowly until they are soft, translucent, and only slightly brown. You do not want these dark but more soft and tender to bring out the natural sweetness. Transfer to a bowl and set aside.

In the same saute pan, bring the heat back up to medium. Add diced bacon and saute until crisp. Transfer the bacon to a plate lined with paper towels and set aside.

Bring a large pot of salted water to boil. Add the macaroni and cook according to the directions on the package, typically 6 to 8 minutes. Drain well then return to the large pot.

Meanwhile, heat a medium saucepan to medium and melt the butter. Sprinkle in the flour and whisk until a smooth golden paste. Cook over low heat for 2 minutes, stirring with the whisk. You want to make sure you cook this so that there is no raw flour taste in your sauce. Do not immediately add the milk and cheeses.

While whisking, add the milk slowly and cook for a minute or 2 more on medium-high, until thickened and smooth.

Remove from the heat, add the 3 kinds of cheese, pepper, nutmeg, and cayenne. Stir to combine so it is a rich smooth cheese sauce.

To assemble, butter or spray a large casserole dish. To the cooked macaroni, Add the cheese sauce, ½ of the crumbled bacon, and the onions and stir well. Pour into the casserole dish and top with the remaining bacon.

Bake for 20-30 minutes or until bubbly and warm in the center.

Remove from oven and let sit for about 5 minutes to cool and for the cheese sauce to thicken. Plate and enjoy.

To store the remaining macaroni and cheese, cover the casserole dish and place it in the refrigerator. It can be stored for up to 3 days.
Notes
Nutrition Facts
Servings: 6
Amount per serving
 
Calories
763
% Daily Value*
Total Fat 40.8g
52%
Saturated Fat 23.8g
119%
Cholesterol 122mg
41%
Sodium 559mg
24%
Total Carbohydrate 65.7g
24%
Dietary Fiber 2.7g
10%
Total Sugars 6.8g
 
Protein 33.1g
 
Vitamin D 39mcg
196%
Calcium 705mg
54%
Iron 3mg
16%
Potassium 381mg
8%
*The % Daily Value (DV) tells you how much a nutrient in a food serving contributes to a daily diet. 2,000 calorie a day is used for general nutrition advice.
Did you make this The Short Order Cook Recipe?
Tag @theshortordercookblog (Instagram & Facebook) or @shortorder_cook (Twitter).
I would love to see your latest creations and kitchen adventures.