If you are trying to figure out what to serve with homemade fajitas for dinner, this list is exactly what you are looking for. Mexican fajitas is a delicious combination of proteins and/or vegetables that are seasoned and sometimes sauced. It can be spicy, sweet, smoky, or all of those flavor combinations which means a great variety of all sorts of side dishes are great to eat with fajitas  All of these suggested sides go well for all your meal ideas, including parties or weeknight dinner plans.
The best sides to serve with chicken, beef, shrimp, vegetable, or vegan fajitas are all right here. Many fellow food bloggers have shared some of their quick and easy side dish recipes to eat with this Mexican classic main dish. If you want a cocktail, salsa, salad, rice, beans, or more we have you covered with so many choices on what to eat or drink.   All of these pair well and are great to eat with fajitas the next time you make them at home.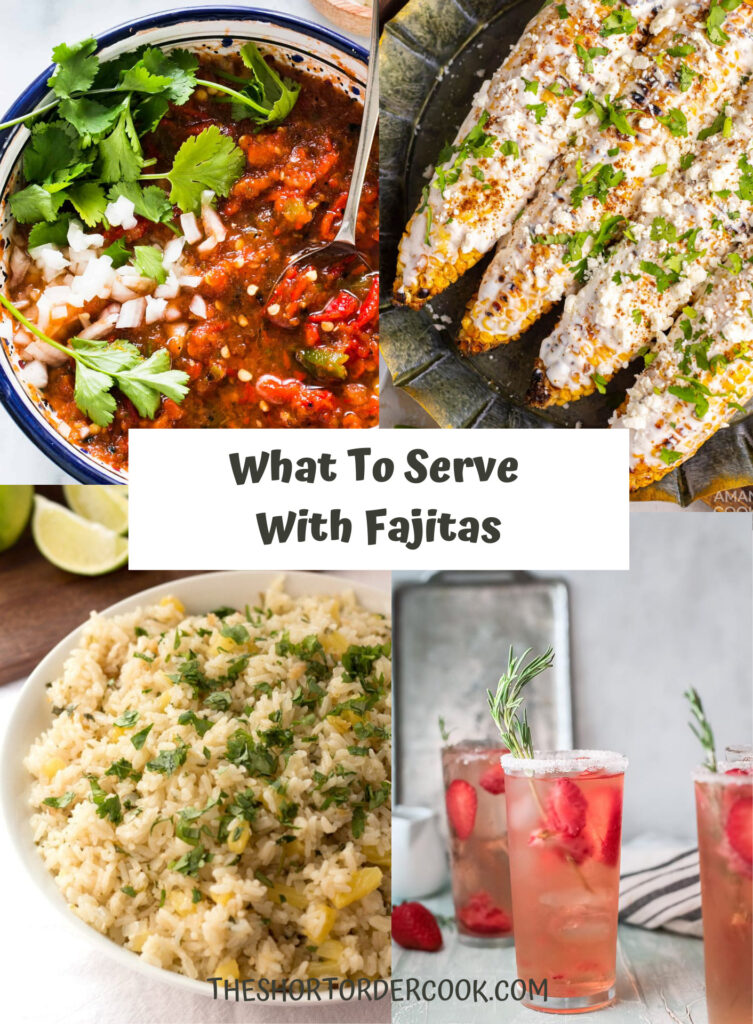 What to Serve with Fajitas
This is a tasty list of what sides to eat with your recipe for fajitas  Many of these side dishes are also great to serve with taco, burritos, enchiladas, tamales, or other authentic Mexican dinner ideas. There is a variety of side dish options that include low-carb, vegan, gluten-free, healthy, and dairy-free.
To help you decide what to serve with fajitas, I have broken down the list into some subcategories. So based on your mood, preference, or diet, there is something for everyone.  There are fun cocktails, mayo-based salads, classic Mexican side dishes, healthy sides, and even a few desserts.  This list includes the best of what to make, serve, and eat with fajitas:
Drinks & Side Dishes by The Short Order Cook
Drinks & Appetizers to Serve With Fajitas
Classic & Unique Mexican Side Dishes
Healthy Side Dishes
Desserts to Serve With Fajitas
Drinks & Side Dishes by The Short Order Cook
All of these recipes can be found on the website and are what to eat with fajitas the next time you make them at home.   These are some of our family favorites.
Drinks & Appetizers to Serve With Fajitas
Start off dinner with a cocktail or appetizer the next time you have fajitas or any other Mexican entree at home.  Enjoy a margarita, salsa, and more with these recipes that are the best to get things started.
Classic & Unique Mexican Side Dishes
This list of sides to serve with Mexican food includes some of the best authentic and new recipe ideas.  If you want standards like elote or charred beans, two amazing recipes are listed below.  Plus for a new twist on what to serve with fajitas, try out a bowl of unique rice, some Mexican-inspired potato skins, or even some vegan refried beans.  No matter which recipe you choose, they all taste amazing and go well with fajitas.
Healthy Side Dishes
This category of ideas to serve with fajitas includes quick, easy, and healthy recipes.   They are all on the lighter side and include fruits, vegetables, and quality whole ingredients.  These Mexican recipes include gluten-free, keto, paleo, vegetarian, and low-carb ideas.  Try a new fruit salsa, quick guacamole, healthy slaw, or veggies to complete your next fajitas supper.
Desserts to Serve With Fajitas
A Mexican meal isn't complete until you have dessert. Any of these wonderful desserts would be great to complete your fajitas dinner.   Whether you want cake, rice pudding, or a keto treat, all these dessert recipes are great to make.
PIN FOR SAFEKEEPING & SHARING!
Product Recommendations for this Article:
The Short Order Cook is a participant in the Amazon Services LLC Associates Program.  As an Amazon Associate, I earn from qualifying purchases.  If you click on a link and make a purchase, I may earn a small commission on the sale at no additional cost to you. This helps with the costs of running the blog. Thank you!