This list includes the best accessories for the 3-quart Instant Pot.  All the best products to steam, cook using the pot-in-pot method, make desserts like cheesecake, and more.   Using the Instant Pot to cook vegetables, and make soups, stews, pasta, and rice is common. 
You often do not need anything extra to make those. However, if you want to use your Instant Pot to steam, air-fry, bake a cake, or poach eggs you can buy these amazing products and have so much yummy fun.
For product recommendations in this article = #ad:
If you are new to pressure cooking with an electric one like the Instant Pot, you will not believe how much you can do with it.  One of my favorite things about the Instant Pot is you can make almost any sort of recipe with it if you have the right accessories. 
If you have one of the small Instant Pots, like the 3-quart size you can still get all the fun kitchen gadgets to cook just about anything. Try the best fall-off-the-bone spicy buffalo wings in the Instant Pot.
Jump to:
The Best 3-Quart Mini Electric Pressure Cookers
The fun-size Instant Pot is great for people who are single, college dorms, apartments, tiny homes, RV and trailers, and camping.  A 3-quart Instant Pot is the perfect size for these situations.  For the best 3-quart pressure cookers by Instant Pot, check out these choices.  There are even some fun designs for Star Wars fans who love to pressure cook, this is the Instant Pot for you. 
This is the best little electric pressure cooker around. It is great for dips, snacks, & people who live alone. If you want a small Instant Pot this little model is just perfect. 5-Star Reviews!
This 6-quart mini Instant Pot is perfect for Star Wars fans. The BB-8 lookalike design is so fun & adorable. May the pressure cooking be with you! If you want a bigger size, this is a good option.
This design is also just the thing for the Star Wars fan - perfect for gifting. This 6-quart option is not just the dark side of cooking.
Best Instant Pot Steamer & Baking Accessories
For steaming vegetables and more, these are my recommended products for using in your 3-quart sized Instant Pot. There is something here for everyone and you will find they are well rated and budget-friendly.
There are price points for everyone including fancy expensive steamers or cheaper items for the Instant Pot. You can steam food in the baskets or bake in the springform and regular pans.
This is an Amazon favorite with over 10K great reviews. Great for steaming vegetables, dumplings, & more. Also a great accessory for cooking "hard-boiled" a dozen eggs in the Instant Pot. It is rust-free and easy to wash all at a great price!
This BPA-free silicone steamer basket is fun & colorful. This lightweight has fewer holes than other steamer options which makes it easier to clean. It lifts out easily and is dishwasher safe.
Fat Daddio Cheesecake Pan
This small cheesecake pan fits in your 3-quart Instant Pot. Make a yummy dessert to share with this pan. Cheesecake will release easily and is one of the most popular accessories for the Instant Pot. 10K great reviews cannot be wrong!
BEST INSTANT POT SILICONE MOLDS & ACCESSORIES
Whether you want to cook eggs, need a pot sling, or have extra sealing rings, here are the best items to help you when cooking with your Instant Pot. All these products work with a small 3-quart electric pressure cooker.
This inexpensive & highly-rated sling is great for lifting any pot or food out of the Instant Pot. It doubles as a egg trivet and you can even roast on top of it. A great multi-tasker for so many pressure cooker recipes.
I have these fun little accessories. The make the perfect poached eggs - yeah for easy eggs benedict. The cute little colors and the silicone material make these a must-have. They are easy to use and clean. BONUS: great for lava cakes & bread pudding too.
OTHER MUST-HAVE 3-QUART INSTANT POT ACCESSORIES
These products are some of the best accessories you can buy for your Instant Pot cooking. They include what to use to clean and store your Instant Pot.
Extra 3-Quart Insert
If you want an extra or need a replacement - this is the 3-quart size you need. The Stainless Steel model is the only way to go. Do not replace it with a different brand, only use this insert in your Instant Pot model.
This cover is great to keep your Instant Pot clean. It comes in many fun colors plus a pocket on the size for spatulas & utensils. Also comes in 6 & 8-quart sizes for those of you who have several Instant Pots at home.
EASY INSTANT POT RECIPES
Try these recipes with your 3-quart or any size Instant Pot. If you are using the mini, you will need to bring the quantities down to fit in your small pressure cooker but these all work and are some of the yummiest recipes to make in the Instant Pot.
Instant Pot Italian Sausage & Peppers
Instant Pot Italian sausage and peppers is a quick & easy recipe. They are great for sandwiches or as is for the best keto, low-carb, or gluten-free meal. This Instant Pot sausage and pepper recipe is done in one pot and is complete in just 20-minutes. 
Instant Pot Sausage & Peppers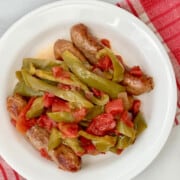 Instant Pot Creamy Chicken Spaghetti
Chicken spaghetti in the Instant Pot is a quick and easy recipe. This one-pot chicken and pasta recipe is comforting and delicious.  
Instant Pot Creamy Chicken Spaghetti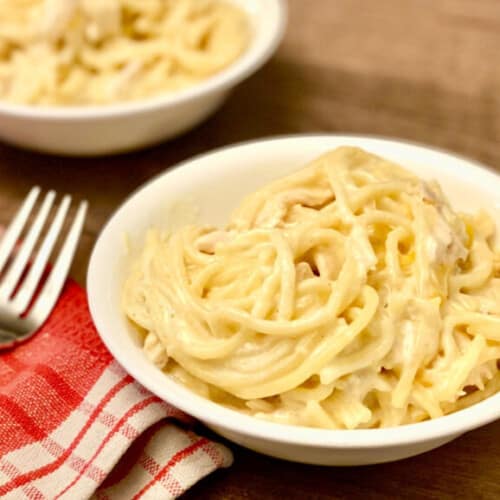 Instant Pot Chicken Wings
The best Instant Pot chicken wings recipe is so easy & yummy. Fall-off-the-bone buffalo chicken wings will please any crowd. The cooking liquid secret adds so much flavor. These spicy wings are keto-approved, low-carb, & diabetic-friendly.
Instant Pot Buffalo Chicken Wings
Instant Pot Cream of Celery Soup
For the best homemade cream of celery soup, make it in the Instant Pot. It is a creamy, rich, and comforting recipe. As a bonus, this cream of celery soup is keto, gluten-free, grain-free, & low-carb.   
Instant Pot Celery Soup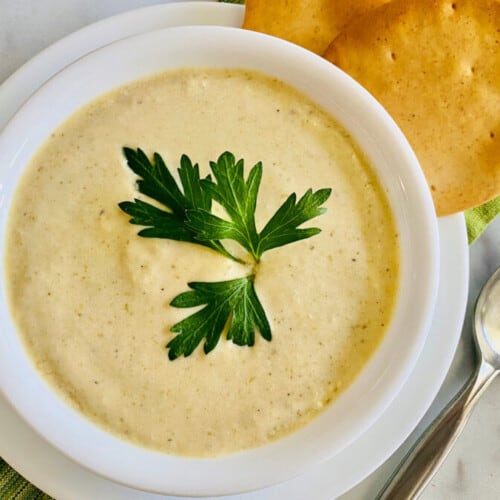 Instant Pot Ranch Salt Potatoes
Tender bite-sized potatoes are tossed with butter and ranch seasoning for a family favorite. These salt-crusted electric pressure cooker potatoes are easy and the best side dish recipe.
Instant Pot Ranch Salt Potatoes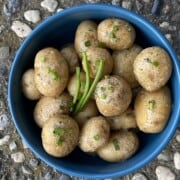 Instant Pot Steamed Broccoli
Instant pot steamed broccoli is a healthy and easy recipe that comes out perfect every time. In just a few minutes fresh broccoli is cooked and ready to enjoy.  This method works in any electric pressure cooker with or without a steamer basket and results in fresh steamed broccoli that is not mushy. 
Instant Pot Steamed Broccoli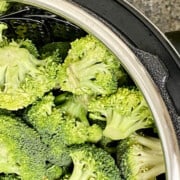 Instant Pot (pressure cooker) Cranberry Apple Sauce
Fresh cranberries and apple pair for a sweet and tart sauce that is a great accompaniment for meats or part of a dessert recipe An easy recipe with only 4 ingredients and cooks fast in your Instant Pot or electric pressure cooker. A must for Thanksgiving, Christmas, or any time of the year.
Instant Pot Cranberry Apple Sauce
For product recommendations in this article = #ad: The Short Order Cook is a participant in the Amazon Services LLC Associates Program. As an Amazon Associate, I earn from qualifying purchases. If you click on a link and make a purchase, I may earn a small commission on the sale at no additional cost to you. This helps with the costs of running the blog. Thank you!
More Buying Guides for Kitchenware
A well-equipped kitchen is great for home cooks of all levels. Here are more of my favorite products reviewed with prices, buying guides on Amazon, plus pros & cons.