Taralli are wonderful baked wheat flour rings that are a classic snack in Italy.  These little round cracker-like biscuits are a bit addicting so be warned. Taralli are savory bites that are crispy on the outside and have flaky inside.  The taste is a wonderful combination of floral olive oil and spicy black pepper with every nibble.  Taralli can be referred to as cookies, crackers, biscuits, or biscotti de pepe. This taralli ricetta pugliese, is the best homemade recipe and so much better than store-bought Trader Joe's or Flora's packaged taralli.
Italian pepper cookies originated in the Puglia region which is where my family came from and the town of Bari.   These are different than the Sicilian taralli, also fantastic though, which is typically a sweet lemon version that is glazed. The traditional flavors of taralli Pugliese are black pepper and fennel or anise seeds.   I enjoy these as a savory treat and like them as a snack or addition to a bread basket like breadsticks or on a charcuterie board with fruit, cheese, salumi, jams, & olives.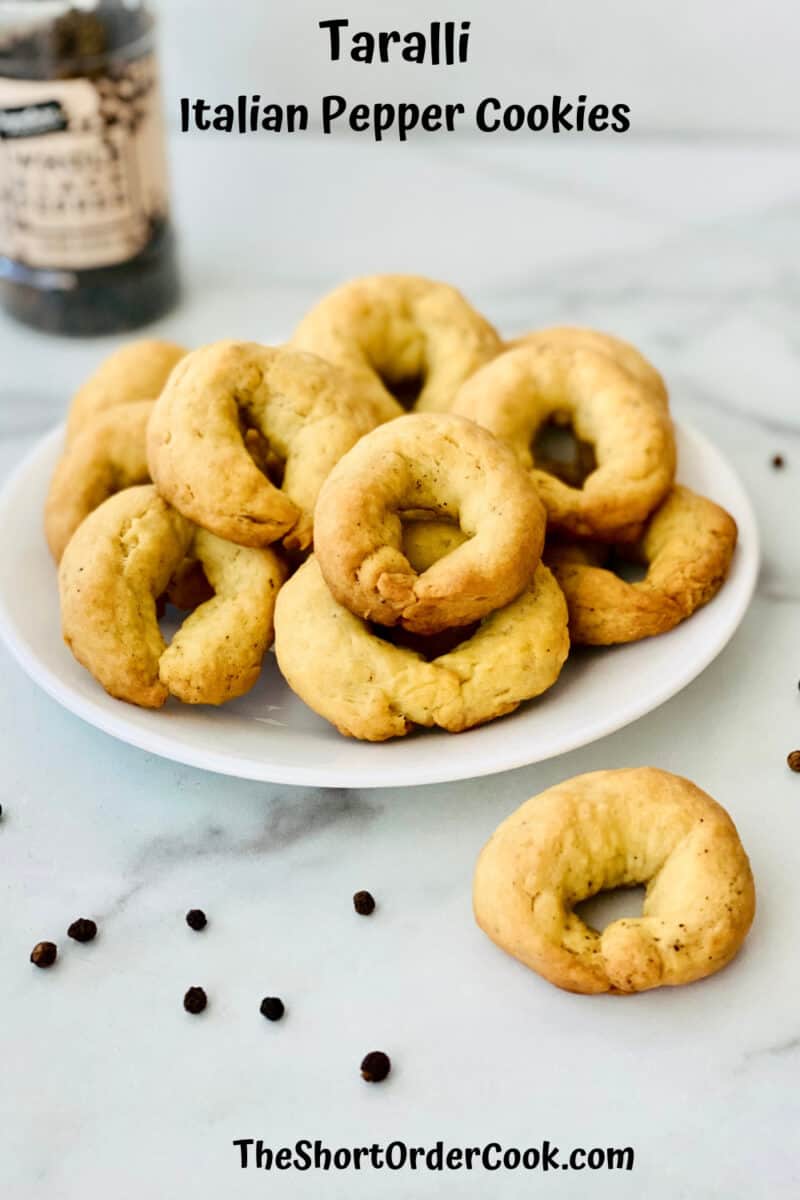 INGREDIENTS FOR HOMEMADE TARALLI PUGLIESE
To make classic taralli with black pepper, you will need 4 ingredients plus water.   I traditionally make mine completely savory but you can also add sugar to balance the black pepper and olive oil. I personally do not add it and make it optional in this Italian black pepper cookie recipe.
This is made without white wine like other taralli recipes may include. It needs minimal kneading and no proofing; therefore, it is ready to bake in minutes.  It was originally a very basic recipe believed to be originated as far back as 1400 in Italy so that is what is still being made today. You can find out more about the HISTORY OF TARALLI if you are interested.
HOW TO MAKE HOMEMADE TARALLI
This is a very easy no-yeast Italian recipe so it takes no time to mix the dough, shape, and bake them off.  In just a few minutes the dough will come together and only needs a bit of kneading before you begin rolling and shaping the taralli rings.   Then you pop them in the oven until they are light brown, a bit flaky thanks to the olive oil, and have so much savory black pepper flavor.
Make the Dough for Taralli Biscuit
To begin making the dough for taralli biscotti, mix all the dry ingredients in a large bowl.  Add the sugar if you are using it, again the sugar is optional.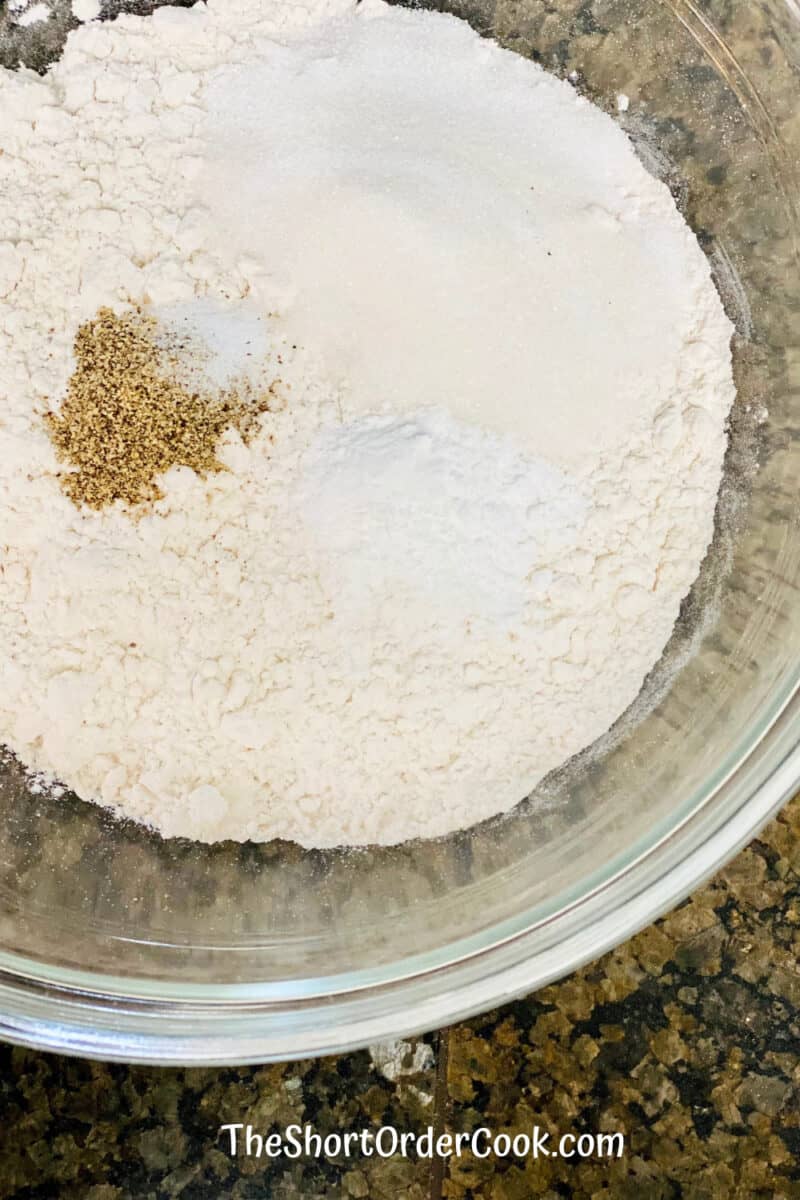 Next, create a well in the middle to add the wet ingredients. Slowly pour the water and oil into the well of the flour.  To blend together completely, gradually incorporate into the flour using your hands. The dough will be dense and you will have a stiff dough that is soft. It should not be dry and crumbling nor too wet and oily.
Knead & Shape the Taralli
Prepare a cutting board or work surface with a bit of flour (see the best flour for dusting work surfaces below)  To the stiff dough, knead for about 3 minutes to develop the gluten.    If you have never kneaded dough before, here is step-by-step instructions on kneading dough. 
***  I actually always use RICE FLOUR when I need dough - it has no gluten and is actually a better barrier to keep it from sticking. Regular wheat flour will stick to flour itself thanks to gluten but rice flour solves that problem and you use so little it does NOT change the recipe or texture)
This is the rice flour I use for dusting when making breads etc -  The Short Order Cook is a participant in the Amazon Services LLC Associates Program.  As an Amazon Associate, I earn from qualifying purchases.  If you click on a link and make a purchase, I may earn a small commission on the sale at no additional cost to you. This helps with the costs of running the blog. Thank you! 
NOW  PREHEAT THE OVEN TO 400°.  This will give it time to come to temperature while you shape the taralli.
Shaping each tarallo is very easy.  Since it is a rustic Italian cracker-like snack they do not need to be perfectly round or exactly the same shape. I do try and make them the same size using a tablespoon measure, this way they cook evenly and are all done at the same time on the baking sheet.
To roll and shape the homemade tarallo, pull off small pieces of dough about 1 Tablespoon in size. Next, roll into ropes about 5-6 inches long and very narrow.  (see image 2 down for the difference in size between rolling it 5 or 6 inches in length)  Next, form a ring and then pinch the edges together.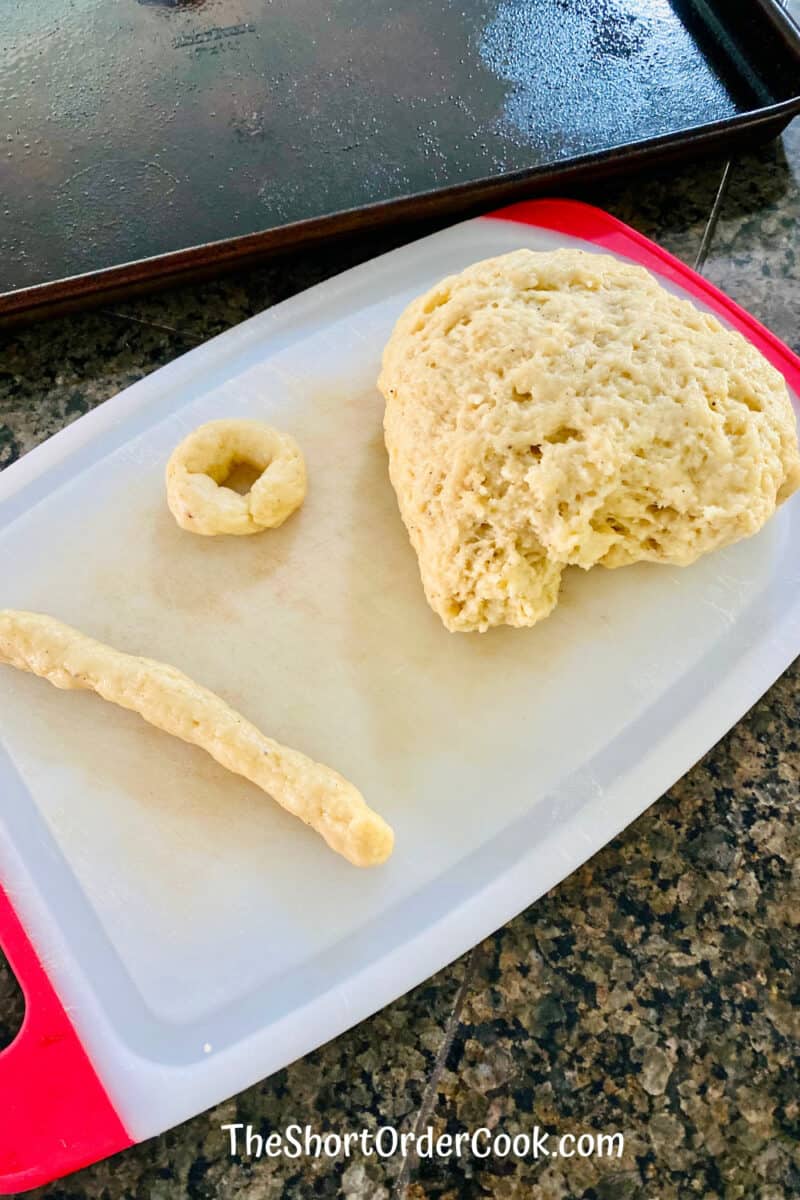 Here is the difference between rolling the ropes of dough to either 5" or 6" in length.  The 5" rope from 1 Tablespoon of dough will result in a smaller ring with a smaller hole.  If you want a bigger taralli with thinner sides and a bigger hole, roll it out to 6" in length before bringing the edges together into a circle.  We personally like the bigger size with a bigger hole and more distinct circular cookie shape.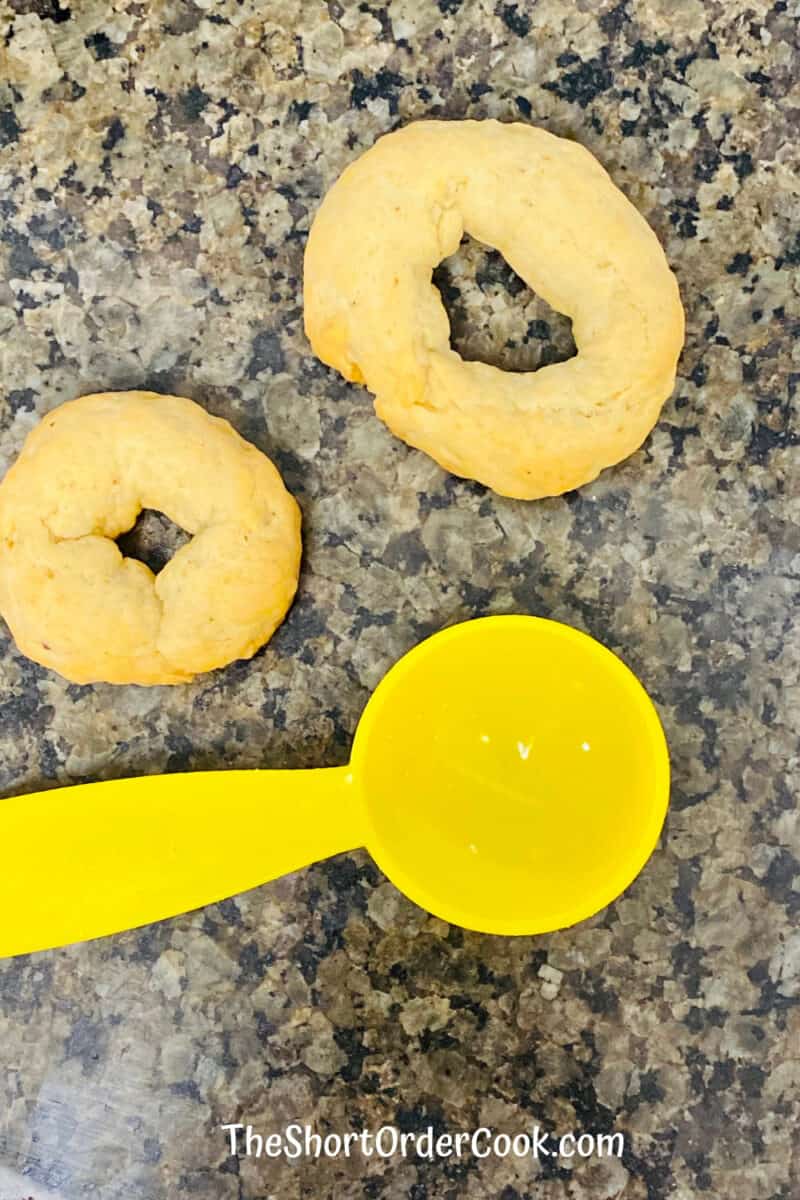 HOW TO BAKE HOMEMADE ITALIAN PEPPER COOKIES
Place them on a prepared baking sheet, nonstick or with cooking spray.  You can get a dozen on each baking sheet. You can bake one at a time or both at once – just be sure to rotate the pans halfway through and keep them as close to the center of the oven as you can.   Brush each with a bit of olive oil.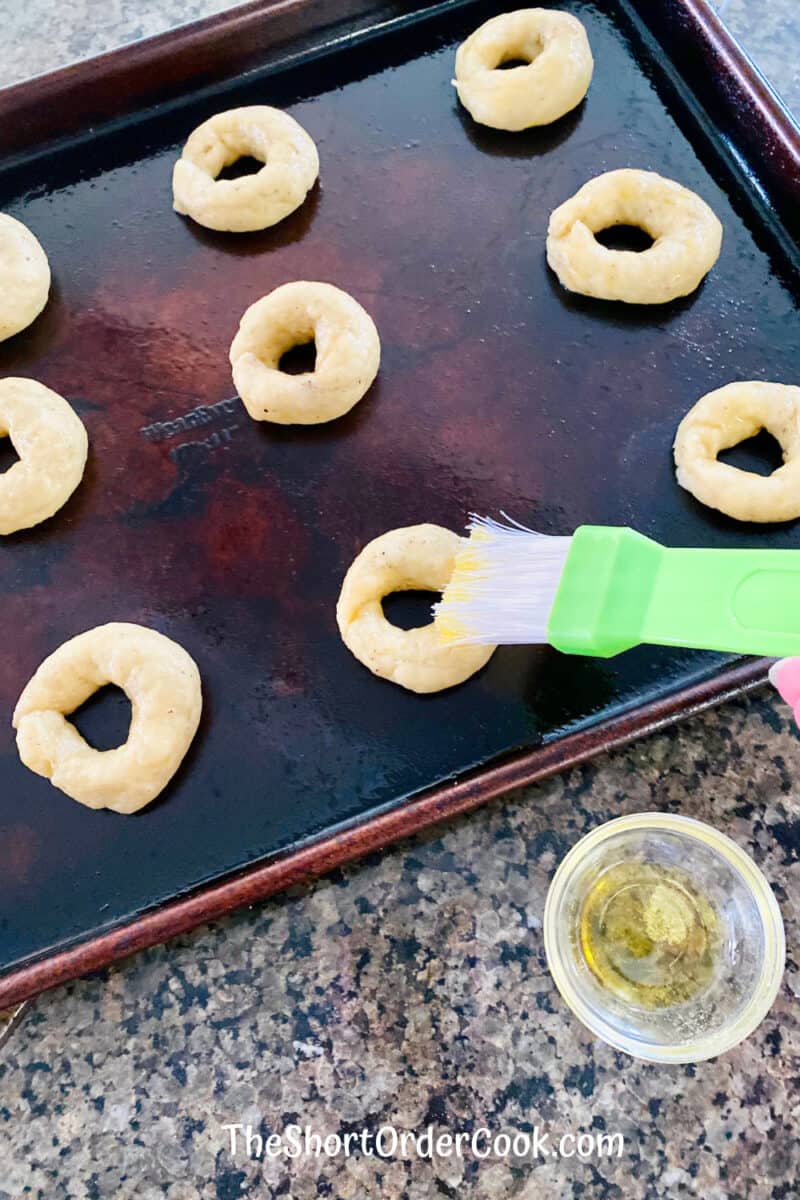 How Long to Bake Black Pepper Taralli
Bake taralli for 20 minutes in the middle of your oven.  You will know they are done when the tops are light brown.  The bottoms will be light to medium browned.  Do not overbake as they will dry out and be too brown and crumble as you eat them.  Remove them carefully from the baking sheet and let them cool on a baking rack.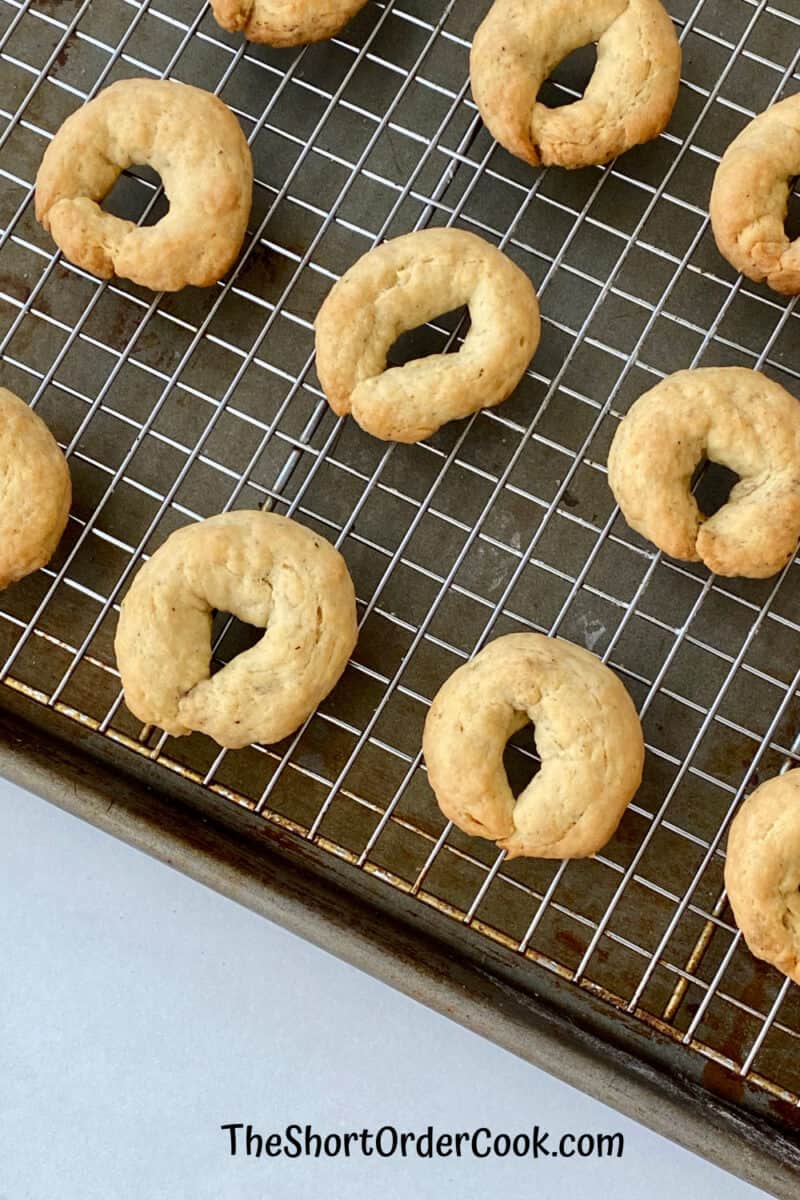 HOW TO EAT & STORE TARALLI
What to Serve & Eat with Taralli
Enjoy immediately as a snack, appetizer, or small bite.  Serve with wine or other small bites like cheese, fruit, or salumi. Great to serve on a charcuterie board, as antipasto, or in a breadbasket. But the best accompaniment to serve with Italian black pepper biscuits is your favorite glass of wine. This simple taralli recipe with coarse black pepper goes well with a red wine like Syrah, a dry white wine like Pinot Grigio, or even Champagne. Here are also some great recipes to enjoy with taralli to have a tasty party or complete Italian meal.
Storing Taralli
To store fresh-baked taralli, place them in an air-tight container or Ziploc bag.  They will remain fresh for about 3 days. You can also freeze the dough or baked taralli for up to 2 months. Defrost in the refrigerator for 24 hours and then bake or enjoy within 2-3 days.
PIN FOR SAFEKEEPING & SHARING!
Product Recommendations for this Recipe - #ad:
The Short Order Cook is a participant in the Amazon Services LLC Associates Program.  As an Amazon Associate, I earn from qualifying purchases.  If you click on a link and make a purchase, I may earn a small commission on the sale at no additional cost to you. This helps with the costs of running the blog. Thank you! 
Did you make this The Short Order Cook Recipe?
Tag @theshortordercookblog (Instagram & Facebook) or @shortorder_cook (Twitter). 
I would love to see your latest creations and kitchen adventures.