Saucy shredded Slow Cooker BBQ Pulled Chicken is fall-apart tender with minimal effort. This easy recipe is a weeknight favorite whether plated or on a bun. So get out the CrockPot, a few ingredients, & in 3 hours dinner is done!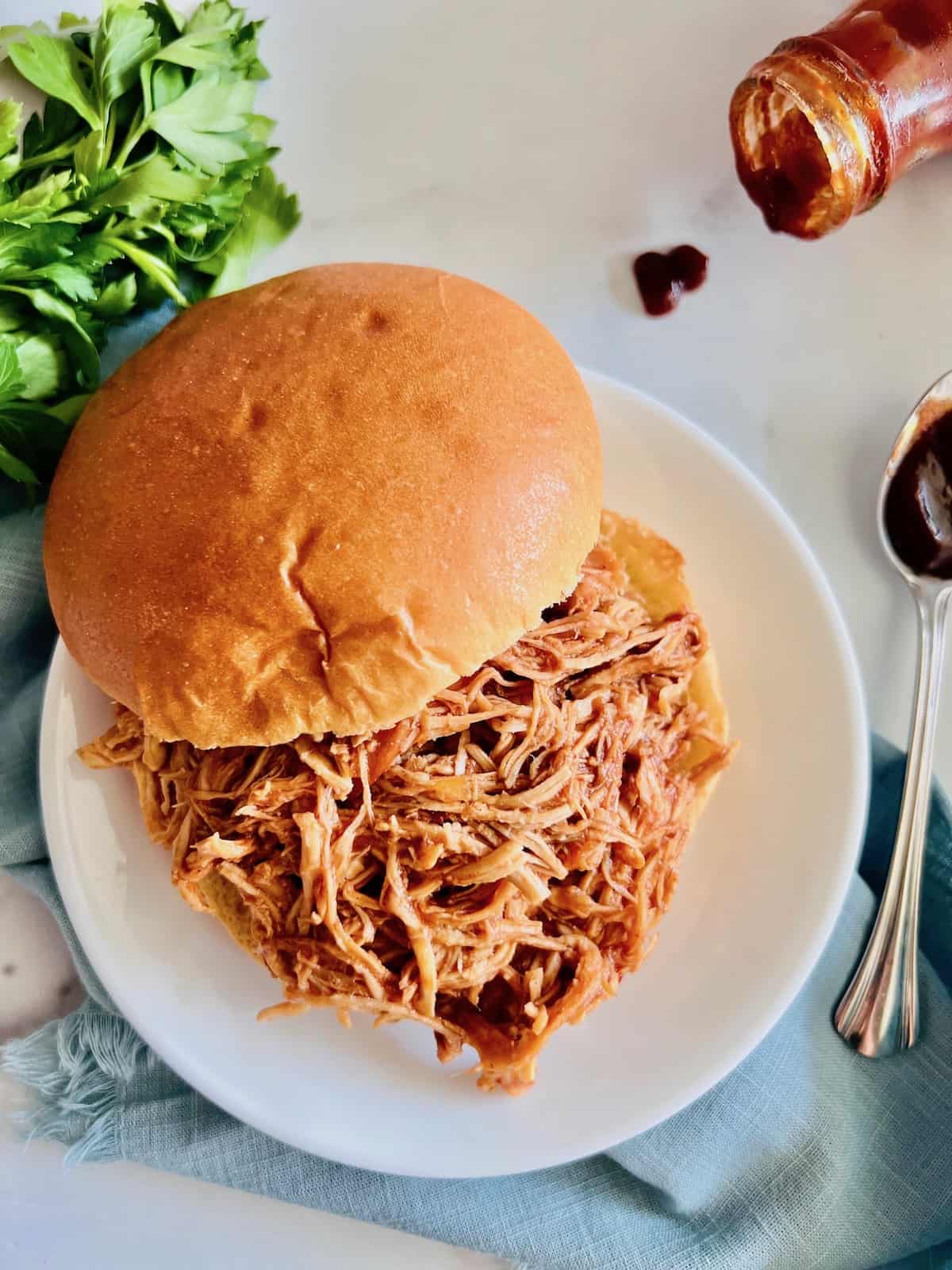 Pulled chicken in BBQ sauce is a summer favorite. However, this recipe made in the CrockPot versus in a smoker can be made any time of year. Just dump all the ingredients into the slow cooker, set it, & forget it.
This was inspired by my recipe for Smoked Pulled Pork. This recipe is easier, takes half the time, & is a healthier option. We love it on a bun along with a batch of Air Fryer Frozen French Fries for a no-fuss weeknight meal everyone loves.
Jump to:
Why This is the Best Pulled Chicken
There are many recipes out there and they are all similar. This recipe for Slow Cooker BBQ Pulled Chicken is a family favorite you will make on repeat, here's why:
Quick & easy 5-minute prep
Just 4 ingredients plus spices
A Southern staple with vinegar-based BBQ sauce
CrockPot does the magic in just 3 hours
Pulled Chicken is healthier than pulled pork (fewer calories & fat)
Great make-ahead recipe for meal planning
Enjoy served as is or in a sandwich, wrap, taco, quesadilla, or salad.
It's gluten-free, low-fat, & low-carb
Leftovers store well in the fridge or freezer
Ingredients for Slow Cooker BBQ Pulled Chicken
There are 4 main ingredients for making pulled chicken in barbecue sauce. This recipe calls for lean poultry, boneless skinless chicken breasts. They are seasoned with 3 spices.
I love the taste of Southern-style BBQ. Most specifically spicy with a tangy vinegar kick. This has the same flavor combination of sweet, sour, & peppery.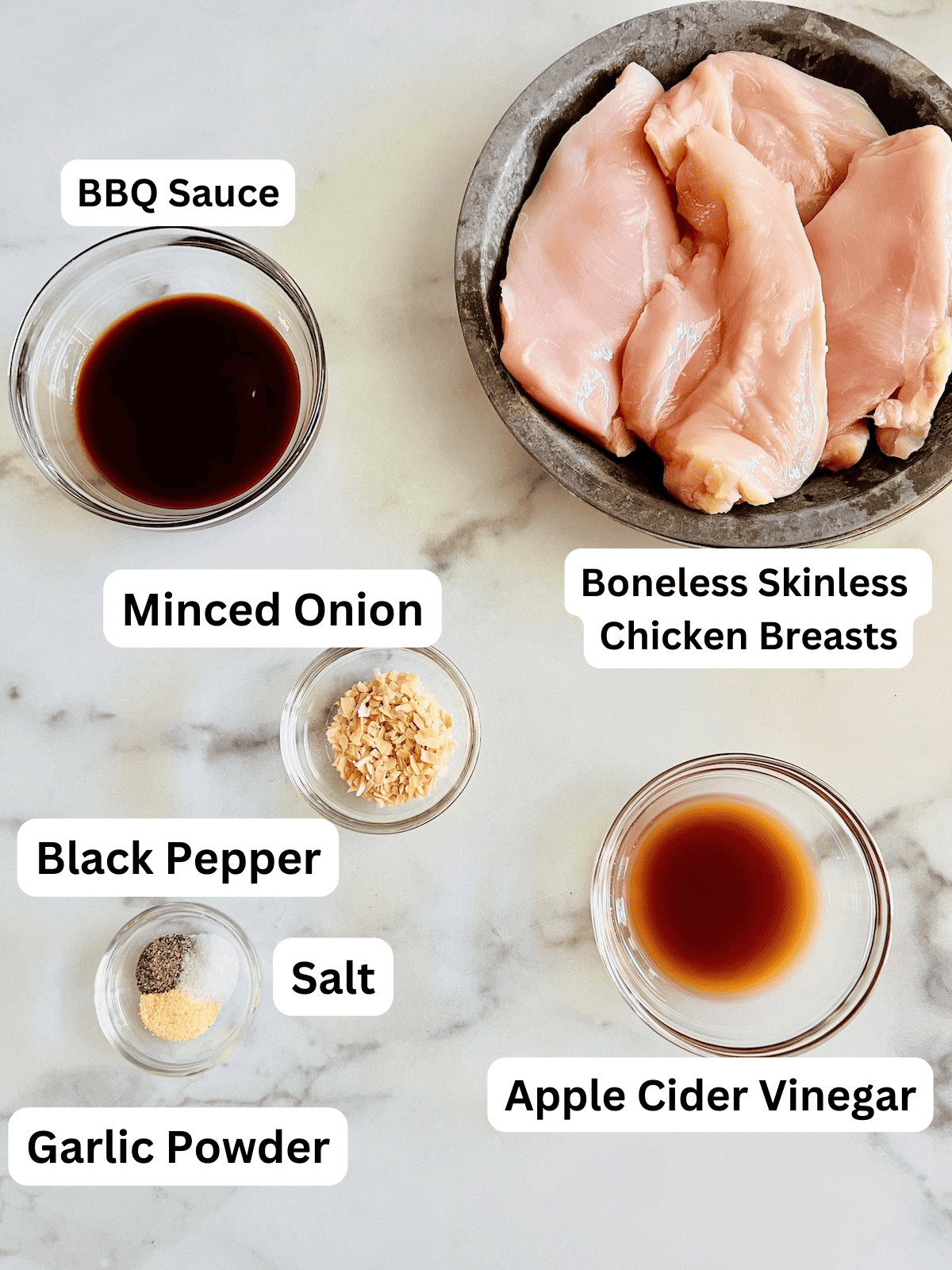 Boneless Skinless Chicken Breasts - These will be easy to shred once cooked.
Barbecue Sauce - I'm using Kinder's Mild BBQ Sauce but use your favorite store-bought or homemade recipe.
Apple Cider Vinegar - For tartness and acidic kick to help flavor, moisten, & tenderize the chicken.
Garlic Powder - Adds pungent flavor.
Salt & Pepper - Best seasoning for chicken.
See the recipe card for quantities.
How to Make Pulled Chicken in the Crockpot
To be honest it is almost too embarrassing to write up this recipe. It is so quick & easy to prepare that kids can help & have some fun together in the kitchen. (They love shredding it l& taste-testing - be warned!)
Here are the easy steps for making Slow Cooker BBQ Pulled Chicken...
Dump Everything in the Slow Cooker
Shred the Chicken
How to Serve Pulled Chicken
1 - Dump Everything in the Slow Cooker
This is considered a "dump & go recipe". You literally throw everything in the CrockPot & let it go. No searing or browning meat beforehand - yeah! And to keep cleanup just as easy, use a disposable slow cooker liner.
Measure out and grab all the ingredients needed. The recipe will need to go into a 5-quart or larger CrockPot.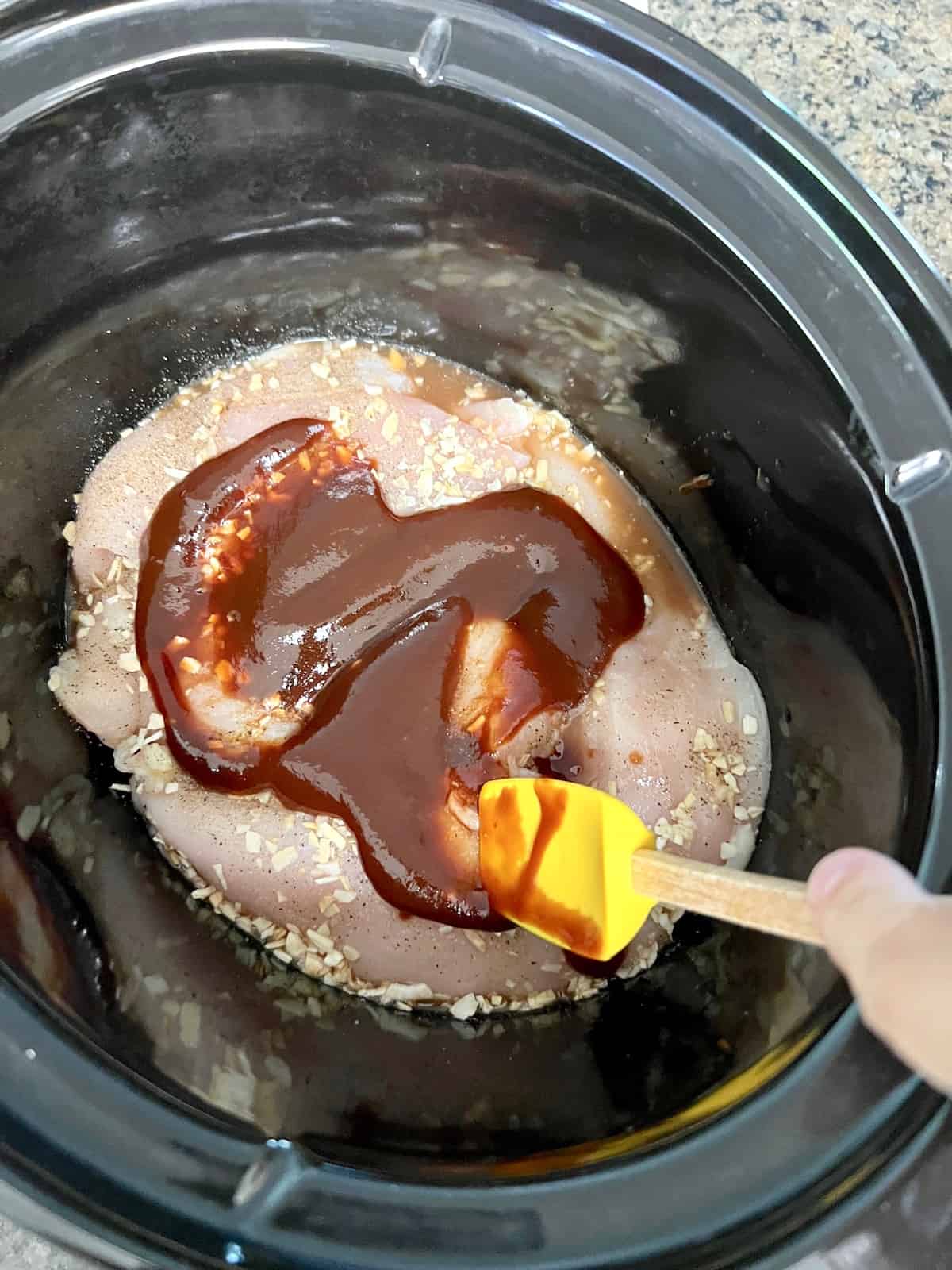 Season the chicken on both sides with the salt, pepper, & garlic. Add the chicken to the bottom of the slow cooker insert. Sprinkle on the minced onion & top with the BBQ sauce.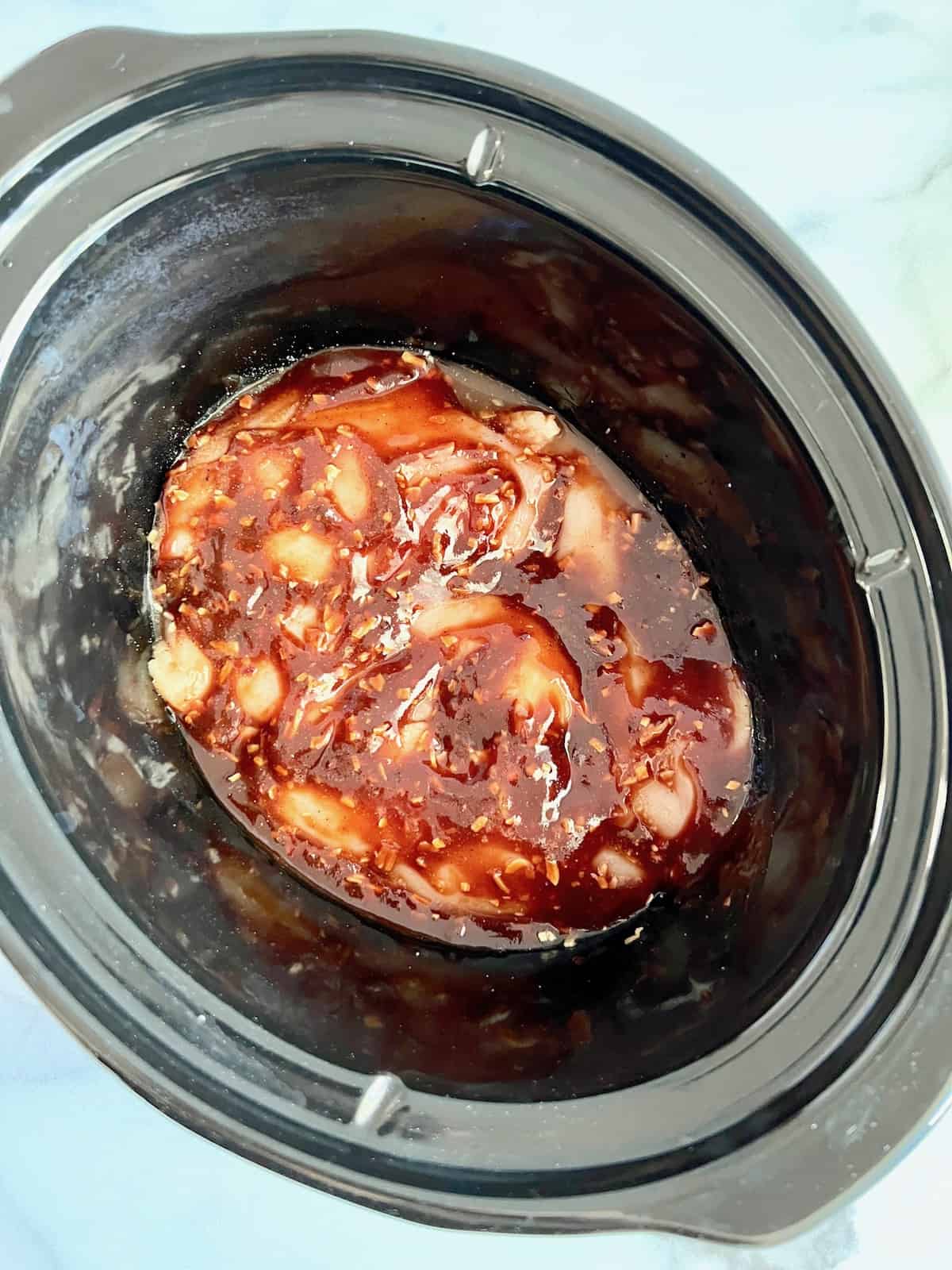 Next, add the apple cider vinegar. Stir to combine. Make sure the chicken pieces are coated.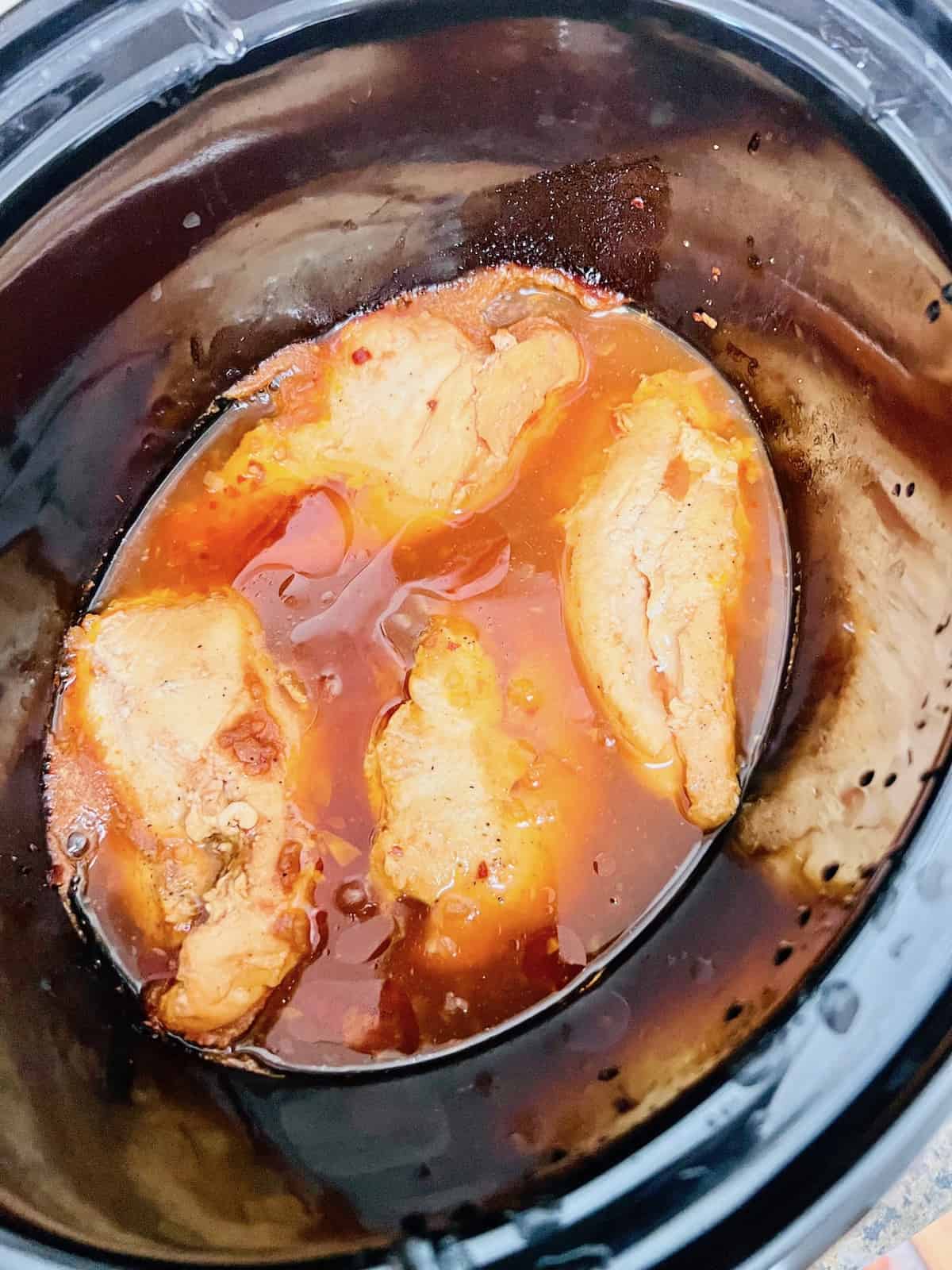 Set the slow cooker to high for 3 hours. (or low for 5-6 hours) The internal temperature should be 165° when ready.
When the timer is up, the chicken should almost be falling apart. The sauce & chicken juices will be thin & smell amazing.
2 - Shred the Chicken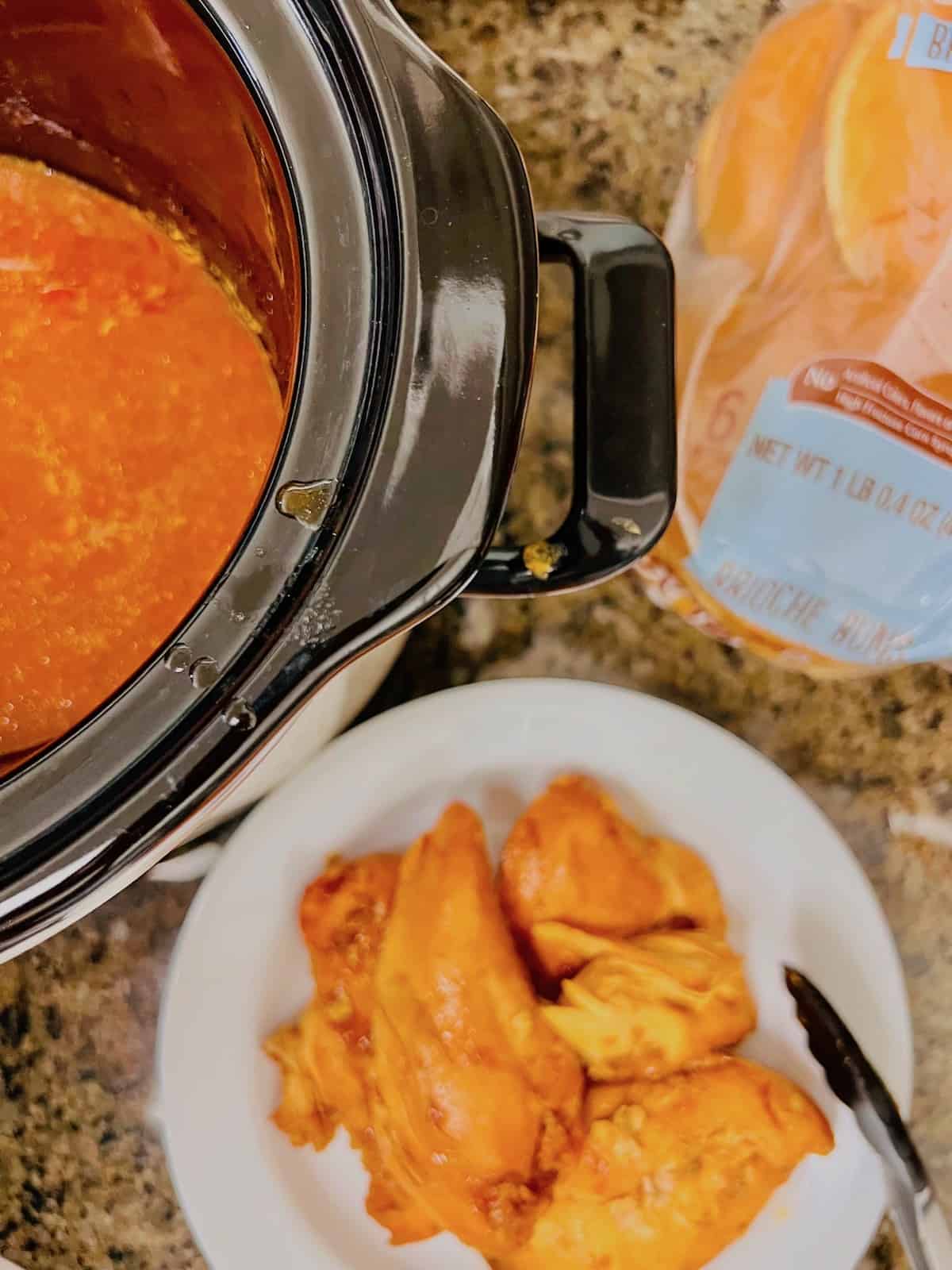 To shred the chicken, it is best to do so in a bowl or on a cutting board. Using tongs, carefully remove the cooked boneless skinless chicken breasts from the cooking liquid. Using two forks or a fork/tongs combination, pull & shred the fibers of the chicken apart.
Once shredded, add the chicken back to the slow cooker. Toss to coat so that all the chicken soaks in the vinegar-based barbecue liquid.
Hint: Add more BBQ and/or vinegar to your preferred taste. I like to add just a bit more sauce. This helps hold the pulled chicken together when on a bun without being too much - everyone can add more later should they desire.
3 - How to Serve Pulled Chicken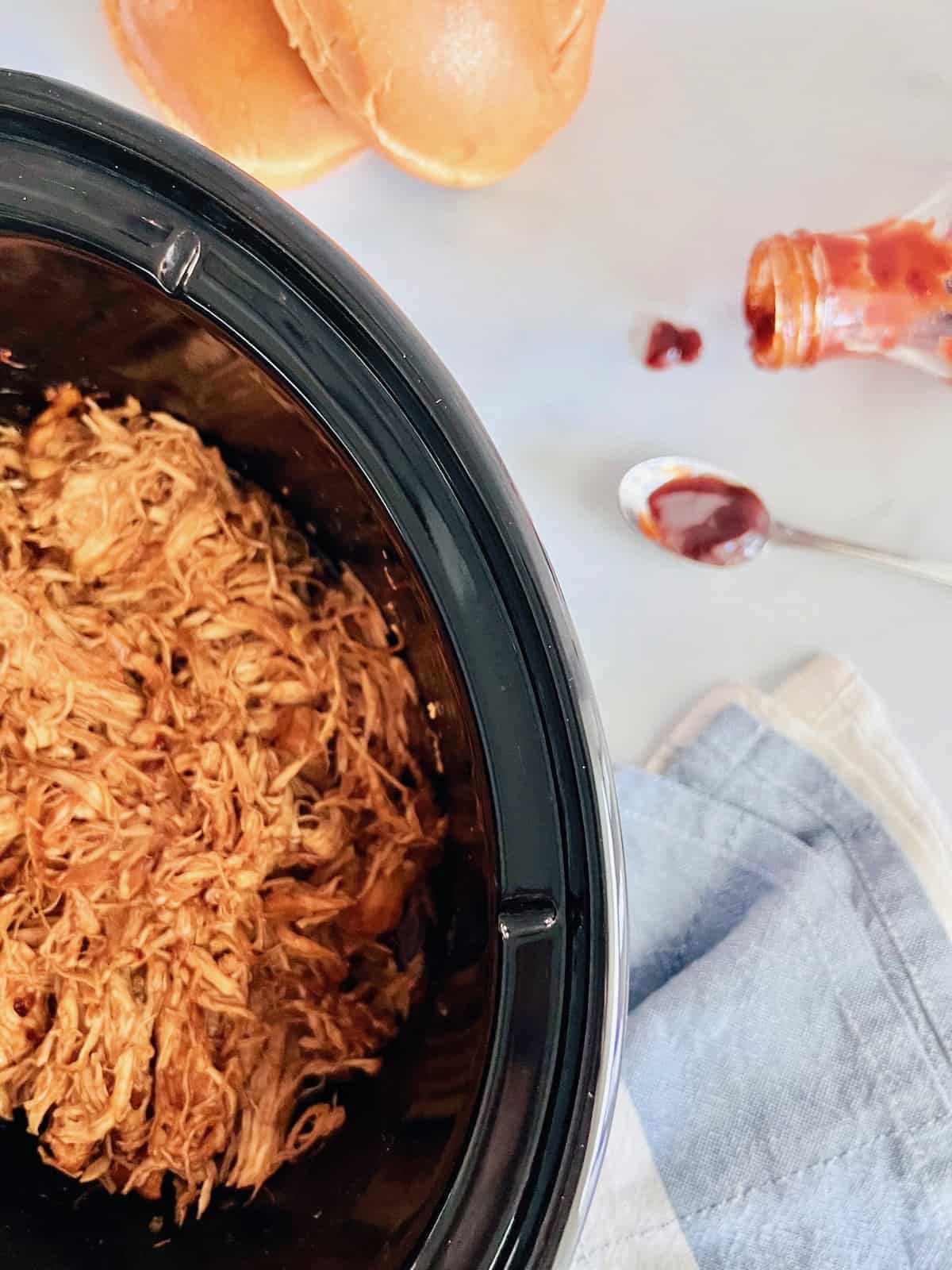 Keep the slow cooker on the warm setting & serve straight from the crock.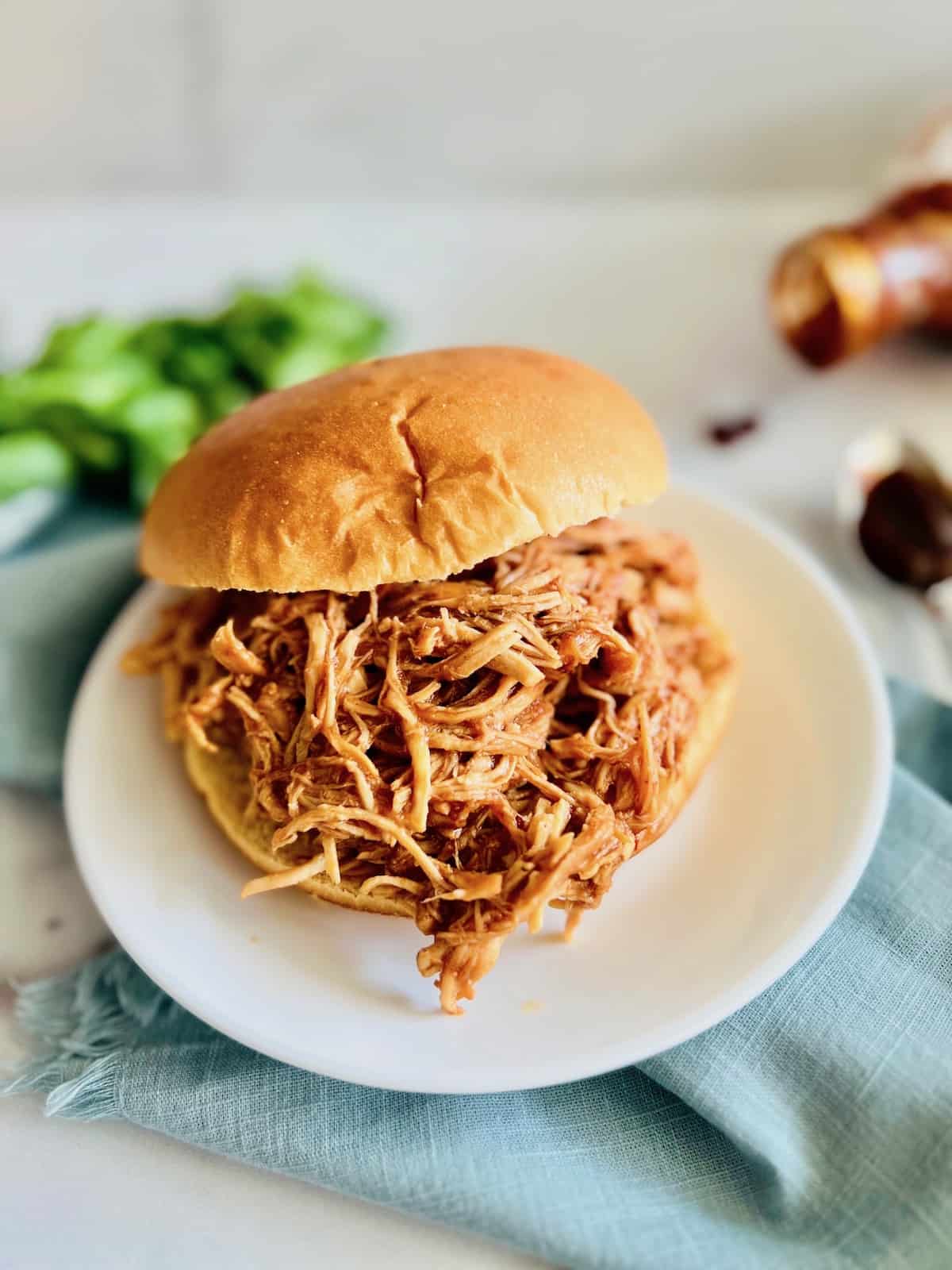 Serve on a toasted bun with more BBQ sauce. For a deluxe sandwich, pile on cool & creamy coleslaw and/or pickles, hot peppers, or onions.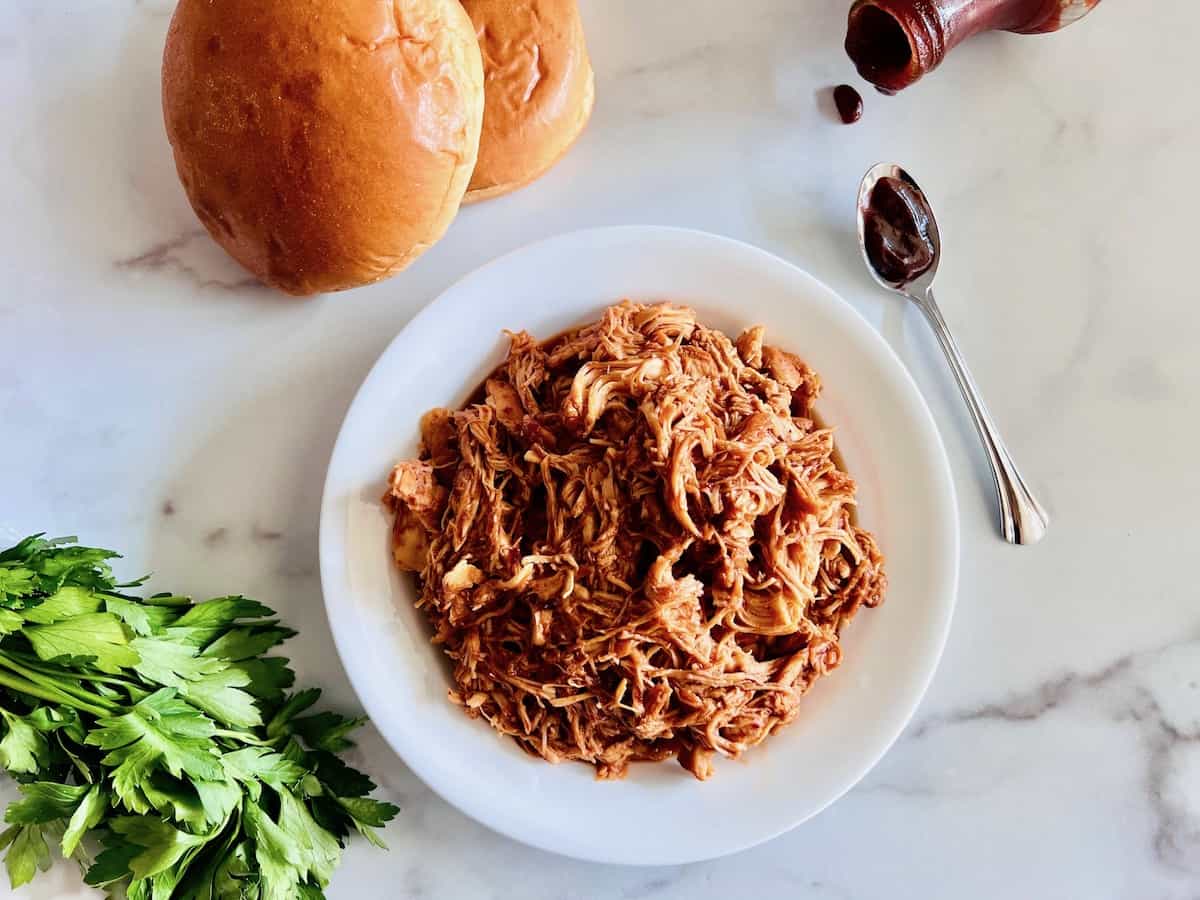 For parties, serve immediately on a large platter for family dining, buffet, or potluck. This recipe is great for crowds and easily can be doubled, tripled, & more. I have made it for 30 people in a 10-Quart CrockPot for a Super Bowl party & it was FANtastic!
Substitutions & Variations
Here are some great recipe variations & ingredient substitutions that can be made. Add, omit, or use one of these alternatives for other delicious recipe ideas for shredded BBQ chicken. These may help you enjoy this recipe even with dietary, health, or personal nutritional preferences. 
Substitutions
Chicken Breasts - Instead of boneless skinless breasts use boneless skinless thighs
Bun - Use gluten-free buns instead of regular ones to keep it grain-free and wheat-free.
Dried Minced Onion - Mince fresh raw onion but double the amount since fresh isn't as concentrated as dried.
Variations
Here are some tasty ways to personalize the recipe to make it amazing for your family, friends, & guests.
Spicy - Add ¼ teaspoon cayenne to the seasoning on the chicken or swap out for a spicy BBQ sauce instead of regular.
Carolina-Style - Use a mustard-based sauce that is synonymous with Carolina BBQ.
Kid-Friendly - Add crushed potato chips into the bun for a fun crunchy sandwich.
Keto & Low-Carb - use sugar-free BBQ sauce instead of regular.
Equipment Needed
The right ingredients, supplies, & equipment help recipes taste amazing & turn out well. Here are recommendations for products that are needed for making this recipe. Shop this recipe & buy these top-rated items today.
The Short Order Cook participates in the Amazon Services LLC Associates Program. As an Amazon Associate, I earn from qualifying purchases. If you click on a link and make a purchase, I may earn a small commission on the sale at no additional cost to you. This helps with the costs of running the blog. Thank you!
Storing & Reheating
Leftovers can be stored for up to 3 days. Place the pulled chicken in a container with a tight-fitting lid & refrigerate. It can also be frozen for up to 30 days.
Reheat pulled chicken in the microwave for 30 seconds at a time - depends on how much you are warming up. Stir in additional BBQ sauce and/or vinegar to bring it back to life & add moisture.
Top Tips
All of these great tips are shared in the post. But these are so good and important they are worth mentioning again so you don't miss them.
Use a disposable Crockpot liner for quick clean-up.
Season both sides of the chicken before adding it to the slow cooker.
Make sure the chicken is covered in the sauce & cook for 3 hours (until 165° internal temperature).
Shred the chicken and add it back to the cooking liquid.
Add more sauce or vinegar as needed.
Serve on toasted buns or plate & enjoy immediately.
Great for parties & crowds - triple the recipe easily!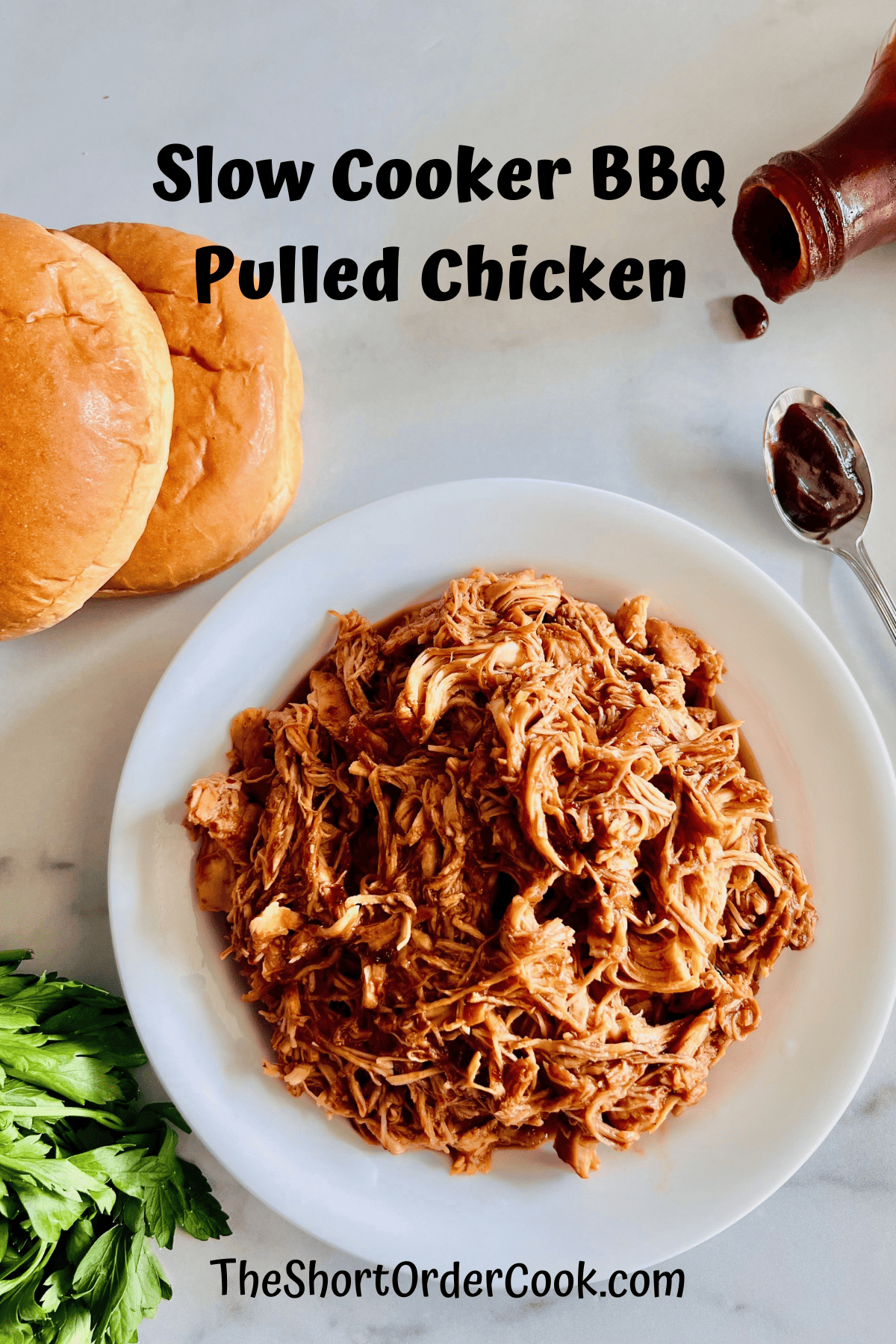 FAQ
Is pulled & shredded chicken the same thing?
Shredded and pulled chicken are the same, there is no difference. They are synonyms for one another. Any pulled/shredded meat makes great sandwiches, tacos, & more.

Many times shredded chicken will pertain to chicken cooked plain or with just some spices - no sauce. Most of the time pulled chicken will refer to shredded chicken in a sauce.
Why did my pulled chicken turn out tough?
Cooking in a slow cooker, often makes meat more tender & juicy. This is especially true for unpopular cuts with connective tissue & lots of fat. The long hours in a Crockpot help break that all down.

Since boneless skinless chicken breasts are lean and have no connective tissue, cooking for many hours is not necessary. If your chicken is tough, dry, or rubbery, it was cooked for too long. It also may have not had enough liquid & BBQ sauce in the CrockPot.
More Chicken Recipes
Looking for other recipes like this? Try these:
What to Serve with Pulled Chicken...
This Southern classic main dish goes best with other comforting sides from the South. These are my favorite dishes to serve with BBQ Pulled Chicken as a plate or as a sandwich for supper: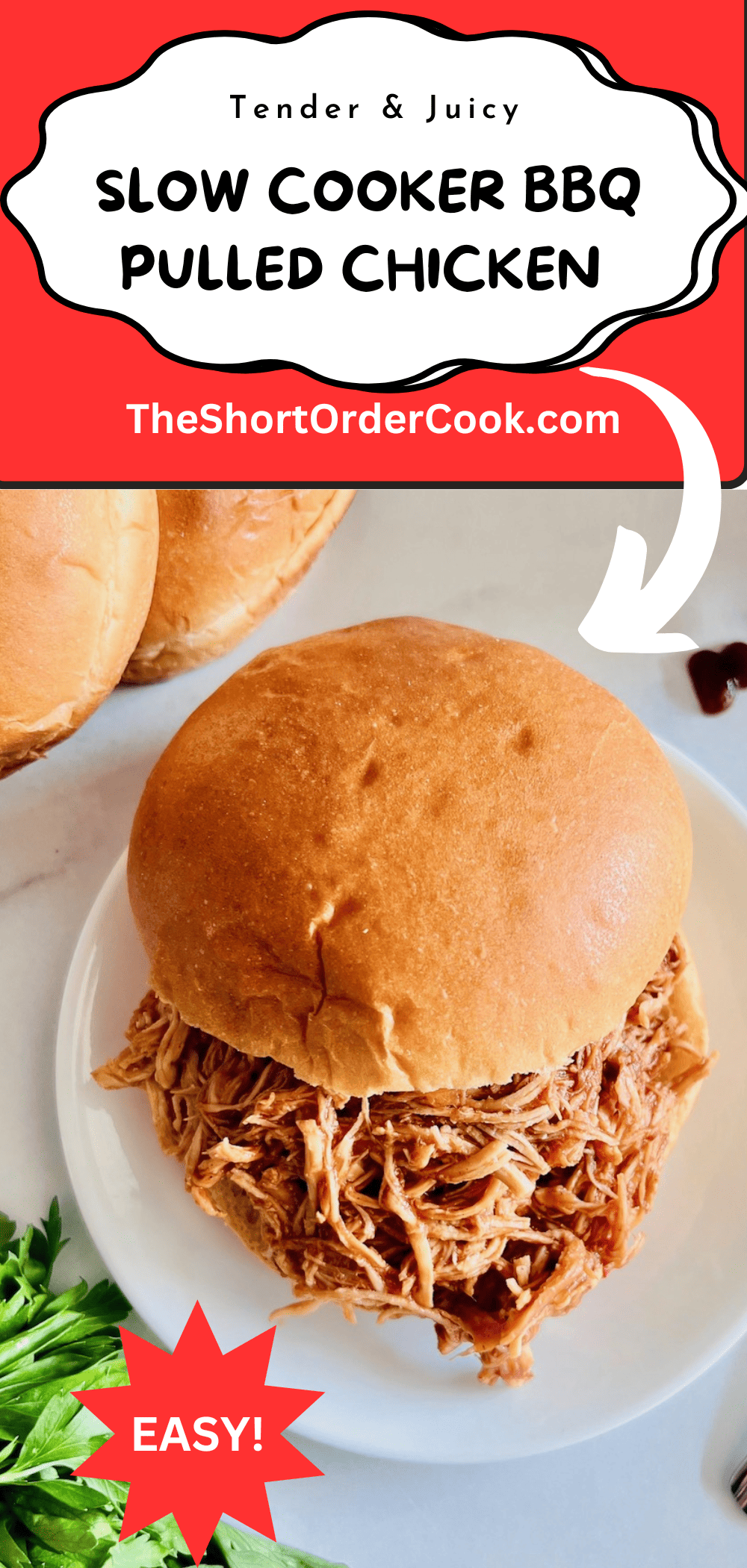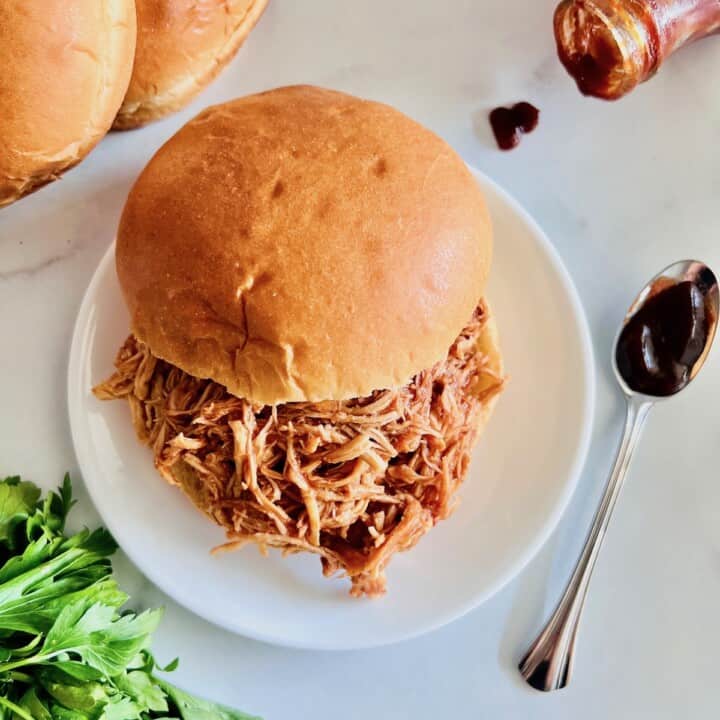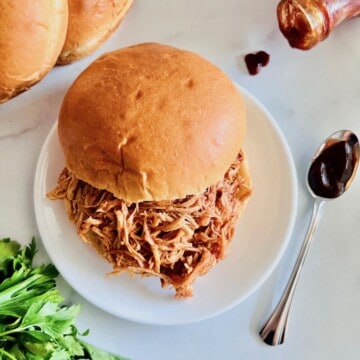 Slow Cooker BBQ Pulled Chicken 
In 3 hours this quick & easy recipe for Slow Cooker BBQ Pulled Chicken is ready! Just 5 minutes prep & this dump & go recipe is done. A Southern classic recipe made in the CrockPot for saucy, tender, & moist shredded chicken with a tangy vinegar flavor that is sweet, spicy, & sour. Enjoy on a bun, soft roll, or plated with your favorite sides. Pile on some coleslaw for a traditional pairing. Gluten-free, keto, low-carb, & healthy options in this yummy party favorite. Serve for Super Bowl, potlucks, game day, & holidays.
Equipment
Slow Cooker

5-quart or larger
Ingredients
2

pounds

boneless skinless chicken breasts

1

cup

BBQ sauce

** additional when serving is optional

1

tablespoon

dried minced onion

¼

teaspoon

garlic powder

¼

teaspoon

salt

¼

teaspoon

black pepper

Hamburger buns, soft rolls, gluten-free buns, etc

OPTIONAL
Instructions
Season both sides of the chicken with salt, pepper, & garlic powder. Add to the bottom of the CrockPot insert.

Add minced onion, BBQ sauce, & apple cider vinegar. Stir to combine & make sure the chicken is submerged in the sauce.

Set the slow cooker to high for 3 hours. (or low for 5-6 hours)

Use tongs to remove the chicken and place it on a plate or cutting board. Using two forks or a fork & tongs, shred the chick

Add the shredded chicken back into the slow cooker with the sauce. Toss to coat the meat.

** Add additional BBQ sauce and/or vinegar to taste.

Serve immediately with sides or on a toasted bun with or without more BBQ sauce, coleslaw, pickles, or other toppings.
Notes
This is for 8 servings of just the meat & sauce - it makes 8 servings if eaten as a sandwich or 6 large servings if plated (not on a bun/roll)  THE BELOW IS AN ESTIMATE - CALORIES, SUGAR, SALT, ETC will vary based on the bbq sauce used. 
Nutrition Facts
Servings: 8
Amount per serving
 
Calories
263
% Daily Value*
Total Fat 8.5g
11%
Saturated Fat 2.3g
12%
Cholesterol 101mg
34%
Sodium 521mg
23%
Total Carbohydrate 11.6g
4%
Dietary Fiber 0.3g
1%
Total Sugars 8.2g
 
Protein 32.9g
 
Vitamin D 0mcg
0%
Calcium 21mg
2%
Iron 1mg
8%
Potassium 344mg
7%
*The % Daily Value (DV) tells you how much a nutrient in a food serving contributes to a daily diet. 2,000 calorie a day is used for general nutrition advice.

Recipe analyzed by 
Food Safety for Cooking with Chicken
When working with raw chicken, follow these safety tips.
Cook to a minimum temperature of 165 °F (74 °C)
Do not use the same utensils on cooked food, that previously touched raw meat.
Wash hands & surfaces after touching raw meat.
Don't leave food sitting out at room temperature for extended periods