For the best sides, soups, & main dishes to serve with Chinese chicken salad, try these yummy recipes. All of them go well with whatever recipe of Chinese chicken salad you are making. If you order it from your favorite Chinese restaurant, try making some of these recipe ideas instead of ordering and spending more money. A great way to save some money and still enjoy some take-out.
If you love Chinese chicken salad, the freshness of the cool lettuce, savory chicken, and usually some crunchy noodles in a vinegar-based dressing really hits the spot. Many are gluten-free and can be low-carb or low-calorie as well. Therefore, I have included a bunch of great recipes that go well with Chinese chicken salad. So whatever special diet you may be on, you will find something here to love.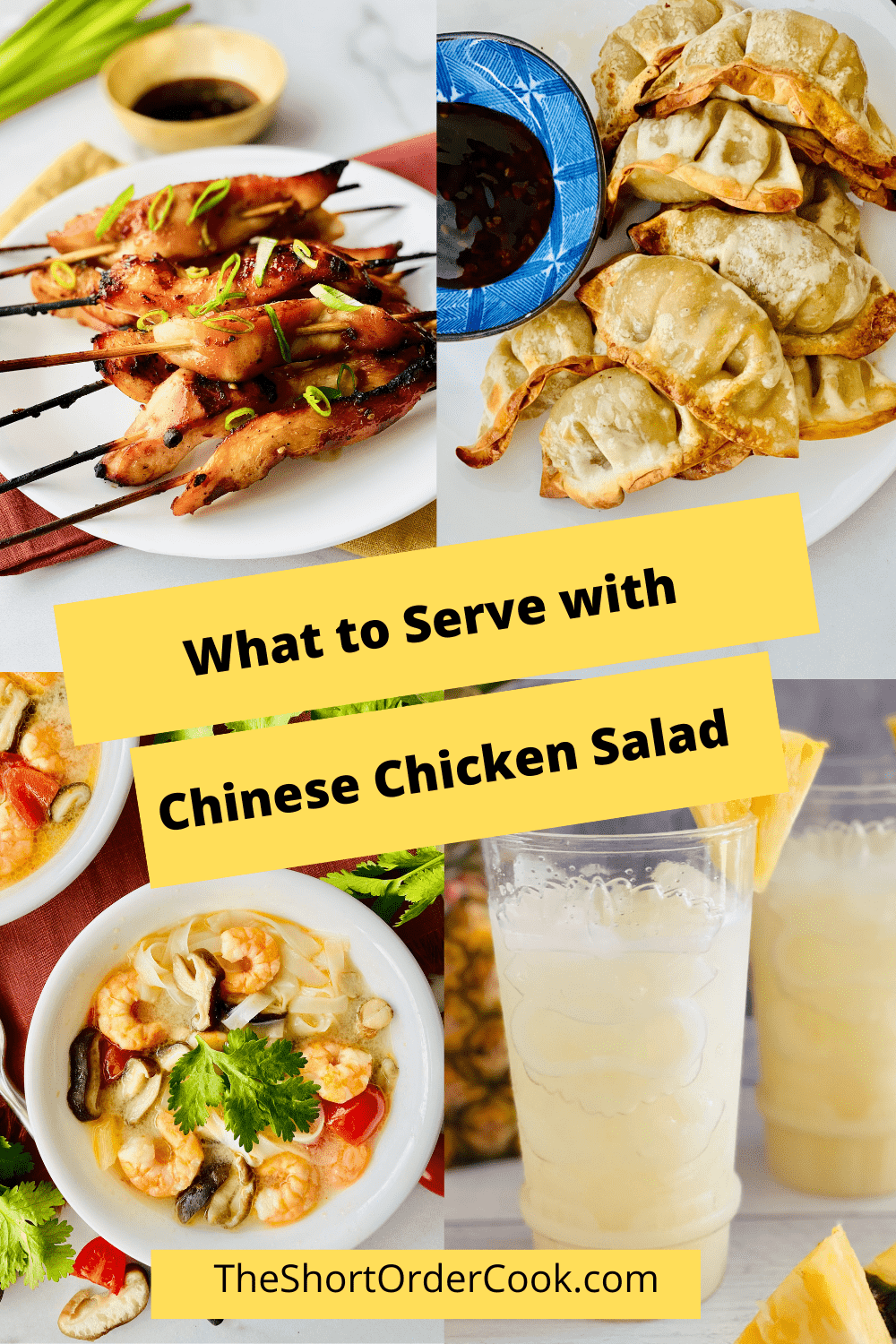 One of my favorite local restaurants has a tangy, sweet, and very spicy Chinese chicken salad. It is loaded with spicy mustard and really clears the sinuses - I just LOVE it! Whenever I cannot get there, making it at home is also delish.
My favorite recipe is this Chinese Chicken Salad by Carlsbad Cravings. It is colorful, sweet, crunchy, & hearty - I admit I add triple the hot sauce for real heat. I then cool it down with my favorite coconut & pineapple cocktail, Pina Colada on the Rocks.
Best Snacks & Soups
Here are the best snacks and soups to serve with Chinese chicken salad. They are great to pair together for a fantastic lunch or a light dinner. These recipes all go well with Chinese chicken salad and are easy to make. So try these appetizers and soups along with it the next time you want something yummy.
Best Side Dishes
When completing a meal you may enjoy 2-3 side dishes. If one of those sides is Chinese chicken salad and you are stuck trying to figure out what else to make, these recipes will save the day. All of these sides go well with other Asian-inspired recipes There are vegetable, potato, and other sides including healthy, gluten-free, vegan, low-carb, and kid-approved recipes.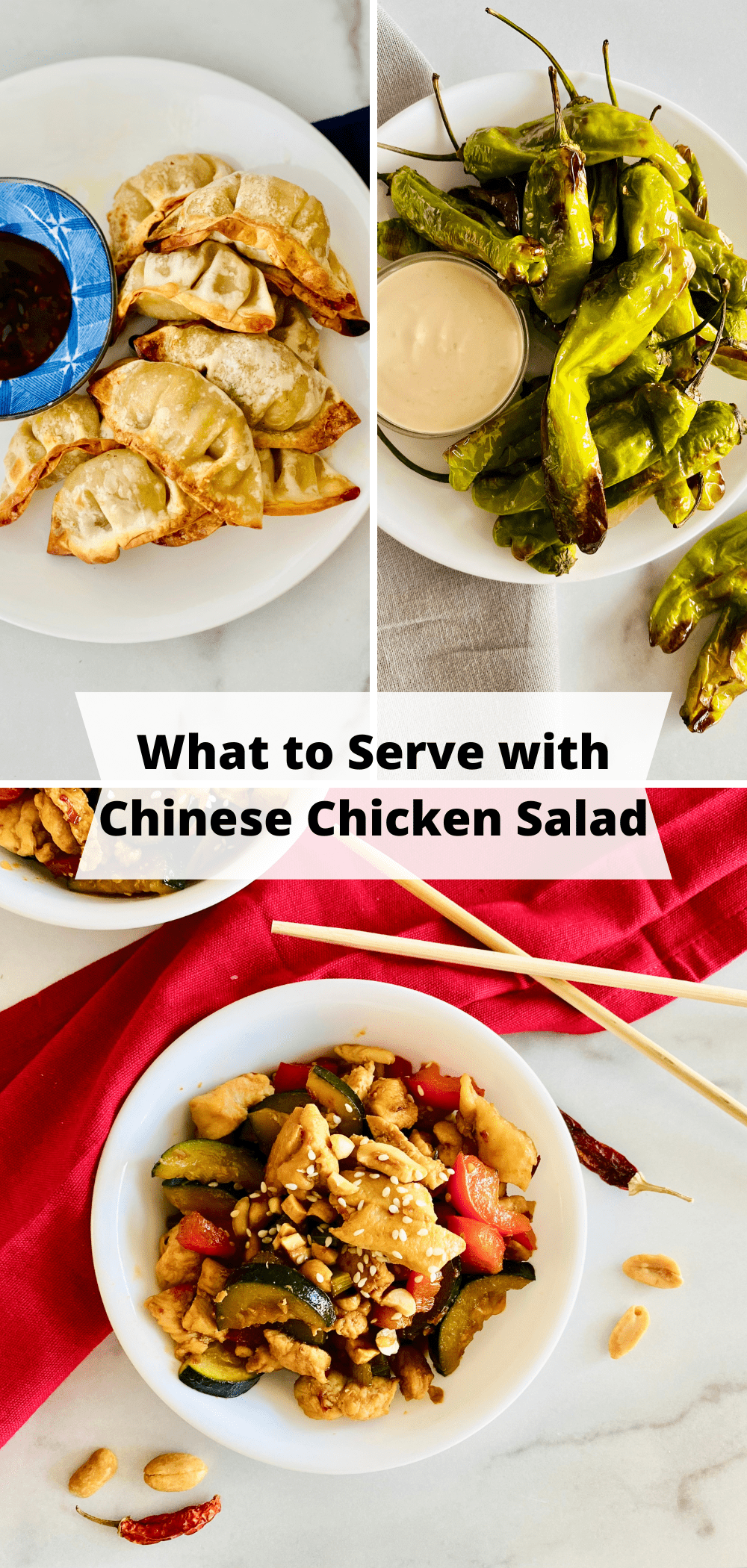 Best Main Courses
Chinese chicken salad can be a meal all on its own. However, all of these amazing main dishes go well with it when you want something more filling to complete your dinner. Try one of these easy recipes to serve the next time you have a craving. You cannot go wrong with these yummy main courses. Go for something spicy or something fresh & light.
Party Foods, too!
Bonus recipes - here are great ideas for snacks, drinks, cocktails, and desserts to serve with Chinese chicken salad. All of these pair well with it and make your meal more fun and sweet. Try the Asian-inspired party mix, sweets, and beverages to enjoy a happy hour at home.
What to Serve with Chinese Chicken Salad
All the best recipes to make with Chinese Chicken Salad. There are drinks, sides, appetizers, soups, mains, and even dessert. Try these Asian-inspired ideas the next time you wonder what to serve with Chinese chicken salad. All of them pair well and there is an offering of keto, gluten-free, and easy recipes.
Ingredients
Air Fryer Potstickers

Kung Pao Chicken

Shishito Peppers

Tom Yum Soup

Teriyaki Chicken on a Stick

Pina Colada on the Rocks

Chinese Candied Fruit

Instant Pot Broccoli

Amazing Green Beans
Instructions
Make or pick up your favorite Chinese chicken salad.

Enjoy one of these new recipes to serve with it.