These Fall favorite salads will get you excited to eat your vegetables. There are so many choices that everyone will love including those with protein, fruits, nuts, grains, or squash. Some of the best that Fall has to offer are in these salad recipes including kale, butternut squash, beets, sweet potatoes, broccoli, cauliflower, apples, pear, cranberries, pomegranate seeds, nuts, pumpkin seeds, and Brussel sprouts. Combine any or some of these Fall ingredients for a nutritious and delicious salad.
It is hard to pick a favorite here so I will let you try them and comment back so I can hear all about the ones you love and cannot wait to make again. I start the list with two Fall salad recipes I have created and my family enjoys often as either a light lunch or a side dish option. Start there and you cannot lose.
Search the categories below to find exactly what you are looking for:
SALADS BY THE SHORT ORDER COOK
SALADS WITH FRUITS, NUTS, OR SEEDS
SALADS WITH PROTEIN
SALADS WITH SQUASH OR GRAINS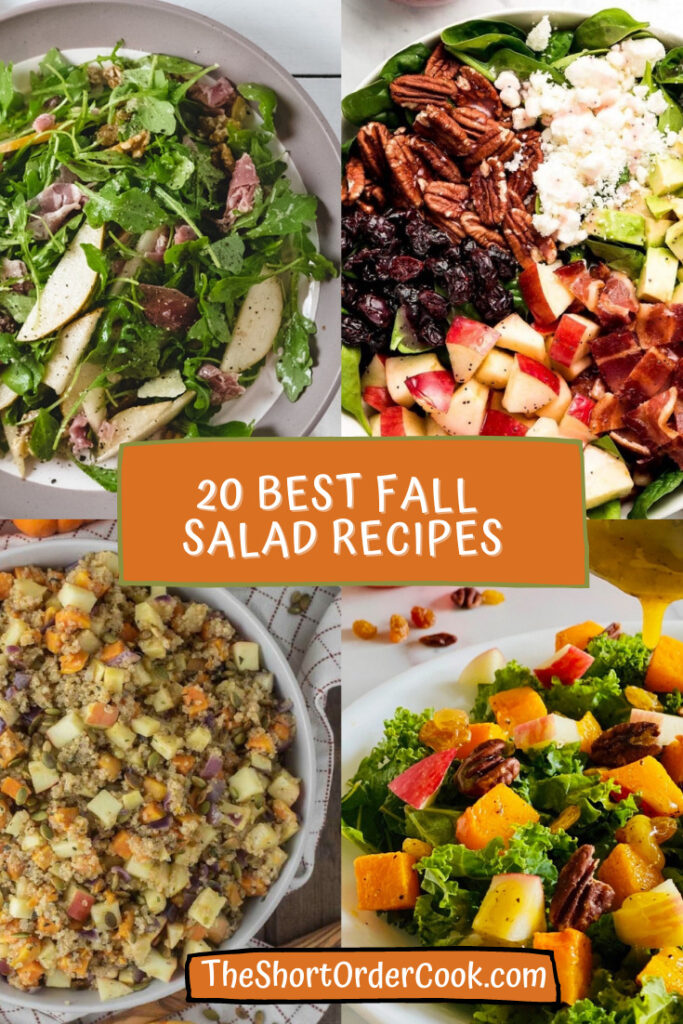 SALADS BY THE SHORT ORDER COOK
SALADS BY THE BEST FOOD BLOGGERS
These Fall favorite salads offer it all; vegan, vegetarian, paleo, gluten-free, grain-free, protein-packed, or Whole30. They all showcase the best produce that an Autumn harvest has to offer to help you create the most delicious salads. They are creative, fancy, and so colorful.
SALADS WITH FRUITS, SEEDS OR NUTS
SALADS WITH PROTEIN
SALADS WITH SQUASH OR GRAINS
PIN FOR SAFEKEEPING & SHARING!
Product Recommendations for this Recipe:
The Short Order Cook is a participant in the Amazon Services LLC Associates Program. As an Amazon Associate, I earn from qualifying purchases. If you click on a link and make a purchase, I may earn a small commission on the sale at no additional cost to you. This helps with the costs of running the blog. Thank you!