These air fryer baked potatoes have a tasty, crispy skin on the outside and are fork-tender and fluffy on the inside. Ok, they are not technically baked in the oven but who cares when they taste this amazing & cook in less time!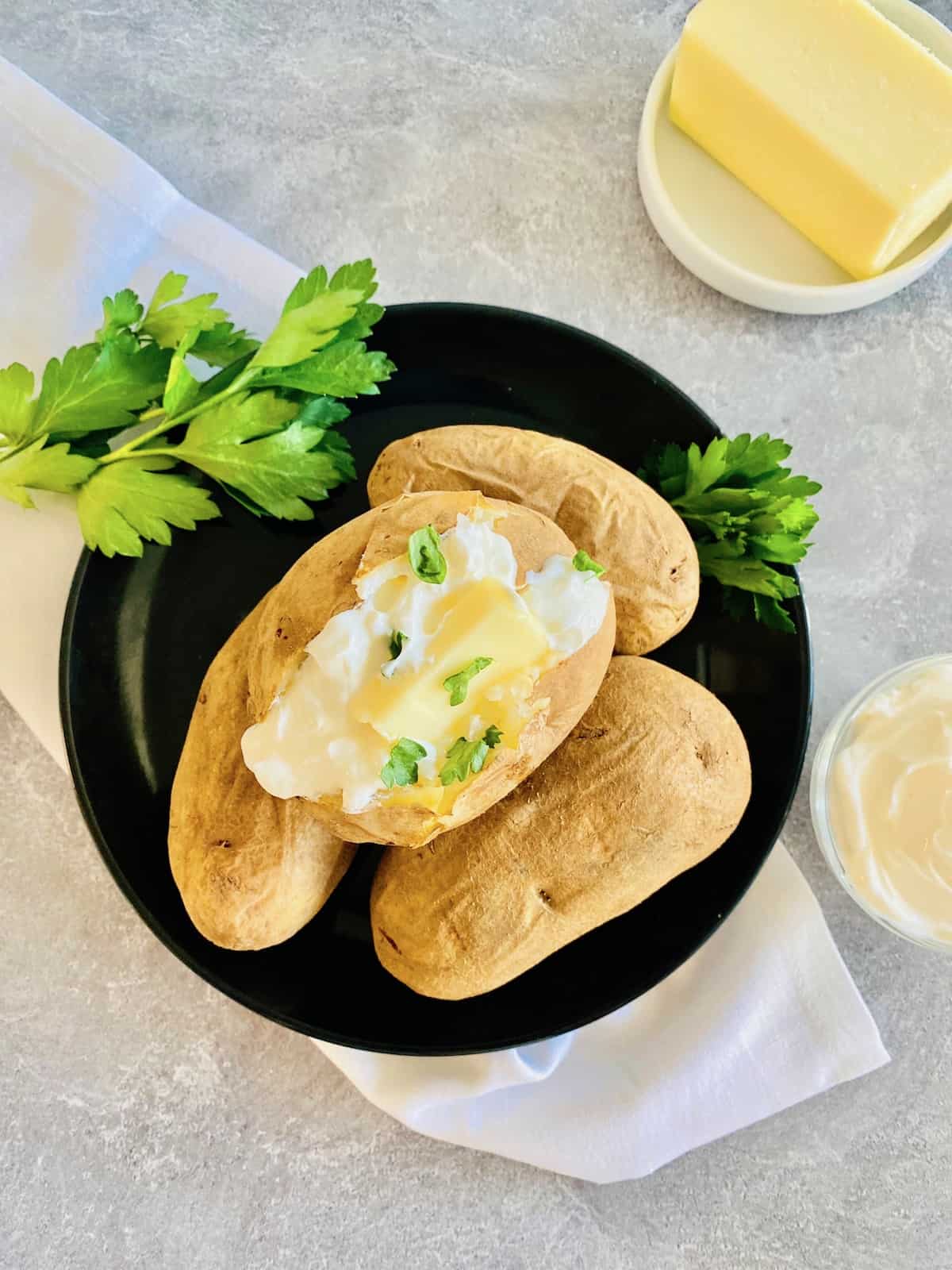 For the ultimate side dish, a hot baked potato loaded with fun toppings cannot be beaten. Like my easy recipe for toaster oven baked potatoes, it is just a few simple steps. Just let the air fryer do the magic.
Jump to:
Best Potatoes for Air Frying
When making baked potatoes, you obviously need some potatoes. The most popular American variety, russets, is the ideal choice. With Idaho potatoes being the cream of the crop.
If you are in the UK or Australia, the best jacket potatoes are made with Maris Pipers, King Edwards, Yukon Golds, Rooster, or Diseree baking potatoes.
The thick hearty skin & firm flesh makes this the best kind for good reason. Once baked it results in a hot & steamy combination of a white creamy center & a savory crusty skin on the outside.
Aim for cooking potatoes that are similar in size. This helps them cook at the same time when air frying. Mine were all about 8-9 ounces (shown compared to a soda can for comparison)
Ingredients
Here is all you need to bake up some russets in the air fryer.
Russet Potatoes - any size will do, see the chart below for cooking times based on size
Avocado Oil Spray - this neutral-flavored oil is perfect for high-heat cooking
Salt - optional but really elevates the skin's flavor & helps make it extra flaky & crispy
See the recipe card for quantities.
Washing & Prepping Russets
Scrub each of your potatoes with water and use a vegetable brush if needed. Dry them thoroughly. Once dry, use a fork to poke a few holes in each potato.
When making baked potatoes in the air fryer, they are prepped differently than if you did them in the oven. Instead of rubbing them with oil, you want to spray on avocado oil to coat the skin. This kind of oil has a high smoke point and is ideal for the high heat of the air fryer.
Sprinkle on salt or roll the oiled potatoes into a plate sprinkled with salt. Table salt is just fine but coarse-ground salt is even better.
Does & Don'ts
Before we get cooking, here are things not to do when air-frying whole potatoes.
Do pick potatoes that are uniform in size so they cook at the same rate.
Do poke the potatoes before cooking. This helps release the steam from building up causing them to split or explode.
Do NOT use olive oil. Many recipes use it but it is a big NO-NO! The low smoke point is not safe or yummy See all the best oils to use & what not to use in the air fryer.
Do NOT wrap the potatoes in foil. Foil just makes the skins soft & soggy.
Do NOT overcrowd the air fryer. Place them in a single layer with space in between so the heat can circulate.
How to Make Air Fryer Baked Potatoes
No oven is needed to make the perfect baked potato. Preheat the air fryer to 400° & set the timer to 40 minutes.
This is the time & temperature for medium-sized potatoes weighing about 10-12 ounces each. See the chart below for time & temperature information for other sizes.
Place the prepared russets on the rack, tray, or basket of your air fryer. Do not overcrowd them. Make sure to place them in a single layer with space between them so they can cook on all sides.
Let the potatoes cook. Based on the model you are using, you may want to flip them over at the 20-minute mark.
Check for doneness about 5-10 minutes before the 40 minutes is up. Adjust for more or less time based on this.
Hint: All air fryer models cook slightly differently - check the potatoes for doneness starting about 5 minutes before they are expected to be done.
Cooking Times Based on Potato Size
Here is a quick reference chart for how long to cook different-sized potatoes in the air fryer. Always preheat to 400° and then set the timer as followed:
| | |
| --- | --- |
| POTATO SIZE | COOKING TIME |
| Small - 6-7oz | 30-35 minutes |
| Medium - 8-10oz | 40-45 minutes |
| Large - 11-12oz | 50-60 minutes |
| Extra-Large - 13+ ounces | 65+ minutes |
This recipe works in both a basket-type and a tray/rack air fryer model. If you have a double basket, cook some Air Fryer Pork Chops on the other side & have a complete meal that is easy & delicious.
How to Tell the Potatoes Are Done
The best way to check if a potato is done "baking" or air frying is a 2-step process. Here is how to check if the potato is ready to eat.
Using an oven mitt, grab one of the potatoes and give it a slight squeeze. Do not press too hard, you don't want to break the potato open. If there is a slight give but has some resistance = almost ready but keep cooking.
Once the potato does have a good give to it, you can then double-check it using a sharp skinny knife. Try and only check in the center of one potato - this will release steam so poking it several times or every one of them will break up which isn't needed.
If the knife slides easily through the center of the potato, it is ready! You can turn the air fryer off & carefully remove each potato using tongs.
Air Fryer Loaded Baked Potato
Once the potatoes are done, let them cool on the counter for 5 minutes. Letting them cool ensures the steam settles so less chance of them being too hot when handled or eaten. It also helps them stay fluffy since the heat isn't released immediately.
To top them to make a loaded baked potato, add the following:
A tablespoon of salted butter
A tablespoon of full-fat sour cream
A tablespoon of shredded cheddar cheese
A sprinkling of fresh chives or diced green onions
Additional salt & pepper to taste
Substitutions
Not much to change up here with this basic recipe. Here are a few alternate ingredients & variations that do work.
Avocado Oil Spray - instead of this high smoke point oil, use another one that can withstand the heat; such as canola or peanut oil (after all french fries cooked in peanut oil are so good why not here too)
Salt - use seasoned salt as a substitute or omit it for a low-sodium version.
Equipment
If you are going to make baked potatoes in the air fryer, you need one. Here are my top picks for big, small, top-rated, & the best air fryer models to buy.
The Short Order Cook participates in the Amazon Services LLC Associates Program. As an Amazon Associate, I earn from qualifying purchases. If you click on a link and make a purchase, I may earn a small commission on the sale at no additional cost to you. This helps with the costs of running the blog. Thank you!
Storing & Reheating
If you have leftovers, baked potatoes store easily in the refrigerator. Wrap each in foil and store in the refrigerator for up to 5 days.
Reheat in the microwave for 3-5 minutes or until hot. It will depend on the size of your potato. To reheat in the air fryer, set it to 400° and warm for 10 minutes. Or better yet make Air Fryer Loaded Potato Skins.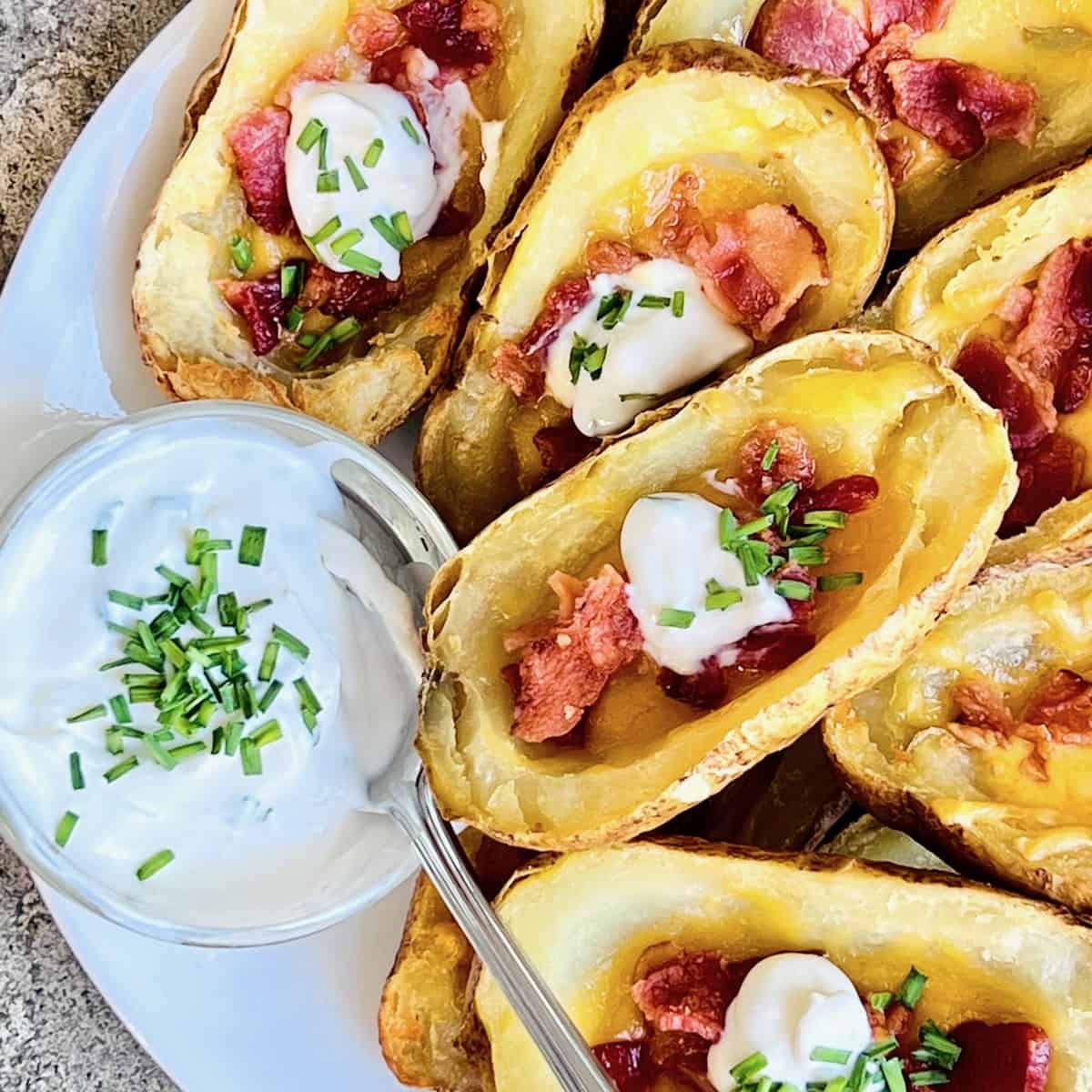 Fun Baked Potato Bar Ideas
Wondering what to serve on a baked potato bar? Just know there is no wrong answer. Put out anything you know people will love. I recommend having at least 6 items. Include a variety of vegetarian, vegan, meaty, cheesy, spicy, & fresh flavors.
Here are the 25 best classic & gourmet baked potato topping ideas:
Butter - add a pat or two & let it melt into all the crevices
Sour Cream - dollop the creamy staple on top
Greek Yogurt - a tangy alternative to sour cream
Shredded Cheese - use your favorite or a combination
Queso Fresco - crumble this salty Mexican cheese on top
Cheese Sauce - decadent & rich cheddar sauce
Goat Cheese - salty, tangy, & creamy cheese is amazing
Crumbled Bacon Bits - no better savory topping
Turkey Bacon - a healthier bacon option
Shredded Chicken - leftover rotisserie chicken is a favorite
Pulled Pork - the ultimate smoked BBQ way to top a potato
Chili - make it a meal with this poured all over it
Taco Meat - for the ultimate Mexican baked potato
Salsa or Pico de Gallo - the #1 condiment for good reason
Hot Sauce - make it spicy
BBQ Sauce - use your favorite sweet, spicy, or smoky flavor
Homemade Ranch Dressing - a creamy herby favorite
Truffle Oil - a gourmet earthy taste that will elevate your potato
Alfredo Sauce - the cheesy Italian sauce is thick & rich
Steamed Frozen Veggies - for a healthy & filling topping
Sauteed Mushrooms - for a "meaty" texture that is vegan
Black Beans - the best plant-based protein
Peppers - spicy or mild like jalapenos or bell peppers
Fresh herbs like chives, basil, & cilantro - for freshness & color
FAQ
Do I need to prick, pierce, or poke potatoes before cooking?
It is not a mandatory step for this recipe. It is recommended to keep the potato whole & intact. As the potato cooks inside the steam will expand and without any small holes to release that there is a chance for an exploding hot potato.
Are baked potatoes cooked in the air fryer healthy?
Potatoes are a high-carb and nutrient-dense food. They are packed with fiber, vitamin-C, potassium & more. Though cooking them in the air fryer isn't healthier than baking them in the oven, they are healthier than other potato options like chips or fries. Baked potatoes are low-fat, gluten-free, & vegan.
What to Serve with Air Fryer Baked Potatoes
These are my favorite main course dishes that go well with air-fried baked potatoes: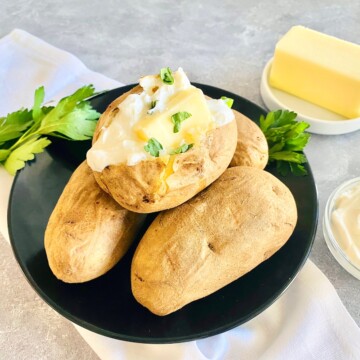 Air Fryer Baked Potatoes
For the best air fryer baked potatoes, try this quick & easy recipe. In half the time get yummy crispy skin & fluffy hot insides for topping. This simple side dish is an American classic due to its simplicity & versatility. All the steps for time and temperature for air frying plus topping, storing, & reheating.
Ingredients
4

medium-sized russet potatoes

avocado oil spray

salt to taste

optional
Instructions
Preheat the air fryer to 400°. For medium-sized potatoes (about 10oz & 4" in diameter) set the time for 40 minutes. See the chart above for other sizes & times.

Scrub each potato under running water until clean. Use a vegetable brush if needed. Pat dry.

Use a fork to poke a few holes in each potato. Then spray the entire skin wil avocado oil. Sprinkle on some salt if desired.

Once the air fryer is preheated, place the potatoes in a single layer with space between each in the basket or tray.

Let the potatoes cook. Based on the model you are using, you may want to flip them over at the 20-minute mark.

Check for doneness about 5-10 minutes before the 40 minutes is up. Adjust for more or less time based on this.

See how to check for doneness in the section above ( 2 steps - squeeze gently and insert knife)

Once potatoes are done in the center & a knife slides through easily, they are ready. Using tongs or an oven mitt, remove potatoes from the air fryer. Place them on a plate.

Let the potatoes rest for 5-10 minutes.

Then slice part way through the long way on the top of the potato. Cut a few diagonal slashes across that long slit. Next, place the palms of your hands on both ends of the potato and gently squish and bring the hands together. This slight inward pressure will pop the potato open along the cuts and expose the fluffy interior.

Add your favorite toppings such as butter, cheese, sour cream, chives, & more.

Store leftovers in the fridge for up to 5 days.

Reheat in the microwave for 3-5 minutes. To reheat in the air fryer, set it to 400° and warm for 10 minutes. It will depend on the size of your potato.
Notes
The nutritional information will vary - it will be determined by how big a potato you are serving and with what toppings.   A typical 10-ounce russet potato has about 275 calories.