For tasty high protein recipes that are also low-carb, this list has it all. All of these ideas are the best when you want to maintain a healthy keto, low-carb, Atkins, or diabetic diet. These recipes are all easy, most are great make-ahead recipes ideal for meal planning, and all are seriously delicious.
The recipes below are great for the low-carb lifestyle. This list includes the best things to eat any time of day - breakfast, lunch, snack, dinner, & even a few desserts. All are packed with protein but also low on carbs, including sugar-free recipes with fiber to keep a low net carb nutrition total.
For all the recipes you need to either start or maintain a high protein and low carb diet, try out some from the shared links below. Many of these high protein and low carb recipes are also keto, paleo, and gluten-free so they are healthy for so many diet lifestyles.
I like to grill a lot as it is so versatile with many recipes that are keto and healthy recipes. Whether you grill beef, chicken, seafood, or vegetables, you do not want to miss my guide on GRILLING WITH THE LID ON OR OFF. It is the best tutorial to make you a grillmaster in no time. Whether you like to grill or not, check out the following categories to find what you want to make and enjoy next.
APPETIZERS & SNACKS
BREAKFAST
LUNCH
DINNER
DESSERTS TOO!
Appetizers & Snacks
For snacks and appetizers that are low-carb and also have some protein, check out these recipes.
Breakfast
For that first meal of the day, start off right with something protein-packed. These recipes will get your going plus they are low-carb. Fuel up with any of these high protein and low carb breakfast recipes.
Lunch
For either a small or big lunch, try one of these high protein recipes. They are all filling, easy to make, and also low in carbohydrates. Nothing to weigh you down midday, just some tasty midday meal ideas. Several are wonderful for make-ahead lunches that store, travel, and reheat well.
Dinner
For a yummy dinner that is has a lot of protein, try one of these recipes. There are keto, paleo, and diabetic-friendly recipes perfect for a low-carb supper. Many are ideal for meal planning. They store and reheat very well so you have something quick and delicious any day of the week.
Dessert
For something sweet at the end of the day, try one of these low-carb and keto-friendly recipes. They all have some protein to satisfy you and your sweet tooth all in one decadent bite.
Product Recommendations for this Recipe - #ad:
The Short Order Cook is a participant in the Amazon Services LLC Associates Program. As an Amazon Associate, I earn from qualifying purchases. If you click on a link and make a purchase, I may earn a small commission on the sale at no additional cost to you. This helps with the costs of running the blog. Thank you!
Hopefully, you found some new recipes to love on your high protein and low carb diet. For more information on this lifestyle check out High Protein Low Carbohydrate Foods to Eat.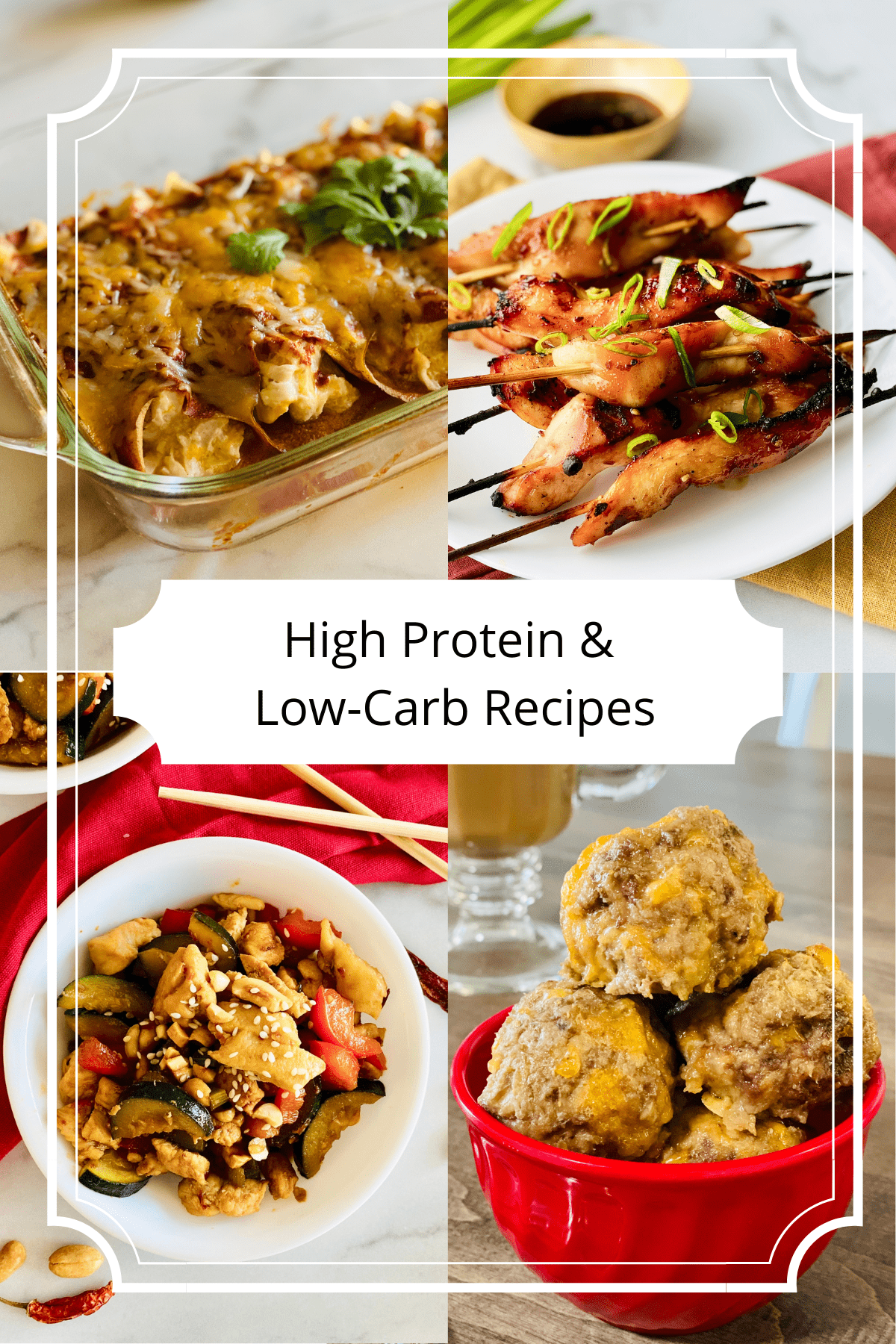 High Protein & Low-Carb Recipes
All the best recipes for a high protein and low-carb diet. If you are on a keto, sugar-free, or diabetic diet, these easy recipes are for you. There are snacks, breakfast, lunch, dinner, and desserts that are all low-carb and protein-packed. Many are gluten-free and great to make ahead of time for meal planning
Ingredients
Keto Lasagna

Paleo Greek Chicken

Low-Carb Cheesy Sausage Balls

Keto Chicken Enchiladas

Keto Monte Cristo Sandwich

Smoked Beef Short Ribs

Grain-free Chicken Nuggets

Low-Carb Cheesecake

Sheet Pan Shrimp Scampi

Beef & Bacon Chili

Teriyaki Chicken on a Stick
Instructions
Choose 1 or more recipes to make.

Store leftovers or portion off meal-planning servings for the week.