Wondering if you can freeze chicken salad? Some freeze better than others, try these tips & tricks on freezing your leftovers so they stay tasty. If you find yourself with too much chicken salad after a meal or party, saving that food for later is always a great way to not have waste. So whether you made it homemade, bought a large Costco size, or have my favorite white chicken salad from Trader Joe's, freezing it can be done.
Chicken salad stores well in the refrigerator for 3-5 days. However if you will not use it during that time, then it is time to freeze it to enjoy later. Leftover chicken salad can freeze easily and will stay well if done properly. It also depends on the type of recipe you want to freeze as some ingredients may not freeze well. I have shared all my best tips and tricks on how to get the most out of frozen chicken salad leftovers.
Things to Consider First
Depending on your recipe or the store-bought chicken salad, each kind may be different. There are ones with mayo or without it. Some are made with Miracle-Whip, greek yogurt, sour cream, or other sauces. Taking that into consideration is what is important. Some will freeze, defrost, and store better than others.
Freezing Different Kinds of Chicken Salad
Here is a quick review on freezing different types of chicken salad. At a glance, you can see how well each will freeze and how long it will store. All are general estimates since not every chicken salad will react the same.
Chicken Salad with Mayonnaise or Miracle Whip
You can freeze chicken salad that has been made with either mayo or Miracle-Whip. However, one will work much better than the other. So if you know ahead of time you want to freeze some, choose your dressing wisely.
Mayonnaise is an emulsion, freezing it will cause the ingredients to break down. The ingredients will separate, and make the chicken salad unappetizing looking. If you do freeze some, once defrosted you may want to remove any liquid that may have accumulated on the top. Freshen the salad up with some additional mayo.
Miracle Whip on the other hand is not the same as mayo. Due to the sugar (corn syrup) in the product, it tends to hold up better. That along with the bit of mustard in Miracle Whip seems to bind it together a bit better than mayo when freezing and thawing. It will not stay as creamy as fresh but it will hold up better. Chicken salad made with Miracle Whip will last up to 2 months in the freezer.
Chicken Salad with Greek Yogurt or Sour Cream
If you have ever opened a partially used container of yogurt or sour cream you have seen the liquid that forms on the top. This separation occurs and requires each of them to be stirred to get that creamy texture back. It is the natural process of the whey separating.
Due to the watery occurrence, a chicken salad made with Greek yogurt or sour cream is not ideal to freeze. It can be done and is safe to eat. Just note that when you freeze it and defrost it later, that same separation will happen. The chicken salad will be watery. A suggestion would be to drain any liquid and mix in some fresh yogurt or sour cream to bring it back to life. I would not freeze chicken salad made with Greek yogurt or sour cream for more than 30 days.
Chicken Salad with Oil & Vinegar
Chicken salad made without mayo freezes much better than those made with mayonnaise or Miracle-Whip. There is no separation of the sauce binding the salad together. For someone like me that does not like mayo, I make my chicken salad with an Italian style oil & vinegar dressing. This makes it even better if I want to freeze some later. If stored properly, this kind will last in the freezer for 3 months.
Chicken Salad with Honey Mustard
Honey mustard dressing may be used in recipes for those people that do not like mayo. Honey solidifies once frozen but will not crystallize. If the honey mustard dressing is vinegar-based and not mayo-based, it will freeze really well. Chicken salad made with a honey mustard dressing can store in the freezer for 2 months.
Chicken Salad with Fruits & Nuts
I do not recommend freezing chicken salad that has ingredients that do not freeze well. For example, grapes are a common fruit added to chicken salad. Once they freeze and defrost they will be mushy. The fruit pieces will also release their juices, making the chicken salad soggy and unappetizing.
However, if there are nuts in your recipe and no fruits, freezing it is ok. Nuts freeze well and defrost easily. Make sure the nuts are not too large or else they will take a long time to defrost compared to the small pieces of meat in your chicken salad. For homemade or store-bought chicken salad with nuts, it will last up to 30 days in the freezer.
Chicken Salad with Other Ingredients
Since there is a wide variety of recipes out there, some chicken salads may not be great to freeze. Any recipe with vegetables, fruits, or other ingredients with high water content is not great for freezing. This includes things like mushrooms, bell peppers, pineapple, oranges, and zucchini. The same is true for foods that turn brown or spoils when freezing, such as apples, avocado, lettuces, & bananas. I do not recommend your chicken salad if it has any of these ingredients.
Some ingredients that will be ok if added to your chicken salad and then frozen later include heartier items. Some will freeze better than others but here are some that will be ok to freeze but will alter the taste and texture once defrosted. Go ahead and freeze your chicken salad even if you use one of these ingredients - celery, onion, or carrots. This can be stored for up to 3 months.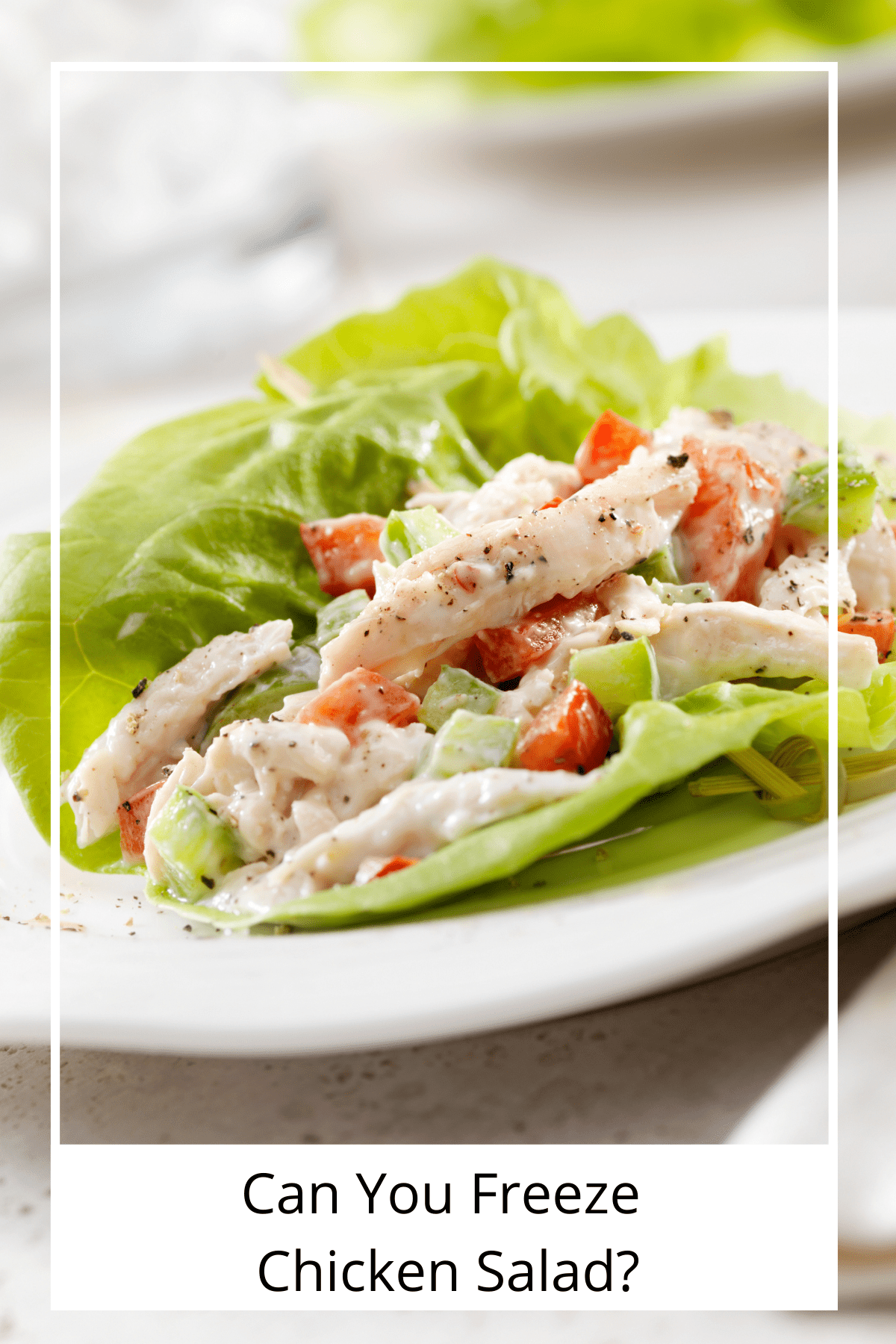 How to Freeze Chicken Salad
The best way to freeze chicken salad is to make sure it is stored properly to ensure it stays safe to eat later. The taste and texture will change slightly compared to when it was freshly made. But if you follow these steps it will be good once it is defrosted.
Here are the steps to package and store frozen chicken salad.
Remove any items that will not store well in the chicken salad - such as fresh herbs & fruits.
Select air-tight freezer containers or Ziploc bags that will fit the amount of chicken salad you will be freezing. Do not pick a container that is too large, you want the chicken salad to just fit in so that there are no exposed areas for air to also be sealed inside. Vacuum sealer bags would be great for this.
Spoon the chicken salad into the container or bag. Seal tightly and try not to leave any air inside that will expose the chicken salad to possible freezer burn. Press out any air you can if using a vacuum sealer or Ziploc.
Label it with the use by date and what it is.
Place in the freezer.
How Long Does Frozen Chicken Salad Last?
Depending on what your chicken salad is made up of, it will last anywhere from 1-3 months in the freezer. See the list above on which types freeze longer than others. I will always caution people to stay away from the longer freezer timelines if they can. It is always best to eat things when fresh or only frozen for a short period of time. Eating anything frozen within the first month will continue to be the best practice when possible.
Defrosting Frozen Chicken Salad
The best way to thaw chicken salad that has been in the freezer is by placing it in the refrigerator. If frozen and stored properly, you can ensure it will be safe once you defrost it later in the refrigerator. Depending on how much you are defrosting at once, it should take anywhere from 1-3 days for it to defrost.
Once the chicken salad is defrosted, use it quickly. Plan ahead and only defrost as much as you will eat in the upcoming days. Once it is thawed, eat the chicken salad within 1-2 days. If it has changed color or an odd smell, be safe & throw it out. Spoiled chicken salad especially with mayo should never be consumed.
What to Serve with Chicken Salad
Whether you want it on bread for a sandwich or atop lettuce for a light lunch, chicken salad can be enjoyed in many ways. Here are some great side dishes that go well with chicken salad. Try one today or make the wonderful fresh baked Soft Dinner Rolls and have chicken salad sliders.