Thin chicken breasts rolled up with 3 kinds of cheese and broccoli, then topped with alfredo sauce is a keto-friendly dinner everyone in the family will love.  Most kids like anything melty and gooey with cheese and then add creamy alfredo sauce - Slam Dunk. I don't know any kids personally that wouldn't devour this.  The added bonus that this is keto-friendly, which means adults or children on a low carb or grain-free diet will be happy about that too.
Let's talk chicken - chicken can be bland and boring but not this fancy chicken alfredo recipe.  These easy roll-ups elevate the chicken in both flavor and presentation. I first thought of this idea when googling chicken ideas and saw lasagna roll-ups using chicken. I also found a chicken rollatini recipe with cheddar and broccoli cheese.  Both sounded like something my family would love and I wanted to combine them both somehow. This is a great recipe for chicken alfredo and vegetables that everyone will love.
Since I do not eat grains most of the time, I was wondering why can't thinly sliced chicken cutlets replace the lasagna noodles in the roll-ups recipe. Then I could make it like the rollatini recipe but branch out from the usual broccoli and cheddar combo we already get enough of and make the stuffing more like a classic lasagna filling.  This became a mashup of an Italian lasagna rollup combined with a traditional chicken rollatini.
Why my Kids & Husband Love This Chicken?
Comfort Food - the creamy cheese mixture inside is comforting like mac & cheese
Spiral Design - kids learning to cut their own meat love to slice this to expose the spiral it makes
Alfredo sauce - do I need to explain?  Kids eat anything with alfredo sauce
Vegetables - sneaks vegetables into the recipe for the kids to love
Juicy - the chicken with the cheese stuffing remains moist
Why this Mom Loves This Chicken?
Keto / Low Carb - it is grain-free (I try to eat grain-free due to an immune disease)
Half Scratch - this is what I call recipes that are mostly homemade but a store-bought item may make the recipe easier to make without sacrificing flavor
Rich & Decadent - creamy alfredo sauce and cheese stuffing are satisfying
Simple but Elegant -  only 15 min prep for fancy stuffed chicken
Make-Ahead - can be assembled ahead of time, great for little league or late at the office nights
This baked chicken alfredo casserole is easier than it looks to make.  Yet it is fancy enough to prepare for special occasions or when entertaining guests but it is only a few simple steps to make it.  People will think it took you hours to make but we know the secret. The bonus also is that it can be assembled ahead of time and just put into the oven when the time comes. This way you can enjoy your guests and enjoy a cocktail and some appetizers instead of cooking frantically in the kitchen.
How to Make a Great Chicken Roll-up (rollatini)
Start with these ingredients.   The easiest part of this recipe is the shortcut of using a store-bought jar of alfredo sauce.  The chicken alfredo recipe works great with any brand like Classico, Bertolli, and others. For the nutrition information and steps, I used Trader Giotto's Alfredo Sauce from Trader Joe's.
Pound the chicken breasts thin with a meat mallet. This is always fun to me especially on a day where I may need to get some worries out of my system and smash out some stress.
Combine the filling ingredients into a bowl.  Then spoon on the filling atop each chicken breast leaving a bit at the end without the filling.   Then roll from the filling end to the end where there is no filling.
Alternates to the Broccoli
If you want to try this with a different vegetable mixed with the cheeses, that works too. Just remember to use pre-cooked vegetables. Here are some other suggestions that will be just as good in this chicken alfredo rollatini recipe -
asparagus
zucchini
spinach
Place the rolled chicken breast one by one with seams facing down in a greased glass baking dish.  Sprinkle with salt, pepper, and paprika.  This seasoning is perfect for a chicken alfredo recipe.
Bake 20 minutes and then top with the alfredo sauce and the remaining mozzarella cheese.
Bake an additional 15 minutes or until a meat thermometer reaches 165° (the minimum for chicken!) Let it rest about 5 minutes in the dish as you plate your side dishes.  Place one on each plate and slice to expose the cheesy spiral design inside.
What to Serve with Chicken Alfredo
So many side dishes are good to eat with chicken alfredo.  Since this recipe is a ketogenic chicken alfredo, I would suggest sticking with some other low-carb or gluten-free sides.   Try any steamed vegetable or salad for example for a great dinner.  I also suggest these recipes:
Product Recommendations for this Recipe:
The Short Order Cook is a participant in the Amazon Services LLC Associates Program.  As an Amazon Associate, I earn from qualifying purchases.  If you click on a link and make a purchase, I may earn a small commission on the sale at no additional cost to you. This helps with the costs of running the blog. Thank you!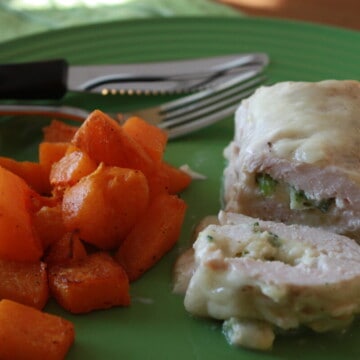 Ultimate Broccoli Alfredo Chicken Roll-ups (rollatini style)
Chicken roll-ups filled with 3 kinds of cheeses and broccoli then baked with alfredo sauce are a must-have dinner for weeknights and special occasions.
Ingredients
1.5

pds

thin boneless skinless chicken breast cutlets

6 total

1.5

C

mozzarella cheese

shredded

½

C

ricotta cheese

¼

C

parmesan cheese

grated

1

egg

1

C

precooked broccoli

diced small

1

teaspoon

garlic powder

¼

teaspoon

salt

black pepper & paprika

to taste

1.5

C

prepared alfredo sauce
Instructions
Oil or spray with nonstick spray a 11x7 baking dish

Pound thin the chicken breasts using a meat mallet. If you cannot find thin chicken breasts, you can slice regular breasts horizontally and then pound thin. 3 large breasts will then make 6 thin breasts.

In a medium bowl combine 1 cup of the mozzarella with all remaining ingredients through the garlic powder. Stir to mix evenly.

For each thin breast, top with the cheese mixture and leave one end of the chicken plain to use at the end and bottom seam.

From the cheese end of the breast, roll towards the plain side and place in a baking dish with seam side down. Roll all 6 and then add salt, pepper, and paprika.

Remove from oven and top with the alfredo sauce and the remaining ½ cup of mozzarella. Put back in the oven for an additional 15 minutes or until a meat thermometer registers 165°.

Let rest for about 5 minutes for the cheeses to set before plating. Enjoy!
Notes
Nutrition Facts
Servings: 6
Amount per serving
 
Calories
324
% Daily Value*
Total Fat 15.6g
12%
Saturated Fat 6.3g
32%
Cholesterol 53mg
18%
Sodium 1721mg
75%
Total Carbohydrate 10g
3%
Dietary Fiber 0.4g
2%
Total Sugars 0.5g
 
Protein 35.2g
 
Vitamin D 3mcg
13%
Calcium 133mg
10%
Iron 0mg
2%
Potassium 89mg
2%
*The % Daily Value (DV) tells you how much a nutrient in a food serving contributes to a daily diet. 2,000 calorie a day is used for general nutrition advice.
Did you make this The Short Order Cook Recipe?
Tag @theshortordercookblog (Instagram & Facebook) or @shortorder_cook (Twitter). 
I would love to see your latest creations and kitchen adventures.