Broccoli & cheese stuffed chicken breasts is a delicious easy 30-minute meal. This Italian-inspired rollatini recipe is low-carb & yummy. These thin sliced boneless skinless chicken breasts are baked with alfredo sauce for a cheesy, creamy, & satisfying meal.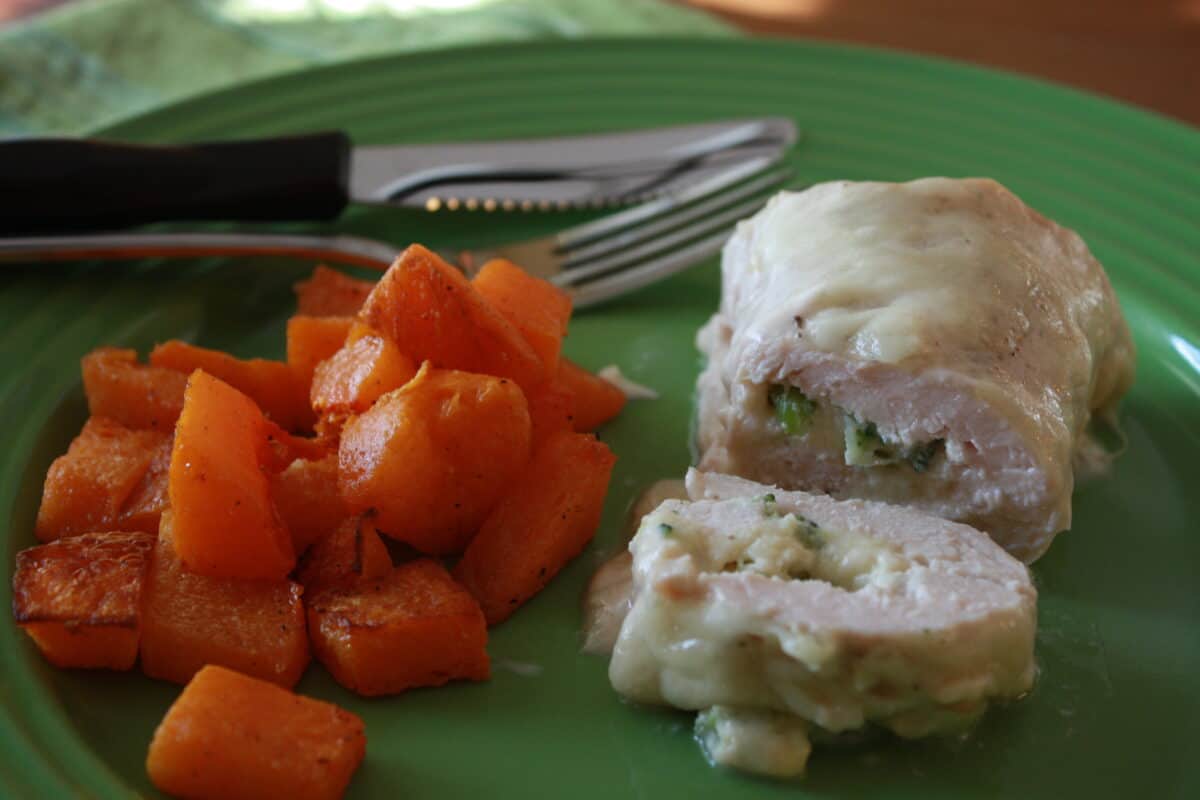 This easy recipe for broccoli & cheese stuffed chicken cutlets is simple enough for a weeknight dinner and fancy enough for special occasions. Pair it with crispy baked marinated artichoke hearts for a fantastic Italian meal.
If you love cheese, you will not be able to resist this chicken recipe. It has 3 kinds of cheese like my recipe for baked mac & cheese with bacon.
Jump to:
Why this is a Family Favorite?
Comfort Food - it's creamy, gooey, & rich
Spiral Design - pretty & easy to cut versus thick breast meat
Alfredo sauce - Kids (and adults) eat anything with alfredo sauce
Vegetables - Sneak vegetables into the recipe for the kids
Juicy - the chicken with the cheese stuffing remains moist
Keto & Low-Carb - it is grain-free & only 3.1 net carbs!
Shortcut Ingredients - premade ingredients for a quick prep
Simple but Elegant -  only 15 min prep for fancy stuffed chicken
Make-Ahead - can be assembled ahead of time & baked later
Ingredients
Start with these ingredients.   The easiest part of this recipe is the shortcut of using a store-bought jar of alfredo sauce.  The chicken alfredo recipe works great with any brand like Classico, Bertolli, and others. For the nutrition information and steps, I used Trader Giotto's Alfredo Pasta Sauce from Trader Joe's.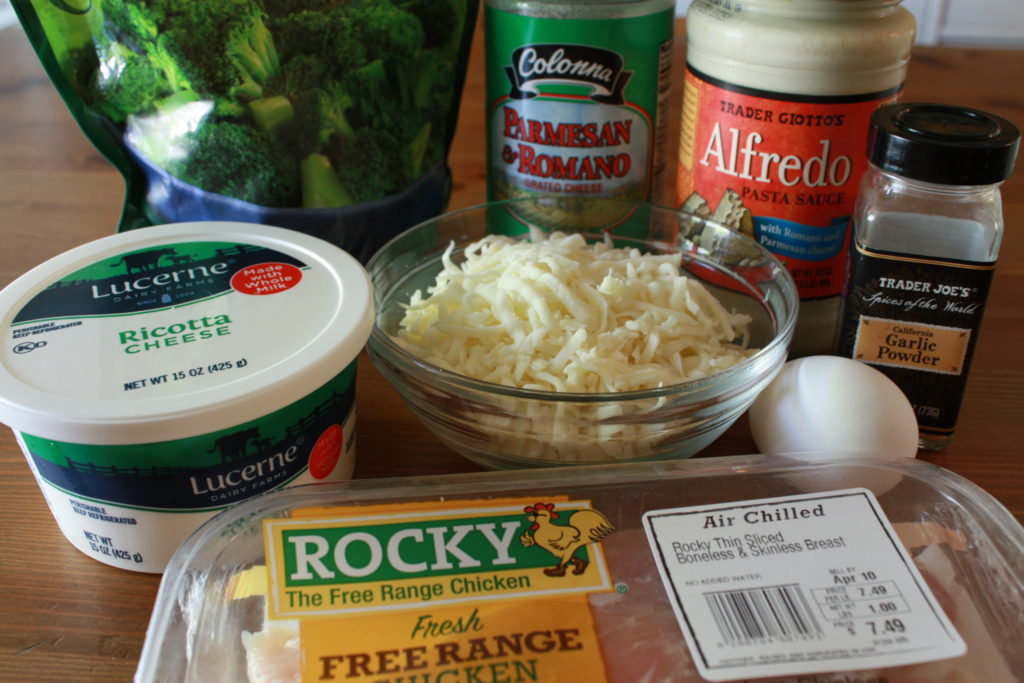 Thin Sliced Boneless Skinless Chicken Breasts
Precooked Broccoli or Thawed Frozen Broccoli
Egg
Ricotta Cheese
Parmesan Cheese
Shredded Mozzarella Cheese
Jarred Alfredo Sauce
Garlic Powder
Paprika - optional
Salt & Pepper to taste
See the recipe card for amounts & full instructions
How to Make Stuffed Chicken Breasts
It baked cheesy chicken casserole only takes 15 minutes to prepare so do not be intimidated by this recipe. You can make this and you will be so glad you did once you have a bite of this baked 3-cheese & broccoli stuffed chicken recipe.
Here are the easy steps for making this recipe.
Mix the 3-Cheese & Broccoli Stuffing
Stuff & Roll the Chicken Breasts
Bake the Stuffed Chicken
Mix the 3-Cheese & Broccoli Stuffing
Preheat the oven to 425°. Also prepare an 11x7 baking dish with cooking spray. While the oven is heating up, start preparing the dish.
In a medium-sized mixing bowl, add the filling ingredients. This includes the egg, pre-cooked or defrosted frozen broccoli, 3 kinds of cheese, and garlic powder.  Stir to combine.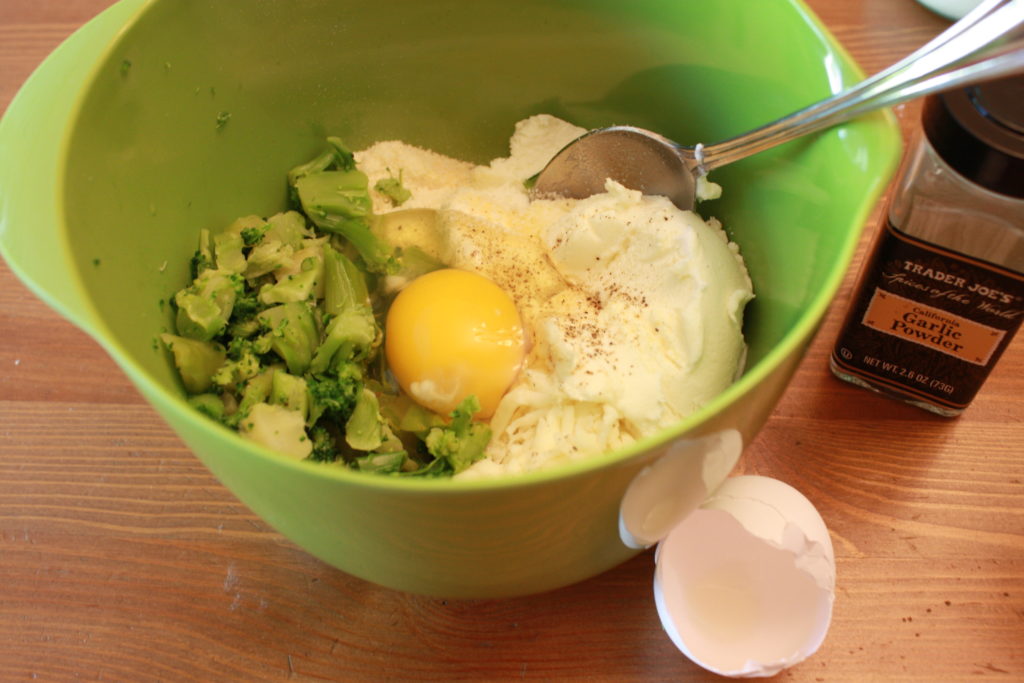 Stuff & Roll the Chicken Breasts
This recipe uses thinly sliced chicken breasts cutlets. If you cannot find those at your store, buy regular boneless skinless chicken breast. Then use a meat mallet or tenderizer to thin it out.
How to Pound Chicken Breast Thin: Between two pieces of wax paper or plastic wrap, place the chicken breast. With a mallet, gently pound the chicken breasts using both an up/down motion along with a press & spread motion. If you do not have a mallet, use a rolling pin.
Next, spoon on the filling atop each chicken breast leaving a bit at the end without the filling.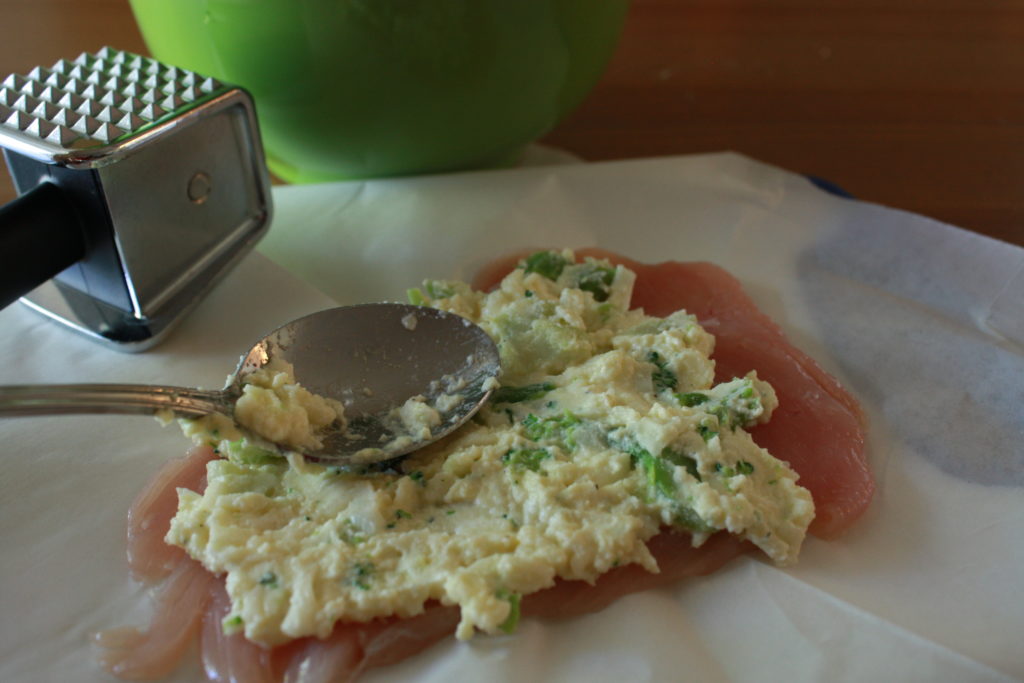 Then roll from the filling end to the end where there is no filling. This is what the chicken cutlets all rolled up will look like. This method is inspired by rollatini recipes common in Italy.
Place the rolled chicken breast one by one with seams facing down in a greased glass baking dish.  Sprinkle with salt, pepper, and paprika. You can now bake these or wrap, refrigerate, & bake later.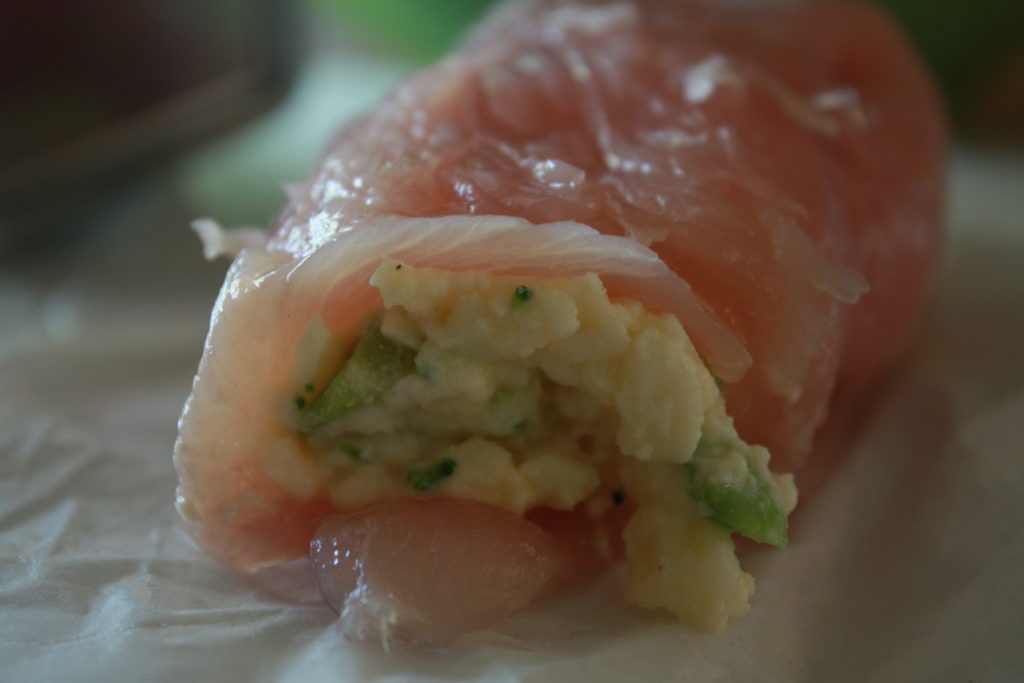 Bake the Stuffed Chicken
Place the baking dish in the oven. Bake it for 20 minutes. Finally, top with the alfredo sauce and the remaining mozzarella cheese.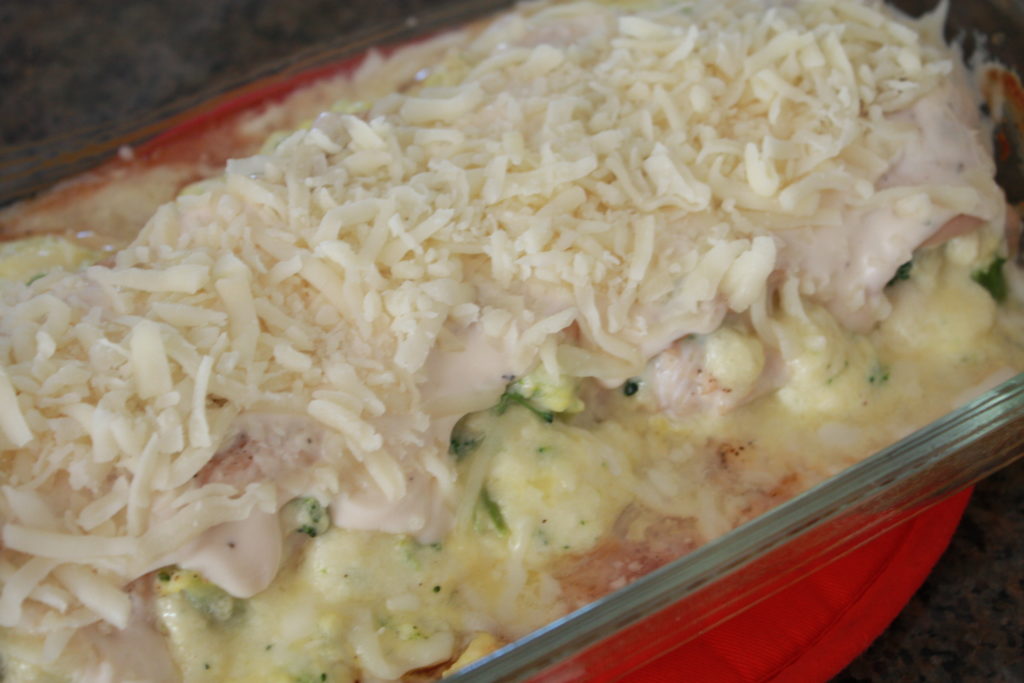 Bake an additional 15 minutes or until a meat thermometer reaches 165° (the minimum for chicken!) Let it rest about 5 minutes in the dish as you plate your side dishes. Place one on each plate and slice to expose the cheesy spiral design inside.
Substitutes & Variations
Here are some great recipe variations & ingredient substitutions that can be made. Add, omit, or use one of these alternatives for other delicious recipe ideas. These may help you enjoy this recipe even with dietary, health, or personal nutritional preferences. 
Frozen Broccoli - Use steamed fresh broccoli instead
Broccoli - use an alternate vegetable such as asparagus, spinach, or squash.
Chicken Breasts - use boneless skinless chicken thighs instead.
Sharp Cheese - use a combination of shredded mozzarella and shredded sharp cheddar for a bold combination.
Ricotta Cheese - use cream cheese instead if you want an alternative for ricotta.
Alfredo Sauce - use marinara sauce if you want some tomato instead.
Bacon - add ½ cup of crumbled cooked bacon to the cheese mixture.
This recipe is already gluten-free, low-carb, keto, diabetic-friendly, & nut-free as written.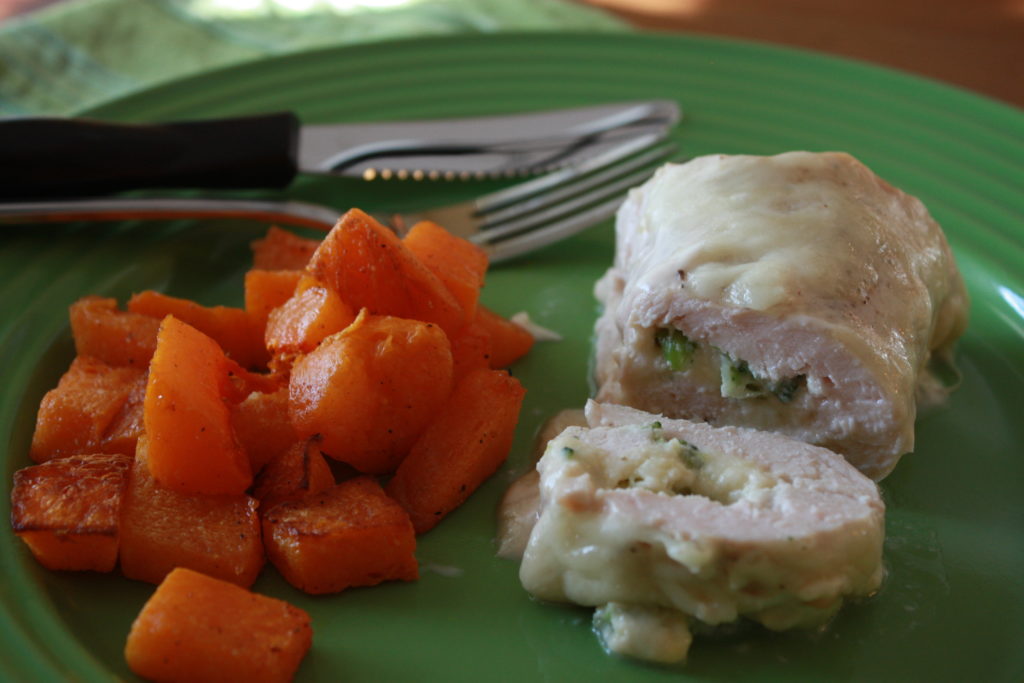 What to Serve with Chicken Alfredo
So many side dishes are good to eat with chicken alfredo.  Since this recipe is a ketogenic chicken alfredo, I would suggest sticking with some other low-carb or gluten-free sides.   Try any potato, salad, or vegetable; for example my favorite is just some simple Instant Pot Cubed Sweet Potatoes.
I also suggest these recipes:
Product Recommendations for this Recipe:
The Short Order Cook is a participant in the Amazon Services LLC Associates Program. As an Amazon Associate, I earn from qualifying purchases. If you click on a link and make a purchase, I may earn a small commission on the sale at no additional cost to you. This helps with the costs of running the blog. Thank you!
FAQ
Can I butterfly thick chicken breasts instead?
If you wish to butterfly and stuff thick chicken breasts instead of rolling these up, it can be done. I prefer this method since I find it holds the cheesy broccoli mixture better without it all melting and spilling out. It is also so much prettier when you slice & see a pinwheel of ingredients.
Do I need to sear the chicken first?
Unlike other recipes, this stuffed chicken does not require any pan-searing before it goes in the oven. Just bake & enjoy.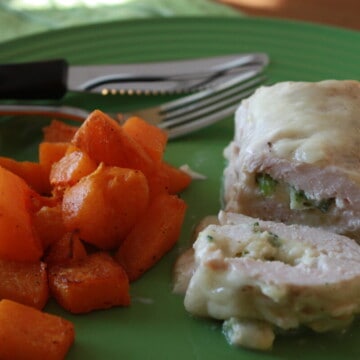 Broccoli & Cheese Stuffed Chicken Breasts
Chicken breasts stuffed & rolled up with 3 kinds of cheeses and broccoli is an Italian-inspired rollatini recipe. These thin sliced boneless skinless chicken breasts are baked with alfredo sauce for a cheesy, creamy, & satisfying meal. It's gluten-free, keto-friendly, & low-carb.
Ingredients
1.5

pds

thin boneless skinless chicken breast cutlets

6 total

1.5

C

mozzarella cheese

shredded

½

C

ricotta cheese

¼

C

parmesan cheese

grated

1

egg

1

C

precooked broccoli

diced small

1

teaspoon

garlic powder

¼

teaspoon

salt

black pepper & paprika

to taste

1.5

C

prepared alfredo sauce
Instructions
Oil or spray with nonstick spray a 11x7 baking dish

Pound thin the chicken breasts using a meat mallet. If you cannot find thin chicken breasts, you can slice regular breasts horizontally and then pound thin. 3 large breasts will then make 6 thin breasts.

In a medium bowl combine 1 cup of the mozzarella with all remaining ingredients through the garlic powder. Stir to mix evenly.

For each thin breast, top with the cheese mixture and leave one end of the chicken plain to use at the end and bottom seam.

From the cheese end of the breast, roll towards the plain side and place in a baking dish with seam side down. Roll all 6 and then add salt, pepper, and paprika.

Remove from oven and top with the alfredo sauce and the remaining ½ cup of mozzarella. Put back in the oven for an additional 15 minutes or until a meat thermometer registers 165°.

Let rest for about 5 minutes for the cheeses to set before plating. Enjoy!
Notes
This information is based on using Trader Joe's Alfredo Pasta Sauce - other brands may have more carbs, calories, etc. 
Nutrition Facts
Servings: 6
Amount per serving
 
Calories
332
% Daily Value*
Total Fat 16.1g
21%
Saturated Fat 6.8g
34%
Cholesterol 155mg
52%
Sodium 467mg
20%
Total Carbohydrate 3.5g
1%
Dietary Fiber 0.4g
1%
Total Sugars 0.6g
 
Protein 41.8g
 
Vitamin D 3mcg
13%
Calcium 174mg
13%
Iron 2mg
9%
Potassium 359mg
8%
*The % Daily Value (DV) tells you how much a nutrient in a food serving contributes to a daily diet. 2,000 calorie a day is used for general nutrition advice.
Did you make this The Short Order Cook Recipe?
Tag @theshortordercookblog (Instagram & Facebook) or @shortorder_cook (Twitter).
I would love to see your latest creations and kitchen adventures.