For the ultimate list of foods that start with D, check out the lists I have compiled here. There are some foods on this list you will recognize but also some you may have never heard of before. But they are all foods or drinks starting with the letter "D". After reviewing this list you will learn more about all sorts of yummy things. So the next time someone asks you what are some foods beginning with "D", you will be able to list off many with no problem. (could come in handy for trivia nights or crossword puzzles?)
There are so many D foods to list. This post could never include them all but I have broken them down into several categories for you to find just what you are looking for. Continue reading to find out about common, unique, fruits, vegetables, and drinks, where all the foods begin with the letter "D". By the time you finish reading this list, you will know all about so many foods that start with D. How many have you tried, and do you have a favorite?
Recipes That Start with D
Party Perfect Deviled Eggs
Creamy and tangy deviled eggs are party-perfect food and crowd-pleasing appetizer. This easy recipe is keto, low-carb, gluten-free, and diabetic too.
Check out this recipe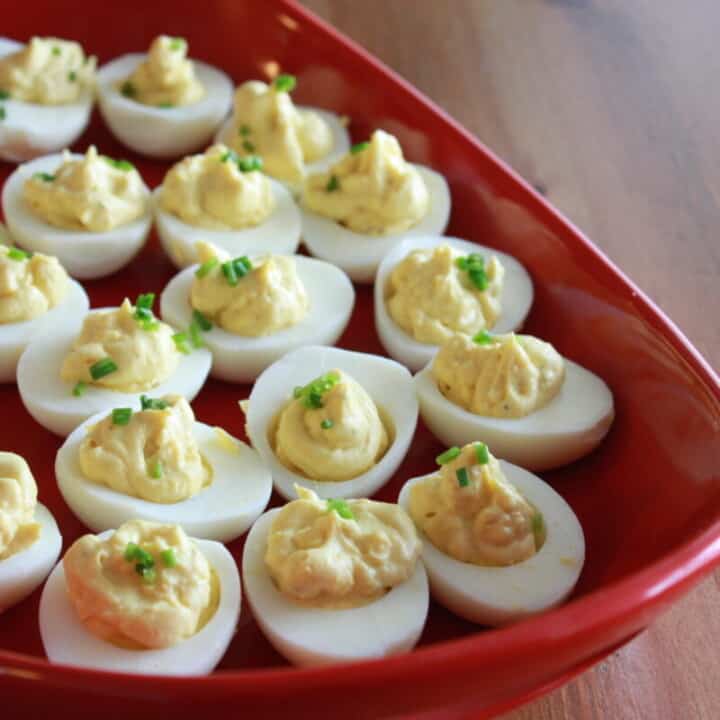 Italian Chicken Drumsticks
This recipe for authentic Italian chicken drumsticks is bursting with flavor thanks to an easy lemon, garlic, and herb marinade.
Check out this recipe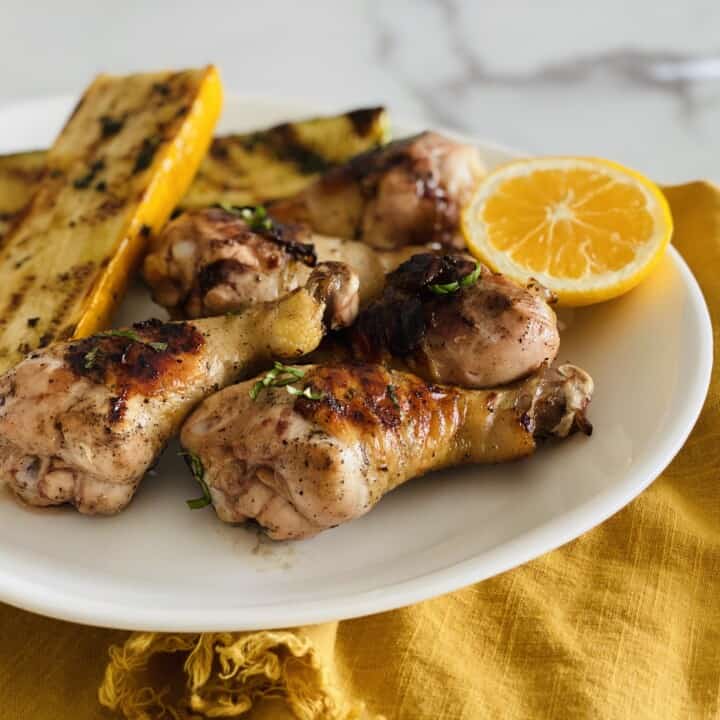 Common Foods That Start With D
Danish - originated in Denmark, a pastry made a sweet dough and often topped with sweetened fruit, chocolate, sweetened cheese, or nuts.
Dark Chocolate - a popular sweet made by processing cocoa beans with small amounts of sugar.
Deer - commonly referred to as venison, one of the most popular game meats.
Deviled Eggs - hard-boiled eggs that are sliced in half, the yokes are scooped out and then mixed with mayo and spices before being scooped back into each egg half.
Dill - an herb that is used either fresh or dried, commonly used when making dill pickles.
Donuts - a sweet dough that is shaped in twists or rounds with a hole in it before being fried and then topped with sugar, glazes, and other sweet treats.
Dover Sole - a sweet mild-flavored fish.
Dumplings - bite=sized dough filled with meat and/or vegetable mixtures, sealed, and shaped, and then steamed, added to soups, or pan-fried.
Unique Foods That Start With D
Dandelion - the tender bitter greens of the dandelion plants that can be enjoyed raw in salads or added to soups and dishes near the end to wilt and eat cooked.
Dauphinoise Potatoes - a French potato casserole dish of thinly sliced potatoes cooked with cream.
Dead Man's Fingers - grown on trees or shrubs in Asia, a very sweet fruit where the long "finger-like" extensions of the fruit are filled with a delicate fruit similar in texture to very soft watermelon.
Deviled Ham - a sandwich or cracker spread made from finely minced ham combined with any combination of mayo, mustard, cream cheese, herbs, and spices.
Divinity - a sweet confection like nougat that is made from beaten egg whites, corn syrup, sugar, and often combined with nuts before letting set and slicing into pieces.
Dolmas - stuffed grape leaves with a savory filling typically made of rice and spices that are rolled into cylindrical shapes.
Dredge Oyster - a seafood delicacy found in Chile & New Zealand.
Dried Squid - squid that is dried and sometimes seasoned with flavorings.
Fruits & Vegetables That Start With D
Daikon - a Japanese radish best eaten raw or pickled.
Damson Fruit - a small stone fruit similar to a plum and commonly used in jams and baking.
Darwin's Barberry - the berries of a shrub discovered by Darwin in South America.
Dasheen - a root vegetable similar to taro.
Dates - sweet fruit with a high potassium content that is often dried and used in desserts.
Desert Lime - a small lime species that has a strong flavor and is native to Australia.
Dragon Fruit - fruit from the cactus family with white flesh speckled with black seeds and an outer layer that is covered in bright pink and green spikes.
Durian - a large tropical fruit that is considered the world's smelliest fruit (thought of as the combination of stinky cheese and dirty gym clothes) that has a flesh that is soft and creamy with both a sweet and savory taste.
Drinks that Start With D
Daiquiri - a rum cocktail that can be made with many different flavors such as lime, sugar, or other fruit purees.
Dark Rum - a dark liquor made by distilling sugar cane with molasses.
Dark & Stormy - a cocktail made from dark rum, ginger beer, and fresh lime juice.
Decaf Coffee - coffee where 97% of the caffeine has been removed from the coffee beans through a steaming process.
Diet Cola - a sugar-free and low-calorie soft drink.
Dirty Martini

(MY FAVORITE COCKTAIL!)

- a cocktail made from gin or vodka (I like vodka) with dry vermouth, olive brine, and garnished with green olives.
Dr. Pepper - invented by a pharmacist in Waco, Texas, is a carbonated soft drink with a higher caffeine count than regular cola and is made from a 23 flavor blend.
Draft Beer - beer served from a cask or keg, versus from a bottle or can.
PIN FOR SAFEKEEPING & SHARING!
Product Recommendations for this Article:
The Short Order Cook is a participant in the Amazon Services LLC Associates Program. As an Amazon Associate, I earn from qualifying purchases. If you click on a link and make a purchase, I may earn a small commission on the sale at no additional cost to you. This helps with the costs of running the blog. Thank you!

Foods That Start with D
For the ultimate list of foods that start with D, check out the lists I have compiled here.  It includes recipes, foods, drinks, and more that all begin with the letter "D".
Ingredients
Try any food or recipe, just a sample shared below but full details above
Dates

Donuts

Dill

Divinity

Deviled ham

Durian

Dr Pepper

Dark Rum
Instructions
Try any food or drink from the list above.

Make any recipe as shared here that begins with the letter D.

Learn to love something new while trying.