If you are trying to figure out what goes well with sausage and peppers for dinner, this list is exactly what you are looking for. Sausage, peppers, and onions is a classic Italian family favorite and a comfort food staple. It really needs another comfort food side recipe to make a complete meal. Therefore, you will want to pick the best easy side dish to go with sausage & peppers even as a sandwich, grinder, hoagie, or plain.
Whether you want a salad, soup, vegetables, or potato, I have you covered with so many choices on what to enjoy with brats, Italian sausage, linguica, or chicken sausage with peppers, and onions. I have shared some quick and easy side dish recipes to eat with your favorite sausage and peppers recipe. All of these sides pair well with savory meat, sweet bell peppers, tender onions, garlic, and rich tomato sauce. For the best way to make sausage and peppers, try my INSTANT POT ITALIAN SAUSAGE & PEPPERS recipe.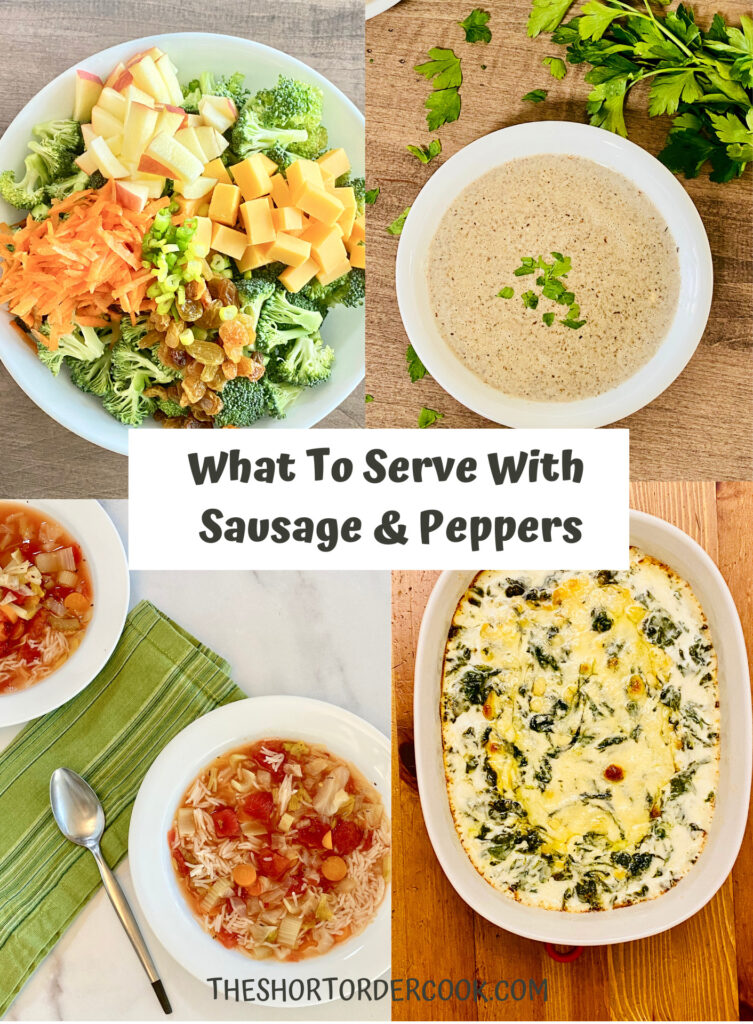 What to Serve with Sausage & Peppers
This is a tasty list of what to offer with authentic sausage, bell peppers, and onions. To help you decide what to serve with them, I have broken down the list into some subcategories. So based on your mood, preference, or diet, there is something for everyone. There are comfort food classics, healthy salads, casseroles, low-carb, keto, gluten-free, and fancy sides. This recipe roundup of what to make with sausage & peppers includes:
Comfort Food Classic Side Dishes
Salad & Vegetable Side Dishes
Keto, Low Carb, or Gluten-Free Side Dishes
Other Side Dishes
Comfort Food Classic Side Dishes
Comforting sides like mashed potatoes and kinds of pasta are commonly served with sausage and peppers. This list includes some comfort food classics and new recipes that you will want to make over and over again. All of these soul-pleasing recipes will be a sure-fire hit with the family. They are delicious, home-cooked, and satisfying just as all the best comfort food side dish recipes should be.
Salad & Vegetable Side Dishes
Here are some great healthy side dishes to make and eat with your next dinner or lunch, especially with sausage and pepper sandwiches. There is a delicious gluten-free salad and amazing healthy vegetables to pick from. All of them are yummy and complete your meal.
Keto, Low Carb, or Gluten-Free Side Dishes
This category of ideas to serve with sausage and peppers includes keto, low-carb, paleo, or gluten-free recipes. Try a new creamy casserole, a grain-free keto cornbread, or the ultimate cream of mushroom soup to complete your next supper.
Other Side Dishes
This list of recipes to serve with sausage, peppers, and onions includes some of the best home-baked and unique recipes. If you want something that is not traditional as a side dish, this is the list of some great new recipes to try out. Bake your own bread, make some pasta, or try a fresh unique version of potato salad.
PIN FOR SAFEKEEPING & SHARING!
Product Recommendations for this Article:
The Short Order Cook is a participant in the Amazon Services LLC Associates Program. As an Amazon Associate, I earn from qualifying purchases. If you click on a link and make a purchase, I may earn a small commission on the sale at no additional cost to you. This helps with the costs of running the blog. Thank you!