There is always a wonderful deal at Butcher Box and here is the latest. The current promotion is a limited-time special offer - so act today! Make sure to click the links to activate the latest promo codes & save. New customers now have a lot more to love - WINGS FOR LIFE!
I have been using Butcher Box for years and there is no better-tasting grass-fed & grass-finished beef. If you sign up now you can have not just amazing beef but also organic chicken, wild-caught seafood, & more at a great price. ButcherBox starts as low as $99/month.
**This post contains affiliate links and I will be compensated if you make a purchase after clicking on my links.
Free Wings For Life!
Yes, you read that right, get FREE CHICKEN WINGS IN EVERY BOX for the life of your subscription. That is right, 3 pounds of organic chicken wings in every ButcherBox.
FREE CHICKEN WINGS - NEW CUSTOMERS ONLY!
If you have ever thought about joining Butcher Box, today is the day. Sign up and pick the delivery box option that works best for your family. There are 5 different types of subscription boxes to choose from.
A new Basic Box was just introduced for new subscribers and starts as low as $99! The other boxes range from a curated all-beef box including 8-11 pounds of high-quality beef to a custom box of beef, pork, and chicken where you pick the cuts every month.
All the links above are for the latest deal that is being offered by Butcher Box for a limited time only. Make sure you check it out today before time runs out. There are amazing savings for whatever you decide when you join Butcher Box and start saving on high-quality meat with free delivery!
And once you join, existing customers get great deals and promotions every month like Keto Bundles, Chicken Bundles, Premade Pulled Pork, & more. There is always something new to order and enjoy outside the regular meat and seafood ButcherBox offerings.
Additional Butcher Box Specials & Promo Codes
There are always great specials and promo codes. This can be anything from certain cuts, you can get free-for-life Butcher Box deals. Also other deals or limited-time-only specials. Promo codes may come and go but there is always one that is current and works. Just gotta know where to find it.
That is why I will update this page with whatever the best deal is for Butcher Box that is still ongoing. There may be an expiration date so if there is, I will tell you when. This way you never miss a good deal again! Here is the best discount code & coupon link.
How Does Butcher Box Work?
Butcher Box offers a variety of grass-fed beef, organic chicken, sustainable seafood, and crate-free pork products. All are delivered to your home monthly at a great price. Delivery is FREE!
There are so many options plus flexibility in delivery, cuts of meat, and pricing - you cannot go wrong. I have many friends plus myself that have been using it for years and we all love it.
There is no better way to get quality cuts of meats at a great price. Boxes start as low as $99 a month. You can get their regular boxes monthly that are curated by Butcher Box or you can pick your cuts and customize them each month.
I have the curated box and my favorites are baby back ribs, tri-tip roasts, ribeye steaks, and wild-caught salmon. All are delivered monthly to my home frozen with dry ice.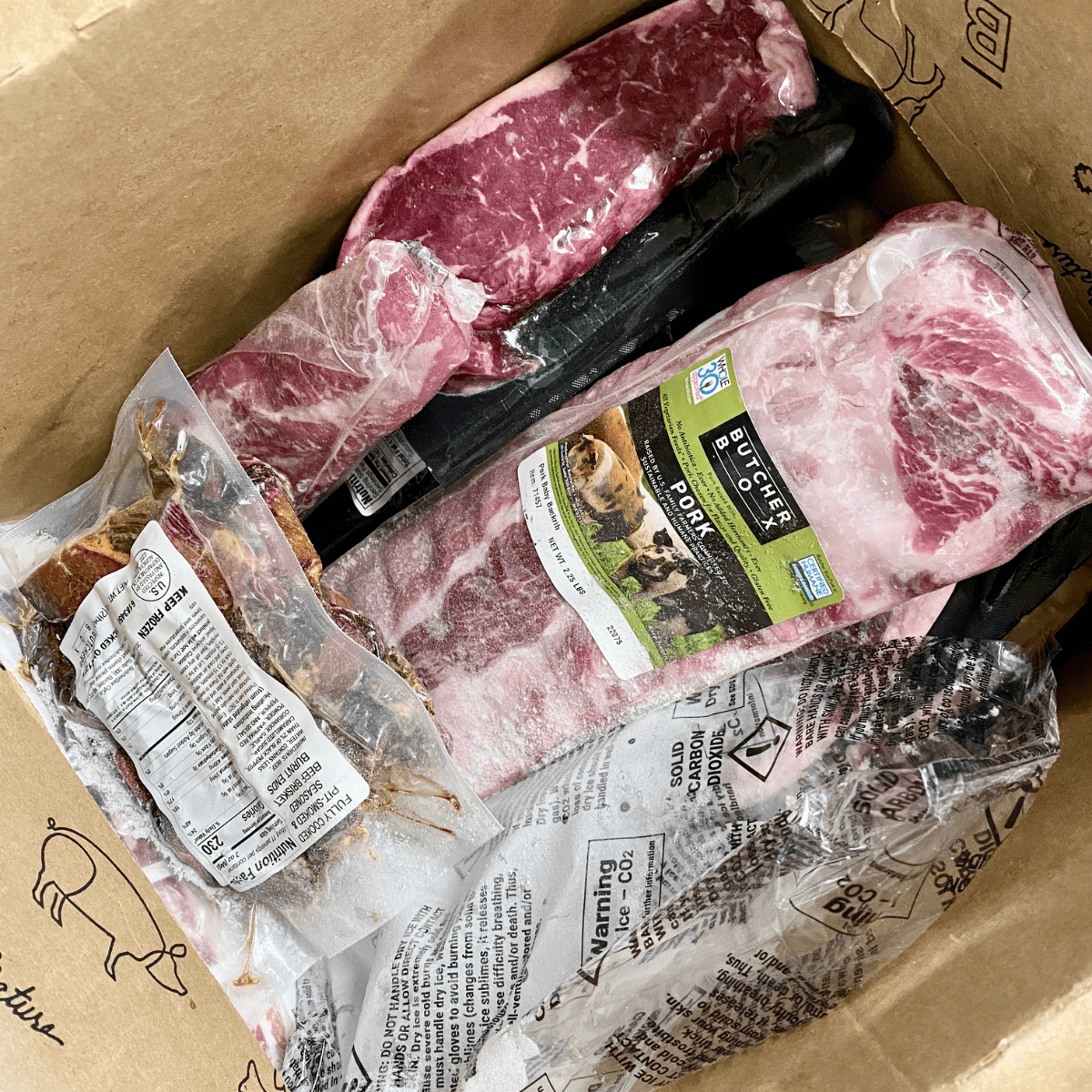 My Review of Butcher Box
Since I have been using Butcher Box and loving it, I wanted to spread the word. Check out my full Honest Review. I only represent products and services I truly love and use myself.
It has amazing 100% grass-fed (and grass-finished) beef, organic free-range chicken, and heritage breed pork that is raised crate-free. Plus wonderful specials on wild-caught seafood and more every month. I have been telling all my friends & family about it for a long time & now I want to tell everyone - I love it that much.
When using ButcherBox you get to decide the frequency too. You can have yours delivered based on your needs. Going on vacation, no problem, you can delay deliveries if needed too - and not lose any subscription perks.
I still get my free ground beef & bacon even when I have to miss a month. Now that is great customer service & satisfaction!
I have even compared it to other meat subscription services - such as Moink. When I compare Moink to Butcher Box side by side - Butcher Box far exceeds it in quality, price, & the choices in cuts of meat & seafood. Find out for yourself and be on the road to getting the best deal on meat & seafood.
Sign up today for BUTCHER BOX MEAT DELIVERY SERVICE. Next week you will be making amazing recipes like my CrockPot Beef & Bacon Chili - great for the meat lovers in your family.